Main System November 2021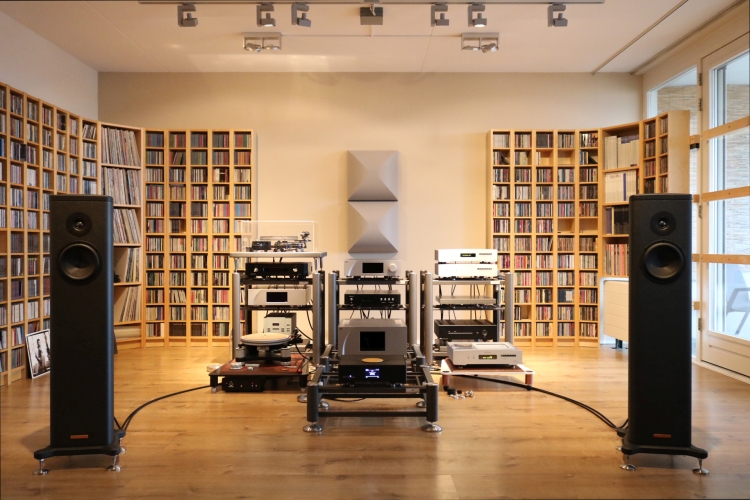 Below is a quick summary of the Main System as it was in November 2021.
Loudspeakers
Magico S1 MkII
Pre Amplifier
Phono Stage
Power Amplifier
CD Player / Transport
Aqua La Diva (on loan)
Proceed PCD-2 (fully recapped and modified to pure transport)
Philips CD614 (modified to pure transport)
Philips CD931 (modified to pure transport)
DAC
CH Precision C1
Aqua Formula xHD
Music Server
Network Renderer / Streaming Endpoint
Turntable
Origin Live Calypso mk4 with Illustrious Tonearm
Avid Sequel with Audio Origami PU7 tonearm (on loan)
Cartridges/Stylii
ViRA Aidas Rainbow
Dynavector 10X5 mkII
Record Cleaning Machine
Clearaudio Matrix Silent
Degritter
Interlinks
AudioQuest Fire cinch
CH Precision Balanced Link XLR
Driade Flow Link Reference 808 RCA and XLR
Siltech Paris cinch 
Tonearm Cables
Loudspeaker Cables
Digital Cables
Jorma AES/EBU
Jorma BNC
Ethernet Cables
ValueLine OEM CAT6 cables 
Audio Group Power Installation
GigaWatt G-C16A 2P Circuit Breaker
GigaWatt G-044 Schuko Wall Socket
Standard unshielded 2,5mm solid core copper installation wire
Power Cables
Belden 19364 with Bals schuko and Oyaide 004 connectors

Equipment Support
Artesania Exoteryc Audiorack
Artesania Carbon Fiber Linear Arm Upgrade
Artesania Aire Floor Platform
Artesania Organic Line Modular Rack
Artesania Organic Line Modular Floor Platform
Artesania ISBAIEBW Standalone Isolation Bases
Artesania ISDIWB Beech Wood Isolation Discs
Artesania Digital Server Platform
Finite Elemente Cerapuc and Ceraball Universal
Room Treatment
R.T.F.S. SiRRAH
R.T.F.S. Big Block
R.T.F.S. Ceiling Vane
GiK 244 Broadband Bass Trap
See Also
For a complete overview of all the current HFA Reference equipment and accessories that are frequently used to perform reviews, see the Associated Equipment page.
For a Ranking Order of the reviewed components along with their appointed Awards, see the HFA Awards page.
For an in-depth overview of how the HFA systems developed over the years, see the HFA Audio Setup History section.
Videos on the Hifi-Advice YouTube Channel