GigaWatt LC-Y EVO cable, G-C16A Circuit Breaker and G-044 Schuko Socket
Review samples supplied by Ohm Audio
Retail prices in the Netherlands, including 21% VAT:
GigaWatt LC-Y EVO 3X4 In-Wall Cable: 30 euro per meter
GigaWatt G-C16A 2P Circuit Breaker: 235 euro
GigaWatt G-044 single Schuko Wall Socket: 105 euro
GigaWatt G-044 double Schuko Wall Socket: 174 euro
This review will be in two parts. In the first part, I focus on explaining the products in detail and provide some background information pertaining to some of my personal experiences and in part 2, I will report my listening impressions. If you are in a hurry, you can skip to part 2.
GigaWatt LC-Y EVO 3X4 In-Wall Cable
The LC-Y EVO 3X4 is a proprietary GigaWatt design made up of three solid core 99,997% pure copper (OFHC C10100) conductors with a 4mm2 cross-section each. The conductors are subdued by an annealing process, which allows them to gain a uniform structure and better conductivity.
The conductor insulation material PK90AT28 has a very low dielectric constant. Covering these is another layer of insulation made of a transparent TPV56 polymer with very good damping properties. The twisted wires are protected by a static shield, made from aluminum-polyester foil with an internal, tin-covered copper flow wire. The tight construction of the static shield covers 100% of the surface of the cable, perfectly protecting against all kinds of EMI and RFI external interference. In addition, the shield prevents the receptibility to and spread of internal interferences. The cable is finally covered with a flexible, but very durable protective GA 70AT03 insulating sheath.
The cable is designed to be used in concealed and surface mount installations in dry and wet rooms as well as directly on concrete. The cable is also approved for usage in external installations, under the condition that it will not be exposed to direct sunlight or is placed inside cable channels.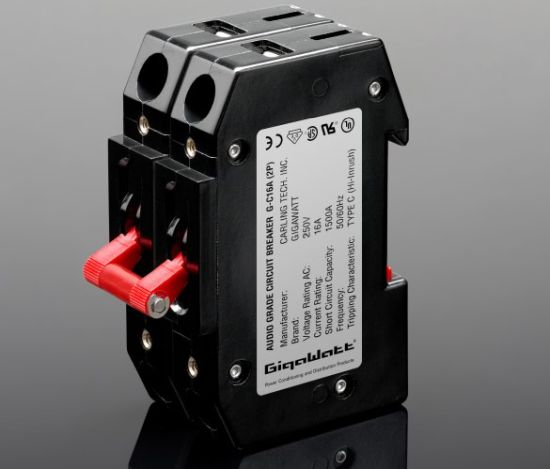 GigaWatt G-C16A 2P Circuit Breaker
The GigaWatt G-C16A 2P is a 2-pole circuit breaker manufactured in the USA by Carling Technologies according to GigaWatt specifications. The 2-P version under review here has contact pins for phase and neutral which are both switched. The circuit breakers are specially designed to handle instantaneous starting current (Hi-Inrush). When a big amplifier is turned on, the in-rush current can be up to 10-20 times higher than the current consumption during normal operation. This high inrush current often causes the contacts in fuses and circuit breakers to burn over time and consequently be damaged.
Gigawatt comments that the fine copper or silver wire inside an old-fashioned melt-wire fuse ("smeltzekering" in Dutch) supposes a resistance to the current flow, which is something that does not happen with the GigaWatt circuit breaker. It is certainly true that this type of fuse always contains a very thin wire, irrespective of the material that it is made of. In addition, such fuses are said to heat up in use which makes them especially sensitive to the aforementioned instantaneous peak current and this can cause the fuse wire to deteriorate over time. Regular automatic circuit breakers, on the other hand, are negatively noted due to their poor contacts which can cause micro arcing.
The casing is made from high rigidity-black phenol-formaldehyde resin, which in the old days was used as the basis for bakelite, to prevent deformation and thus ensure that the contacts remain flat and in perfect contact with each other. The unit is fireproof, melt-proof, antistatic and has a low electric and heat conductivity. The main contact elements are made from silver with a large contact surface. The other supporting conductive components are made from copper and have a large cross-section. The coil itself is made from thick, copper wire, which does not cause any throttling or losses.
How it works
The GigaWatt hydraulic-magnetic switch contains an induction coil that generates a magnetic field proportional to the current flowing through it. After exceeding a certain current value, the magnetic field causes the switch to disconnect precisely at the right time. The coil system contains a core moving in a non-magnetic tube filled with a special, oily fluid with a specific density which allows for precise regulation of the delay characteristic and thus the switching-off process. The switch is designed to ignore swift, peak load changes, which would trigger standard protection, and activates only when safe values are exceeded.
The Circuit Breaker can be mounted on a standard DIN rail, and it can be connected with bare wire or spade connectors.
GigaWatt G-044 Schuko Wall Socket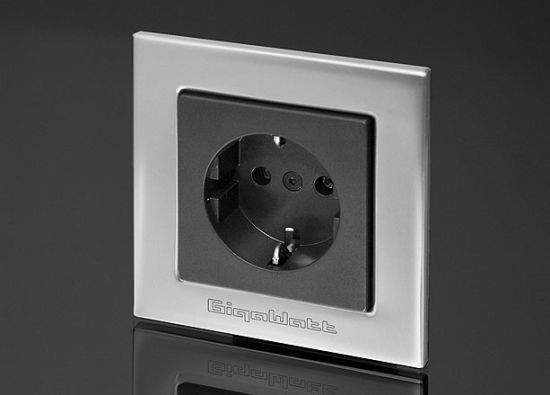 The G-044 Schuko is a high-quality in-wall power socket with an internal chassis made for GigaWatt by German company Merten. The installation wire inlets are silver-plated. The internal contact materials are made from brass and their surface is protected against oxidation (with what seems like a Nickel-plating). A powerful contact and large connection surface with a width of 10mm guarantee a perfect connection with the schuko plug pins. Additionally, the connectors are cryogenically treated and de-magnetized. The faceplate is made from solid, anodized aluminum with a 6mm thickness. The G-044 Schuko socket as pictured above is also available in a dual-version which is the one that I will test here.
Earlier experiences
Before moving on to the listening part, I want to share some of my recent experiments with the power section of my system which will set the stage for what's to come with the GigaWatt products.
Until recently, the audio equipment in my current apartment was fed from the regular wall socket rather than via a separate audio group. This was done because past experiences in a different apartment some 10 years ago using XMVK 2,5mm solid-core double-isolated outdoor installation cable lead to a sound that I found to be dynamic and powerful and with great solidity but overall too dull and too dark, after which I returned to using the apartment's standard wiring and basic outlets. While this sacrificed a considerable portion of solidity, at least the sound remained open, communicative and airy.
It wasn't until now that I gave this a second thought. As part of this GigaWatt review, I have dug up the very same cable as I used back then to give it another run in the context of this review.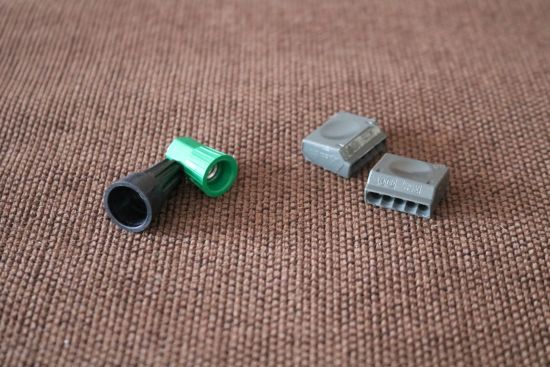 Left: old-fashioned wire nuts, Right: modern snap-in connectors
For Dutch mains installations, the power from the main access point in the utility box is distributed over the apartment via the ceiling and from there wired down to the wall outlets. Additionally, the cables are interrupted in each of the light fixture outlets that the cable passes along the way. After noticing that these connections were all done using modern "snap-in" connectors I decided to replace the ones of the nearest ceiling light fixture point for old-fashioned wire nuts ("lasdoppen" in Dutch).
This made a large difference: more solidity and a more powerful and dynamic sound, more sonorous bass and a less nervous midrange and treble. This was quite surprising given that the cables of this group were still powering pretty much everything else in the apartment, including a mix of several halogen- and LED lights.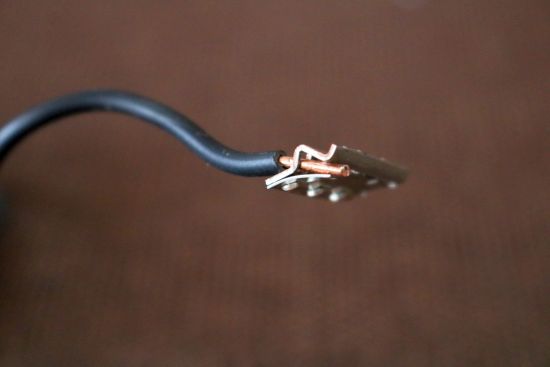 Inside the snap-in connector: notice the small contact area? Additionally, the cable end is clamped to the conductor with only very moderate pressure and it stays in place only because the clamp is made such that it cuts slightly into the copper. This allows the wire to rotate freely but not flip back out.
After this unexpected initial success, I proceeded to do the same for every other ceiling light fixture point that was in between the audio system's outlet and the origin in the utility box. This did lead to further improvements but of decreasing magnitude.
After this, I decided that I should install a separate cable without any interruptions. In order to make this more interesting, I ran a separate and uninterrupted length of the exact same cable type as was inside my ceiling and walls as well as a newly-purchased uninterrupted length of the XMVK double-isolated outdoor installation cable that I used 10 years ago in the previous apartment and did not like at that time. This way, I could check if the differences heard then were due to the separate groups or the cables themselves.
Getting to the point
This finally takes us to the point of this review, the GigaWatt products. As should be very clear by now, bad connections are clearly audible even if they occur many meters away from the system. And given that I have taken it as far as I could using standard materials finally sets the perfect stage for assessing the GigaWatt cable and accessories.