Artesania Organic Line Modular Rack
Review sample provided by Artesania Audio
Retail price in the Netherlands:
Per level: 2.600 euro
As reviewed: 7.800 euro
Regular readers will be aware of my admiration for pretty much anything that Artesania makes. My experience with the brand started with the Exoteryc racks and associated platforms and accessories. For me, these products embody the perfect balance between form and function. And, as also evidenced by their omnipresence at shows such as High-End Munich, this line of products is very successful. I think these sturdy metal racks are simply gorgeous in all their technical splendor but I can imagine that some people might find them to be just a little bit too high-tech in appearance. As part of a fruitful collaboration with Miguel Lorenzo Castro (who also designs for Kroma Audio), Artesania has now issued a new line of audio racks and accessories that use very different materials and have a uniquely different appearance. An appearance, indeed, that might cater precisely to those who prefer a less technical style of hi-fi furniture. But, as I will explain further below, the new racks are not just about style. Rather, the new looks are a by-product of a new direction in construction, instigated by the use of two particular exotic materials.
The Modular Rack arrives in three solid wood boxes which, I have to admit, not only helps safely transport the rack but also instills confidence in the rack itself.
Classic Line and Organic Line
With the introduction of these new racks, Artesania now has two distinctly different lines of products in the portfolio: the Classic Line that includes all the metal racks such as the Exoteryc and the all-new Organic Line that includes, among others, the Modular Rack that is reviewed here. Like the Classic Line, the Organic Line covers a wide range of products, among which are Floor stands, Racks, Speaker Stands, and Cable Elevators. In true Artesania tradition, the racks are available in a range of configurations and can even be made to special order.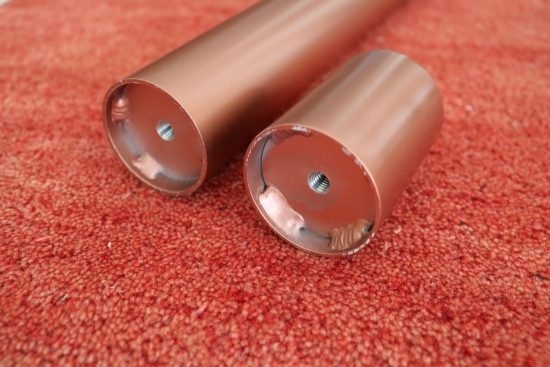 Steel pillars, available in various lengths and colors (even to custom order)
The top-tier product of the new Organic Line is the Absolute Rack (seen first at the 2018 Enosound show in Bilbao and later that same year at the Munich High-End show), made entirely out of Krion, Tankwood (Panzerholz), and Elastomer adhesive. Artesania makes a big deal of keeping the rack entirely free from any metal so even the screws are a special kind of thermoplastic. The Absolute rack is stunningly beautiful, especially when seen in real life, but also painfully pricey. I may assess one someday but for this review, I will focus on the relatively considerably more sensibly priced Modular Rack.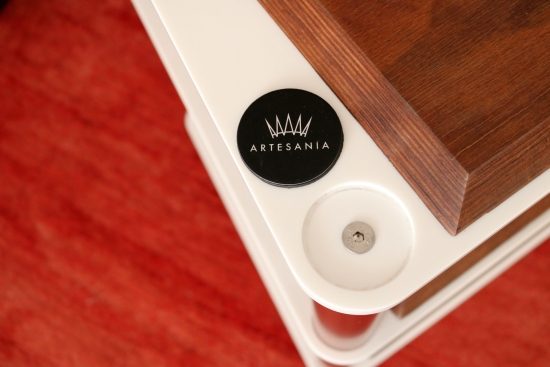 The Krion/Tankwood levels are screwed to the Steel pillars, then slickly covered with Artesania endcaps.
Agreed, 7.800 euro is hardly pocket change and although other high-end rack companies have offerings in similar price ranges (and way beyond), a visual comparison between an Exoteryc Rack and a Modular Rack might indeed trigger the question if the extra expenditure is legitimate, considering that the Modular Rack shows no clear signs of its underlying technical excellence. Moreover, it is not immediately obvious where it deviates from lesser offerings with similar construction. The secret, of course, is in the materials that are carefully selected for their unique audiophile properties. Alas, both Krion and Tankwood are extremely expensive source materials and this is inevitably reflected in the retail price. As I would quickly find out during my listening sessions, the Modular Rack not only has great looks but also justifies its price by adding nothing but musicality to components that are placed in it.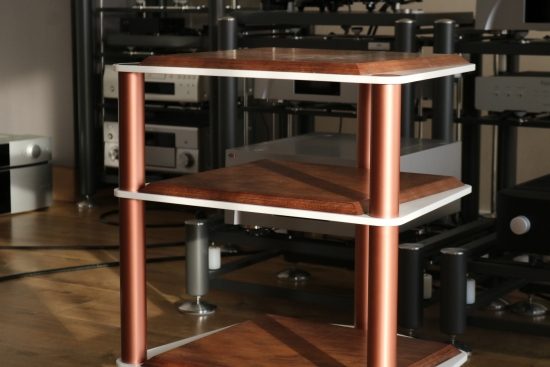 Above and below: two different components made from Krion – Artesania Modular Rack and Kroma Audio Carmen loudspeakers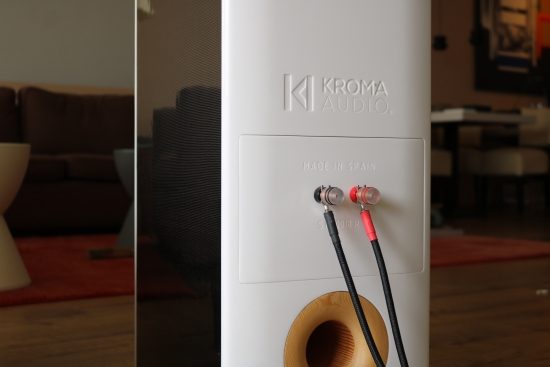 Krion and Tankwood
Krion is a very expensive material to produce. Rather than being cut, the panels are cast and this is all done using bespoke machinery especially for Kroma Audio and Artesania. The material itself is developed by PORCELANOSA Group. It's absolutely non-resonant, warm to the touch, similar to natural stone, highly resistant and easy to repair. Tankwood (Panzerholz) is a premium material as well. It is a hardened multi-layer panel material made from a combination of phenolic resin and hardwood. As Kroma Audio and Artesania have found, there is a great synergy between Tankwood and Krion.
Modular Rack
As with the Absolute Rack, the Modular rack is made from a combination of Krion and Tankwood but in this case these materials are applied only in the levels themselves. The Tankwood top layer of each level is bonded to the Krion bottom layer by means of a special thermoplastic glue. The vertical pillars are made from steel and they can be ordered in a selection of predefined lengths as well as in custom lengths on special order. The racks are coupled to the floor with Titanium spikes that rest on non-metallic Nylon dampers that will not scratch the floor. The rack can be assembled exactly as required from 1, 2, 3, or however many layers and it can always be extended or reduced very easily, hence the term "Modular".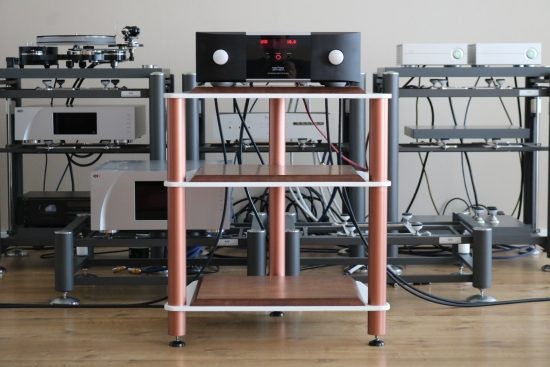 The Levinson 5805 is a beast of an amp, deeper than it is wide and just fitting on the rack's top level
The rack's outer dimensions are a modest 61 cm wide and 50 cm deep. Visually, it's not too large but certainly also not too tiny. Between the pillars, however, there is less space due to the centrally-placed rear pillar which is a consideration for the lower two levels. The inner dimensions are 49 wide and 44 deep if you're measuring all the way to the outer edge of the white Krion part. If you're measuring the Tankwood platform's top part, then it's 43.5 cm wide and 38.5 cm deep.
While it is certainly easier to obtain a sturdy (and better sounding) placement with 3 legs than with 4 legs, the rear pillar, in this case, may obstruct the connections for some of the deeper audio components. I came across this when I wanted to fit the relatively deep Mark Levinson 8505 amp in the rack and found it was a very snug fit. Its USB port was located precisely where the rack's rear pillar is and so to use its USB port, the amp had to be slightly rotated.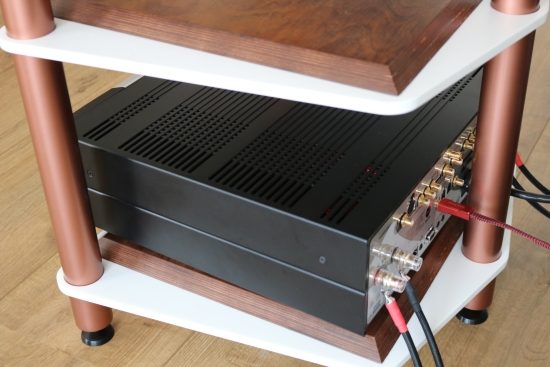 A very good alternative for very deep components such as power amps or oversized integrated amps is to use the Organic Line Modular Floor Rack that with 78 cm is much deeper than it is wide and will accommodate pretty much any beast of an amplifier out there. At 2600 euro, its price is the same as a single level for the normal rack.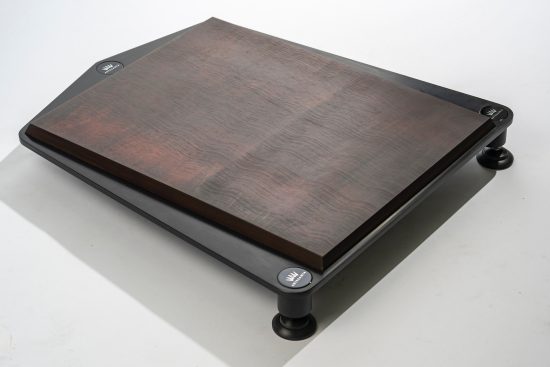 Above: Organic Line Modular Floor Rack
What's more: one can also use a multitude of these floor levels along with a range of pillars to create a rack with the same width as the normal rack but with enough depth to comfortably fit even the largest monster power amplifiers. A separate review of the floor platform (officially called Floor Rack) will follow soon.
Other components that I listened to were the Anthem STR preamp and -power amp and these fit precisely, with the good fortune that there are no connections where the rack's center pillar is.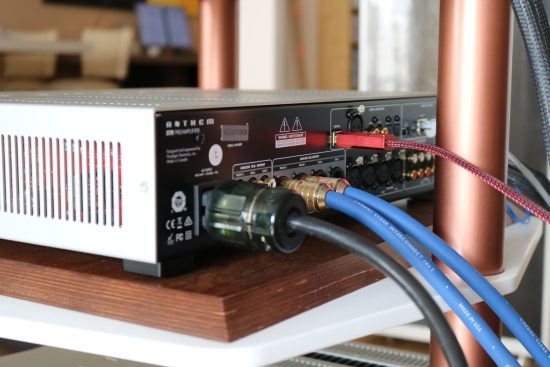 The more average-sized Anthem STR preamp fits nicely in the Modular Rack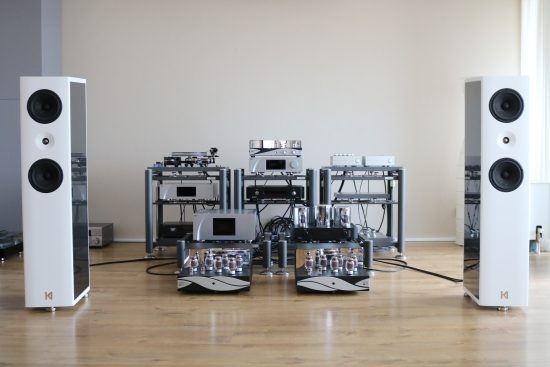 Review system with Kroma Audio Carmen loudspeakers
Listening
For assessing its contribution to the sound I used a Mark Levinson No. 5805 integrated amplifier, an Anthem STR preamp and -power amp and the Origin Live Calypso mk4 turntable with Multi-Layer Platter, Illustrious arm, and ViRa Aidas Rainbow MC Cartridge.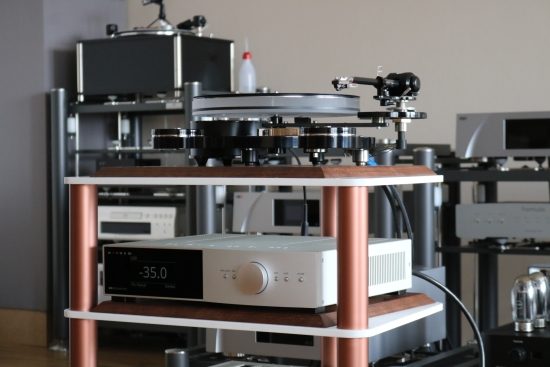 Let's start with something very positive that I noticed about this rack, something, however, that if not mentioned, might not even be a consideration for many audiophiles and music enthusiasts. In my experience, all audio racks have an impact on the sound. Sometimes small, sometimes large, but it rarely happens that they have zero influence on the sound of components placed on them. So far, I think most people will be with me on this. But what I also find with audio racks is that the influence fluctuates per level. Usually, with a rigid construction, a rack's top-level provides the most fluid and relaxed sound, the bottom layer provides the tightest, most controlled sound and the ones in-between vary between these two extremes. The Artesania Exoteryc Rack with its special rack-within-a-rack construction is the only deviation to this that I encountered so far. Due to the inner rack's pendular behavior, it influences the sound in the opposite direction: the top-level sounds tightest and the bottom level most relaxed. The Exoteryc Rack may sound different from level to level but thanks to its intricate coupling/decoupling mechanisms, they add no detectable character of their own and this, together with their superb adjustability, is why three of them form the backbone of my reference system since 2014. This finally brings me to the Organic Line Modular Rack.
The Modular Rack is unique in that I could not detect any difference in sound between its three levels: its bottom level sounds the same as its top level. The rack made no distinction between brands, the Mark Levinson behaving the same as the STR components. The Origin Live turntable could only be fitted on top, of course, but I noted how superbly well it worked on the Modular Rack, sounding energetic and up-tempo as well as relaxed and full-bodied. Apparently, the even-handedness and resonance-control are qualities of the special materials that were chosen, as literally, every other rack that I used with a similar construction is nowhere near this even-handed from level to level. What's more: the contribution that the rack does make is that of an engaging sonorous musical fullness as opposed to a cold edginess as happens with virtually every other rack with a full metal, metal/wood, or metal/glass construction.
The Modular Rack is not as devoid of character as the Exoteryc racks but what it adds is not something that I would label as coloration per se but rather as a remarkable sonorous solidity coupled with a pleasing harmonic richness. The Exoteryc racks are unique for providing a superbly free-flowing and highly refined sound that has zero edge or hardness. For this reason, I find them to sound very much like no rack at all. However, there is, of course, no such thing as a 100% sonically inaudible audio rack and no matter how close the Exoteryc gets to this ideal, it has one area where it can be bettered, using its standard Neoprene dampers at least*, which is in the bass. And although the Modular rack does not have the Exoteryc's utterly airy and ethereal presentation or all of its room-filling spaciousness, it certainly has the edge in the lower registers. There is a real visceral solidity in the bass and lower midrange as well as a rich and full tonality that really aids the reproduction of acoustical instruments, without sacrificing the neutrality or precision. Oh, and this rack has PRaT like there is no tomorrow – foot-tapping and dancing is guaranteed!
* The all-new Carbon Fiber Linear Arm upgrade for the Exoteryc rack provides significant improvements in several areas.
Footers / Dampers
Confusingly, the above image that was taken from the Artesania website shows the rack with the shelves and pillars in a more neutral grey color. Note the footers, or, as Artesania refers to them, dampers, which are bigger than the ones supplied with my review sample and also different from the ones later supplied with the Floor Rack (review forthcoming). In speaking about this with Cayetano, it was confirmed that the metal "Prestige" ones (as received with the Modular Floor Rack) are the definitive versions to be delivered with these racks. That's only good news, though, as later comparisons confirmed that they also provide the best combination with this rack, soundwise.
Above you can see the rack in use with the "Improved" footers that were delivered with this rack and that were used for this entire review. On the ground next to it are the "Prestige" footers that I received later which allow for the use of 3 different coupling materials. I opted for Nylon, just as with the Exoteryc racks. Compared to the "Improved" footers, the "Prestige" footers provide an even more nimble sound with even more dynamic impact.
Incidentally, these metal "Prestige" footers are the same ones as supplied with the Prestige racks and also the very same ones as I use very successfully with all the speakers ever since. As part of a comparative review I found out how great they are and Cayetano was so kind as to send me a couple of extra sets for my reviewing purposes. See also the later review that adds the Beechwood discs.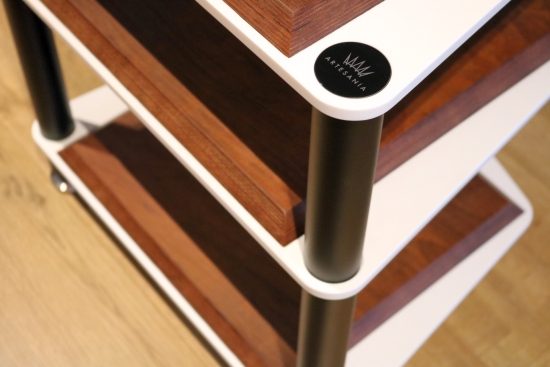 Here's the rack with black pillars – a very striking yet also very classy combination.
Conclusion
I have to hand it to Artesania and Miguel Lorenzo Castro, for deploying these two bespoke materials in such a way that they truly enhance each other. The Modular Rack effortlessly avoids all the typical hi-fi pitfalls and lets the music speak for itself in a hugely engaging manner while looking refreshingly different.
Modular Rack Dimensions:
Outer width – 61cm
Outer depth – 50cm
Upper layer width – 44cm
Upper layer depth – 39cm
Modular Platform Dimensions:
Outer width – 64cm
Outer depth – 71cm
Upper layer width – 48cm
Upper layer depth – 61cm
External Links
Manufacturer: Artesania Audio
Distributor for the Benelux: Aspera Audio
Krion website: Krion.com/en
Read Also
Artesania Exoteryc Audio Rack
Artesania Turntable Platforms and Dampers
Artesania Aire Floor Platform
Artesania Modular Floor Platform
Various Artesania Footers tested with SolidTech Radius racks