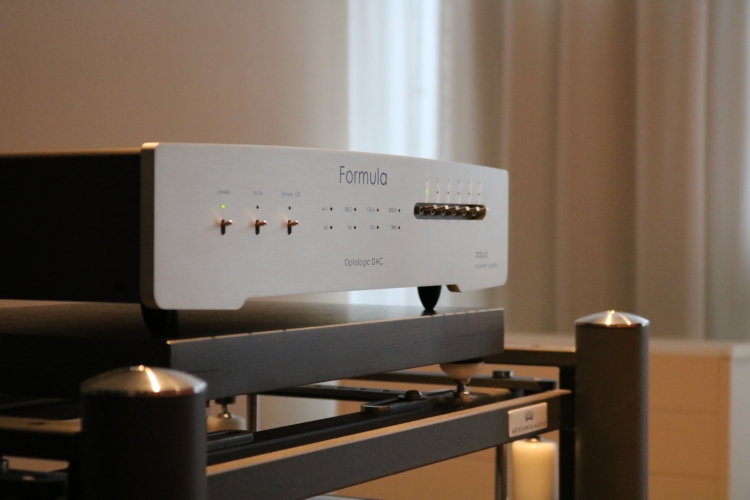 State of the art NOS R2R ladder DAC with DSD compatibility
Review sample supplied by Aqua
Retail prices in the Netherlands (incl 21% VAT):
Formula xHD: 13.670 euro
Upgrade from Formula to Formula xHD: 1085 euro ex shipping to the factory in Italy
Regular readers know that I still have a preference for multi-bit DACs, especially when they're built in an R2R ladder, discrete resistor-for-resistor fashion. The EC Design Mosaic was my first encounter with a NOS, filterless DAC using discrete resistors, and it shocked me to find that it did several things better than my then reference Jeff Rowland Aeris DAC.
It was mainly due to my then Apogee Diva speakers' behavior that I could not stick with the Mosaic DAC and settled on a Wadia 521 instead. The 521 can be seen as the classic Wadia team's last real DAC, and although not built with single resistors and certainly not NOS or filterless, unlike the brand's current Delta/Sigma DACs, the 521 is a true multi-bit DAC. All Wadias have very natural timbre but older models can sound a little "wooden". The 521, however, is the smoothest Wadia I've heard. I still don't know exactly why, but Wadias always sound bold and powerful and the 521 is no exception. Naturally, this also ties in with the output stages, and that is where I found the Mosaic to be lacking: in spite of its better low-level resolution and purer sound showcased so clearly by the Divas, its direct-coupled DAC output simply did not sound powerful enough to really bring these speakers to life.
When Cristian Anelli of Aqua contacted me for reviewing the new Formula xHD DAC, I entertained the thought of moving to dynamic speakers and entirely coincidentally I came across a pristine pair of Wilson Watt/Puppy 8 at the same time that several other speakers, as well as several amplifiers, were over for review, and it was at this time that the Formula xHD DAC was delivered. This made it possible to listen to the DAC in very many different system configurations.
Before I dive into the listening aspect, though, first let me explain some more about the Formula xHD DAC.

Formula
With the Formula xHD DAC, Aqua presents an FPGA-based Pure R2R ladder DAC with no oversampling and no digital filter, but including not one but two very potent output stages, one for the single-ended outputs and one for the balanced outputs. The output stages are built onto 4 separate circuit boards using only discrete components, so transistors, not op-amps, and the balanced outputs are transformer-coupled. This promises not only superb refinement and soundstage layering but also a powerful output.
Optologic is what Aqua calls their DAC system, which uses multi-bit technology as used in their La Voce  DAC but with a discrete R2R resistor ladder instead of a Burr-Brown PCM1704 DAC. Further, the Formula DAC has a sign-magnitude converter structure, which requires not two but four 24 bit resistors banks, each one made of very low tolerance discrete resistors. Furthermore, there is Galvanic and Magnetic isolation between the FPGA and the four branches of the R2R ladder converter. According to the manufacturer, "This creates complete isolation of all digital circuitry – including the clock – from the analog section for a pure clean ground plane". And "It also plays the main role in the differential management of the R2R ladders, achieving perfect symmetry between the counter-phase halves". The official documentation then concludes: "The result is the highest tonal contrast and naturalness never heard before from digital sources". Big words, but as would soon turn out during listening, fully justified.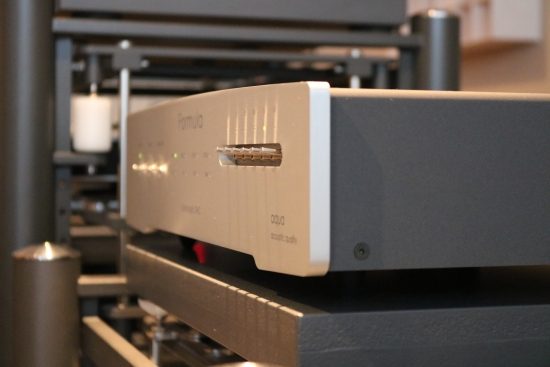 Formula xHD
The Formula DAC has been out for a few years but was recently updated to Formula xHD status. Compared to the Formula DAC it now includes new optimized firmware for the main FPGA and a new hybrid architecture USB board with fully-floating (isolated) USB decoding and clock generation by FPGA with proprietary code. Finally, the upgrade also added full DSD compatibility.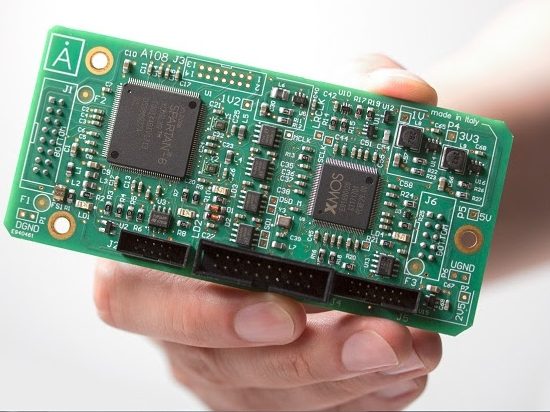 Below are some of the most important features:
Proprietary hybrid 2-stage XMOS xCore XE216 + FPGA
Fully-floating (isolated) USB decoding and clock generation by FPGA with proprietary code
Sample rate in "Bit Perfect" up to 768 kHz PCM and quad-rate DSD (DSD256)
Latest version of customized XMOS X Core Driver on Windows OS (W7, W10)
Native X Core Audio on Mac OS (Bit Perfect)
USB Audio 2.0 operation on Linux (Bit Perfect)
And while I'm in spec-mode anyway, let's include some more manufacturer-supplied technical info: "The Formula DAC uses no digital filter or any other compensation, relying instead on maniacal attention to each subcircuit. The analog and digital power supplies are executed purely discrete by extensive use of BJT, Mosfet, Jfet and ultra-fast diodes. Passive parts were selected not just for the best sonic result but also for their top quality, longevity, and reliability. With the exception of six superior quality electrolytics, all other caps are Tantalum, solid-polymer OS-CON and double-metalized MJP. The signal path itself is direct-coupled and free of all capacitors. The two output stages (one single-ended, one transformer-coupled balanced) use discrete BJT and JFET with metal-film resistors. All the electronics parts show an ultra-low RF noise".
Lots of buzz words for sure, and all this indeed reads like very thorough attention to detail and a very carefully built product. But in the end, all the technology in the world means nothing if it does not distill into great sound. Fortunately, after having heard the Formula xHD DAC, I can testify that this DAC is truly magnificent!
Connectivity
As you would expect, the Formula xHD DAC is compatible with virtually all sources. Naturally, the DAC offers all the usual inputs such as SPDIF on RCA (cinch), SPDIF on BNC and AES/EBU as well as USB, but also has a proprietary AQlink input which provides an I2S connection for their own CD transport as well as music servers which use the same standard. Additionally, there is a Modular input which can be opted for during purchase or later, should the connection needs change in the future. The available options for the Modular Input are AES/EBU, RCA, AT&T ST Glass and Optical TOSlink. This modular input is a great feature, which only shows the top of the iceberg in terms of the utterly modular concept that the xHD DAC is.
Inside everything is divided into separate boards which can be swapped if and when the need arises. The change from Formula DAC to Formula xHD has been the perfect example of the advantage of this concept, allowing the DAC to be upgraded by only swapping the USB board. How's that for future proofing?
The outputs are available in balanced (transformer-coupled) XLR and (direct coupled) cinch. There is an IR sensor but no supplied remote control. For this, Aqua has an optionally available system remote control, capable of operating the CD transport as well as the DAC.
Above and below: this is the optionally available B-21 remote control. The buttons are well laid out and it operates intuitively. It looks heavier than it is but is very sturdy nevertheless.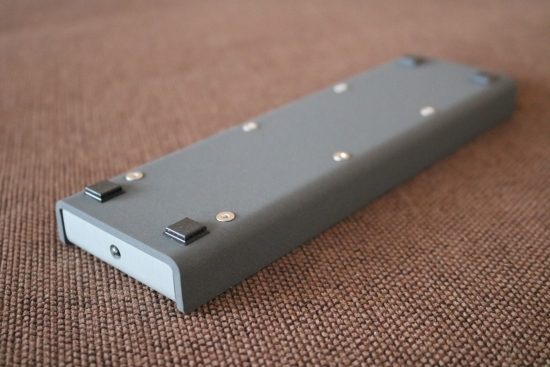 While this sure is a very nice remote control, it would have been even better if a standard remote control was included while having this luxury version as an option.
USB compatibility
The Formula xHD DAC works with Linux, Mac OS and Windows computers. Windows users need to install the driver first before connecting the USB cable, OSX 10.6.4 and later, as well as Linux 1.0.25 and later have native support for audio devices compliant with USB Class 2.0 built-in, enabling true plug and play.
On Mac, it is important to always manually select the correct sample frequency in the Audio Devices control panel (Applications–>Utilities–>Audio Midi Setup), otherwise, the computer is resampling. To get around this there are applications that automatically have the computer follow the source sampling frequency such as Amarra and Pure Music.
For Windows, the manual suggests using a player that supports ASIO such as Foobar and jRiver Media Center. From personal experience, I agree that these are some of the best applications for Windows. Both are bit-accurate but still sound different. How, you ask? I have no idea, but different they are. Foobar sounds the cleanest and most accurate and jRiver is smoother but for my ears more musical. For either player, I'd suggest trying ASIO as well as WASAPI. It's always good to just experiment to find which method sounds best to you.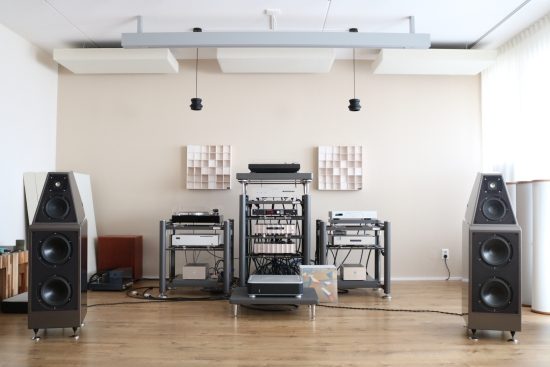 System Context
Recently I sold the Apogee Divas, but still present are the re-refurbished Duetta Signatures and the original Centaurs. In place of the Divas I recently purchased a set of Wilson Watt/Puppy 8, which are now my main speakers. Simultaneously over for review are also the Wilson Sabrina, Gustavson LS-One and Vivid Audio Giya G3 s2. Pending the purchase of a new reference Music Server, default front end at this time is a regular Windows PC streaming via Roon RAAT to the AudioAanZee Reference Flow with Euphony drive and then with an AudioQuest Diamond USB cable to the DAC. Personal reference DAC is the Bricasti M1 and preamp the Jeff Rowland Corus + PSU. The Bricasti, just like 97% of all current DACs out there, is a Delta/Sigma design, but in spite of this, it does sound very refined.
As I am still considering my options in terms of amplification for the Wilsons, I currently have no default power amplifier, but I do have a bunch of amplifiers at hand that are also over for review: Bryston 3B Cubed, 4B Cubed and 14B Cubed, NuPrime ST-10 and PrimaLuna Dialogue Premium. Interlinks used are Cardas Hexlink Golden 5C (T T L) and Clear, both XLR. Cinch comparisons will follow later.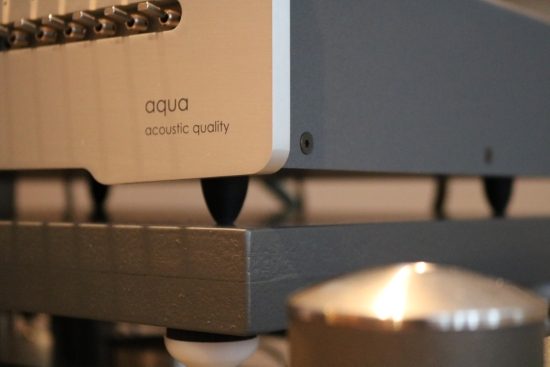 Above: using the Formula xHD with its own feet, albeit ultimately still supported on the Artesania rack's feet, makes for the smoothest sound. Below: using Finite Elemente Cerapucs works well by adding extra presence, but given the DACs lively nature, this is not really needed.
Formula setup
As the Artesania racks use their own feet and so bypass any component's own feet, the Formula xHD DAC was first set up on top of a shelf so that I could use it with its own soft neoprene-like feet. When positioned this way, if you grab the DAC with two hands on the top, you can wiggle it in all directions and the feet are so compliant that it even judders a little after having moved it. I figured if Aqua go the length to use special feet, I should also listen to them. Knowing that soft coupling usually makes for somewhat damped bass and sometimes a lack of attack, I expected a soft and mushy sound, but there's none of that here!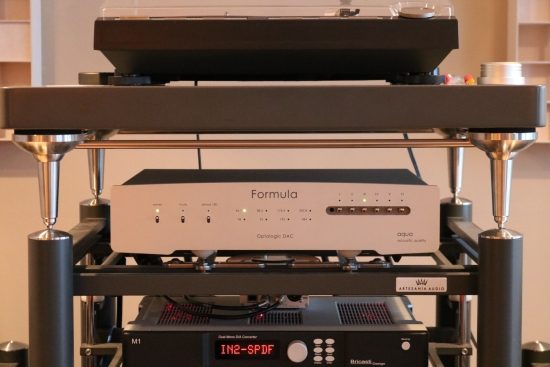 The Formula xHD DAC always sounds fast, articulate and agile. Nevertheless, I noticed a small change when bypassing its feet by placing it directly on the Artesania rack's feet, adding a little drive and body to the bass while making the sound more "concrete". The choice is up to personal preference, and there are plenty options for direct-coupling the DAC if so desired. The point is that you can, but don't have to.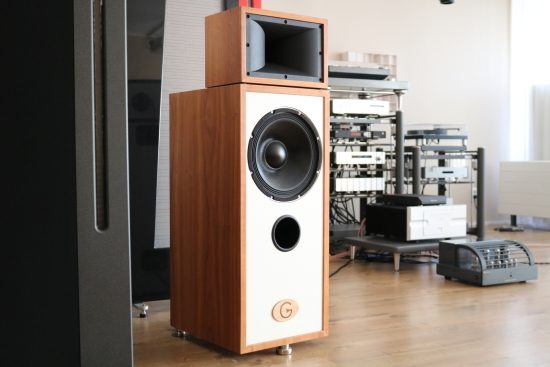 Listening
After having the Formula xHD installed and switched on for almost 2 weeks while I carried out other review work, my immediate impression upon first listening to the Formula xHD DAC using the Gustavson LS-One speakers is "WOW", this is a seriously great DAC!
There's magnificent resolution and focus, incredible treble air, a benchmark-setting decay of subtle reverbs, super-fluid and free-flowing, super-neutral midrange and articulate and fast, yet perfectly proportioned bass. There is no smear, no added creaminess and importantly, timbre is spot on natural and lifelike. What's more to desire? Well, after only 2 listening sessions I'm already inclined to say: "nothing"! I could end the review right here, but that would not make for very interesting reading, so let's dive in a little deeper to see how it behaves with different inputs and different speakers.
So far I've only been using SPDIF via the HiFace EVO for easy and simultaneous comparison with the M1 DAC while avoiding having to swap the USB cable. I've already encountered one occasion where a USB input got damaged following a swapping session and even if I still cannot imagine that I actually caused that because I always ground myself when swapping cables, ever since I am just extra careful.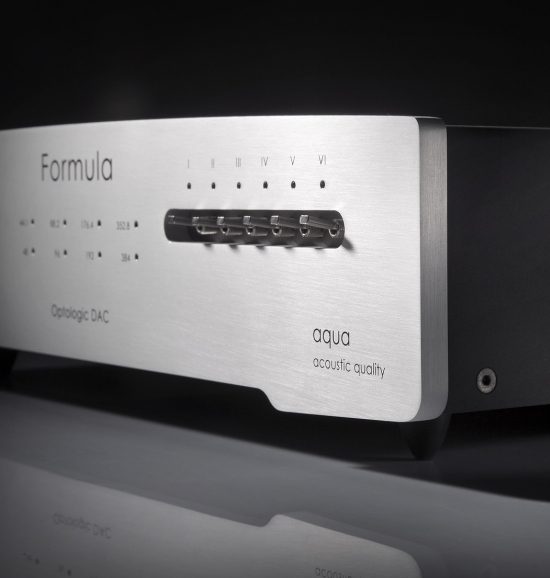 SPDIF and USB
After Asynchronous USB was declared the best music transfer method not too long ago, there is now a growing camp advocating SPDIF and AES/EBU over USB. I still find that it is just very circumstantial between these formats and different tastes and particular system matching will dictate preference. Personally, I still feel that USB is the most accurate, and often (not always!) also best sounding.
Given that the USB board is where most of the changes have been implemented between Formula and Formula xHD, it is not surprising to find that the DAC sounds most articulate, sonorous and powerful when driven directly by the Reference Flow server when connected directly via USB. Dynamics are more instant and powerful and timbre becomes even more neutral, with the last nth of smear now totally removed. The USB sound is a little drier and some may prefer the smoother and more rounded off sound using the SPDIF input and may even find it more "musical", but there is no doubt in my mind that the USB sound is technically most accurate. As I currently like my music tight and articulate I retained the USB input for the rest of the listening.
Other speakers
Some audio components sound incredibly articulate and "detailed" at first, but soon this extra detail is unveiled as being unwanted sharpness, much like turning up the sharpness control for video or images creates a seemingly sharper image that is actually obtaining a nasty edge. As listening with both the Wilsons and the Vivids quickly confirmed, the Formula xHD DAC has no artificial sharpness whatsoever, just utter transparency and articulate refinement.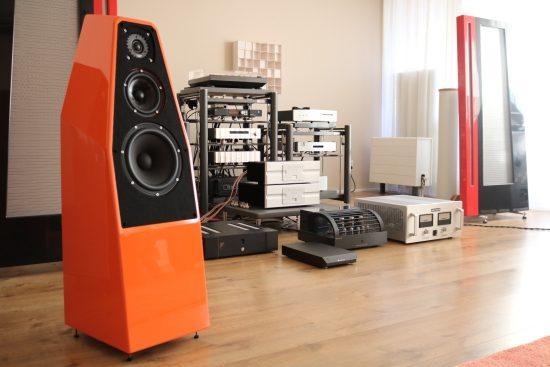 The warm-sounding Wilson Sabrina portrayed more inner detail and better transient attack while retaining their smooth character and the cleaner sounding Watt/Puppies managed to reveal even more intricate musical detail provided by the Formula xHD but without ever tipping over into an analytical delivery. No other DAC sounds like a Wadia The Aqua does not sound like a Wadia, no DAC does, it really doesn't have a sound at all, but it still has a powerful and energetic delivery. The Apogee Duettas also worked very well with the Formula xHD DAC, delivering all the recording's resolution while sounding every bit as sonorous as they should.
The Formula xHD also just has no character that I can discern. It is neither warm nor cool, not too speedy and not slow, not analytical, absolutely not colored, yet it can be as smooth and rich as the recording dictates. As I already said, this DAC simply leaves nothing to desire. Except perhaps for an included remote control. And ideally also a Roon-capable network input.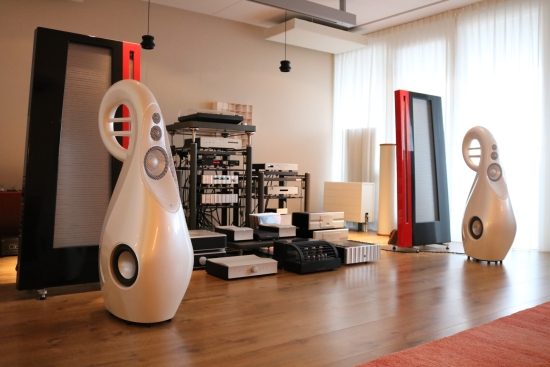 Bricasti M1
The Bricasti DAC sounds very different but it really is an excellent DAC as well. I'd say that between the M1 and the Formula xHD it is very much a matter of preference and perhaps even of convenience. The M1 is a Delta/Sigma design which is a pity as I generally prefer multi-bit designs because they sound timbrally more correct and more articulate and lifelike to me, especially with PCM sources. Like the Formula xHD, the Bricasti handles DSD as well, but because I don't actively collect and play DSD, this is not important to me. This is also the reason that I will not report on the Formula's DSD sound, other than to confirm that it works just fine. The M1 has a very wide range of filters to choose from which makes it possible to tailor it to a particular preference. It also has a very nice remote control which operates all of its functionality while reporting the status of all its parameters very clearly on its large display. As a reviewer, I really appreciate such conveniences.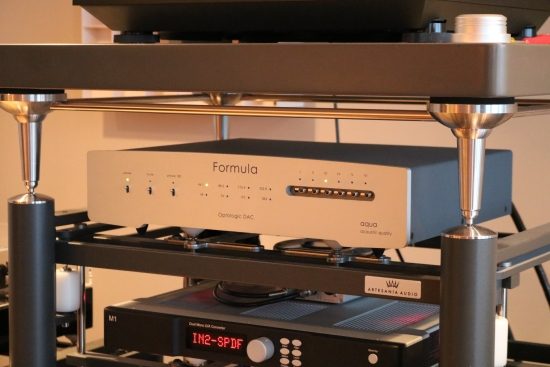 What I like most about the Bricasti M1 though is that it is more refined and airier than the Wadia 521, with an organic, smooth and lyrical midrange and almost Wadia-like, powerful bass. Especially the latter was a big thing for me when I used full-range planar speakers such as Magnepans and Apogees. Even though full range Apogees have truly incredible low bass, it is the dynamic behavior in the midbass that was always demanding of the most powerful sounding sources, hence my sticking with Wadia, and later the Bricasti. After having lived with the Bricasti for about six months I have completely gotten used to its sound and did not miss the Wadia anymore, or the discrete R2R DACs for that matter.
Comparing to the Formula xHD, however, I must admit that the Bricasti has a bit of smear and indeed has a sound. It is subtly smoothened throughout the entire frequency band and comes across a little filtered, which, of course, technically it is. This is not a bad thing in itself as it also seems to help shape its lush and rich midrange, which is also surely very seductive and can make lesser recordings sound better than they are.
Although at times I have been tempted by the extra refinement and unbeatable purity of NOS, filterless DACs such as the Mosaic, Metrum and some other designs, ultimately I always came back to the Wadia and later the Bricasti, mainly because they simply had more conviction, more drive, more dynamic power. Although the current crop of speakers in this room no longer demands it, I still like a digital source to sound powerful. The great thing about the Formula xHD DAC is that it offers unprecedented purity and all the advantages of the aforementioned R2R designs and adds to this all the dynamic power and drive that I could ask for, while totally avoiding imposing any character onto the sound.
Above: Cardas Hexlink Golden 5C, Below: Cardas Clear. The Formula xHD works splendidly with both cables.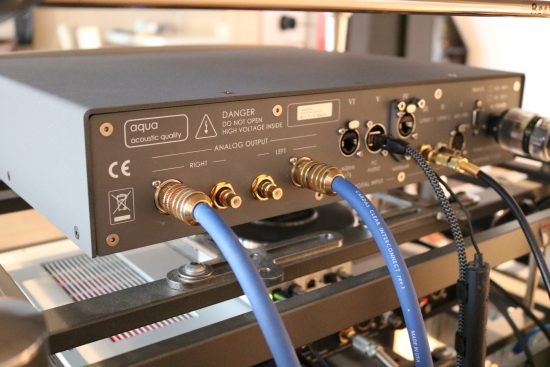 Interlinks
As my main XLR cables I use Transparent Ultra XL, Cardas Clear and the old favorite Hexlink Golden 5C, in the T T L'd version. Normally the main difference between the Hexlink and the Clear is that the latter has higher resolution, but in this case, with the Formula xHD DAC, I'm not so sure about this anymore. With either of these two cables, the DAC sounds utterly hi-res, playing 16/44 files mind you. The Clear does manage better layering front to back and is smoother, which could combine better in some systems. Likewise, the Transparent has an extra fluid sound that can help tame a bright component while retaining a large chunk of the Cardas cables' natural sound. With the Formula xHD, however, I have the feeling of not wanting to introduce any kind of equalization as it is just perfect the way it is.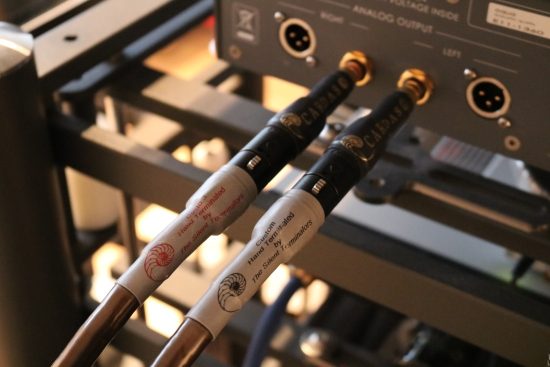 Cinch outputs
As a final test, I also assessed its cinch outputs. Not having the same type cinch cables as XLR cables makes it hard to say final things about their relative sound, but knowing all my cables very well I think I can at the very least hint at any potential differences. And so I thought that the cinch outputs sounded tighter while the XLR outputs sounded slightly creamier. To make sure of this I used the excellent Cardas cinch-XLR adapters and connected the very same XLR cable alternately to the Formula xHD's XLR and cinch outputs. This way the same preamp input was also used and after adjusting the volume level with 6dB I can confirm that the Formula xHD's cinch and XLR outputs indeed sound different. The cinch outputs have the most solid sound, with slightly more sonorous bass and slightly more prominent upper bass / lower midrange. The XLR outputs, by contrast, sound a little smoother overall and slightly creamier in the midrange. Is this the transformer-coupling effect? Quite possibly. Personally and within the context of my system, I quite like the slightly smoother XLR sound. The Wilsons are plenty lively and articulate themselves and with its balanced outputs, the Formula xHD already sounds more articulate and dynamic than the M1. Ultimately, the beauty of this is that one can simply choose whichever solution sounds best.
Conclusion
For me it was clear after hearing less than a minute of music: the Aqua Formula xHD is the new HFA reference DAC! The Formula xHD offers magnificent resolution and focus, incredible treble air, a benchmark-setting decay of subtle reverbs, a super-fluid and free-flowing, super-neutral midrange and articulate and fast yet perfectly proportioned bass, with spot-on natural and lifelike timbre. Adding very solid engineering, beautiful aesthetics, full modularity, DSD compatibility, and an optional IR remote control, what's more to desire? Unless one is looking for a DAC that imposes a certain character onto the sound, I can say with 100% conviction: "Absolutely Nothing"!
Read Also
Aqua La Scala MkII DAC
Aqua Formula xHD v2 Output Board upgrade
Aqua LinQ Network Interface
External Links
Distributor for the NL/Belgium: hexagonaudio.eu/nl
Manufacturer: aquahifi.com