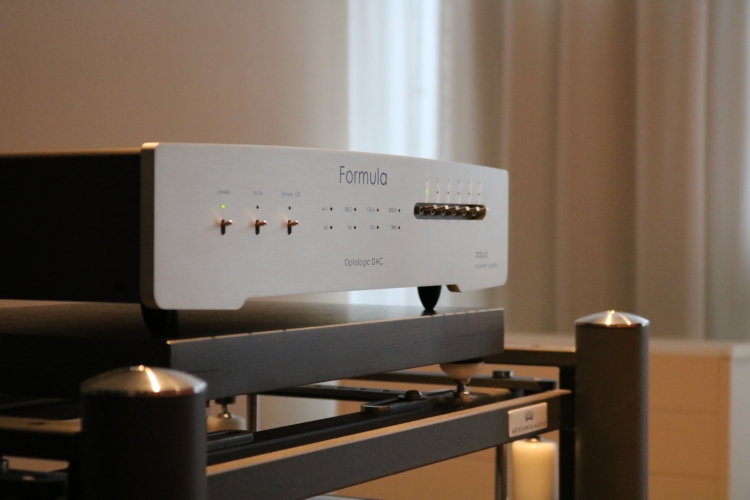 State of the art NOS R2R ladder DAC with DSD compatibility
Review sample supplied by Aqua
Retail prices in the Netherlands (incl 21% VAT):
Formula xHD: 13.670 euro
Upgrade from Formula to Formula xHD: 1085 euro ex shipping to the factory in Italy
Regular readers know that I still have a preference for multi-bit DACs, especially when they're built in an R2R ladder, discrete resistor-for-resistor fashion. The EC Design Mosaic was my first encounter with a NOS, filterless DAC using discrete resistors, and it shocked me to find that it did several things better than my then reference Jeff Rowland Aeris DAC.
It was mainly due to my then Apogee Diva speakers' behavior that I could not stick with the Mosaic DAC and settled on a Wadia 521 instead. The 521 can be seen as the classic Wadia team's last real DAC, and although not built with single resistors and certainly not NOS or filterless, unlike the brand's current Delta/Sigma DACs, the 521 is a true multi-bit DAC. All Wadias have very natural timbre but older models can sound a little "wooden". The 521, however, is the smoothest Wadia I've heard. I still don't know exactly why, but Wadias always sound bold and powerful and the 521 is no exception. Naturally, this also ties in with the output stages, and that is where I found the Mosaic to be lacking: in spite of its better low-level resolution and purer sound showcased so clearly by the Divas, its direct-coupled DAC output simply did not sound powerful enough to really bring these speakers to life.
When Cristian Anelli of Aqua contacted me for reviewing the new Formula xHD DAC, I entertained the thought of moving to dynamic speakers and entirely coincidentally I came across a pristine pair of Wilson Watt/Puppy 8 at the same time that several other speakers, as well as several amplifiers, were over for review, and it was at this time that the Formula xHD DAC was delivered. This made it possible to listen to the DAC in very many different system configurations.
Before I dive into the listening aspect, though, first let me explain some more about the Formula xHD DAC.

Formula
With the Formula xHD DAC, Aqua presents an FPGA-based Pure R2R ladder DAC with no oversampling and no digital filter, but including not one but two very potent output stages, one for the single-ended outputs and one for the balanced outputs. The output stages are built onto 4 separate circuit boards using only discrete components, so transistors, not op-amps, and the balanced outputs are transformer-coupled. This promises not only superb refinement and soundstage layering but also a powerful output.
Optologic is what Aqua calls their DAC system, which uses multi-bit technology as used in their La Voce  DAC but with a discrete R2R resistor ladder instead of a Burr-Brown PCM1704 DAC. Further, the Formula DAC has a sign-magnitude converter structure, which requires not two but four 24 bit resistors banks, each one made of very low tolerance discrete resistors. Furthermore, there is Galvanic and Magnetic isolation between the FPGA and the four branches of the R2R ladder converter. According to the manufacturer, "This creates complete isolation of all digital circuitry – including the clock – from the analog section for a pure clean ground plane". And "It also plays the main role in the differential management of the R2R ladders, achieving perfect symmetry between the counter-phase halves". The official documentation then concludes: "The result is the highest tonal contrast and naturalness never heard before from digital sources". Big words, but as would soon turn out during listening, fully justified.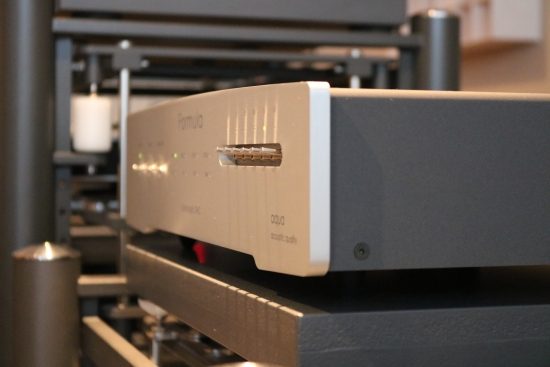 Formula xHD
The Formula DAC has been out for a few years but was recently updated to Formula xHD status. Compared to the Formula DAC it now includes new optimized firmware for the main FPGA and a new hybrid architecture USB board with fully-floating (isolated) USB decoding and clock generation by FPGA with proprietary code. Finally, the upgrade also added full DSD compatibility.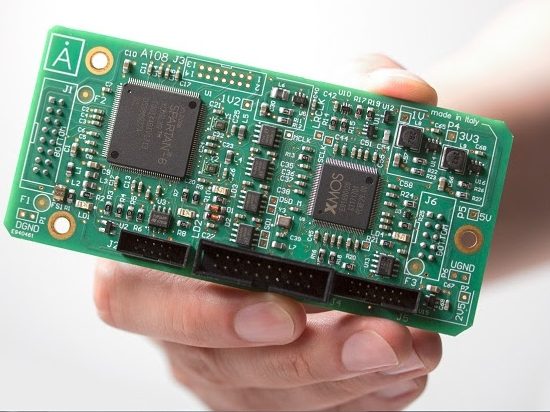 Below are some of the most important features:
Proprietary hybrid 2-stage XMOS xCore XE216 + FPGA
Fully-floating (isolated) USB decoding and clock generation by FPGA with proprietary code
Sample rate in "Bit Perfect" up to 768 kHz PCM and quad-rate DSD (DSD256)
Latest version of customized XMOS X Core Driver on Windows OS (W7, W10)
Native X Core Audio on Mac OS (Bit Perfect)
USB Audio 2.0 operation on Linux (Bit Perfect)
And while I'm in spec-mode anyway, let's include some more manufacturer-supplied technical info: "The Formula DAC uses no digital filter or any other compensation, relying instead on maniacal attention to each subcircuit. The analog and digital power supplies are executed purely discrete by extensive use of BJT, Mosfet, Jfet and ultra-fast diodes. Passive parts were selected not just for the best sonic result but also for their top quality, longevity, and reliability. With the exception of six superior quality electrolytics, all other caps are Tantalum, solid-polymer OS-CON and double-metalized MJP. The signal path itself is direct-coupled and free of all capacitors. The two output stages (one single-ended, one transformer-coupled balanced) use discrete BJT and JFET with metal-film resistors. All the electronics parts show an ultra-low RF noise".
Lots of buzz words for sure, and all this indeed reads like very thorough attention to detail and a very carefully built product. But in the end, all the technology in the world means nothing if it does not distill into great sound. Fortunately, after having heard the Formula xHD DAC, I can testify that this DAC is truly magnificent!
Connectivity
As you would expect, the Formula xHD DAC is compatible with virtually all sources. Naturally, the DAC offers all the usual inputs such as SPDIF on RCA (cinch), SPDIF on BNC and AES/EBU as well as USB, but also has a proprietary AQlink input which provides an I2S connection for their own CD transport as well as music servers which use the same standard. Additionally, there is a Modular input which can be opted for during purchase or later, should the connection needs change in the future. The available options for the Modular Input are AES/EBU, RCA, AT&T ST Glass and Optical TOSlink. This modular input is a great feature, which only shows the top of the iceberg in terms of the utterly modular concept that the xHD DAC is.
Inside everything is divided into separate boards which can be swapped if and when the need arises. The change from Formula DAC to Formula xHD has been the perfect example of the advantage of this concept, allowing the DAC to be upgraded by only swapping the USB board. How's that for future-proofing?
The outputs are available in balanced (transformer-coupled) XLR and (direct coupled) cinch. There is an IR sensor but no supplied remote control. For this, Aqua has an optionally available system remote control, capable of operating the CD transport as well as the DAC.
Above and below: this is the optionally available B-21 remote control. The buttons are well laid out and it operates intuitively. It looks heavier than it is but is very sturdy nevertheless.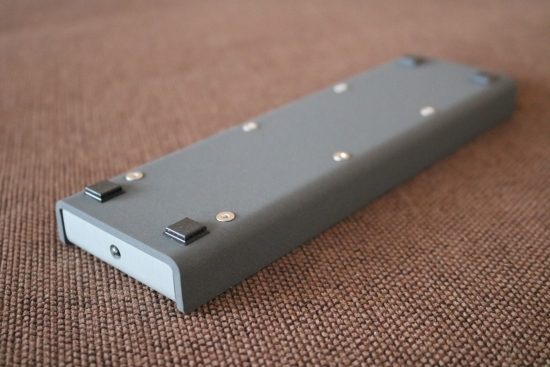 While this sure is a very nice remote control, it would have been even better if a standard remote control was included while having this luxury version as an option.