Listed below in alphabetical order is all the HFA Reference equipment that is in permanent use to perform reviews. This list is continually updated to the current state of affairs.
For in-depth coverage of the HFA Reference systems that were used in the past, see the HFA Audio History section.
Alternatively, for a Ranking Order of the majority of components reviewed along with their appointed Awards, see the HFA Awards page.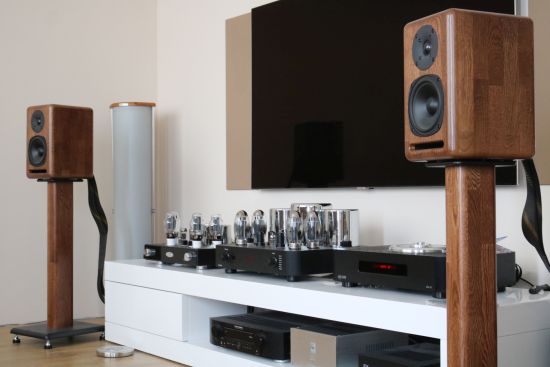 Loudspeakers
Magico S1 MkII
Xavian Perla Esclusiva
Pre Amplifier
Phono Stage
CH Precision P1
Benz Lukaschek PP1
Sw1x LPU 1
Schiit Mani (v.1)
Power Amplifier
CH Precision A1.5
NuPrime ST10
NuPrime AMG-STA
Integrated Amplifier
CD Player / Transport
Ayon CD-10 II
Proceed PCD-2, heavily modified as a pure transport
DAC
Aqua Formula xHD
Ayon Stealth
CH Precision C1
Rein Audio X3
Sw1x DAC 1
Music Server
Antipodes K50 (with a local library as well as Qobuz Studio)
AudioAanZee Reference Flow
Network Renderer / Streaming Endpoint
Aqua LinQ Network Interface
Antipodes EX
USB/Network Interface
EC Designs BBB 
M2Tech HiFace Evo
Turntables
Origin Live Calypso mk4 with Illustrious Tonearm
Thorens TD1601
Cartridges/Stylii
Aidas Rainbow
Audio Technica AT150mlx
Interlinks
AudioQuest Water cinch
Cardas Hexlink Golden 5C XLR 
CH Precision Balanced Link XLR
Final Touch Audio Ganymede XLR
FoilFlex cinch and XLR
Mad Scientist HAC Plus
Origin Live Silver Hybrid cinch
Siltech Paris cinch 
Vermouth Audio Reference cinch and XLR
Vermouth Audio Black Pearl MkII cinch
Vermouth Audio Rhapsody XLR
Tonearm Cables
Origin Live Silver Hybrid
Vermouth Reference Phono Cable cinch-cinch
Vermouth Reference Phono Cable DIN-cinch
Loudspeaker Cables
Cardas Quadlink 5C
Driade Flow 405
FoilFlex
Jorma Design Trinity
Kimber 8TC 
Symo LS4X 
van den Hul Skyline Hybrid 
Digital Cables
Belden RG59
Jorma AES/EBU
Mad Scientist Audio FCGD+ Digital Interlink
Mad Scientist Audio Heretical Digital Cable
Mogami 3080 Neglex
USB Cables
CAD USB 1
Curious Cables
Curious Cables Evolved
Final Touch Audio Callisto
KingRex Unanimous uArt 
Mad Scientist Black Magic
Pink Faun Digital Interlink
Vermouth Reference

Ethernet Cables
Pink Faun Digital Interlink LAN
ValueLine OEM CAT6 cables 
Audio Group Power Installation
GigaWatt G-C16A 2P Circuit Breaker
GigaWatt G-044 Schuko Wall Socket
Standard unshielded 2,5mm solid core copper installation wire
Power Cables
Belden 19364 with Bals schuko and Oyaide 004 connectors
Mad Scientist Nitro Nano
NBS Dragon/Fly 
Vermouth Audio Reference

Equipment Support
Artesania Exoteryc Audiorack
Artesania Carbon Fiber Linear Arm Upgrade
Artesania Aire Floor Platform
Artesania Organic Line Modular Rack
Artesania Organic Line Modular Floor Platform
Artesania ISBAIEBW Standalone Isolation Bases
Artesania ISDIWB Beech Wood Isolation Discs
Artesania Digital Server Platform
Finite Elemente Cerapuc and Ceraball Universal
Room Treatment
R.T.F.S. SiRRAH
R.T.F.S. Big Block
R.T.F.S. Carreau
R.T.F.S. Ceiling Vane
GiK 244 Broadband Bass Trap
See Also