Jorma Design AES/EBU Digital Cable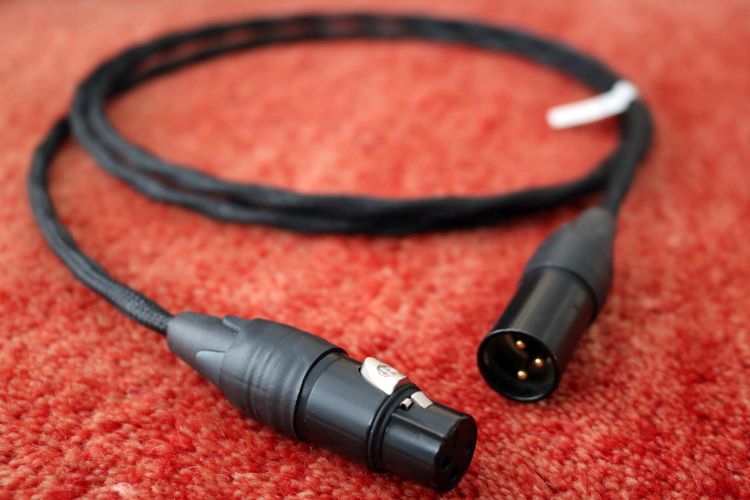 Review sample supplied by HVP Audio
Retail prices in the Netherlands:
1,0m: 1.200 euro
1,5m: 1.360 euro
2,0m: 1.520 euro (as reviewed)
Other lengths available at 160 euro per 0,5m
Recently, Hans van Put of HVP Audio added one of my favorite audio brands to his distributor portfolio, CH Precision. As he found, the Swiss products work highly synergistically with Jorma Design cables. When Hans asked me if I wanted to review the Jorma AES/EBU cable this came at the right time given my ongoing Music Server and CD transport experiments. As part of these, I am re-assessing the digital connections and have growing concerns for the USB format. It's that my Antipodes CX and EX only output USB and I can't confirm it using these machines but I have a growing suspicion that S/PDIF and AES/EBU are actually to be preferred over USB. In order to fully put this to the test, I have borrowed a few digital sources that offer both USB and AES/EBU to enable direct comparisons.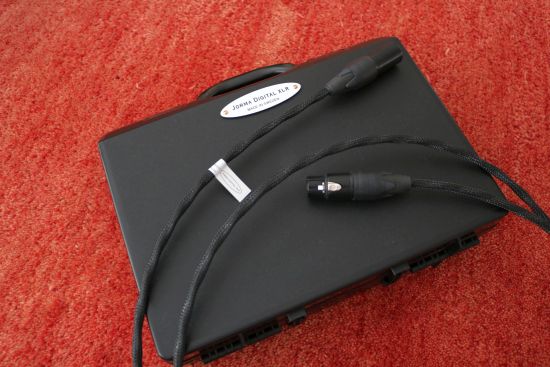 Perfect timing aside, I also had mixed feelings. Of course, I was very much aware of how well the Jorma Trinity speaker cables performed and these remain my favorite speaker cables, but I was also wary of the "smooth and luxurious" effect that I felt many high-end digital cables introduced.
Jorma Digital AES/EBU cable
The Jorma Digital cable uses the finest materials: high-purity silver, uncolored super-pure PTFE and FEP. It is available in 75-ohm and 110-ohm versions, the former with WBT NextGen Gold-plated Cinch or Crimped-on Gold-plated BNC connectors, the latter exclusively for AES/EBU signals and with gold-plated Neutrik XLR connectors.
My history with digital cables
Over the last two decades, I have heard many digital cables, expensive ones, affordable ones and self-made ones using off-the-reel cable. And almost without exception, the expensive "high-end" cables sounded more luxurious and smoother than my long-time favorite "standard quality" Belden RG59 S/PDIF coaxial and Mogami Neglex 3080 AES/EBU cables. Even though a nice dose of richness can absolutely raise the involvement factor of an audio system, especially if it otherwise tends to dryness, but I've long decided that adding colorations are best not done using digital connections. Think about it: what you want with digital signals is to relay the alternating signal as cleanly as possible, not smooth it over.
Given its serious pricetag and knowing that some analog Jorma cables can also sound velvety-rich, there was a little fear on my mind that the Jorma AES/EBU might sound similar to the overly smooth high-end cables that I had used in the past.
Back when I still liked my sound to be lush and smooth I used Wireworld Gold Starlight III+, Apogee Wyde Eye, Harmonic Technology, Transparent Premium and other high-end cables for their smoothness and treble sweetness but ultimately I replaced with the more neutral Belden RG59 and Mogami Neglex 3080. For many years, these remained my favorite cables, no matter what high-end cables I put up against them. And at some point, I just stopped comparing.
Shifting preferences
Before arriving at the Mogami AES/EBU cable over 10 years ago, I had tried pretty much all the off-reel cables that I could find but of all of them, the Mogami sounded the tightest and most articulate. There was never a doubt in my mind that it was also the most accurate but, for the longest time, my personal preferences have leaned toward a sweeter and more relaxed sound (hence my love for Jeff Rowland audio components) and thus I preferred the smoother and fuller sounding Belden RG59.
This started to change about six years ago when I grew more and more dissatisfied with the performance of my Apogee Diva-based system in terms of bass impact, transient sharpness and overall dynamics and coherence. A very convincing demo at a Spanish show in Bilbao in 2017 is what finally got me to part with the otherwise extraordinary Apogees, to make way for Wilson Watt/Puppy 8's later that year. Fast-forward to today and I find myself in the possession of Magicos and Martin Logans while striving for the most neutral, honest, pure and transparent sound, without losing the lyrical aspect, of course. There must still be emotional involvement, because otherwise, what's the point?
Given my shifted preferences and when I got back into using CD transports, around a year ago, the Mogami AES/EBU cable made a comeback. I won't go into the Music Servers versus CD debate here but I do intend on writing a new article on this topic. When I again compared the Mogami Neglex 3080 and Belden RG59 the relative differences are still as I observed them all along. Independent of the source, the Mogami is always a little tighter and cleaner and the Belden always a little fuller and more sonorous. The difference is that my perspective has changed and so, I now prefer the Mogami for its more precise sound. And that puts me in the perfect position to assess the Jorma AES/EBU digital cable.
Only very recently, I mentioned in another review that I prefer not to worry about digital cables beyond the aforementioned established good-quality standard cables. It was the Pink Faun Ethernet cable review that forced me to rethink my stance on this for, indeed, their Ethernet cable did things that the best regular CAT6 cables that I could find did not do. However, this cable also introduced the "luxurious" aspect that the Transparent and Wireworld cables had and which I don't necessarily need in my system at this point. So, would the Jorma be similar?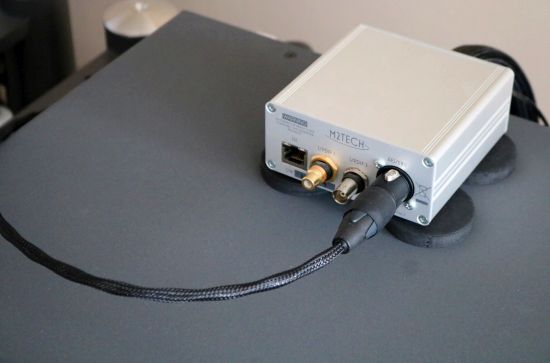 Running In
Although I still feel that, in many cases, the running-in phenomenon does not apply for digital cables, I have in some cases observed differences after prolonged playing. So, in order to make sure to hear the Jorma cable at its best, I wanted to run it in for an extended period but what was going to be the source? The Antipodes servers only output on USB and I did not want to leave a CD player spinning for all that time. Then, I suddenly remembered that I still have an M2Tech HiFace EVO USB to all-formats-under-the sun converter. Purchased in 2010 I was happy to find that both the power supply unit and the converter itself are still functioning perfectly.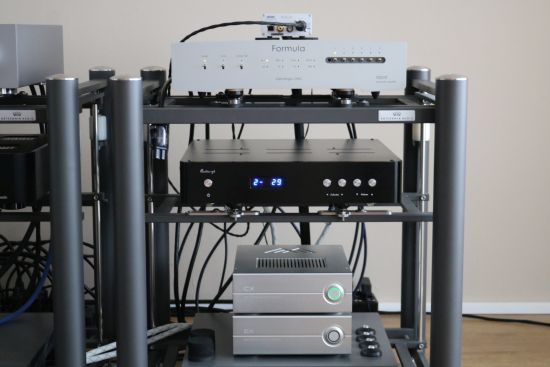 I connected the HiFace EVO to the Antipodes CX via USB to supply music on continuous shuffle and connected the Jorma cable between the EVO and the Aqua Formula xHD DAC. In this setup, I ran the cable in over a period of two weeks while listening in occasionally.
Already during my initial listening, I got the impression that the Jorma cable sounded superb. When I listened again the next day, maybe it sounded a little tighter and more focused but, honestly, I'm not entirely sure. When I listened again the next day I can't say that I noticed any differences. At that point, I decided to just leave it running for a week just in case there were long term effects. After 6 days I still wasn't sure if the cable had really changed but what I did notice was that every time that I listened to it, I became more and more impressed with its performance. Somehow, even though there was an extra link in the chain, the music was always convincing and engaging.
The improvements that I think I heard during the initial part of the running-in process are mostly subliminal and probably not something you can measure but, as a direct comparison with the Mogami cable would soon unveil, the Jorma very clearly and very definitively outperforms it. And any other digital cable that I have along with it! So much is clear already: Hans was right, the Jorma is an absolutely superb cable.
Bricasti M5 network renderer
Even though I obtained excellent results using the HiFace EVO, of course, judging the Jorma cable using a USB converter is far from ideal. To simplify the path I could use a CD transport but then I could not make a direct comparison with USB. To the rescue came the Bricasti M5 network renderer courtesy of audio buddy Jeroen. While I preferred the Antipodes combo in the context of my system when I reviewed the M5 a couple of years ago, this smart little streaming endpoint is actually perfect for this test because it offers precisely the outputs that I need for this review.
The music source is the Antipodes CX, streaming to the M5 via a standard CAT6 Ethernet cable, connected to a Cisco network switch that is in turn connected to the rest of the components using the same CAT6 cables. The DAC used at this stage is the Aqua Formula xHD with V2 output board connected to the highly affordable but absolutely not to be underestimated Audio GD Master 1 preamp.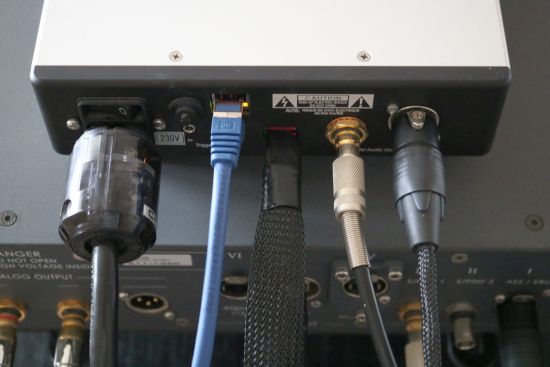 Connected to the M5 from left to right: Belden 19364 power cable with Bals schuko and Oyaide C-004 IEC, standard CAT6 UTP cable, Final Touch Audio Callisto USB cable, Belden RG59 coaxial cable and Jorma AES/EBU cable.
The cable assortment for this comparison consists of the Jorma AES/EBU cable, a Belden RG59 coaxial cable, the Final Touch Audio Callisto USB cable and as an alternative to the Jorma cable, the Mogami Neglex 3080 AES/EBU cable. The speakers used are the Magico S1 MkII, powered by the CH Precision A1.5 power amplifier.
Since I noticed during the Aqua LinQ review that UPnP sounds different from Roon I now make a habit of using both protocols. In short, Roon always sounds a little fuller and smoother but less articulate and spritely while UPnP sounds faster on the transients, more open and direct but arguably a little drier. The Roon core runs on the Antipodes CX while jRiver Media Center provides UPnP duties from a Windows computer. The M5's airiness and light-footedness do make the most of the Roon delivery but the differences remain clearly audible. Also clearly audible, regardless of the streaming protocol that is used, are the differences between the various cables.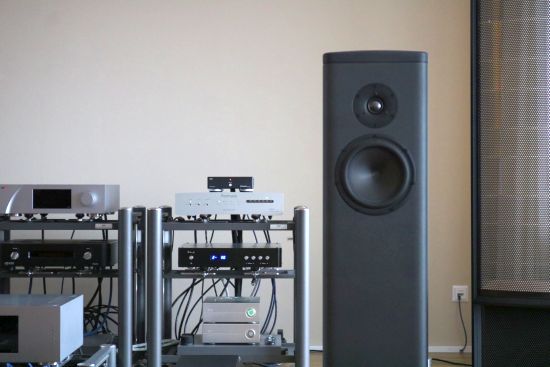 Pre-Jorma Cable Comparisons
Starting with its USB output, the M5's sound is fluid, smooth, sophisticated and spacious. It is not quite as solid and sonorous in the bass, and timbrally a little less convincing, than I am used to hearing it with this USB cable from the Antipodes servers, but it is highly refined and certainly very easy to get into.
Switching to the M5's traditional digital output section using the Mogami AES/EBU and Belden RG59 S/PDIF cables, the offset between these two cables is the same as I always hear it, the Mogami a little tighter and cleaner and the Belden a little fuller and more sonorous. Speaking in favor of these connections is that both cables also sound earthier and more solid and tonally a little bit more convincing than the USB connection. This is expected because of all the USB cables that I tested, the Callisto is the most free-flowing and ethereal.
The issue with USB cables is that it seems to be impossible to win on all terrains. I find that you can either get very solid bass and midrange but also dry or rough treble or a very appealing flow and liquidity but also ill-defined bass. And even though the Callisto is my favorite USB cable, is is also not perfect.
With AES/EBU and S/PDIF connections, however, I started to notice that, provided that the output section is well-implemented, it is much easier to obtain a delivery that is well-balanced across all aspects. More specifically, with these formats and even when using standard cables, you can indeed have solid and tuneful bass with an earthy solidity as well as fluid and airy treble, all combined in a seamless and organic delivery. But I have to admit that with the cables tried so far, the difference is not huge. It's more a matter of subtle accents changing depending on the cable that is used and, depending on personal preferences, system synergy and the cable used, one could prefer either USB, AES/EBU or S/PDIF. Audio buddy Jeroen had a mild preference for the freer-sounding USB while I preferred the earthiness and solidity of AES/EBU. But then came the big reveal.
In comes Jorma
Swapping the Mogami AES/EBU cable for the Jorma cable was an absolute ear-opener! It was literally as if one turned a focus knob on an old CRT TV or, perhaps more appropriate, like switching from SD to 4K. All of a sudden, everything was crisper, more concrete and more direct with subtle sounds now positively popping up from the still wide and deep soundstage.
Going back to the Mogami was not fun! Instantly, this cable was unveiled as actually being quite smooth and even a little fat in the bass. Granted, it sounded balanced but somehow simplified and much less exciting. Even though I have always listened to it thinking it was pretty darn transparent and neutral, it now sounded decidedly processed and filtered to me.
Right there, my claim to not worry about digital cables anymore went out of the window.
The Jorma provides a technically immaculate performance, ticking all the audiophile parameter boxes like child's play. And even though the cable sounds considerably crispier and more articulate, the treble remains airy and fluid and the organic and free-flowing nature of the performance is never hampered in the slightest. Of course, when a cable is more accurate, the sound of some recordings can become drier and I can imagine that one may need to adjust if one was used to hearing a large amount of smear. But even if it is very accurate, the Jorma always puts the performance first and the emotion always shines through.
Rhythmically, the cable is also very strong. It's tight and fast but not metronome-like. It accelerates and decelerates precisely as required by the music.
The cable allows one to dissect mixes very easily and in that sense it is analytical. However, I would absolutely not classify its performance as cool or clinical. It's quite the opposite, actually. I feel like, finally, I am hearing the format as it is supposed to perform!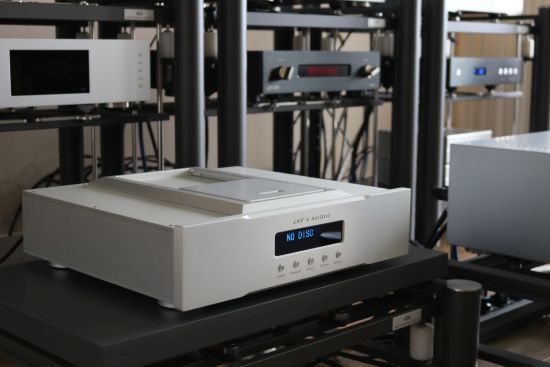 Jay's Audio CDT2 Mk2 CD transport
Just to make sure that the results obtained with the Bricasti M5 were not exemplary for that device I repeated the tests with a two other digital sources. In came the Jay's Audio CDT2 Mk2 CD transport. Equipped with a NOS Philips CDM4/19 swing-arm mechanism, the CDT2 is blessed with a sweet, smooth and very fluid delivery. Would the very articulate and accurate Jorma AES/EBU cable make the player sound like it has a CD-Pro2? Thankfully, no. While the player clearly benefitted from the Jorma's qualities, it retained its signature character, now enhanced with more precision and transparency. The Jorma cable allows one to really look deeply into the soundstage, layer after layer. You can hear the soft whirrs and impactful percussion and their interaction is entirely natural and convincing. The bass remains smooth and voluptuous but the midrange gains more focus to combine in a more fascinating performance. Going to the Mogami dulls everything down again, adds smear and flattens the soundstage. Guitars lose their sparkle and expression and the bass becomes woolly and slow. It's not unpleasant but definitely much less engaging.
It may make no sense to use a 1500-euro cable with a 2500-euro player but here, too, using the Jorma AES/EBU cable will absolutely spoil a person.
The CDT-2 Mk2 does have another trick up its sleeve, though. In addition to AES/EBU and coax it also offers I2S on an HDMI output. Because there is no universal standard I cannot use this transport via I2S with the Aqua DAC but for that, I have the Jay's Audio DAC-2 Signature.
AES/EBU versus I2S
Using a generic 2-meter HDMI cable it's remarkably difficult to hear a difference with the Jorma. I decided to perform this test blindly by toggling several times through the DAC 2's inputs until I no longer knew what was what. After repeated input switching I noticed a minimal difference in terms of bass-articulation and overall transient speed. After checking up close (I cannot read the DAC's display from the listening position), the better sounding cable was indeed the Jorma.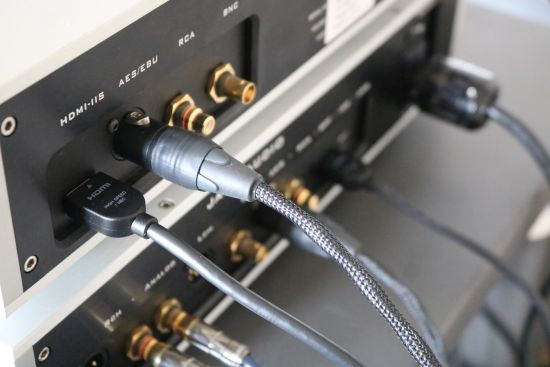 Given that digital cables make such a large difference I then swapped out the generic 2-meter HDMI cable for the 1-meter Sony HDMI cable that was supplied with this DAC. Switching blind again and now knowing what to look out for, I heard the same difference again, this time already after the first switch. And, indeed, it was once again the Jorma that sounded better.
One could criticize such relatively small differences given the large difference in price but that the Jorma still wins from the I2S format is actually a small miracle. No doubt the outcome could be different with a comparably precision-made HDMI cable but I have to work with what I have available. What's surprising yet very clear is that the format is apparently not sacred. Yes, I2S should theoretically be superior but it all depends on the implementation of the interfaces on both ends as well as on the cables that are used.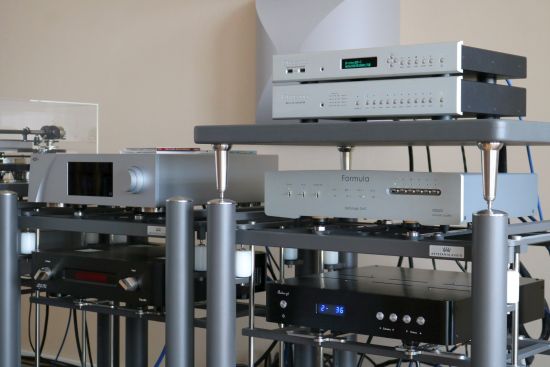 Bryston BDP-3
As the final digital source component, there is the Bryston BDP-3 digital media player. With USB-2 and USB-3 outputs, AES/EBU and S/PDIF on BNC, this player is also well-equipped to run a comparative cable test.
In the conventional digital connectivity world, BNC is seen as the best connector for S/PDIF transfer. In order to make the comparison with the Jorma AES/EBU cable as technically valid as possible, I used a Belden RG-59 75-ohm coax cable with crimped-on BNC connectors and compared it with the Jorma cable both connected simultaneously to the Aqua Formula xHD DAC and using its remote control to instantly switch between the two inputs.
Shortly after starting playback on the BDP-3, the streamer struts its familiar sound which is indeed tighter than the CX when used as a streamer, irrespective of its output or the transport protocol. The BCD-3 sounds very good via BNC, better indeed than the Bricasti M5 via coax but that's more a function of the hardware than the interface.
In my original review, I noticed that this streamer has a remarkably fast, articulate, transparent and lively delivery. Would the Jorma cable perhaps be a little bit too much? Not at all, as it turned out. The Jorma AES/EBU cable simply takes what the BDP-3 offers and makes it more realistic and exciting than with the BNC connection without adding any hardness or inducing a technical or calculated quality.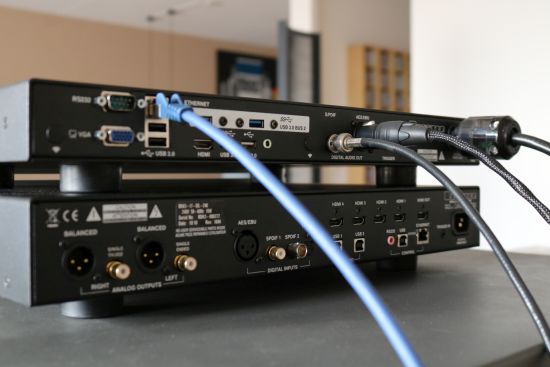 The BDP-3's various USB outputs all sound slightly different from each other. While this provides room for tweaking it also underlines my aforementioned issue with USB. While having options is very nice, none of the USB connections sounded as even-handed as the BNC output. The USB-3 output is fluid and free-flowing but lacks bass solidity and drive. The USB-2 output offers a more solid sound, now close to the BNC cable's solidity but it's still not quite as incisive, as rhythmic or as energetic as the Jorma connection. Somehow, USB connections remain more measured and mechanical.
It's interesting to note that the AES/EBU connection with the Jorma cable has no added fluidity or a sense of things being rounded-off but there is an unmistakable organic, continuous, free-flowing quality that is just not there with USB. Then consider that I used the Final Touch Audio Callisto which is the most fluid and organic USB cable that I have and I think I can rest my case.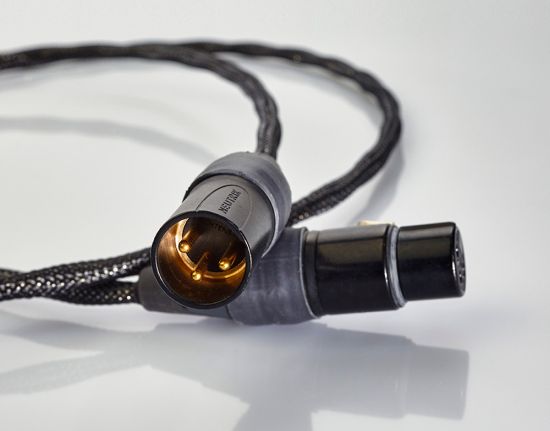 Conclusion
If you've stuck with me throughout this excursion you already know how I feel about the Jorma AES/EBU cable. For those who skipped to the conclusion let me just say that the Jorma AES/EBU cable is an absolute ear-opener. It trumps not only all USB cable connections, it sounds better than the I2S connection over an HDMI cable and performs head and shoulders above all the AES/EBU and S/PDIF cables that I have available. This is, quite simply, the very best digital cable that I have heard and, effective immediately, a Hifi-Advice favorite.

External Links
Manufacturer: Jormadesign.com
Distributor for the Benelux: HVP Audio
Read also
Jorma Design Duality and Trinity Speaker Cables
Jorma Design Origo interlinks and speaker cables (as part of Mingus Quintet review)