Driade Flow Link Reference 808 XLR and RCA
Review samples supplied by Driade
Retail Prices for all countries including VAT and shipping:
1.0 m with Neutrik Pro RCA connectors – 750 euro
1.5 m with Neutrik Pro RCA connectors – 800 euro
2.0 meter with Neutrik Pro RCA connectors – 850 euro (as reviewed)
1.0 m with Neutrik XLR connectors – 850 euro
1.5 m with Neutrik XLR connectors – 900 euro
2.0 meter with Neutrik XLR connectors – 950 euro (as reviewed)
Prices for alternative lengths and connectors on request
Listening tests have repeatedly confirmed that I can often get a good feeling of what a cable might sound like judging from its sleeving material and its conductor configuration (litze or solid core). Reinforced by my experiences with the Driade Flow 405 speaker cables, I felt pretty confident about what to expect with the 808 Reference interlinks. Based on the soft and supple rubbery sleeving material, combined with the fact that very fine litze is used, I expected the cables to sound refined and fluid but also a little sweet and perhaps a little relaxed. As it turned out, this preconception was proven to be incorrect.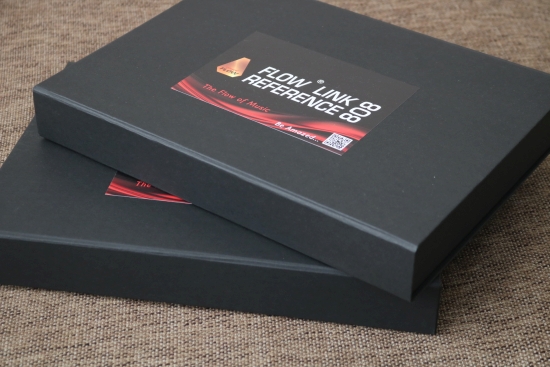 I have listened to these cables in three different setups and to keep this review easy to digest, I'll break it down into those three sections.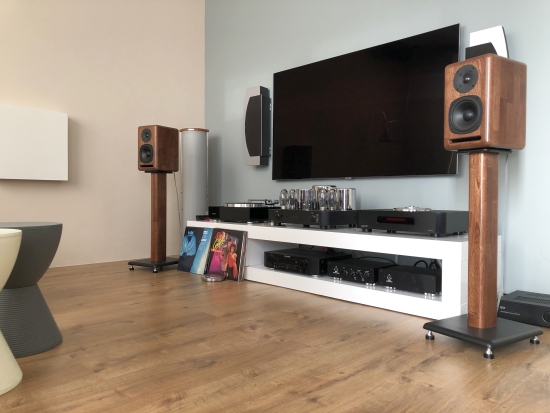 Ayon and Xavian setup
My first impressions were formed using my Secondary Ayon and Xavian System where I started with the RCA cable between the Ayon CD-10 II CD player and the Ayon Spirit III amplifier.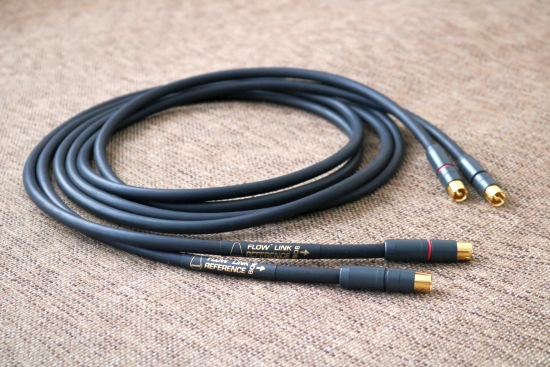 Flow Link Reference 808 RCA
Contrary to the main system, I've often switched cables in the secondary system and lately have settled on the Siltech Paris cinch interlinks between the Ayon CD-10 II CD player/DAC and the Spirit III amplifier. The affordable Siltechs really are nothing fancy and they don't excel in any single area but they do their job in a very neutral and even-handed way that suits me well for this system.
Switching from the Siltech Paris cinch cables to the Driade Flow Link Reference 808 Reference made for a large and unexpected change in perspective. First and foremost, the soundstage really opened up, widening by what appeared to be almost an extra meter left and right, but rather than softening the focus or concentration in the center, the imaging was actually sharper and clearer. Not only were the imaging and focus improved, but the overall precision was heightened, with sharper transients leading to small details being portrayed more vividly. And where high resolution or high precision can often come hand in hand with an analytic quality, the 808 Reference cable's resolution is so high that it presents music with a natural fluidity yet without any rounding effects. Further, the cable has a complete and utter absence of any hardness or edge. If you like to play loudly, these cables certainly encourage that.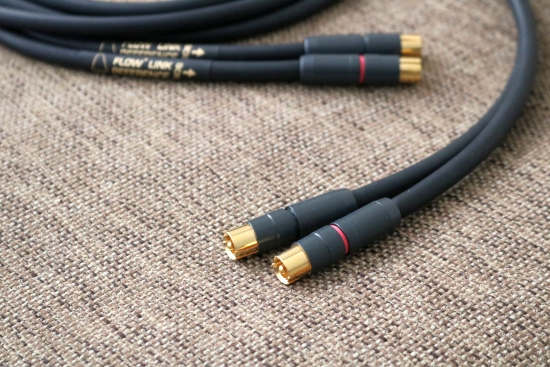 Lastly, I paid special attention to the bass, which, as regular readers will know, is particularly important to me. While the Siltech does have a meatier, more solid, and planted bass, it is less articulate and differentiated than with the Driade. This is what really surprised me because cables that sound particularly fluid and refined, and especially those with rubbery sleeving, often lack precision in the bass. The Driade, however, sounds really fast and agile.
This made me wonder. Just how does Driade achieve this level of neutrality, transparency, and precision, with what looks like an ordinary rubbery sleeve? Well, first off, the sleeve is a metal-particle-infused material that is far from ordinary. Second, special attention is paid to studying what Driade describes as "The ad random in-time behavior of electrons in atoms when magnetism, eddy currents, and reflections are induced by a varying current and voltage in any cable". While that sounds rather incomprehensible, it takes no time at all to hear that these cables perform differently from the cross-section of the competition. Especially their capability to offer incredibly high resolution with utter ease and absolutely no hardness while avoiding softness is rather unique.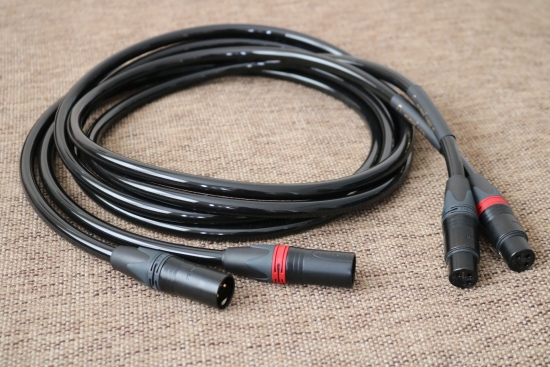 Flow Link Reference 808 XLR
Even after my prejudice about the RCA cable was proven wrong I still expected the XLR cable to perform differently, purely because it employs a different sleeving material. Here, the material is not matte, thick, and rubbery but shiny polished, and of a harder material. The XLR cable has a larger outer diameter but the walls feel thinner and the cable is still very supple.
But again, my preconceptions were wrong. In this system at least, the XLR cable sounded pretty much the same as the RCA variant, with the audible differences likely more attributable to the Ayon interfaces or the balanced versus unbalanced design principles. Ultimately, the XLR cable had a slightly leaner and slightly more controlled (less free-flowing) balance, but otherwise, the cables sound very similar.
This brings me to wonder how it can be that two cables with seemingly very different sleeving materials can sound so similar. A major contributing factor to this is the wrapping material that is selected for these cables. Rather than Mylar or other chemical materials, the conductors are wrapped in natural Silk. Another important factor is that air is used as an insulator, rather than any dielectric material.