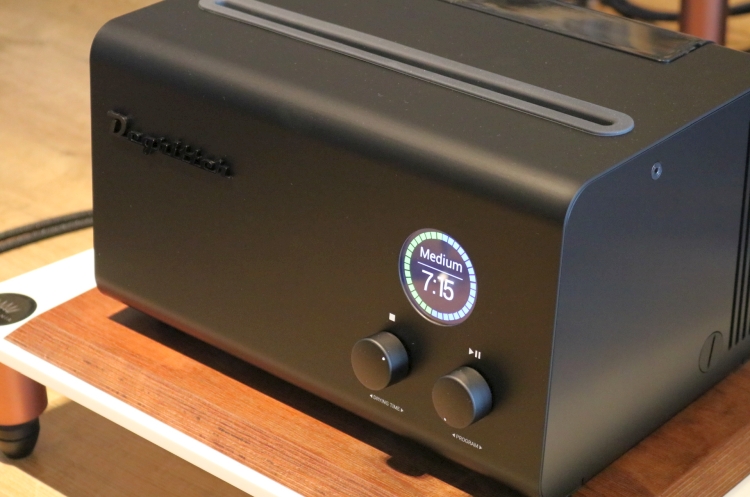 Review sample supplied by A Tube High Fidelity
Retail price in the NL (incl. 21% VAT): 2.650 euro
My record cleaning experience started around 13 years ago. At that time, I first started collecting records and therefore had no choice but to look on the used market and that necessitates the use of a record cleaner. There were two or three more or less affordable units that offered suction but no fluid application system and what I wanted was an integrated system that held the fluid while keeping it closed off from the air, could apply it, and dry the record, all in one.
This led me to the Clearaudio Smart Matrix (pictured above). With this device, the fluid needed to be applied manually by squeezing the bottle. The only smart part about it was that it could clean both record sides in one go. Alas, it did not do a good job of cleaning the upside-down side, so I returned it and traded for the regular but more professional Matrix, in the "Silent" version. That word is in brackets because the suction process is much like using a vacuum cleaner, not actually silent at all. But the Matrix is the cleaning machine that I own to this day and it has proven to be extremely robust.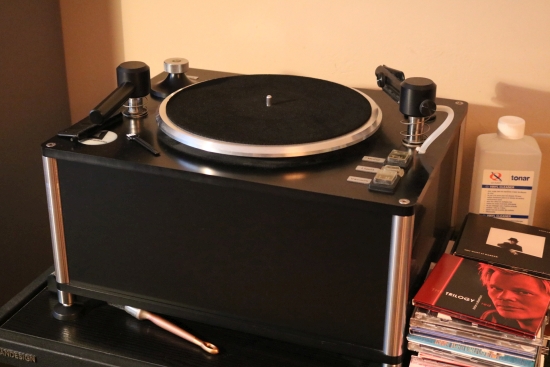 Clearaudio Matrix
But how about the Matrix's cleaning performance? For a traditional wet machine, it works very well indeed. Don't expect miracles such as reducing wear or removing scratches, but otherwise, it has the ability to clean even very dirty records to a state where they are perfectly playable again, its action reduces the groove noise, and the cleaning often removes a layer of haze to reveal a crisper rendition of the music. So, that's pretty much all good. The only downside, as audio buddy JW noted, is that a cleaned record can sound less romantic, more analytical, than a non-cleaned one. There is speculation galore in the forums on this topic and I'll add that this particular effect also tends to reduce again over time, but it's quite possibly a result of the alcohol that is present in the fluid. With the Matrix, I use QS Audio Vinyl Cleaner, distributed by Tonar. There are also pure organic cleaners and countless variations based on soap but as I found, these organic fluids will actually cause the build-up of fungus inside the machine that, if left unattended, will actually clog the machine. This simply does not happen with the aforementioned fluid, hence my using it, in spite of reservations with respect to the alcohol content. On the other hand, you do need some alcohol if you want to remove certain contaminations on the record.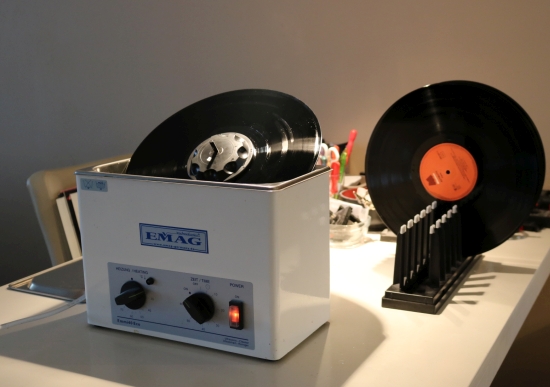 Ultrasonic Cleaning – the crude method
Quite recently, audio buddy Wouter sent me pictures of something he inherited from his father that strongly resembled a deep-frying unit. It concerned the EMAG Emmi 40 Eco, a device commonly used to clean jewelry and fine mechanical parts. Following a cross-section of recommendations from various forums, Wouter had put the unit to use for cleaning his records and he claimed good results. In order to properly assess the device's proficiency when cleaning records, I agreed to test it at my place by doing a range of A-B tests. Honestly, I wasn't expecting much but only seconds after re-playing the first cleaned record, the case was closed. Not only did the device work, but it also worked considerably better than the Clearaudio Matrix. No matter if the record was used, washed before, or brand new, an ultrasonic treatment not only cleaned the record similarly well as the Matrix, resulting in lowered surface noise, but invariably it also made the music sound more expressive, more robust, and more dynamic, if arguably less romantic, as JW would later note. But Wouter and I assumed that JW was simply used to hearing more smear and likened this to being more romantic.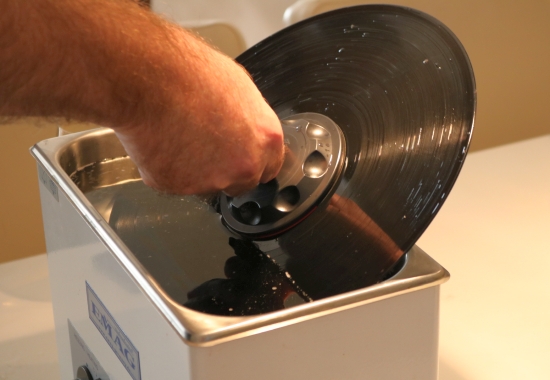 For me and Wouter, there was only one major drawback to this process. It required a person to manually rotate the record, and because it only fit diagonally, it meant that the record prevents the sonic waves from reaching the upper side, and thus one process was required per side. We experimented with pure distilled water and a water + alcohol mixture in various ratios and with or without surface tension reducing fluid and compared the results depending on the duration of the rotation. Eventually, we arrived at a staggered rotation based on a division of the record surface in 8 sectors, with each sector being "treated" for 20 seconds. All in all, the entire process took about 6 minutes, not counting the hour-long drying time, and the user is kept busy throughout, making it an annoying little job. In order to speed up the drying process, I used the Matrix and while that worked well, it didn't make the process any less tedious. Or cost-effective, for that matter.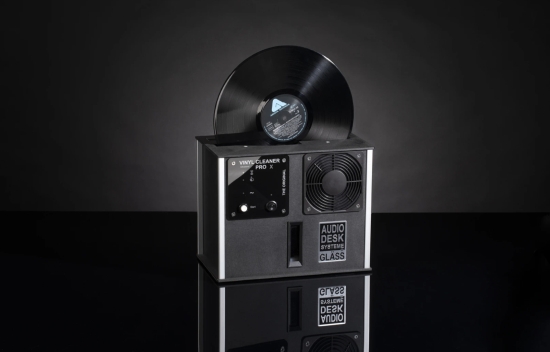 I recalled an early exposure many years ago to the Audio Desk ultrasonic cleaning machine that contained cleaning drums as well as an ultrasonic cleaning process and a drying process.
But I also vividly recalled that the user was always having issues with it. I asked him about his current experiences and he said that he was now at his third unit but that this one had been working well so far. To me, the Audio Desk sounds like the Nakamichi Dragon of cassette decks in that it is too complicated to consistently work reliably, in addition to being very costly.
Nevertheless, the surprising success of Wouter's manual cleaning method was the main driver for looking at what else is on the market. While working with Frank Suijk of A Tube High Fidelity on another review, I noticed that they also sold one beauty of a vinyl cleaning machine: the Degritter.
I'll admit that the Degritter's price was higher than anticipated. The Clearaudio Matrix was 1700 euros when introduced and I believe 1900 before being discontinued. Clearly, that's not pocket change but when you factor in the unit's heft and sheer build quality, it makes some sense. The Degritter looks compact in comparison, but pick it up, and you can't help being impressed with its build quality. The unit is all metal and it has an almost Apple-like allure and sense of style. And as soon as you see the display light up and walk through the menus, you're sold. Come to think of it, the Matrix is nothing more than a car window cleaning fluid pump and a vacuum pump, a rotating platter, and a pair of arms. All well-made, but simple mechanics. The Degritter with all of its automatic processes, menu operation, and advanced sensor control is actually more sophisticated as well as technically more advanced.
Next: Degritter Description