Swiss Precision at its Finest
Review samples supplied by Garmt van der Zel of Audio Ingang

Retail Prices in the Netherlands, incl 21% VAT:
C1 DAC/Controller – basic configuration with 1 digital input board: 26.900 euro
C1 – additional I/O cards: from 1.300 euro
A1 Mono/Stereo Amp: 32.100 euro per amp
Founded in 2009, CH Precision is a relatively young company but from the start, they have consistently been positioned prominently at the top of the super high-end arena. Their product catalog is extensive and their products feature in many demo systems on shows all over the world. For the longest time, American brands dominated the high-end market, but it seems that the Swiss are taking over the lead when it comes to designing truly state-of-the-art audio equipment.
Designed and manufactured in Switzerland, all CH products are built immaculately. When thinking of Switzerland, the "Swiss Watches" immediately come to mind. This link is actually quite fitting as the CH enclosures are actually machined by specialized Swiss companies active in the luxury watch industry. They're not milled from a single block of aluminum but due to the very tight tolerances and the lack of any visible screws, they almost do appear that way.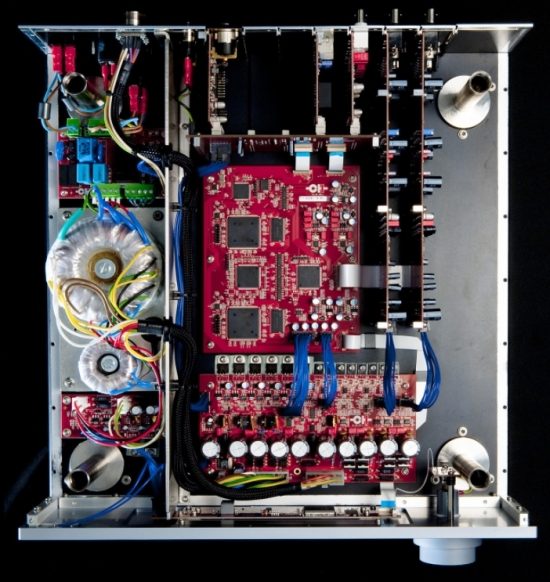 Above: inside the C1 DAC/Controller. The four pillars are shafts for the adjustable spikes and simultaneously form the supports for other CH components that are stacked on top.
Technical Background
Reviewed here are two A1 stereo/mono amps and the C1 DAC/Controller. All the analog audio circuitry in these components as well as all other CH components,  is fully discrete, transistor-based, and fully symmetrical, for the shortest possible path as well as a high slew rate, high bandwidth, low noise, and low distortion.
Above: the rear panel of the A1 amp, with two input modules.
Central to all CH products' design is Modularity. The backside of each component has slots that accept a range of circuit boards. This makes it possible to fit each component only with those connections that are required for any particular purpose. Also, it allows easy swapping of boards should new techniques become available. For example, via a range of IO cards, the C1 DAC/Controller can accept all the usual digital and analog connections as well as UPnP ethernet streaming. Adding a new protocol or allowing a new format might be a matter of simply updating the firmware but when new physical connections or internal component changes are required then it would be a matter of just swapping one of the boards, rather than sending in the entire unit for the update. This means that CH products are, to a very large extent, future-proof.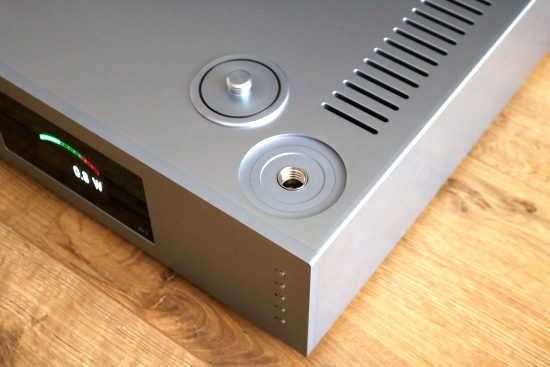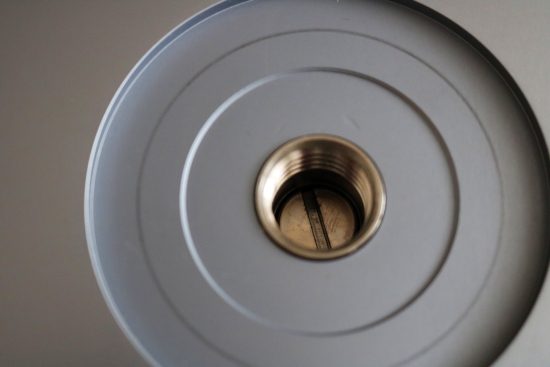 All CH products also have very cleverly integrated adjustable spiked feet. The components can be positioned just like any other audio component using their integral metal feet with elastomer rings, or one can remove the four shaft covers (machined aluminum screw caps) and insert long, sturdy spikes right through the units and adjust these from the top until the component is lifted off its regular feet and sits sturdily on the spikes. The top caps can also be exchanged for versions with a dimple into which the next component can be positioned. That way, the stacked component is not resting onto the other's housing but is supported directly by the spikes that in turn rest on the component below it. This way, mechanical vibrations are transmitted to ground and minimized inside the device.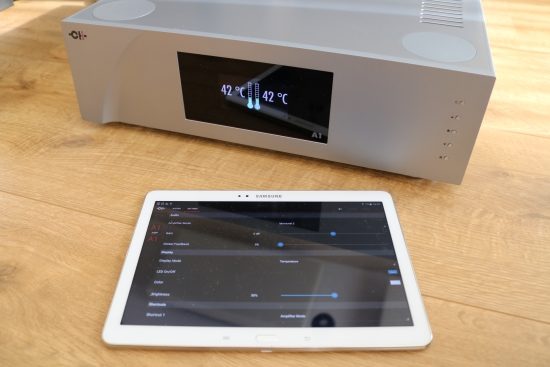 Ethernet Control
Uniquely, all CH Precision components can be controlled via Ethernet connection using an Android app. One might wonder why only Android and not iOS. The reason for this is simple: stability. Not that Android OS would be more stable than iOS but the latter system receives updates very frequently and these often require changes to be made to the apps that run on it. CH has opted to write code for Android only as it tends to remain compatible over the long haul, and that is what really matters: reliability. Ok, so if one opts for CH products then an Android tablet must also be calculated into the cost. So be it. Knowing the reason behind this I really cannot blame the company.
The custom-made app itself is very well designed, stable and intuitive to navigate. It allows the user to operate a very wide range of settings. For the C1 DAC/Controller, naturally, the functionality includes input selection, volume control, phase, mono/stereo and display mode but it goes way beyond this. For example, you can also set the digital filter and clock source, adjust display brightness, dimming, and color, associate a specific display color to a particular file format, adjust gain, set mono left or right, enable/disable/rename inputs, set bypass mode for any input and much more.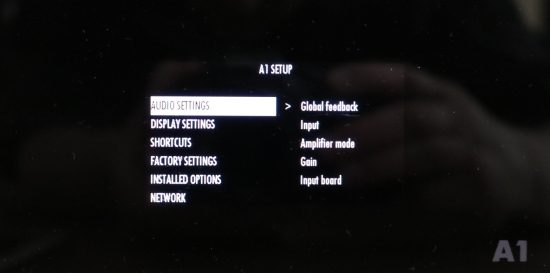 Above and below: just a fraction of the available settings on the A1 amplifier.
The A1 amplifier also offers a large number of customizable settings. The most unusual one, but also the one that I have quickly come to regard as being indispensable is user control of the balance between local and global feedback. In 5 steps one can set the amp anywhere between 0% and 100% Global Feedback. The interaction between amp and speaker is very decisive for the end result and this in part makes that some amps are a better match for a given speaker than others. For example, speakers that are very easy to drive and have an even impedance curve will usually partner very well with amps that have little feedback. Conversely, speakers that are more difficult to drive are usually happier with the extra control offered by amps using more feedback. Naturally, I am oversimplifying things here, but because the A1 allows the user to control the amount of feedback used, this unique function makes it possible to adjust the sound precisely as required or desired and so allows a wider range of speakers to match well than would otherwise be the case with an amp that has a fixed feedback setting.
Some manufacturers believe most in measurements, others most in listening results. CH Precision could be perceived to lean slightly toward the former. They strongly believe that correctly applied technology confirmed by in-depth measurements at the lab and finally thorough listening is the way to improve the art of audio reproduction. While I often preach that measurements don't tell the whole story and that perfect measurements are not necessarily synonymous with great sound, CH audio components effortlessly marry pristine measurements with superb sound. Also read the interview with Raphael Pasche, one of the designers of CH Precision, in which he answers all my questions and shares a bucketload of info about the technical principles behind CH Precision audio products.
History
CH Precision is formed by a team of engineers who worked together previously as an OEM manufacturer, designing and making products for other brands. For example, they were responsible for the exceptionally well-received Anagram DSP DAC modules used in Audiomeca, Audio Aero, and other brands. The most famous brand may well be Goldmund, for which they also designed and produced circuits. Very high slew rate and bandwidth are two of the typical aspects that Goldmund products are known for which are still present in the CH products of today.
The CH Precision brand came into existence thanks to a couple of influential audio distributors. After having witnessed the team's successes they felt it was time for the gentlemen to start their own brand of high-end audio equipment. As the distribution network was already in place, the CH Precision brand was established quite quickly.
C1 DAC/Controller
The C1 can be used as a pure DAC or as a Controller. The latter means that it also controls the volume. The C1's hybrid analog/digital volume control is implemented in a very clever way. Normally, when using digital volume control and a finite amount of bits it is important to stay within a certain range. This is why, with Wadia CD players and DACs, one used to be able to set the analog output level in 4 steps using internal dip switches that switched resistors into place. This way, the digital volume control could be used in its optimal range. The C1 does a similar thing but switches the various resistors into place fully automatically based on the volume level.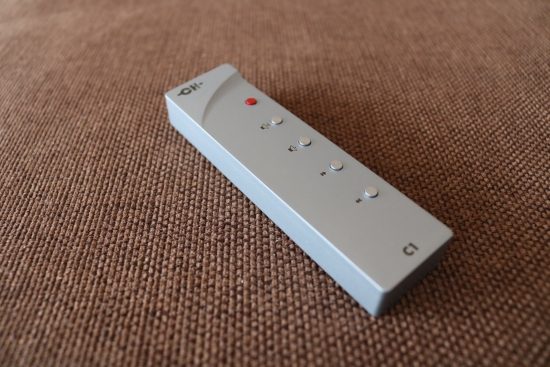 The supplied IR remote controls power, input selection, and volume level. The app provides an even better way to control this. Especially the volume control is built very cleverly and implemented in such a way that one can never accidentally set the volume to 100% in one move, but still allows very good control. By the way, software volume control is disabled for third-party apps to prevent sudden volume leaps.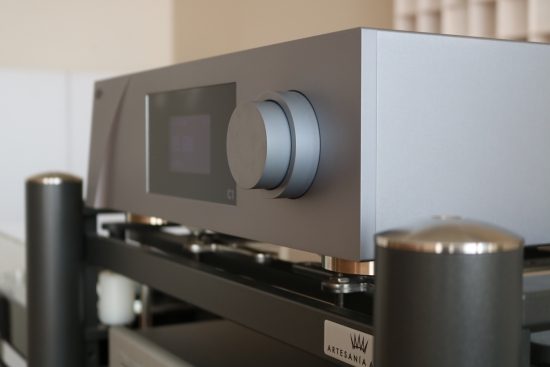 Arguably the most important part of the C1 is its DAC section. It uses what is referred to as a linearized R-2R, using four PCM1704 IC's per channel, working at 24 bit / 705.6kHz & 768kHz. Depending on the input, the C1 accepts max 24 bit 192kHz via AES/EBU and SPDIF, max 32/384kHz and DSD 1 bit / 2.8224MHz (DSD64) & 5.6448MHz (DSD128), DoP mode only, via USB and max 32/384kHz and DSD 1 bit / 2.8224MHz (DSD64), 5.6448MHz (DSD128) & 11.2896MHz (DSD256) via Ethernet.
linearized R-2R as explained by CH on the website
"The digital signal processing chain in the C1 is complemented by a proprietary signal conditioning stage which optimizes the signal for conversion by numerous R-2R converters per channel. Because each converter has a slightly different gain and offset, an automated calibration system harmonizes their operation. In addition, in order to address low-level linearity issues inherent to R-2R converters, unique scrambling technology is applied. By sending slightly different signals to each converter through the addition of an algorithmically generated, low-level, random high-frequency noise (which is canceled out in the analog domain), the low-level linearity is significantly improved."
The DAC also takes DSD which is decoded into PCM prior to conversion. The DAC does upsample but only in a synchronous manner, meaning that any input rate is multiplied in integer amounts, for example, 2x, 4x, 8x, or 16x, depending on the input frequency, rather than simply upsampling to a fixed asynchronous frequency. This is an important aspect that I first learned about when playing with the dCS Delius DAC and Purcell upsampler. The latter sounded markedly better when switched to an output frequency that was a whole multiple. For instance, CD's 44.1 kHz sounded great at 88.2 or 176.4 upsampling but sounded softened on the transients when set to 192kHz. DSD is converted to PCM. While some might see this as being less puristic I should point out that the best DSD players I heard included a Wadia 781i which does the same thing.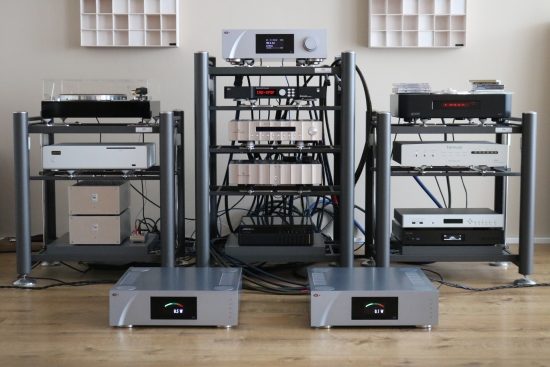 C1 in DAC mode
When using the C1 together with a preamp it is important either to set it to DAC mode or to set the input's volume control to Bypass, to yield the tightest and most articulate sound. There is no difference that I could perceive between these two methods but it is important to note that either mode sounds more articulate than simply leaving the C1 in Controller mode and setting the volume level to 100.
Just as with any other DAC that I used, the C1's inputs sound slightly different. AES/EBU sounds fuller and a little warmer while cinch coax sounds tighter and more direct. However, it is important to point out that these differences could also be induced by the cables or the source outputs. In any event, the choice between the inputs comes down to taste, and availability, not to absolute quality.
C1 Filters
The C1 offers three filter settings: Minimum Phase (labeled Minimal phase in the menu), Linear phase (Apodising), and Linear phase (Sharp). The DAC was delivered set to Minimum Phase mode and when experimenting with this I quickly established a preference for this setting too.
The C1 with the Minimum Phase filter sounds slightly dark in comparison to most other DACs, Wadias excluded. The Aqua Formula xHD DAC, for example, sounds more energetic in the treble and by comparison more open. It doesn't actually present more detail but probably because it has no filters and has a very uncolored presentation, it just sounds a bit more open, but also less sonorous further down.
Switching the C1 from Minimum Phase to Linear Phase (Apodising), the C1 becomes noticeably brighter and more open on top. But for my taste it is no improvement, actually making instruments sound less like real instruments. The Minimum Phase filter may result in a darker sound, but it is definitely also acoustically more real, with textures that are better fleshed out and more convincing. Instruments are more 3D, with more body, and the whole delivery, in general, is more free-flowing.
Linear phase (sharp), finally, sounds nicely neutral frequency-range-wise, but somehow makes the music sound a little flat and uninspiring, more so than Linear phase (apodizing). Needless to say, I continued to use the C1 in Minimum Phase mode for the remainder of the review.
Listening – Martin Logan Renaissance ESL 15A
To start off, the C1 was used as a DAC and preamp straight to the two A1 amps (in monaural mode) using CH "Precision Balanced" Link XLR interlinks en Jorma No.3 speaker cable. The main digital source for all listening is the Ayon CD-T II transport connected via AES/EBU and coaxial, alternating between the two.
It has to be said: these CH components match phenomenally well with the big Logans! With the feedback set anywhere between 0 and 40, they sound great but I tend to 20 as the best value for the Logans. A value of 0 makes for beautiful mids but overall, with the Logans which are themselves relaxed, this can make the sound a little too relaxed.
Martin Logans have very many great attributes, some of which are very difficult to obtain with dynamic speakers. One of their downsides I find however is that they can sound timbrally less convincing, a little synthetic if you will, unless matched with a particularly natural-sounding amp. In the recent past, I've found AVM amps (both their entry-level equipment as well as their high-end offerings) to work very well in this regard, much better in fact than the Jeff Rowland model 6 power amps that I have used for so long.  The CH Precision amps however also excel in this regard! This setup sounds timbrally wholly credible yet superbly neutral from top to bottom and with a transparency that is simply unbelievable. Resolution is first-rate and treble is nicely fluid and airy, and in spite of there not being an analog preamp, there is no dryness whatsoever.
From the very first seconds of listening, it was immediately clear that these components have very low distortion, incredible transparency, and superb detail retrieval. Regular readers will know how I have often praised the model 6 power amps for being so highly refined. For the longest time, their level of nuance and fine detail had been unequaled by other amps and when other amps did have similar resolution, inevitably they were less proficient in other parameters.
The CH Precision A1 amps not only offer a similar fluidity and refinement as the model sixes did, they actually improve on them in all other parameters. While the sixes excelled in the aforementioned aspects, they were never state of the art in terms of dynamics, bass power, or timbre and texture. Brystons sounds bigger and beefier, Pass Labs amps have purer midrange and more natural timbre and, although the sixes are very stable, it is not difficult to find an amp that sounds more powerful. The incredibly affordable NuPrime ST10, for example, has more impressive drive and dynamics as well as more natural timbre than the sixes, but as would be expected, it does not provide a Jeff Rowland level of resolution and refinement. To cut a long story short: it is difficult to find an amp that does everything equally well.
The A1's however, do, and then some! It sounds incredible, but it seems that these components simply seem to give it all. They tick each and every one of the audiophile boxes but they also make beautiful, soul-stirring music in a decidedly non-technical manner.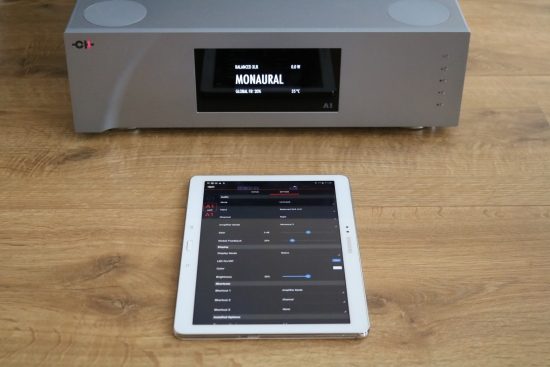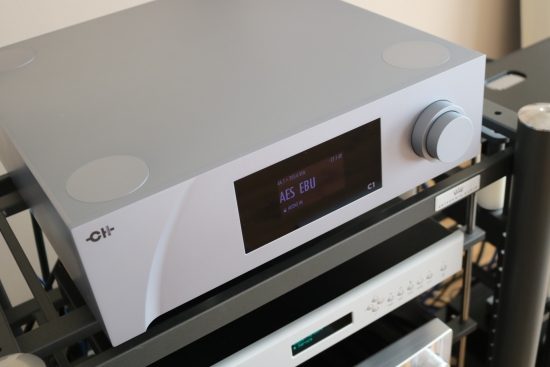 Back to the C1
Back on the subject of the C1 DAC/Controller, I've always been a fan of Wadia DACs, especially because of their superb bass performance and their excellent midrange texture. Their lesser aspects include a dark tonality and less than fluid treble. These aspects became better and better as the brand released new models and the 521 DAC really was a very good compromise between the brand's classic strengths and a more refined, more modern sound. Since I can't very well keep comparing review components to classic components that are no longer available I have been searching for alternatives, only to find that none had the Wadia strengths to the same extent as Wadia did. Nevertheless, aspects that could be improved upon quite easily were low-level detail, bass tightness, and overall resolution. My current reference DACs include the 10.000 euro Bricasti M1 (for a smoother, forgiving sound) and the Aqua Formula xHD (for the best transparency and a more neutral delivery). Both DACs are higher resolving and airier than the Wadia was and although the Aqua also betters the 521 in terms of midrange purity and natural tonality, it does not quite have the Wadia's bass heft or its big and sonorous presentation. These particular Wadia traits could well be regarded as coloration, especially when compared to the aforementioned DACs.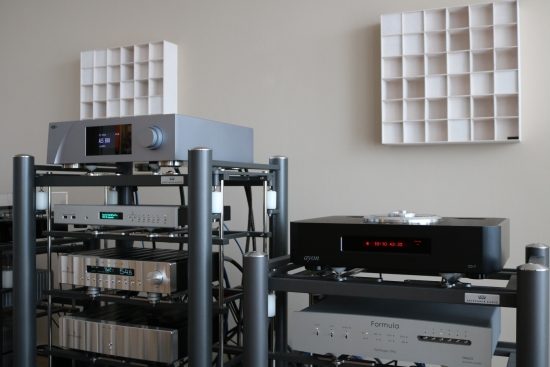 Comparing the C1 with the Aqua is not really fair as the C1 is 2,5 times as expensive but still I think it offers interesting insights because the Aqua is likely familiar to more people than the CH C1 and as such provides a good reference point. Also, the Aqua is actually the best DAC that I have heard to date.
But, as always happens sooner or later, in comes another component that upsets the status quo and offsets my beliefs. Of course, I am talking about the CH Precision C1.
The CH C1 sounds fuller, more sonorous, and more relaxed, and with wider soundstaging, the Aqua sounds more agile and more open on top and has a more concentrated, more focused soundstage. Both DACs sound highly detailed, rhythmically engaging, dynamic, and timbrally very convincing. In spite of their different characters, both come across as being very neutral and uncolored. And yet the CH C1 keeps fascinating me and luring me in with its remarkable combination of qualities. This really is a very special DAC: relaxed and sonorous and not "forward" in any way yet highly dynamic and always "just right".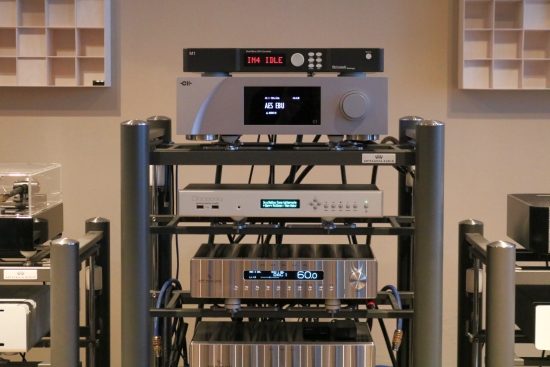 The Bricasti M1 is a very refined DAC with a gloriously rich, liquid and lush midrange, quite untypical for DACs. It does not sound "digital" in the classic sense in any way. Not without reason was the M1 my reference before the Aqua came along to replace the M1 as my new favorite DAC. Just as the Aqua highlighted the softness induced by the Bricasti, so does the CH Precision C1. What's more, compared to the C1, the M1 sounds quite threadbare, in spite of its liquidity. And this is the weird thing because the C1 has all the liquidity and smoothness that you could ask for yet none of the Bricasti's blur.
This is just the thing with these CH components: upon first hearing, it is easy to conclude that they perform flawlessly but apparently not special, because they are so un-hyped in their presentation. But as soon as you switch back to earlier references it becomes painfully clear how deviating and colored other components can sound.
The C1 has the sublimely solid and powerful classic Wadia type of bass and a similarly energetic yet acoustically wholly convincing midrange tonality but combined with a Bricasti-like organic fluidity, smoothness and treble refinement and an overall articulation and low-level resolution that equals that of the Aqua Formula xHD. The C1 offers all this, yet it does not sound dry or analytical in the least. Wait, what? I can have my cake AND eat it? Apparently so!
Cables
As power cables to the A1 amps, I used Belden 19364 with Oyaide 004 connectors. These are pretty standard cables but they do not alter the sound and as such are dependable neutral products. Because the A1 amps sounded so utterly fantastic from the start, I did not carry out further experiments. I'm sure that the amps can be further tweaked to sound fuller, or more articulate, with certain cables but in my setup at least, I just don't think that they require this.
The power cable to the C1 DAC/Controller was a Furutech Alpha 3 with Furutech 038 connectors. This is a cable that adds some fullness and color to the sound but since I use the same type of cable on the other DACs I thought it only fair to not change the recipe for the C1. In use, I found this to be a great combination but then admittedly all speakers I used sound very open. I can imagine that darker-sounding setups might benefit from using a more neutral cable with the C1.
I tried 3 types of interlinks between the C1 and the A1 amps, all balanced XLR. First was the CH Precision "Balanced Link", made by CH in close collaboration with Argento Audio. This cable is made to be an ideal match with CH components, having extremely low capacitance to provide an extra high bandwidth connection. These cables sounded great from the start but still, I felt I had to do some experimenting in order to really be able to identify the cables.
First up for comparison was the 700 euro Black Rhodium Concerto. Natural, transparent and smooth, these cables had already proven to be great in another system context. Now were the CH cables so very good, was it the system's overall resolution or was it just a mismatch? Maybe it was a bit of all but in any event, the Black Rhodium cables provided very good neutrality but a much-diminished presence. Compared to the CH cables, the transients were blurry and transparency reduced. It's easy to assume, certainly not always the case, but apparently, this setup deserves higher-end cables.
Then I tried Cardas Clear. This was a different story. Smooth like the Black Rhodium and indeed rounder and more fluid than the CH cables but still nicely dynamic and still highly transparent. The transients are certainly not quite as immediate as with the CH cable, but this is definitely a very nice presentation, too, and more a matter of taste than of absolute quality. The Clears in effect add a little "Rowland" smoothness to the sound but without reducing the tempo, which can be very welcome for example when speakers sound a little forward or if one just prefers to "mellow" the sound a little.
Although I quite liked the Cardas Clear interlinks for their easy-going sound, ultimately I found that the CH cables made the most of the CH components by making them sound the least processed, and most "live", without adding any unnatural zip and most definitely not adding any harshness. They are just a very good fit, leaving nothing to be desired. Cable choice is a relative matter, however, and my preference might not be yours, so experimentation is always encouraged.
Moving On
So far I've been listening to the three CH components using the Martin Logan Renaissance ESL 15A's but I will also be using Wilson Audio Watt/Puppy 8's as well as Apogee Duetta Signatures. You can read all about this in part 2 of this review, but first I will write about the influence of adding an analog preamp to the system.