Artesania KSH2 Krion shelf
Review samples provided by Artesania Audio
Retail price in the Netherlands at the time of review: 458 euro ex VAT
As most readers will surely know by now I am a big fan of Artesania products. For many years now, I have used Exoteryc racks and Aire floor platforms, which are basically low Exoteryc racks. Recently, I added one more Aire platform and noticed that it has a few modifications from the last model (see the latest update for the details) and along with this, I also ordered a couple of KSH2 Krion Shelves.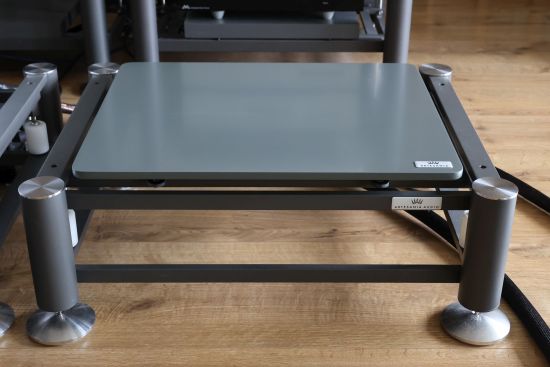 As the name implies, the KSH2 Krion Shelves are made entirely from Krion. The surface is beautifully smooth and completely flat. The shelves are surprisingly heavy, certainly heavier than one might suspect based on their elegant thinness. Regardless, they have no flex that I can detect and the shelf can hold at least as much weight as the Aire platform itself.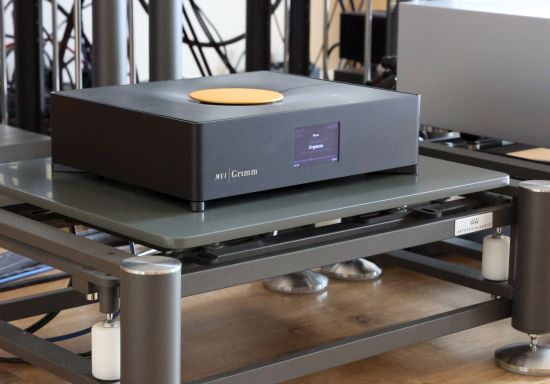 The shelf is meant for use on top of Exoteryc audio racks. They are useful for smaller components, multi-part components, components with uneven undersides, to visually cover an empty level while offering space for CDs and other accessories, or to allow easy component changing without having to re-adjust the linear arms, although I should add that the arms' positions and the positions of the feet/dampers also affect the sound.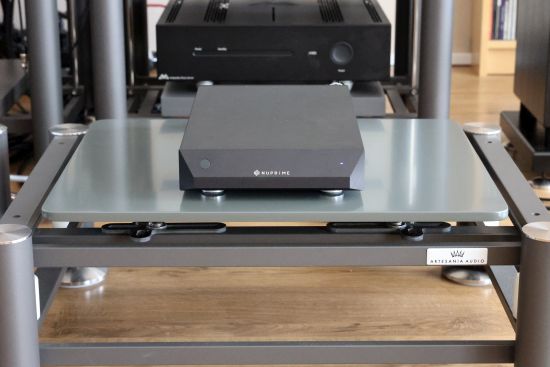 The HSH2 Krion Shelf is ideal for smaller components and components with uneven undersides. In the case of the Ayon CD player pictured below, there are various switches underneath.
Most materials tend to color the sound with their inherent resonance or signature, for instance, wood typically induces a thickness in the upper bass and lower midrange, and glass nearly always introduces an upper-mid presence. When tapping the KSH2 Krion shelves with your knuckles, however, there is no ringing to speak of, just a soft and dark thud that damps very quickly and does not linger on.
And indeed, when used under a variety of audio components, these shelves are sonically near invisible and positively without character. They are easily the most transparent shelves that I have heard. There is no wooden thickness, no glassy ringing, nor anything in between.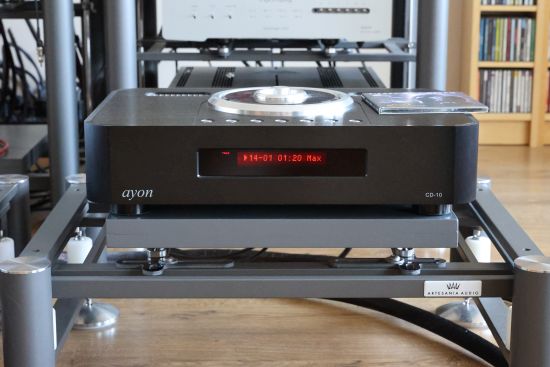 As one might expect, a dual-layer glued MDF panel as seen above can't hold a candle to the HSH2 Krion Shelf. Indeed, this home-made shelf sounds thick and wooden compared to the beautifully transparent Krion Shelf.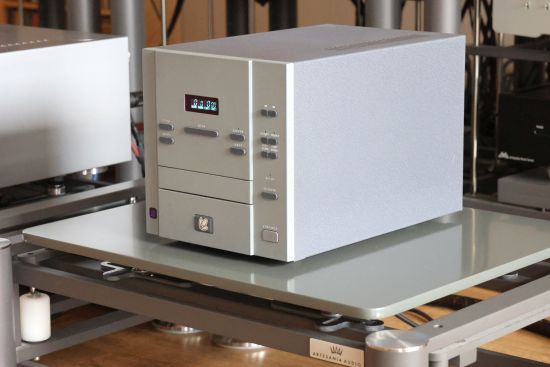 The Proceed PDT-2 is an oldie but still a special player (when given love and attention, as well as a thorough recapping;-) and it both looks and sounds great on the KSH2 Krion shelf.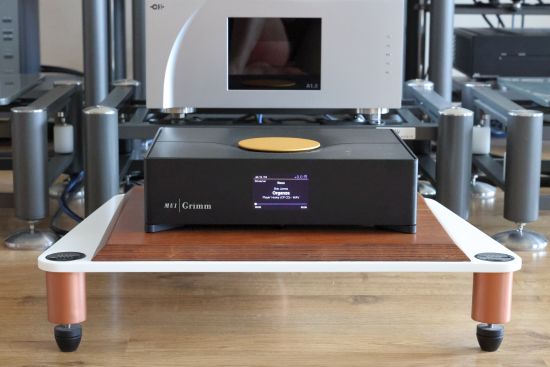 The Organic Line Modular Platform (pictured above) remains a beauty and it still lends itself beautifully for many components, but fair is fair, the Exoteryc range is sonically superior. That is, it is superior if you value transparency and linearity as much as I do. The Organic Line adds a nice dose of body and fulness that will be welcome for those who own systems that inherently sound on the lean or anemic side. When comparing the Grimm MU1 music server on the Organic rack versus the Exoteryc rack with HSH2 Krion Shelf, the latter combination sounds noticeably more articulate and transparent. For me and my system, that's more ideal, and so the MU1 has found a new position.
To be fair, ultimately, the shelves do alter the sound just a little bit, compared to using audio components directly onto the linear arms' feet. The presentation shifts subtly, but I would definitely not call it coloration. What I hear is a more relaxed and free-flowing delivery when used directly on the rack's feet, but by the same token, clearer articulation and a subjectively more direct presentation when using the Krion shelf. I feel that both presentations are equally valid and am actually discovering that I prefer the shelf's addition in many cases, of course, depending on the inherent character of the component that is placed on it, and the overall system synergy.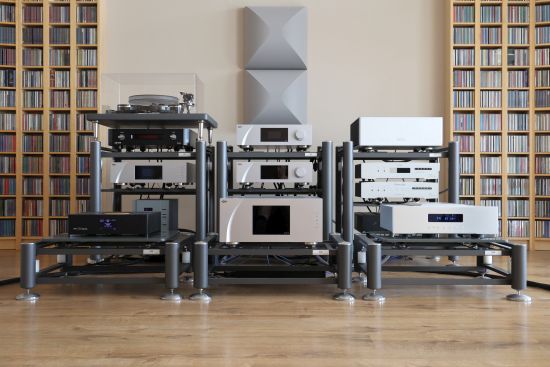 I can highly recommend trying an HSH2 Krion Shelf, even if your components do not strictly require it, and even if you don't own an Artesania rack!

External Links
Manufacturer: Artesania Audio
Distributor for the Benelux: Aspera Audio
Krion website: Krion.com/en
Read Also
Artesania Exoteryc Audio Rack
Artesania Aire Floor Platform
Artesania Modular Floor Platform
Artesania Modular Rack