Mosaic T – non-oversampling, non-filtering and non-conformistic DAC
Retail price Mosaic T 16 bit: 1500 euro
Retail price Mosaic T 24 bit: 2000 euro
Retail price BBB: 300 euro
Retail price XTOS: 300 euro
Currently not yet available – please check with the manufacturer for timelines
Review samples kindly supplied by EC Designs
A few months ago, a friend called me on the phone to say that he had something very special for me to hear. It was Niels, a fellow-Apogee speaker enthusiast. He said he had a DAC that did everything differently. It is hand-made in the Netherlands, using discrete components and zero off the shelf solutions. Even the DAC itself is a proprietary solution. And it is minimalistic too: no oversampling, no filtering and no capacitors in the signal path. Oh, and its connections are pretty non-conformistic too: mini jack and toslink only.
At the time that Niels called me, he had already heard several prototypes, and the one that I was about to hear was also a pre-production sample. Even if I did have my reservations, I was curious and naturally agreed to a listening session.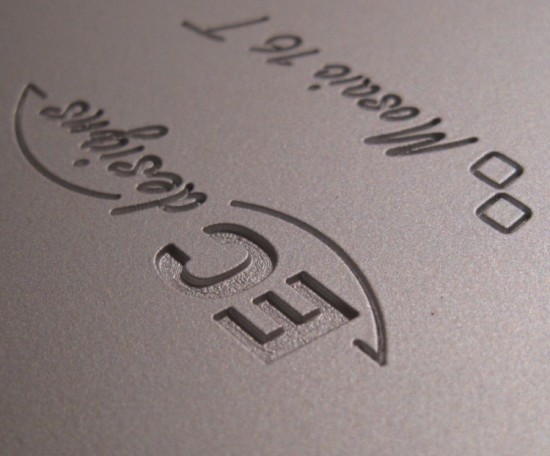 History
EC Design, based in Beringe, in the Southern part of the Netherlands, is run by two brothers: John and Gordon Brown. Being on the phone with either of them forms the idea in my head of speaking with the "Doc" from the movie Back to the Future minus the abstractness of the fictional character, because of the obvious driven and enthusiastic manner in which they speak of their products. Both John and Gordon can convey the entire working principle of their DAC in a cohesive manner, along with several side-principles, in a cohesive monolog that leaves no gaps anywhere. There has not been a single question I had, that they couldn't adequately answer. This is something to treasure: audiophiles who can explain on a deep technical level why we hear what we hear.
EC Designs was established in 1990 and although high-end audio isn't their sole developmental area, they have been experimenting with DACs for a long time. For example, for the longest time they worked on perfecting a DAC using the Philips TDA-1541 chip. Ultimately they decided that these kinds of chips had too many errors built-in, and they couldn't be sufficiently improved upon. That's when they decided to build their own ladder-DAC from scratch using discrete resistors and the absolute minimum in component count. Initially, there was still a buffer circuit in place but the final commercial versions omit even that: here the DAC resistors directly drive the outputs! Clearly, EC Designs have no fear of threading unknown and even frowned-upon paths, in their quest for perfect sound.
Unlike many digital audio products these days, all EC Designs products are hand-built in the Netherlands, by the Browns themselves.
Niels is a good friend of the Browns, and he has done a lot to help in the shape of mouth-to-mouth advertising, creating enthusiasm among his audio friends and of course by driving to my place several times. It's a good thing that he dropped by with the DAC in person because to be honest even if I was intrigued by these people and their product, I must admit that I did underestimate it.
But let's go back to the first post-TDA DAC. What followed were several incarnations of the initial triangle-shaped USB DAC, and this was the first version I heard when Niels brought it along. The USB DAC had no other inputs than USB, but what I heard from this prototype using the AudioAanZee Reference Flow music server was already so impressive that I can understand the logic of leaving out anything that can compromise the quality, even if that means there's only one input.
Above: prototype Mosaic USB-DAC (the triangle shape was abandoned in favor of the more production-friendly rectangle shape it has now.
Prototype Mosaic Sound
Spread over several listening sessions, I heard 3 versions of this interesting triangle-shaped DAC, each version bettering the last one. This was an interesting process, as Niels dropped by several times, every time with 2 identical looking DACs under his arms. To avoid influencing me, he never told me which was the old and which was the new version and just had me listen to them sequentially, then let me pick my favorite and then asked me to motivate my choice. Luckily for me, each time I chose the newer development and upon my explaining why I found it to sound better, Niels would have the technical info to go along with it. I won't dive too deep into the audible differences between the 3 prototypes that I heard, as this review is about the currently available commercial version.
What was interesting to note however was how supremely natural even the first version I heard sounded. Effortlessly unforced yet agile and expressive and infinitely detailed. Already at this stage, I was dumbfounded to find that my current reference DAC, the Jeff Rowland Aeris, was bettered in terms of low level detailing and fluidity. Not all was perfect though. The main flaw initially was in the bass, which lacked drive, dynamics and power in generic, but especially when compared to the very powerful sounding Jeff Rowland Aeris. Still, it was at this moment that I realized that the EC Designs DAC was indeed something very special. The final prototype USB version had addressed the soft bass transients, but in the process had lost some of the magic that I heard with previous versions. What followed thereafter were successive improvements in various areas and eventually complete redesign based around the idea that the USB section really needs to be galvanically isolated from the rest of the electronics. The way they do this will surprise you, but the important thing is that all the changes really made for the current commercial product which is better than the prototype in every way.

Mosaic T
The final production Mosaic T still utilizes a ladder DAC with discrete resistors and the absolute minimum in active components. The DAC output is 100% passive: the resistor bank output directly drives the outputs – there is not traditional transistor- or op-amp buffer output as is normally the case. There is also no oversampling nor any filtering. No brick wall filter and no DSP. "But wait" I hear someone say… surely that would produce lots of high-frequency noise, and this must be filtered out? I asked John the same question, to which he responded wittily that all humans already have an excellent ultrasonic filter built into their heads so there was no need adding one electronically.
Another non-conformistic idea is the use of Toslink. Not ST glass, but actual plastic Toslink, as used on nearly all CD spinners of the last 2 decades. Among audiophiles there are always various pre-set convictions and in digital it is to always choose electrical over optical. My ears have always agreed, Toslink sounding more rounded, softer and less forceful or less accurate in the bass. The Browns tell me that indeed Toslink has a tendency to transfer higher levels of jitter, but apart from that it is a perfectly capable format that has the added benefit of galvanic decoupling. And in any event the jitter is something they address intelligently inside the DAC.
Last thing I'll mention on the non-conformistic area are the analog outputs. They are not cinch, not DIN and not XLR. They are mini jacks, just like the ones on iPods and most phones. This is another thing that's frowned upon by audiophiles because even if they disagree on balanced versus single-ended, surely the connectors must use a common standard. If not, people need to make their own cables or use adapters. But the Browns are very firm in this, because the one thing they try to avoid in their DAC design is Eddy Current. And mini jack is a connector type that according to them measures best in that regard. DIN could also have worked, but this wouldn't have been possible using the current housing, which itself is so very thin also for a very good reason. Incidentally, the English brand Naim did not add RCA connectors on their equipment because they fell of their DIN belief: they did so due to commercial pressure. And although Camac was non-standard, it was implemented in certain Mark Levinson equipment for good reason.
Who am I to judge. My ears tell me that EC Designs are right every step of the way: there are no digital artifacts, on the contrary, this DAC sounds superbly analog, more so than any other DAC that I heard in my setup so far, and there is absolutely no audible evidence of the DAC outputting anything but pure music.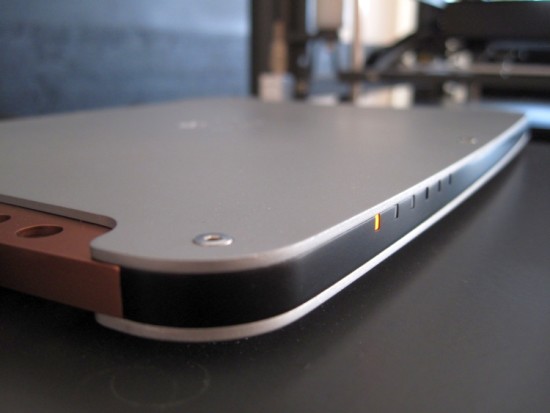 Versions
There are 2 versions of the Mosaic T DAC: 16 bit and 24 bit. They are cosmetically and technically identical and they both play music files up to 192kHz. The only difference is that the 24 bit version has more resistors and associated driver circuits catering to the extra bits. I have listened to both versions and even though there are subtle differences, they cannot be heard as differences in resolution. I see them more as differences in timbre or tonality. I'll first describe the global Mosaic sound, then will dive into the precise differences between the 2 models.
Sound
Nuanced, fluid, airy, relaxed yet nimble, fast and articulate, with a deep and full bass and full dynamic range but entirely without edge, the Mosaic T is decidedly un-digital and free-flowing. This is not to say that it sounds boring, far from it.
Above I briefly mentioned my current reference DAC, the Aeris, but I shouldn't make judgments based on direct comparisons for two reasons. Firstly because of the major difference in price: the Mosaic is yours for 1500 euro but the Aeris costs a cool 12.500 euro. Second these DACs are voiced quite differently, and have different stronger and weaker areas. Both are interesting for different sonic attributes. What's flabbergasting however is that the Mosaic manages to surpass the Aeris in several areas, including some where I thought this would not happen easily. In order to fully convey the quality of the Mosaic, I'll briefly describe each DAC's strong areas with all things being equal: same sources, cables and setup.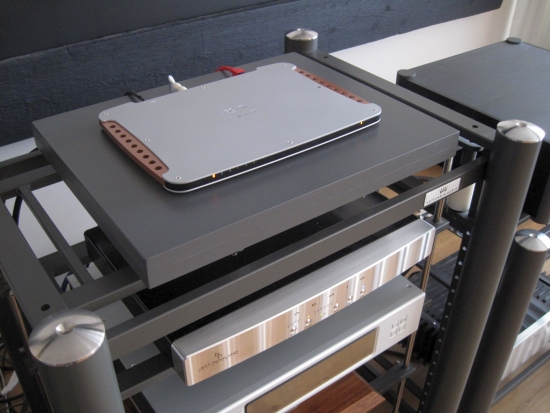 The Mosaic sounds freer and more akin to analog record replay, than the Aeris. It is also airier in the treble, with better low-level resolution across the frequency band, and it has more 3D soundstaging with better depth layering and better focus. The Aeris on the other hand is still a master of bass-slam and drive. It has that Wadia/Cardas/PS-Audio-like physical solidity that matches well in my already smooth and relaxed sounding main setup. The Aeris still gives me a kick by sounding highly convincing in an amplified live music kind of way, but the Mosaic sounds much more convincing with vocals and acoustic instruments in a "real flesh and blood humans in your room" kind of way.
If you switch between the DACs momentarily, either DAC can be perceived as being the better choice for different reasons, but after having listened to the Mosaic a whole evening, then switching back to the Aeris, it's difficult to come to terms with its sound again. It's akin to having played LPs all night and then switching back to CD… there's a kind of hardening and flattening to the sound that prevents me to get connected emotionally again.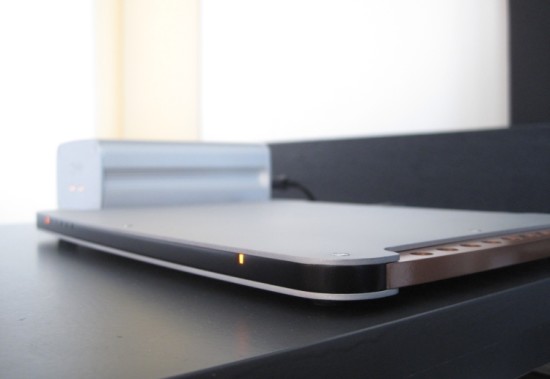 Learning to listen
The Audio hobby can be like a listening school. Different components have certainly learned me different lessons. If one has listened to "standard" digital for the majority of their adult life, it may well be that one has to un-learn the typical aspects of digital sound. By this, I mean that many DACs tend to harden the sound somewhat. We perceive this as dynamics, or slam. Some DAC sound softer and friendlier, but many also sound woolly or restrained as a result. We don't want our music to sound unexciting, and so I think we have learned to take some of the edge for granted and may have even gotten used to it to such an extent that listening to the Mosaic DAC can be disconcerting at first. The music is so very unforced that it may seem like there's something missing, but listen for a little longer and it becomes clear that dynamics are not just intact, they're more expressive than before, but without the added bite that one grows accustomed to from many other DACs. And then you can relax into the music, letting it wash over you.
Analog LPs to me sound so good because they sound fast and articulate and smooth and relaxed at the same time. Since I reviewed the SOtM DAC and Accuphase DC-37 DAC I have been aware that the Aeris can be bettered in fluidity and low-level resolution. But when partnered with the AudioAanZee Reference Flow music server, I've found it to provide the best balance between "analog" smoothness and fluidity and "digital" power and drive. And evidently, this combination has provided the best balance so far. That is, until the Mosaic T made its entrance with its benchmark-setting transparency, fluidity and utterly unforced low level detailing. In a way the Mosaic T made me re-think some of my fixed ideas about digital audio.
Balance
I can't say it often enough: in audio it is all about balance. In a very lively system where every component sounds very open, the addition of one more very revealing component can make the sound too bright. This last component could then be labeled as being "edgy" or "digital". Conversely, in a setup already tweaked to sound smooth and mellow, the substitution of a lively component for a natural-sounding component offsets the balance, and this last component could be labeled as being too restrained.
Are we correct in applying these labels? In some cases certainly, but my point is that it needn't be so. It may merely be a matter of the component not fitting the setup and the setup needing new balancing.
I am making this point because the Mosaic sounds so utterly unforced that it could be labelled as being too timide while it definitely isn't. It definitely does not have any of the shouty "here I am, just listen how detailed I sound" kind of attitude, and so you have to be careful to integrate it properly. Then, the Mosaic is nothing short of magical.
Main Setup
CD Player sources
Because the Mosaic only offers a Toslink input, but the AudioAanZee Reference Flow only offers a USB output, my initial listening was done using a variety of CD players as source. The EC Designs XTOS, which is a USB to Toslink converter, arrived a little later so that I could connect the Music Server. You can read about this further below.
For the longest time I have preferred CD's to digital files, but the arrival of the AudioAanZee Reference Flow music server changed this, and the last months I'm playing less and less CD's. I still find that CD can sound more fluid and supply than a ripped CD played from most music servers, but if the AudioAanZee music server was the first digital audio source to make me start doubting my preferences, the Mosaic DAC really substantiated this. Could it be so that if the Music Server or DAC, or both, are so free from edge and grain, that CD has nothing more to add? I'm afraid so.
I have tried 4 different CD players as source for the Mosaic. If you're not interested in CD player sources, just skip this part and move on to Toslink Cable Quality. Just know that the Mosaic is impervious to jitter to a very large extent, but that transport quality still has a small effect on the resulting sound.
First up was the Sony CDP-XE510 from 1997. It's old, but used very rarely and quite likely still performing within spec. Its sound is accurate and fast, but tonally thin and dry, and not very musically inviting. The Meridian 506.24 from 2000 is also not the youngest, but still plays very well, and I don't think that it has gone off-spec, but one never knows. Its sound is a lot richer and more powerful than that of the Sony. Its bass is warmer and less articulate, but there's good pace, and a larger soundstage. The Marantz CD11LE is even older: it's from 1992, but amazingly still working flawlessly. Its sound is more similar to the Meridian than the Sony, and adds some refinement, but is a little too relaxed. The Mark Levinson 37 finally is from 1997 and also ageing, but it was fitted with a new transport and laser mechanism only 2 years ago, and of this player I am particularly certain that it performs within spec. Being a high-end player it doesn't have a Toslink output (ST glass instead) so I had to resort to using a coax-TOSlink converter. This converter, I would learn later, definitely rounds off the transients, but nevertheless, the combination still produced a sound combining the best attributes of the aforementioned players. The Meridian was very likable, and the Levinson was better, but still I was missing something.
Toslink cable quality
The Mosaic was delivered to me complete with all the necessary analog and digital cables. The Toslink cables included were of the standard plastic type. One could argue that for digital signals the quality shouldn't matter, certainly not when advanced anti-jitter circuitry is employed, but in practice I found that it is important to use high-quality cables, to get the best transient behavior and the most dynamic and powerful presentation. The majority of my initial perception of a lack of bite turned out to be caused by the plastic Toslink cable. Substituting it for a real glass-fiber variant made for a quite noticeable improvement in clarity, bass speed and transient sharpness.
Using the Mark Levinson CD transport via the coaxial/Toslink converter and now connected with real glass fiber Toslink cable, the Mosaic really started to sing. My feet were tapping, my brain had already stopped processing and I was relaxing in free-flowing musical landscapes. I am not very fond of super-dry and accurate "square" bass, and so I have tuned my system to sound smooth and have a subtle rounding of upper bass notes. The Mosaic with CD sources did nothing to change this. But if I put on my Objective Reviewer's Hat, I knew that there was more to be achieved. Music servers would come to the rescue.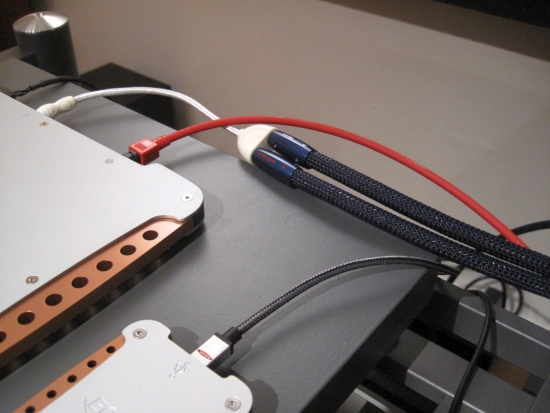 Above: AudioQuest FLX-mini/RCA adaptor cable. The red Toslink cable is made by Monitor Cable and contains real glass fiber. I've had it for more than 15 years and alas cannot remember the model.
Above: AudioQuest Hard mini/RCA adaptor
Analog cables
I tried many cables, but the best match by far was made using AudioQuest Water cinch interlinks and either an AudioQuest mini-jack to cinch adapter cable or "hard" mini jack to cinch adapter. The latter provides the most solid sound, the former the more airy presentation.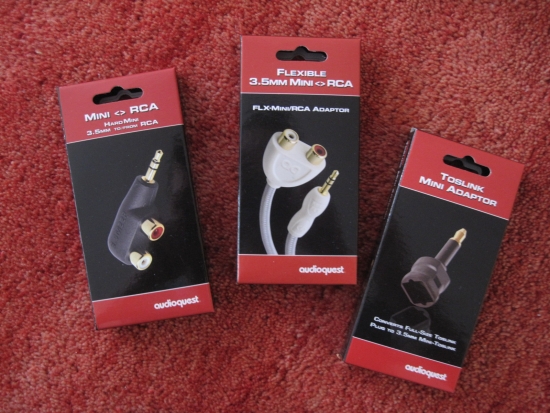 Above: AudioQuest accessories. Perhaps slightly more pricey than OEM products, but also of better quality.
Music Server sources – Aurender S10
After I had played with the Mosaic for a couple of days, Niels came by again and this time he brought an Aurender S10 music server along. He had purchased it especially because of its Toslink output. I had reviewed the same model Aurender some years ago and at the time concluded that it was far superior to a normal computer source, but when using the spdif outputs perhaps a little too technical for my setup at the time. Naturally, my setup changed in the meantime, and as it would turn out, the Aeris and Mosaic are far less sensitive to spdif as my DACs at the time were.
At this point in time I had not yet received the XTOS USB to Toslink converter, and so Music Server tests started with Niels' Aurender S10. Used as a source into the Aeris (using USB) the Aurender still sounds a little overly precise for my taste, and the AudioAanZee Reference Flow definitely makes for a more emotionally engaging performance, which is why I chose it as my reference. Used as a source for the Mosaic (using glass-fiber Toslink) however the Aurender immediately established first position ahead of all CD player sources for itself, effectively combining the best attributes of all CD players tried, without any of their downsides. Transients tightened up, dynamics were more impressive and bass had just the right combination of speed, articulation and slam. The Aurender-Mosaic combination makes music in a pure, upbeat, powerful and direct manner, while retaining musical flow, and importantly, the Mosaic still sounds unforced.
I also tried the Aurender's coaxial digital output, into the same coax/Toslink converter that was used for the Levinson transport and will you believe me when I say that the difference was far from subtle? Even when using the glass fiber cable, bass slowed down and lost some attack, midrange transients were rounded and the overall sound came across as being veiled. Go figure. No wonder that I felt that more was possible from the Levinson CD transport.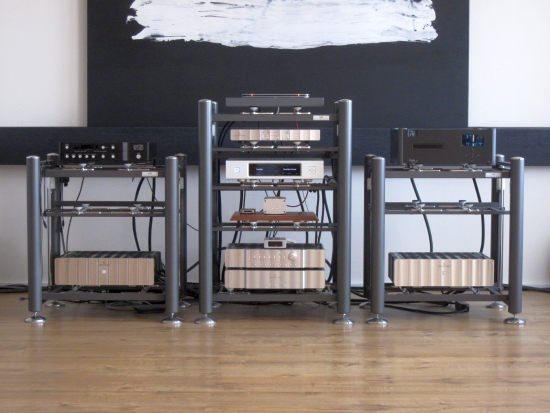 Above: Aurender N10 and Mosaic 16 T – a match made in heaven.
16 bit versus 24 bit
The Mosaic T DAC is available in 16 bit or 24 bit, both capable of 192kHz sample rates. Theoretically, the 16 bit is the better version as long as you don't require playing hi res material. In any even, for me, the difference between the two DACs is not a matter of resolution, rather of timbre or "bite". Using the Aurender as a source and playing various red book 44/16 files and a variety of hi-res files, both versions have superb resolution when playing red book files and hi res files alike.
The differences are subtle, but easily audible if you know what to listen for. The 16 bit version sounds most effortless, lyrical and refined of the two, with the most room-filling sound. The 24 bit version sounds tighter in the bass and more articulate, and is also more forceful overall. However, the 24 bit version sounds less expansive, as if its more "concentrated" sound takes away some freedom, leaving the sound to become less free from the speakers.
The extra "bite" of the 24-bit version makes for a tonally fuller sound, which helps recordings that are a little thin. It gives piano a more "wooden" quality, for example. Ultimately the choice between the two is a very personal one. Do you prefer a more romantic, more dreamy sound, or a more precise and more forceful sound? The 24 has fuller, more Wadia-like tonality, but less analog-like fluidity. I tend to think that the 24-bit version perhaps offers the most accurate sound. But is it also the approach that moves me most emotionally? I honestly don't know for sure, and it really depends on the recordings played.
Technically, according to EC Designs, the 16 bit is least prone to added distortion, which goes some way toward explaining its more relaxed sound. In any event, even compared to the very best I heard, both are supremely refined and "analog" sounding DACs, but with their respective differences.
Music Server sources – AudioAanZee Reference Flow
By now I had received both the XTOS USB to Toslink converter and the BBB, which stands for Beagle Bone Black. I will review the latter further below, but for now, the XTOS converter will step into the limelight. Remember my stating that the AudioAanZee music server with the Aeris so far was the best digital audio playback in my system so far? Indeed those components combined still provide the most powerful and live-performance-like delivery in my system, but the Reference Flow music server, connected with USB via XTOS to the Mosaic T adds a dimension of natural ease that I wouldn't have thought possible from a digital system. These two components together make the most sumptuous, sensuous and emotionally engaging delivery so far. The Aurender as a source sounds more upbeat and perhaps provides the more accurate sound, but if it comes to being touched emotionally, the AudioAanZee server wins, especially when playing smooth vocal soul or other intimate music. There's a highly emotional quality to the midrange: voices, in particular, are mesmerizingly involving and real.
Secondary Setup
So far the Mosaic was only listened to in the main setup. Having this second setup is very handy because it has a different operating point and so can highlight different qualities in products under review. Mainly due to the Apogee Duetta magnetostatic speakers, its intrinsic sound is much more upbeat and direct than the main system.
Simultaneously with this Mosaic review, two new Jeff Rowland components are currently over for review: the  Capri s2 preamp and 125 poweramp driving the Duettas. Almost entirely independent of source used, the Mosaic is feeling right at home in this company.
The Meridian 506.24 CD player, connected directly to the Mosaic using glass fiber TOSlink shows totally no signs of a lack in bass power, drive or transient behavior. And again evident is the feeling of effortless detailing combined with smooth fluidity.
Switching to the resident Devialet 120 normally used in this setup, the results keep impressing me.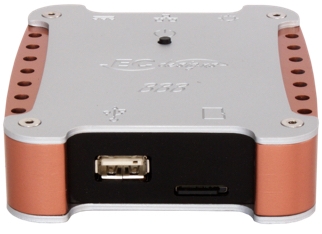 Above: Beagle Bone Black ethernet endpoint with USB output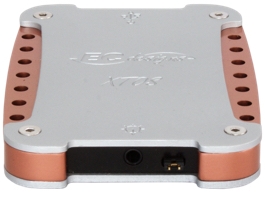 Above: XTOS USB to Toslink converter (3,5mm mini-plug connector)
BBB + XTOS into Devialet 120
With the AudioAanZee music server still in its normal position in the main setup, the BeagleBoneBlack enables itself to be selected as a secondary zone for the Music Server, which is positioned in the secondary listening room. EC Designs can program the unit to work with a range of products, and in my case, it was configured to work as a Squeeze Lite endpoint. The connection to the BBB is established instantly, and to my surprise, it sounds very good too. There are minimal differences compared with local playback, but they are so small that I can't decide which sounds better. The BBB connection in fact sounds so good that I would say it is similar in quality to Devialet Air, which is Devialet's own bit-accurate streaming protocol. What's also interesting to note is that it still sounds almost the same after I switched to the main Windows PC as a music source. The PC is on the same network switch and the signal travels the same cables, but I haven't forgotten that I previously heard large differences in server sound, between Windows PC, Macbook and Synology NAS. It's as if there is some sort of buffer functionality inside the BBB which makes it more impervious to signal quality.
Let's see what happens when the music server is connected locally in the secondary setup.
AudioAanZee Reference Flow + BBB + XTOS into Devialet 120
After connecting the Music Server locally in the secondary setup, but still routing the signal via ethernet into the BBB, then via USB to the XTOS and optically into the Devialet, the sounds is even better. Apparently all the cabling and several switches along the way do make their mark on the sound. The delivery is smoother and more spacious than with the server located further away.
Removing the BBB and connecting the server's USB output directly into the XTOS, the sound becomes more direct and is tighter, but less spacious, especially in the depth plane. Call me crazy, but I think I preferred the more romantic delivery with the BBB in place!
Removing the XTOS as well, now the music server is playing directly via USB into the Devialet. Connected this way the bass becomes more sonorous and the whole presentation is even smoother. My emotional bonding however, is not heightened, or lessened, for that matter. I must say that I'm really impressed with how little impact on the emotional delivery these two EC Designs devices have.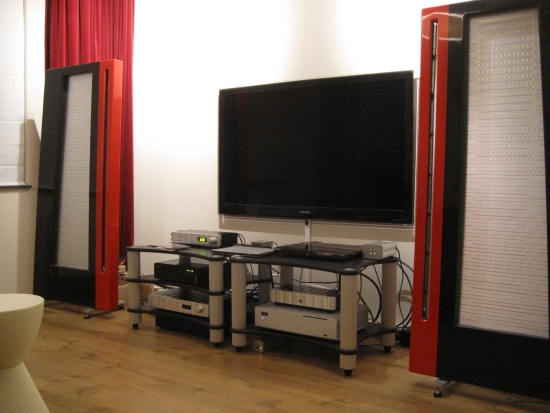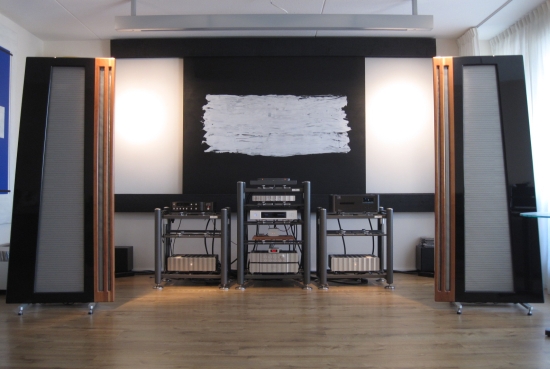 Conclusion
BeagleBone Black
The BBB is a very nicely shaped mini-computer that connects quickly, works flawlessly and sounds superb. It is the perfect answer for people who want to stream music to the Mosaic over ethernet.
XTOS
The XTOS is another nicely sculpted device intended to be used with USB-only sources. Like the BBB, it works flawlessly and although it adds some "romance" to the sound, this effect is entirely musical and even welcome in many situations. In any event, I can't believe that the unit is actually masking any details because focus and layering in the depth plane actually seems to be improved when using the XTOS versus a direct USB connection. Would this be an effect of the galvanic decoupling?
Mosaic T
Both 16 and 24 bit Mosaic sound nuanced, fluid, airy, relaxed yet nimble, fast and articulate. They have deep and full bass and full dynamic range but entirely without edge. They have an utterly unforced and superbly refined presentation that you just don't find elsewhere, especially if you factor in the incredibly communicative way they have with voices and real instruments. The midrange really is extremely believable acoustically, and dynamic expression is second to none. By that I mean that the Mosaic doesn't sound "loud", but that it can be extremely quiet, as well as extremely loud, depending on what's on the record. They have an analog-like capability of being able to seemingly add some dynamics on top even if you thought that the limit was already reached. Both DACs have the ability to portray voices as real human bodies, with lots of depth, and their soundstage is not just large, there's also a lot of movement within it, just like there is with LP replay. The DACs, especially the 16T, need an expressive music source and lively cables, but when the right match is made, both versions sound fantastic in their own way. The 16 bit version is emotionally most involving. It doesn't sound soft or wooly at all, but it could be slightly more powerful in the midbass. The 24 bit version on the other hand is perfect in timbre and midbass power, but can be slightly forward or loud in character.
The 16 bit version matches best with an astute sounding music server, preferably one that has a high-quality Toslink output such as the Aurender S10 or N10. This combination makes for a sound so effortless that it gives me goosebumps, but with the right speed and without becoming too soft.
The arguably more neutral 24 bit version matches with a wide range of products, and perhaps best with a more relaxed sounding music server such as the AudioAanZee Reference Flow. The Aurender also works well with this DAC, but rather than sounding dreamy, this combination errs slightly on the drier, more accurate side.
Both DACs and Servers have their benefits, but independent of the source used, the Mosaic T is an astounding DAC, and it comes closer to sounding analog than any other DAC that I have heard. Importantly this sense of analog-like sound is not achieved at the expense of softness or wooliness. In fact when fed music from the Aurender, the Mosaic connected with Toslink sounds every bit as articulate as the Aeris connected with USB. That these marvelous DACs only cost 1500 and 2000 euro respectively while playing in the Premier League is a miracle. Highly recommended!

Update 27-4-2016
Best cables so far for the Mosaic DAC are the Mad Scientist HAC Plus, see the review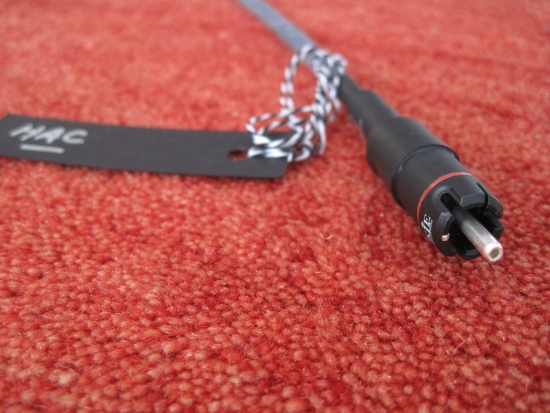 * The Mosaic 16 T uses 17 bit DA conversion when in 24-bit mode.
External Links
Manufacturer:
EC Designs
Meijelseweg 64
5986 NJ Beringe
Netherlands
(31) (0)77-4664050
Monday – Friday: 9:00 AM to 5:00 PM
info@ecdesigns.nl