Harmonic Resolution Systems (HRS) EXR Audio Stand
Review sample supplied by Reference Sounds
Retail Prices in the Netherlands (incl 21% VAT):
The EXR Stand System is fully modular and available in many variants, including custom sizes. Below are a few examples with default size panels (17×19 inch or 19×21 inch):
EXR stand 1 level – 3.179 euro
EXR stand 2 levels – 5.449 euro
EXR stand 3 levels – 7.779 euro
EXR extra struts to increase the height or add a level – 139 euro per piece
EXR is compatible with E1X, R3X, S3, and M3X2 Isolation Bases – from 2.569 euro
Chassis Noise Reduction (Component Footers):
Nimbus (soft polymer/soft polymer) – 209 euro per footer
Helix (hard polymer/aluminum) – 219 euro per footer
Vortex (hard polymer/stainless steel) – 569 euro per footer
Damping Plates:
DPX-05545 (5.5″ x 4.5″) – 309 euro
DPX-09545 (9.5″ x 4.5″) – 459 euro
DPX-14545 (14,5″ x 4,5″) – 569 euro
HRS
Based in New York USA and led by Chief Engineer Michael Latvis, Harmonic Resolution Systems is comprised of a team of skilled engineers and technicians with decades of experience in the design, development, and production of isolation systems, custom materials, and precision mechanical systems. Mr. Latvis has over forty years of engineering and product development experience with a specialty in vibration, noise, and control systems and he has six issued patents related to shock, vibration isolation, and high-performance audio products.
HRS employs a range of technologies to achieve their unique level of performance. This includes the development of proprietary composite laminates and custom HRS materials which are developed by skilled chemists and engineers who are experts in creating structural materials with unique properties. These materials are developed based on decades of experience, product testing, and the guidance of a panel of listening experts.  This approach allows HRS to custom engineer the products and adjust the material performance based on real-world experience.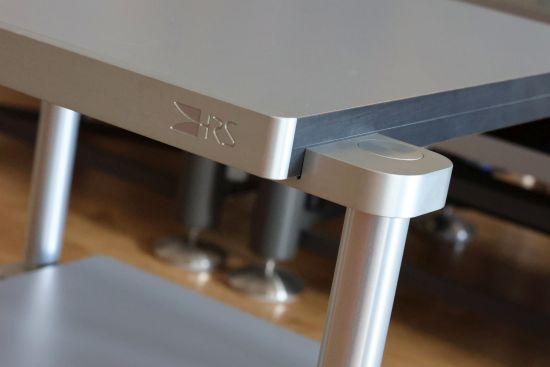 HRS uses advanced 3D CAD design software and state-of-the-art FEA analytical tools to design and verify the fit, weight, strength, and performance of each HRS product. At the start of every new development, the engineers look at the frequency response and critical performance criteria in a computer simulation and only then start manufacturing the first prototype product. That product is then put through a very rigorous listening test protocol that is the final deciding factor for every HRS product.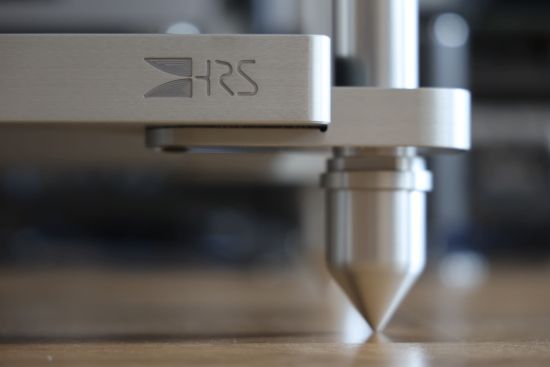 HRS lets the engineering principles and extensive listening test protocol guide them to the ideal solution for each component type and system location to achieve the best result. Central in all designs is that they must be adjustable so that the HRS system can adapt to system and component changes.
Heavy or Lightweight, Decoupling or Draining
There are only a few basic methods that are used when it comes to building audio support systems. Over the years, I've obtained great results with very light racks as well as with very heavy racks and with decoupling as well as coupling, and as a result, I can't proclaim any one system as ideal. I may have my personal favorites, but really, the trick is in the system-matching. Ideally, the support, cables, accessories, electronics, the room, and speakers are all tuned such that they are supportive of one another.
HRS very clearly does not do lightweight, quite the contrary! All their products feel super-solid and are very heavy in a bid to provide a high-resistance path for harmful resonances. Further, HRS provides a range of coupling footers that either couple/drain or decouple/isolate, just as the component requires. Of course, there is no such thing as true isolation or decoupling, that would require some kind of magic. But what can most definitely be done is to calculate harmful resonance frequencies and then specifically combat these in a rack or footer design. And that's precisely the art that HRS has perfected.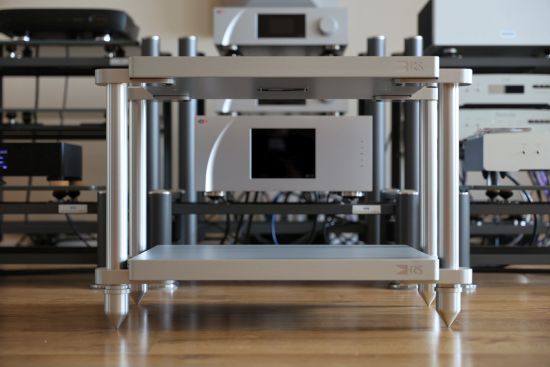 EXR Audio Stand System
So far, HRS has been known primarily for its superlative rack solutions at equally superlative prices, often used with cost-no-object audio systems. But for the past five years, Michael Latvis and his engineering team have worked on the EXR system to get the performance and modularity on the desired level while also offering a 30% cost reduction over the model it replaced. As a result, the EXR Stand System is the brand's most cost-effective system to date.
This new system is very cleverly constructed in a simple yet fully modular manner. The configuration can be expanded, revised, or upgraded at any time, which preserves value. Importantly, unlike the other HRS Audio Stands, the EXR plinths used in the structure of the audio stand system can support the component directly.
In order to explain the EXR system, it's easiest if we take a small detour and look at the HRS Isolation Bases. These come into play with the higher-tier Audio Stand Systems but they can also be used standalone for those occasions where users wish to retain their current furniture. HRS Isolation Bases are specially formulated platforms with an energy-dissipating core and device-matched footers that decouple or drain – whichever's best for the device.
The EXR system is built around an E1X Isolation Base comprised of custom-pressed resin fabric composite top and bottom plates in a proprietary HRS constrained-layer dampening system. The Base is then equipped with four solid aluminum EXR Frame Mounts. These frame mounts connect directly underneath the Isolation Base via an integrated cork-like isolator and they are equipped with an adjustable spike at the bottom for stable placement and optimal mechanical coupling with a minimal contact surface.
The individual Bases are coupled via 4 uprights/vertical pillars (HRS calls them Struts) with an asymmetrical design to create an extremely rigid rack system that can easily be adapted to the number of components to be placed. According to the manufacturer, this 4-leg vertical support mechanism increases frame stiffness and overall performance, compared to traditional 3 or 4-leg designs. Asymmetrical in this case refers to the 4 struts all being offset from the center of their aluminum supports as well as from one another, resulting in opposing forces canceling out within the support surface.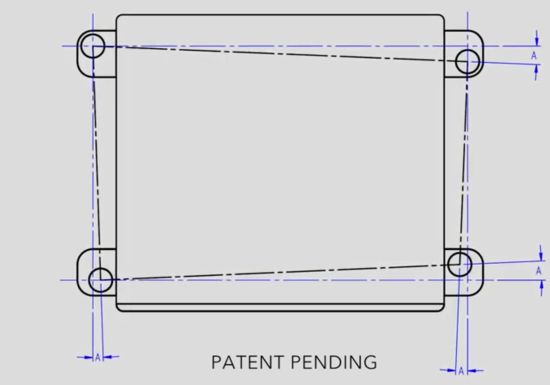 The most visible result from this is that the left and right pillars are not in the same front-to-aft positions but the right-hand side pillar is shifted back by 2.5 cm. With my OCD and innate desire for symmetry, I feel that this is visually not ideal, but as it helps sonically while keeping the price down, this is still a smart solution. The struts are available in a range of heights and thanks to the design's modularity, extra Struts and extra Isolation Bases can be added at any time to accommodate more audio components.
Modularity
The system's modularity means that you can start with a single-level stand, then buy additional struts in a range of heights, add one or more additional resin panels, and extend the rack for 6, 7, or potentially even more components.
With HRS, the model number refers directly to the platform size in inches. The Isolation Bases of the EXR stand are available in 2 sizes. The EXR-1921 with a size of 21″ / 53.3 cm wide and 19″ / 48.3 cm deep and the EXR-1719 with a width of 19″ / 48.3 cm and a depth of 17″ / 43.2 cm. Especially for smaller audio components or, for example, a Headphone Amp, HRS has the EXR-9.5 with a size of 24 cm wide and 38 cm deep. Custom sizes are also possible.
Standard component height spacing (strut length) can be specified at 6″ / 15.2 cm, 8″ / 20.3 cm, 10″ / 25.4 cm, or 12″ / 30.5 cm. with custom component height spacing at 14″, 16″, and 18″ at an additional cost. Note that these sizes indicate the effective space in between the Isolation Bases including protrusions to indicate the net available component space.
As an example, you could start by placing a power amp or integrated amp on a single EXR-1921-1V or EXR-1719-1V which consists of the Frame Mounts with spikes, the Isolation Base, and the finishing caps for the top of the Frame Mounts. To be able to place 3 audio components, you could go for an EXR-3V version. The single platform has a suggested retail price of € 3,179 and a 3-way rack for 3 components has a suggested retail price of €7,779.
A standalone Isolation Base to use on top of a standard piece of furniture is available from € 2,049. All HRS Rack Systems and Isolation Bases are available in silver and black. Note that on the silver version, the left and right sides, as well as the back of the plinth, are a black finish.
Upgradability
Upgrading from a single-level rack to a two-component version or a multi-component version is very easy. As a matter of fact, I was supplied with two single EXR-2121-1V platforms along with 4 struts so that we could assemble an EXR-2121-2V. Reference Sounds' Nick Spier performed the procedure in my presence and I can confirm that the construction really is as clever as it is simple.
While the EXR's integral Isolation Bases support the component directly, the system can be further upgraded by adding an extra Isolation Base (E1X, R3X, S3, and the top-of-the-line M3X2) onto the rack's integral Bases, using a range of footers that can always be changed again at a later date, to perfectly match the component on top.
Finally, the system can even be converted from an EXR Audio Stand to a full-spec SXR, SXR Signature, or SXRC system in the future, while preserving the majority of the original system purchase price.
Next: Chassis Noise Reduction