Jay's Audio CDT3-Mk3 and DAC2-Mk3
Retail prices in the Netherlands at the time of review, including 21% VAT:
CDT3-Mk3 – 5498 Euro
DAC2-Mk3 – 3398 Euro
CDT3-Mk3
The CDT3-Mk3 is Jay's Audio's new Flagship CD transport. Although at first glance the transport looks very similar to the CDT-2 Mk2 that I reviewed in December 2019, at 450mm wide x 380mm deep x 150mm tall, the CDT3-Mk3 is not only taller but also wider than the CDT-2 Mk2 and the DAC-2 Mk3.
Equipped with a Philips CDPRO2 LF mechanism tuned by Jay's Audio, a low-noise, low-phase noise, low-jitter, ultra-precision Oven-Controlled Crystal Oscillator, 10MHz master clock I/O connectivity, and a strict division between the AC and various separate DC power sections, all encapsulated in individual cavities in a solid block of aluminum, and weighing 22KGs, the CDT3-Mk3 looks as beautifully-designed as it feels solid and heavy.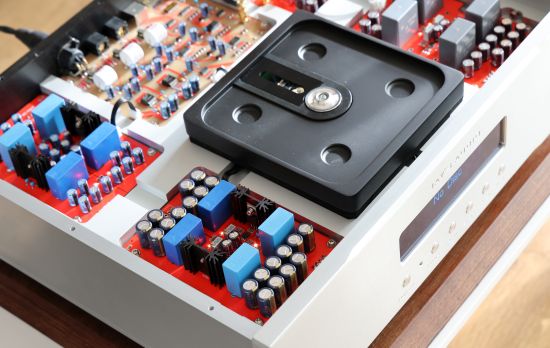 Instead of regular feet, Jay's Audio has chosen the superior SoundCare SuperSpikes which have been fitted with removable felt pads underneath as standard. The transport provides all the output connectivity that one could desire: Coax RCA, Coax BNC, AES/EBU, and I2S on RJ45 and HDMI.
Above is the digital output section, built onto a beautifully laid-out uncoated PCB. The board has twofold local DC regulation and applies an unusually large Mundorf Silver coupling capacitor followed by a Scientific Digital Audio transformer (to galvanically isolate the signal) for each of the three traditional electrical outputs. I confirmed that the Mundorf capacitors are indeed in the positive digital signal path following the differential line driver, so they are not used as HF bypass capacitors.
DAC-2 Mk3
The DAC-2 Mk3 can be seen as the successor of the DAC-2 Signature that I reviewed in December 2019. But it's not an evolution of the earlier model but rather a completely different design. Among others, it now features extensive Jay's Audio-tuned AC EMI filtering, a Soekris dam1941-12 discrete R-2R D/A module, digital volume control, and a fully balanced output stage comprised of four discrete output modules. At 430W x 380D x 120H, it has regular dimensions while its weight of 15KGs makes it feel comfortingly solid. The DAC has all the following inputs: TOSlink, Coax RCA, Coax BNC, AES/EBU, USB, and I2S on HDMI. The USB input is capable of PCM384 / DSD128, the I2S input is capable of PCM384 / DSD256, and all other inputs are capable of PCM192kHz. The outputs are available in XLR and RCA.
The DAC also offers a switchable digital filter and an Xfeed (crossfeed) option. The latter is normally found on head-fi products but the DAC-2 Mk3 does not have a headphone jack. For this review, I've not experimented with either of these functions.
Both products feature beautifully-machined front panels with subtly-engraved (but not painted) text labels for the buttons. While this results in a nice clean look, the text can be hard to read in some lighting conditions. Especially with the CD transport, I found that I often could not intuitively find the play, pause, or next buttons.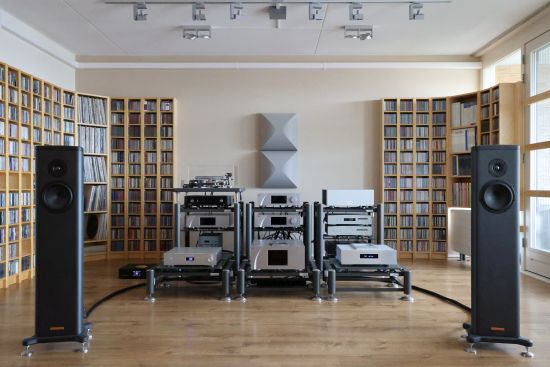 System Context
The core of the main system consists of the CH Precision C1 DAC and L1 preamp, with the A1.5 power amp, Grimm MU1, Antipodes K50, and Taiko Audio Extreme Music Servers, and Magico S1 MkII speakers. All interlinks are Driade Flow Link Reference 808, both balanced and unbalanced. The speaker cables in this system are the Mad Scientist Black Magic. For digital connections, I use Jorma AES/EBU and Coax cables.
The Jay's Audio components, as well as the source components to which they are directly compared, were all positioned on an Artesania KSH2 Krion shelf that couples via Artesania Carbon Fiber Linear arms to an Artesania Aire Floor Platform. When comparing with the Aqua DAC, I placed the Jay's DAC directly onto the Aire's Carbon Fiber Arms to give it an identical foundation.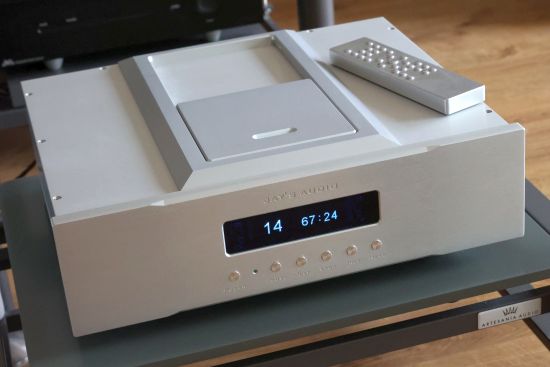 Listening – CDT3-Mk3
When speaking of Philips CD mechanisms, there are basically two types: linear tracking and radial tracking, the latter often called swing-arm mechanisms. Jay's Audio has produced CD transports with both techniques: the CDT2-Mk2 that I reviewed earlier which uses a Philips CDM4 swing-arm mechanism, and the CDT3-Mk3 under review here which uses a CDPro 2 linear tracking mechanism.
Personal experience has shown that there are structural sonic differences between these two main types of optical mechanisms. Countless comparisons using old, new, refurbished, and heavily modified transports have illustrated this time and again. With few exceptions, linear mechanisms tend to be the liveliest and most direct and usually have great PRaT even if they can also sometimes sound dry or matter-of-fact. Swing-Arm mechanisms on the other hand tend to be most fluid, delicate, and free-flowing yet are often less incisive and can sound soft. Why? I can only guess, but I think a very large part of this has to do with the demodulator, decoder, and filter chipsets that are typically used by these respective mechanisms. Sometimes, however, these "rules" do not apply. But let me start at the beginning.
In listening to the new CDT3-Mk3, it's clear from the start that the player offers a level of resolution and precision that the CDT-2 Mk2 could not achieve. But despite being more astute and revealing, the CDT3-Mk3 never crosses over into the over-analytical or the clinical. Rather, the flagship player strikes an interesting balance. On the one hand, it has the tighter, more resolute, and relatively drier nature that I often hear with CDPro2 drive-equipped transports. But on the other hand, it still maintains the full-blooded, voluptuous, and ballsy, yet smooth and relaxed nature that I first heard with the CDT2-Mk2. When I reviewed the CDT-2 Mk2, I felt it sounded rather sonorous and robust for a Swing-Arm-based player. The CDT3-Mk3 sounds utterly robust, period! It has a kind of dark-roast kind of presentation with a deep and strong flavor if you'll forgive the coffee references.
The CDT3-Mk3 manages to flex its muscles without ever sounding brash. This player may look and feel like a tank, but it reminds me more of a modern luxurious Range Rover: big and powerful yet smooth and comfortably relaxed.
From memory, I believe the Ayon CD-T II had a similarly full-bodied and darkish balance, but no other player that I heard, and none of the transports that I currently have on hand sound quite as voluptuous and full-blooded as the Jay's Audio CDT3-Mk3. Not even the fully recapped Proceed PDT-2 or the Wadia WT3200. While it offers very good resolution and precision, I would not describe it as light-footed or airy. The CDT3-Mk3's robust stature and profound bass also mean that the transport can sound a little dark or slightly over-saturated in certain system combinations. But as it happens, there are two tweaks that can be used to counteract this.
Next: Upsampling, Tweaking, and Power Cables