Mad Scientist Black Magic Speaker Cables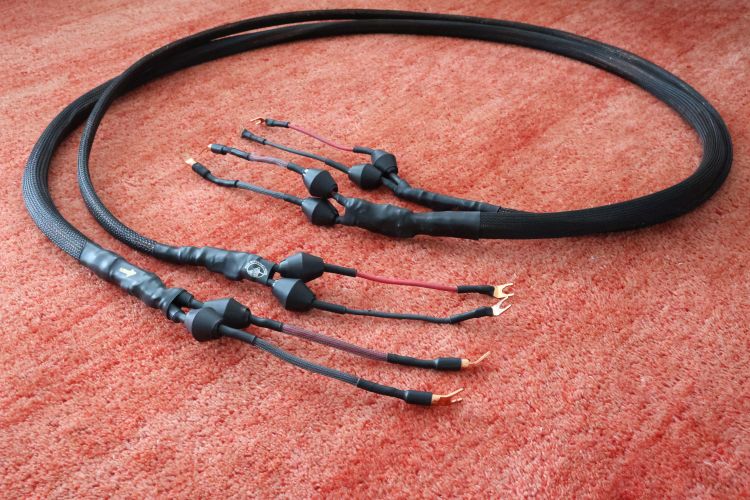 Retail prices in US Dollars at the time of review:
2-Core:
2 meter stereo pair – $1.390 (+VAT)
2,5 meter stereo pair – $1.590 (+VAT) (as reviewed)
Other lengths available
4-Core:
2 meter stereo pair – $2.590 (+VAT)
2,5 meter stereo pair – $2.990 (+VAT) (as reviewed)
Other lengths available
Having reviewed a fair amount of Mad Scientist Audio products, I thought that I had a pretty good handle on the performance of their cables and accessories relative to other products, as well as on the brand's house sound in general. Well, let me just say that going into this latest review, my ideas were about to be turned around.
Mad Scientist Audio products never fail to be intriguing and many of their products have wowed or amazed me. In addition, they consistently offer great performance at the price point, which is usually lower than the competition. This time around, though, the Mad Scientist has released what appear to be very serious speaker cables, along with a pretty serious price tag.
There was no doubt in my mind that these cables would sound good. But would they really live up to the expectations? Before shipping them to me, Bob joked that he hoped they would be the best speaker cables that I have heard. Hahaha, yes, well, let's hope so, I replied, but probably not, I thought. After all, I have been very content with the Jorma Trinity speaker cables ever since I reviewed them in 2019.
Based on past experience with Mad Scientist cables, I was counting on the Black Magic speaker cables to sound a certain way, but this time, I would be in for a surprise!
Black Magic Speaker Cables
Mad Scientist Audio has been designing speaker cables for years but none were considered to be either good enough or practical enough to make into a product. Until now. This new design came about after a brainstorming session that prompted the question "Why doesn't ordinary speaker cable sound good?" What was referred to is the regular twin-cable that can be purchased at a couple of dollars per meter from the local electronics shop. After all, there are people who will tell you that as long as the basic parameters (e.g. resistance) are within spec, then it can't possibly make any difference. So why do speaker cables sound different?
This produced a long list of possible answers, which the company set about testing. For example, one idea was that the speaker and cable can act as a giant antenna and send RF back into the amplifier, which lead to the idea of a "bad antenna" design to minimize the noise pickup or transmission.
Another design concept was to create multiple symmetries. A simple example of symmetry is a twisted pair – this rejects noise due to its symmetrical construction. The new Black Magic speaker cables go well beyond this, creating a whole bunch of symmetries.
At each end of the cable, there is a pair of "speaker kegs". These look similar to the kegs that are used on Mad Scientist power cords. However, they are quite different – the power cord kegs are designed to pass 50/60Hz but the speaker kegs must pass the whole audio band. The speaker cable kegs are reformulated and tuned to specifically this application.
Here's some extra info that Bob shared with me in an email:
After the brainstorming session, I ended up with about a dozen possible things and then set about designing a cable that met all these. An important part of the design is symmetry; it is a noise rejection technique, for instance, balanced is symmetry. A twisted pair is symmetry. These cables incorporate as many levels of symmetry as I could possibly squeeze in. Plus these are fully shielded cables, with an innovative balanced shield and a bunch of other things. These cables really are a system, but the downside is they take a lot of work to make, something like 10-12 hours of hard labor, depending on the model.
Wires have "direction" but in this design, equal numbers of wires are laid in each direction, so this means that as far as the main conductor goes, it doesn't matter which end is which. This is only one of many symmetries that are engineered into the design, so I wouldn't say that running wires in both directions is the "secret", just part of it.
BUT (and this is a big but..) the screening / bad antenna design is NOT symmetrical – that has to be connected the right way or else the design doesn't work. In fact, it's worth trying a set the wrong way to see what I mean – they sound very different… the magic is gone.
The screening is heavy duty with 4 different layers of screening; the secret here is in how these are wired up together. The shield as such is an interconnection of the 4 actual layers of shielding to form a bad antenna. This is then connected via a cunning network of components to both + and – so that's it's balanced. So you can swap + and – and there's no difference. This means it simply makes no assumptions about whether the amp is balanced or not – it simply doesn't matter to the cable.
Basically, it takes a page of A4 to draw the circuit diagram of these cables.
2-Core and 4-Core versions
Black Magic Speaker Cables are available in two types: Two-core and Four-core. Each core is designed to embody as many symmetries as possible and is also shielded with three separate screens that are wired in a very specific way to achieve our design goals. Putting two cores together lets us create more symmetries. And with four we can get even more. Two-core cables are naturally more affordable and indicated to be ideal for lower power systems up to 100W while Four-core cables are indicated to be good for any system.
Review Context
For this review, I will use my main system, consisting in the basis of the Grimm MU-1 Music Server, CH C1 DAC, CH L1 preamp, CH A1.5 power amp, and Magico S1 MkII speakers with the
My usual speaker cables are the Jorma Trinity and for an extra comparison, I have the Driade Flow 405. Besides my usual CH A1.5 power amplifier, I will also use the NuPrime Evolution STA power amplifier.
Recent personal background
For the longest time, my system has been fluid and refined and generally on the polite side because I was focused on the flow and the emotional aspect over impact and precision. This is something that I have been in the process of neutralizing for the last couple of years. The aim was for a more direct, linear, and dynamic sound with the main focus being on getting the bass just right. One of the important steps in this transition has been the change to the Trinity speaker cables. The Transparent Audio Ultra and Reference cables that I used prior to these produced a rich and seductive sound that had great lyrical qualities but it was always rather thick, smooth, and rose-tinted. The Trinity was decidedly quicker and more articulate, as well as more expressive, while still fluid and refined. Throughout various system changes and even in the face of a few challengers, these cables have stayed in place.
After the last acoustic treatments were completed, I thought that I had reached pretty much the max that can be achieved with my components in terms of dynamic impact and overall expression but the NuPrime Evolution STA neatly demonstrated that the system can be even bolder, slam harder, and rock even more! While this amplifier offers absolutely amazing performance at its price point and it outperforms the CH in the aforementioned areas, the CH outperforms it in other important areas such as resolution, refinement, and flow.
It's what I often encounter while reviewing: a component or accessory yields better performance in some aspects while being less proficient in others. The better the components are and the better the synergy between them via cables and setup and their interaction with the room, the more the scenario tends to play out that way. It's rare that the sound improves uniformly across the board. That's why I love products that truly surprise me, as happened with the Black Magic speaker cables.
Listening – NuPrime
My first impressions of these cables were formed while still reviewing the NuPrime STA, but from the very first moments of listening to the Black Magic cables, I knew they were something special. At this point, I was not even using the AudioQuest Fire interlinks as I normally do with CH to CH connections but my other favorite cables, the very neutral Driade Flow Link Reference 808.
Based on my earlier experience with other Mad Scientist cables, I was counting on these new speaker cables to sound smooth and rich, and perhaps a little round, but boy, was I in for a surprise!
As it turns out, these speaker cables have very similar strengths as the NuPrime amplifier. As such, they accentuate the bass impact, solidity, and dynamics, making the amp even more of a rock star. I kid you not, the 2-Core Black Magic cable doubled the NuPrime's propulsion, attack, and all-out dynamic slam, all while royally improving the articulation, speed, and transient sharpness! Wowee, this was so not what I expected.
Black Magic 2-Core version
With the music just flying out of the speakers, I was in awe of the cable's visceral and uber-communicative manner but after a few tracks, I also noticed that the midrange was perhaps also a little forward. Not hard or bright or edgy, just upfront as in the opposite of laidback. But maybe this was exacerbated by the bass being so super-tight and super-articulate. But there was no added hardness. Like the bass, the treble is very precise, not smoothed, mellowed, or otherwise more forgiving than it should be. This did take some getting used to as the Trinity was quite a bit more fluid and free-flowing. But that cable was also less dynamic and considerably less energetic overall. More strikingly, the Black Magic made the Trinity sound, well, restrained. Perhaps the Trinity succeeded better at painting a romantic picture but I don't want the picture to be painted by the cable, it should be dictated by the recording.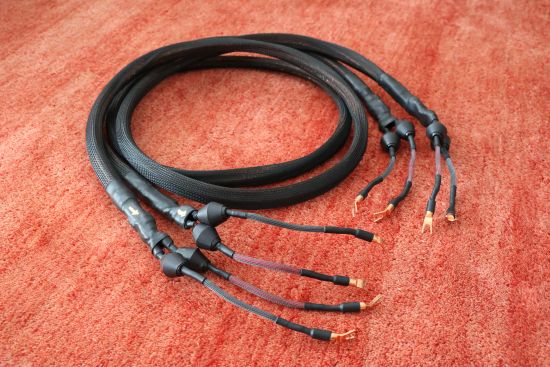 Black Magic 4-Core version
What slight reservation I still had vanished when I connected the 4-Core Black Magic cable. As the bass gained even more weight and substance, the midrange filled out harmonically while stepping back just one notch to remain lively and communicative, but no longer forward, and the whole delivery just clicked into place with perfect even-handedness and utter neutrality.
Although the bass was now slightly fuller than with the 2-Core cable, it remained lightning-fast, ultra-precise, and super-articulate. Meanwhile, all the 2-Core's parameters were represented in full form. Well, you could say that the 2-Core cable was even more lively but on an absolute scale, the 4-Core cable already rates super-lively which I guess makes the 2-Core cable ultra-lively?
There have been amplifiers that amazed me with their robustness and drive, like the Classe Delta, the Kinki EX-M1, or the Anthem STR, but honestly, none of them delivered the music with as much gusto as I was hearing now from the NuPrime, armed with these BlackMagic speaker cables.
Interestingly, in spite of their decidedly non-sweetening presentation, and even when used with the not particularly fluid Class-D NuPrime amplifier, the sound never becomes hard or edgy. However, these cables are not of the euphonic kind and they will not sweeten a bad recording nor will they mask bad system synergies. Due to their decidedly non-editorializing presentation, I'd wager that the cables could come across as dry. The thing is, dryness is the absence of fluidity and as I found, when fluidity is in the recording, these cables absolutely do not inhibit it. More importantly, whereas I have heard plenty of very accurate cables that managed to kill the soul of the music in the process, the Black Magic cables fully conduce all of the lyrical and "singing" aspects of every recording. In spite of their control and precision, they absolutely do not dull the music's spirit. I bet that this is where the Mad Scientist's Black Magic skills come in.
Next: Listening – CH Precision