Philips CDM Mechanisms – Page 3 – CDM-12 and CD Pro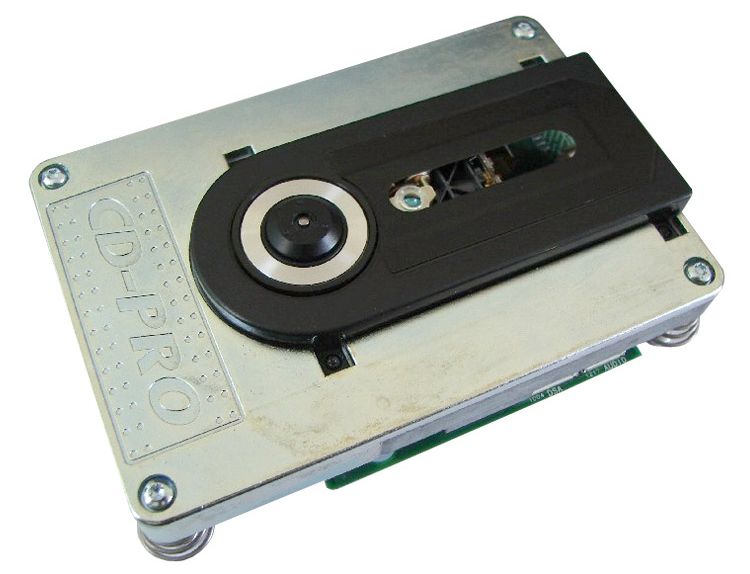 When CD was introduced around 1982, Philips' CDM transports were made extremely well, to the point of being almost over-engineered
Not only Philips and Maranz used these transports: various other players were outfitted with these massive cast-iron swing-arm Rodenstock glass-lense mechanisms. Today, many of these products are still around, spinning CD's as happily as before. They still produce excellent sound and as it turns out these transports are virtually indestructible. There's also an extensive review, a direct comparison between many Philips and Marantz cd players.
Whenever possible I use my own photos, but for this page, I have been reliant on various sources such as the very friendly Stefan Runge, various forums, the Enco website and dutchaudioclassics.nl.
The information about the mechanisms is divided over 3 pages.
Page 1 – CDM-0, CDM-1, CDM-2, CDM-3
Page 2 – CDM-4, CDM-1 mkII, CDM-9
Page 3 – CDM-12, CD Pro
---
Switch from Swing-Arm to Linear Tracking
After the CDM 9, Philips switched to a linear tracking construction that moved the optical lens block in a straight line rather than radially as with the Swing-Arm mechanisms.
This was decided due to the fact that computer CD-ROM drives, requiring higher read speeds, were in demand. The swing-arm system with its counter-weight had too high moving mass and too slow random access times for this application. In addition, a 3-beam system is more suited to random access operations but because the swing arm system read the disc with a tracking error angle, it was not possible to use the system with more than a single-beam.
---
CDM 12
Allowing faster read times and lower cost, the CDM12 was Philips' first 3-beam linear tracking mechanism. The drive was available in many variants, most of which are too low-budget and plasticky to mention here. In spite of the highly efficient production, though, the CDM12 is capable of very good audio results. It's just proven to be prone to faillure (some production runs at least) and to not have a very long life. Or, at least, nowhere near the 3 decades (and counting) of the CDM1 and CDM4 mechanisms.
---
CDM 12 IND
1994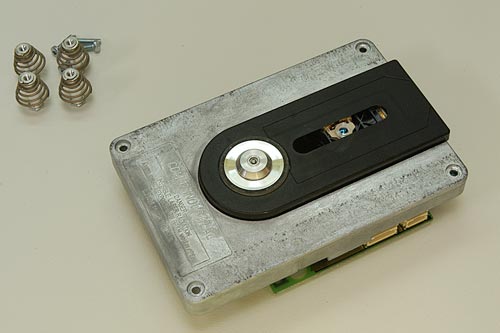 Of the various CDM12 incarnations, especially worth mentioning is the CDM12 IND, short for Industrial. This was the first generation of the CD Pro family of professional compact disc modules. It was the first to include a heavy die-cast metal frame and a servo/decoder circuit board as an integral part of the module. This mechanism was very successful in the high-end audio market as well as in the jukebox market, because of its robustness and reliability. The CDM12 Industrial can be identified by its extension plate, which reads "CDM 12 Industrial." It's model number will read "AH03."
While it may seem that the CMD12 IND is nothing more than a cheap transport with a fancy housing, there are certain other details that have been improved such as double metal guide rails instead of the plastic slide pad of the cheaper models. Also, the CDM12 IND is fitted with a full metal spindle/disc turntable. This is an important aspect for its longevity because the plastic CDPro turntables had a tendency to crack over time.
The CDM12 IND is pin-compatible with the later CDPro and CDPro2 mechanisms. Also, the laser pickup part inside is compatible with that of a wide range of CDM12 mechanisms, such as the CDM12.4. While the turntable motor is not a part that tends to break down, it is also compatible with that of the simpler mechanisms.
Hubless version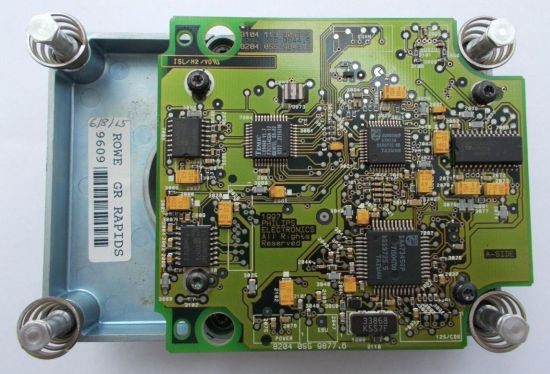 Above and below is the CDM12 IND, showing the turntable without a hub. Normally, a plastic hub is fitted over the center part where it clicks in place. A milled aluminum version is also available which is not seen used very often.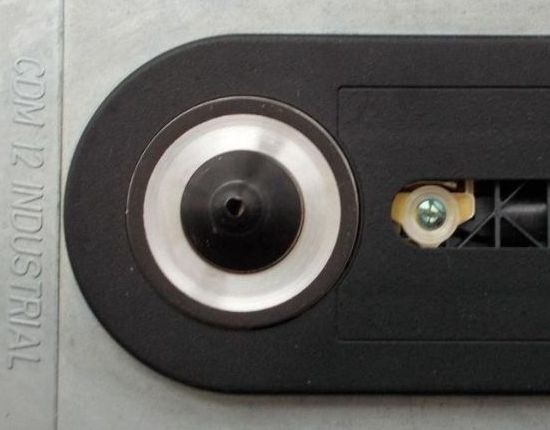 ---
CD Pro (AKA CD Pro 1)
1997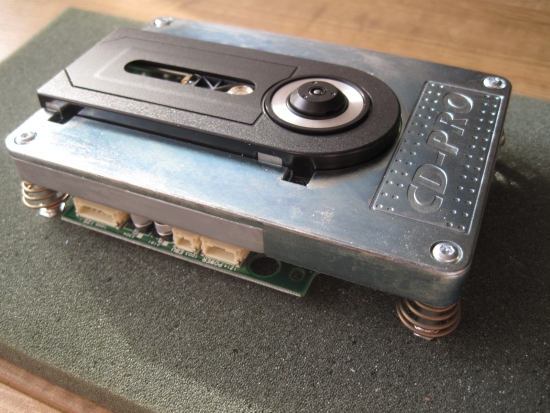 CD Pro Base Player with Standard Centering Hub
The CD Pro succeeded the CDM12 Industrial and was a significant improvement. From a mechanical standpoint, the CD Pro introduced a second polished stainless-steel guide rail for the optical sledge and a 1/1 gear ratio (instead of the 12 Industrial's 3/1 ratio) for improved sledge movement. These mechanical upgrades provided stable sledge movement optimized for jukebox and hi-fi applications.
The CD Pro module was essentially a VAM1252 (CDM12) mechanism mounted in a zinc-cast body with an integrated servo board. A little-known fact is that the board even included a DAC that most manufacturers opted not to use in favor of their own circuits.
The CD Pro's extension plate identifies it as "CD Pro," but more importantly, it has no extra connector on its back (label) side. The label on CD Pro will read "VAU 1252/xx." Supplier Enco refers to this version as CD Pro 1.
---
CD Pro 2
2000
The CD Pro (CD Pro 1) was followed by the CD Pro 2. The CD Pro 2 continued the evolution of the module's electronics with the introduction of the CD10 integrated decoding system which provided further advancement of error correction, improving playability. The HF front-end filter was also further refined, improving performance on marginal and out-of-specification discs.
The main difference with the CD Pro 1 lies in the type of decoding device which is used: the CDM12 Industrial (Premium 6000) decoding chip SAA7345 (CD6) and digital servo chip OQ8868 (DSICS) are both replaced by the single-chip SAA7372 (CD7) in the CD Pro application (Premium 7000) and by the SAA7324 (CD10) in the CD Pro2 application (Premium10501). Other changes are the modification of the HF front end filter for improved playability with out-of-specification discs, or the implementation of a single gear ratio for the sled movement instead of the previous 3/1 ratio, in order to bring stable sled movements.
The CD Pro and CD Pro 2 mechanisms are both pin-to-pin compatible with the CDM12 Industrial. However, the CD Pro 2's optical pick-up unit (OPU) was changed to a 9mm light pen, which was not compatible with the CD Pro 1.
The CD Pro 2's extension plate still reads "CD Pro," but it is easily identifiable by the connector on its back (label) side. The label on CD Pro 2 will read "VAU 1254/11."
---
CD Pro2M
2003
The CD Pro 2 was eventually modified and renamed CD Pro 2M. The TDA1305 D/A Converter, which was used with all previous modules, has been replaced in the CD Pro2M by a new generation 24-bit 192kHz DAC: the AK4384 chip from AKM. Of course, the DAC doesn't have to be used and indeed in high-end applications, this onboard dac is bypassed. The CD Pro 2M's firmware was further refined to allow playback of copy-protected discs as well, regardless of the protection system the disc uses.
Again the OPU was changed, which also required changing the flex assembly and the mounting frame. The new light pen in this OPU is compatible with that of the CD Pro 2 and is optimized for performance on standard audio CD's as well as CD Recordable (CDR) and CD Rewritable (CD RW) recordable media.
CD Pro 2M is less easily distinguished from CD Pro 2; the extension plate still reads "CD Pro," but the label will read "VAU 1254/31." You can also look on the inside edge of the circuit board on the back (label) side of the module. You will see the designation "CDPRO2MPCBA."
---
CD Pro2LF
2005
The CD Pro 2LF is the final generation of the CD Pro family, where LF stands for Lead-Free. This latest version is essentially the same as CD Pro 2M, except that it now conforms to European RoHS hazardous materials standards. The CD Pro 2LF is produced using lead-free components and a lead-free soldering process. Hazardous substances like lead, cadmium and mercury have been eliminated – even the connectors are now gold. The CD Pro 2LF did get a new microprocessor and still delivers the same performance as CD Pro 2M.
CD Pro 2LF can be identified by the blue connector on its back (label) side. The label on CD Pro 2LF will read "VAU 1254/31LF."
For as long as stock lasts, Enco still sells a version of the CD Pro2LF designated as "VAU 1255/21LF." This module remains fully compatible with its predecessors. It's model designation reflects the fact that it is essentially the "base module," without an extension plate or mounting & suspension hardware.
Enco also still stocks all the necessary parts to bring this module into "full trim."
VAU 1255/21LF can directly replace the CDM12 Industrial, CD Pro, CD Pro 2 or CD Pro 2M in any existing application. It has the same footprint and dimensions and can be equipped with the same mounting and suspension system. It also maintains the same electrical connections as the preceding versions. In other words, one should be able to replace a CDM12 IND or any of the CD Pro modules with the CD Pro2LF in their existing application without any problem.
The grounding strategy has changed since the CDM12 Industrial. The analog and digital grounds were connected internally in the CDM12 Industrial Module. They are not connected anymore in its successors for obvious sound quality improvements. In order to optimize the performances of a CD application based on the CD Pro, CD Pro2, CD Pro2M and CD Pro2LF modules, both grounds have consequently to be connected on the user control board, in a strategic middle ground point.
Finally, all these modules are based on the standard data-strobe-acknowledge (DSA) software protocol for interfacing, and the same user software can consequently be used with any of them.
---
CD Pro 2 versions
Base CD Pro 2 player with standard plastic centering hub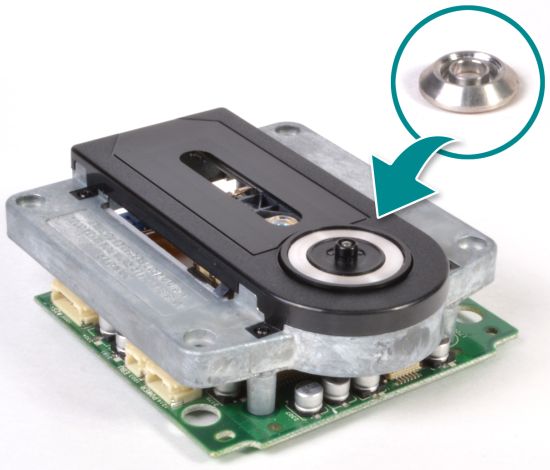 Base CD Pro 2 player with milled aluminum centering hub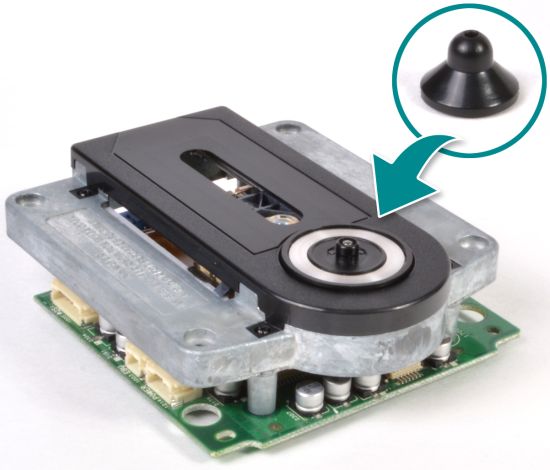 Base CD Pro 2 player with full cone plastic centering hub
Base CD Pro 2 player with optional extension plate and legs (and standard plastic centering hub)
---
How to identify CDM 12, CD Pro and CD Pro 2
---
CD Pro-Family Product Compatibility
Consult the bar-code label on the player module chassis to determine the version
CDM12 Industrial (AH03)
Original version of module
Introduced 1994
Replace with OPU1
CD Pro 1 (VAU 1252/xx)
Gearbox ratio different than 12 Ind
Circuit board not compatible with 12 Ind or Pro 2
Introduced 1997
Replace with OPU1
CD Pro 2 (VAU 1254/11)
New laser light pen and chip set
Optical pick-up unit (OPU) & circuit board not compatible with 12 Ind or Pro 1
Circuit board and OPU not compatible with VAU 1254/31
Introduced 2000
Replace with OPU1.5
CD Pro 2M (VAU 1254/31)
New laser light pen: OPU not compatible with VAU 1254/11
Circuit board not compatible with VAU 1254/11
OPU & circuit board not compatible with 12 Ind or Pro 1
Introduced 2003
Replace with OPU2
CD Pro 2LF (VAU 1254/31LF)
OPU and circuit board same as Pro 2M
Hazardous materials removed to comply with European RoHS standards
Introduced 2005
Replace with OPU2
CD Pro 2LF (VAU 1255/21LF)
OPU and circuit board same as VAU 1254/31LF
Hazardous materials removed to comply with European RoHS standards
No "CD Pro" extension plate or mounting/suspension hardware
Replace with OPU2
---
Availability
All the CD Pro mechanism variants include the integration of all related music playback tasks, making it a plug and play module. Until around 2011 the drive was highly popular amongst do it yourself enthusiasts and high-end CD player manufacturers due to its integrated functionality. Also, at a certain point, the CD Pro was pretty much the last decent CD drive available, making it an obvious choice. Besides the CD Pro module, Philips also supplied complete display driver and remote control functionality circuit boards, making it very easy for manufacturers to make a CD player. This also explains why nearly all CD players that use a Philips mechanism can be controlled with a Philips remote control.
Philips has ceased production of the CD Pro in 2013 but to this date, the drive remains available from USA supplier Enco. Fortunately, many audio companies also had, and some still do have, considerable stock but in 2016 the mechanism was beginning to become a rarer commodity and prices seem to be on the rise.
Common Issues
While the mechanism as a whole tended to be quite reliable, it did not quite have the lifespan of the CDM1 and CDM4 mechanisms. There are samples that still work after 20 years but there are also those that gave the ghost after only 10 years.
The optical pick-up unit (OPU) is by far the most troublesome component. It is quite likely that whatever issues your device is exhibiting will be remedied with a new OPU. Turntable motor problems are less frequent, but replacing this motor is sometimes required. Another relatively common issue with this mechanism concerns the center part of the plastic turntable part that is clamped over the motor spindle which tended to crack sooner or later. While this can be remedied with a full replacement hub, these parts are now also becoming increasingly difficult to source.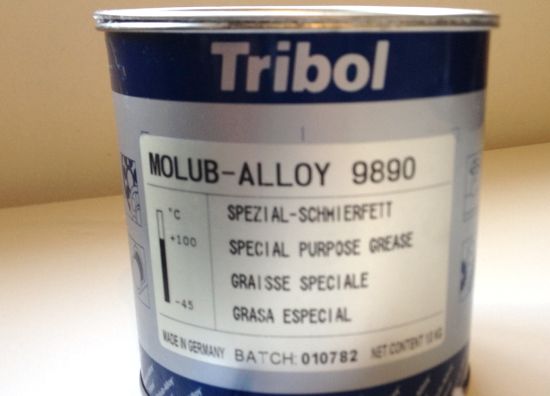 Maintenance
Beyond the occasional lense cleaning, nothing else is required unless the player is getting really old. Philips does recommend lubrication for older modules, particularly the CDM 12 Industrial. The Philips factory recommends using Tribol Molub-Alloy 9890-2 lubricant. It is manufactured by Castrol Germany and is quite uncommon. Enco has a limited stock of the Tribol. The recommended substitute is Krytox GLP-204 by Dupont.
Calibration
No calibration is required after replacing the optical unit. All required adjustments and calibrations are performed on all new OPUs at the factory. Note that CDM12 & CD Pro 1 OPUs are not compatible with CD Pro 2 OPUs.
---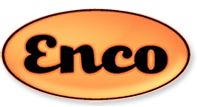 About Enco
Enco Systems has been the exclusive North American distributor of the Philips CD Pro 2 compact disc player module for over 30 years. Enco Systems was founded in 1987 specifically to design-in and distribute audio sub-assemblies manufactured by NV Philips, the Dutch electronics giant and pioneer in compact disc technology. Throughout our history, Enco has been a key partner with manufacturers in specialty audio markets – particularly high-end audio and jukebox.
Enco has worked closely with designers of boutique high-end audio gear to bring compact disc to the most discerning audiophiles around the world.  Audiophiles were the earliest adopters of high-resolution digital technology and Enco was there at the beginning, working together with Philips to design CD technology into the best hifi gear in the world.
Enco and Philips were instrumental in bringing compact disc to specialty audio markets in the late 1980's. For instance, Enco partnered with Rowe International to design Philips CD technology into the first generation of CD jukeboxes. Most significantly, Enco and Philips partnered to design an elegant CD player module — a CD "engine" — for use in new designs. That CD engine is what we now know as the CD Pro. Many of the best names in high-end audio worldwide (as well as all the major global jukebox manufacturers) chose to design their products around the CD Pro.
Update November 2020
The CD Pro 2 module is still offered on the Enco website but at double the old price. Listed at 800-850 USD, the site mentions the following.
"Discontinued by Philips in 2013, these are essentially the last new CD Pro drives available on the world market. We are selling these units from our proprietary reserve of new drives. This is the latest (and last) version of the CD Pro-family of player modules — The CD Pro 2LF (version VAU 1255/21LF). It is drop-in, backward compatible with CDM-12 Industrial, CD Pro 1 and CD Pro 2, 2M and 2LF. It is NOT drop-in or backward compatible with CDM-3, CDM-4 or other non-Pro family CD player modules."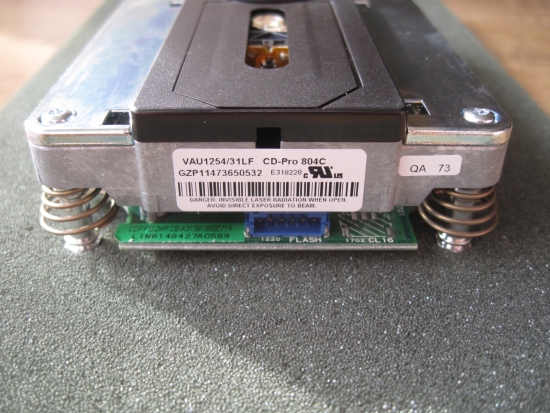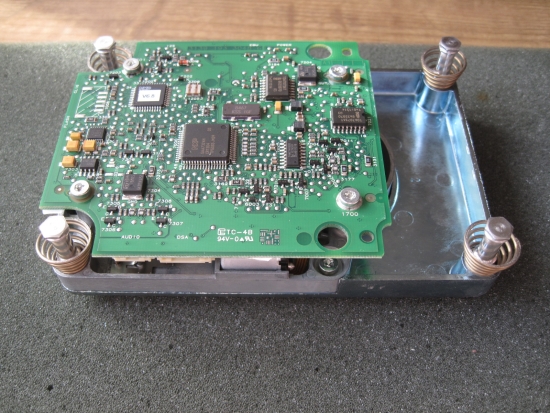 More Mechanisms
Page 1 – CDM-0, CDM-1, CDM-2, CDM-3
Page 2 – CDM-4, CDM-1 mkII, CDM-9
Page 3 – CDM-12, CD Pro
Read Also
Classic Philips and Marantz CD players compared
Inside Pics of classic Philips and Marantz CD players
Philips CD player, DAC, Filter, Decoder, DOBM and Transport List
Marantz DAC and Transport List
Philips timeline
Marantz timeline
CD Mechanism Masterpieces