Audio Show Alkmaar 2019 – Part 1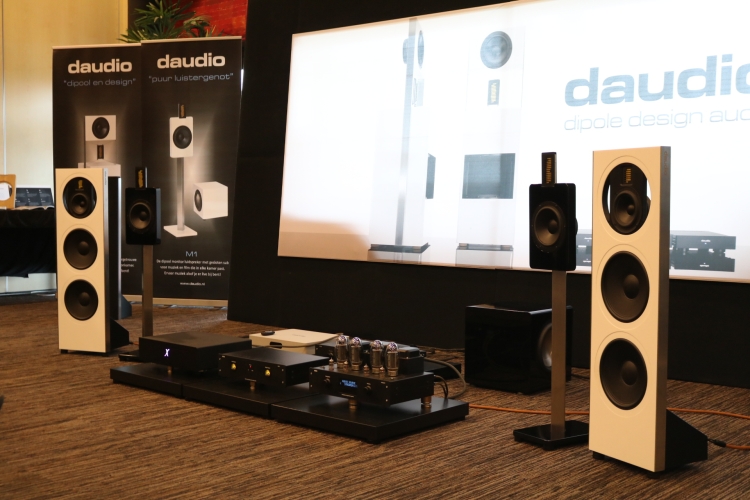 Between the Xfi show in Veldhoven and the High End show in Munich, the Audio Show Alkmaar is the always pleasant and relaxed variant where you go to meet people, listen to precisely enough systems so as not to get an overdose, shake some more hands, eat a nice croquette and perhaps enjoy a few Westmalle beers. I guess it's sort of the Dutch variant on Cayetano's Enosound show in Spain. Casually known as the AZ Show, this is the eleventh incarnation, organized by Ben Hoedjes of new and second-hand audio store Studio Alkmaar.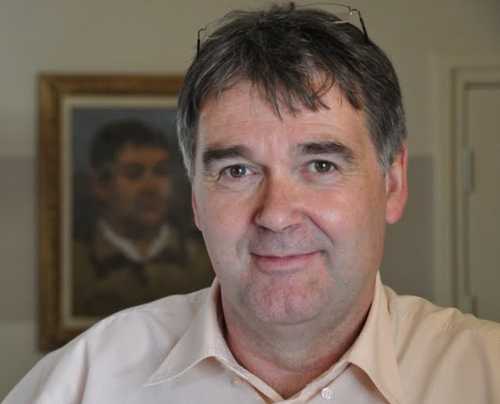 Like the show itself, Ben is always easy-going, and always available for a chat. I've lost count on how many of his shows I've already visited but, perhaps precisely because the show is so relaxing, I never thought to make a report of it, until now. Below you will find a casual impression with some commentaries. My report does not cover everything and these pages certainly are no substitute for making a visit yourself. I mean, parking is free and even the show itself is free of charge so what's keeping you from dropping by?
It is important to note that the exhibitors have to deal with vast spaces that are not really suitable for these audio systems, further being held back by time constraints and other considerations. While some systems really stand out at times, mostly the show is more about inspiration than a true showcase of what the systems are capable of.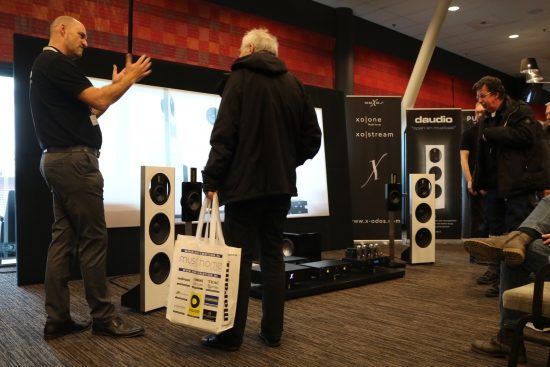 One of the biggest surprises, this system, using Daudio C1 open baffle loudspeakers, driven by a Lab12 tube amp. I had already heard the W1 model of this brand (the one with the square bass cabinet) several times before and although as a ribbon lover I much liked their treble performance, I never found these ribbons to converge very well with the bass unit. In this case, however, the sound was absolutely coherent but also very free-flowing and, as could be expected, free from cabinet-induced colorations.
I've not heard the M1 monitors, complemented by an active Daudio sub with motion feedback and Daudio, Ncore-based amplification, but if they perform anywhere near what the big ones can do in terms of free soundstaging, this could be a very interesting system.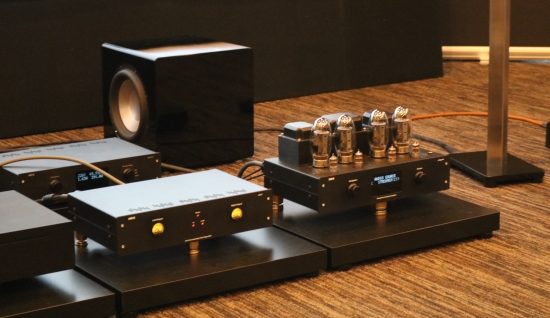 Lab12 DAC and tube amp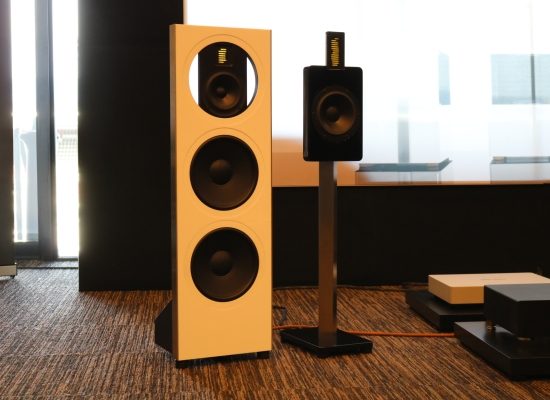 On the left: Daudio C1, beautiful sound and beautiful in appearance. On the right: Daudio M1 sub/sat system (sub not pictured).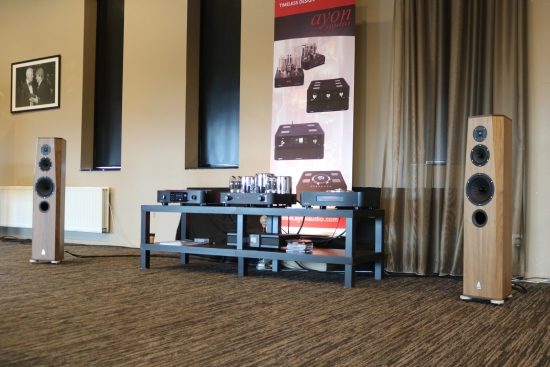 Mafico and Driade joined forces to deliver a sound with Driade Premium model 3 speakers using an Ayon S3 streamer, Spirit III integrated amp (in Triode mode) and the CD-10 CD player that was lively and dynamic and highly communicative, with a wide soundstage. Driade was a popular Dutch speaker brand until the owner, Arnold Heres, retired and went to enjoy his pension in Bali. After some time, however, Arnold got that itch again and decided to revive his speaker brand and the current line of Driade speakers is the result. I've reviewed all the Ayon components of this system but I am not familiar with the speakers. While I liked the natural timbre and the overall energetic delivery, I also found the upper midrange and lower treble to be a little forward at times. Perhaps the speakers were not fully run in? The overall consensus, however, was that many people liked this presentation.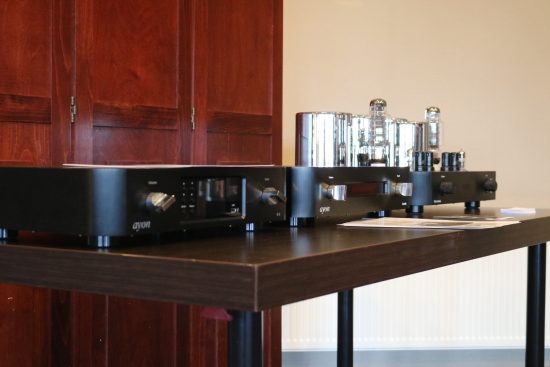 Ayon S3, Stealth, and Crossfire III. Alas, the latter was not connected. The Spirit III was, and although I like that amp so much that I added it to my reviewing equipment, I would have liked to hear the Crossfire again because SET simply remains another beastie than Push-Pull.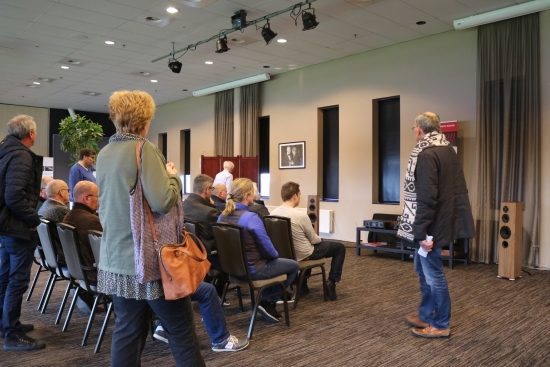 The exhibitors in this wing had made agreements to play 20 minutes per session, one after the other, which I think was an excellent solution, much better than simply all playing at the same time, one even louder than the other. Actually, that was another great aspect of the show: the volume levels in all the rooms were very, very decent. No one was blasting it out, which further helped the relaxed nature of this show.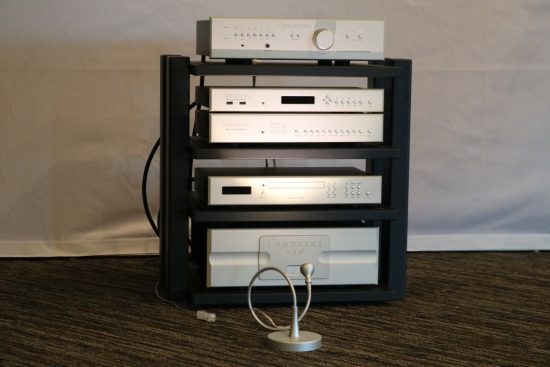 Here's a nice Bryston stack, nearly all of which I have reviewed: B135 Cubed, BDP-3 Network Player, BCD-3 CD player, BDA-3 DAC, and 3B or 4B Cubed power amp.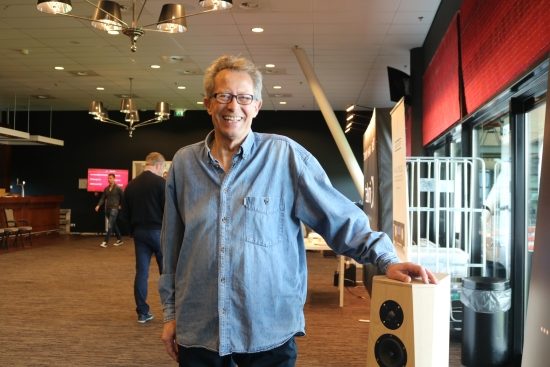 That's mister Driade: Arnold Heres. When we started chatting it was quickly evident that he basically has more interests than he has time to talk about them and speakers are but one of his hobbies. Chances are that I will be reviewing one of his speakers at some point in the near future.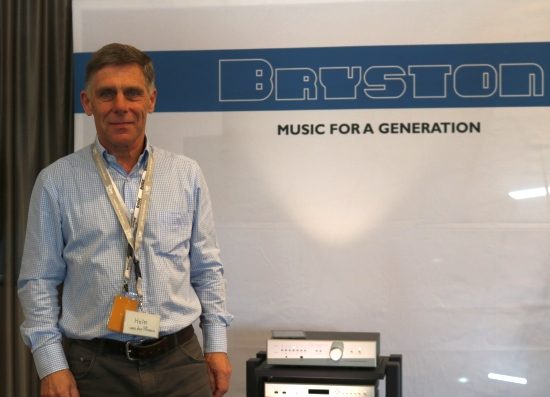 And that's Hein van der Klaauw, Account Manager for the Hifi section of Mafico. Because I am a fan of both Bryston and Ayon products, I've already reviewed a big chunk of his portfolio here on HFA and especially aim to further deepen my experience with Ayon.