Enosound Bilbao 2018 by Audio Club Premier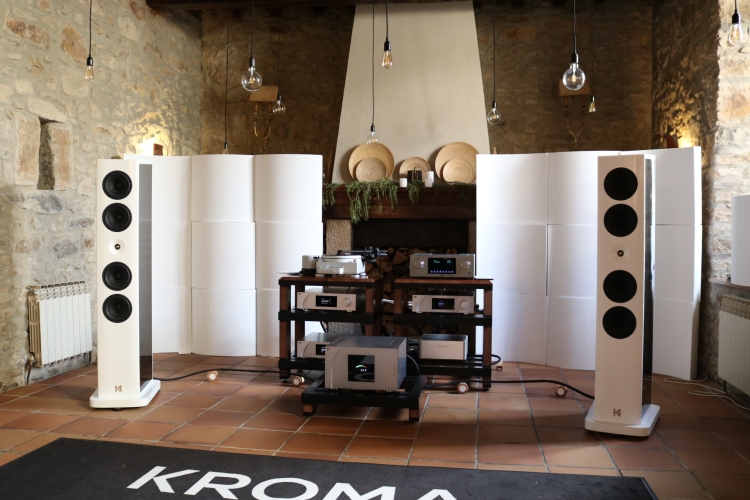 Bringing together the world of High-End audio and the world of winemaking in a historical enclave
I've often fantasized about having high-end audio while having dinner at a fancy restaurant. Last weekend, this dream came true!
Cayetano Castellano is a resourceful man. I have come to know him as the representative of Artesania Audio and is currently manager of the brand. Meanwhile, he takes care of international contacts for various other high-end audio brands, is continuously looking for new business opportunities and is also manager of the Audio Club Premier which organizes the Enosound shows.
The purpose of Audio Club Premier is to introduce the world of high-end audio to a wider audience in unique ways. The previous show that I attended was special because it was done in the amazing Sommos building, and the fine Sommos wines only enhanced the experience!
Hotel Convent San Roque is located just below and to the left of Bilbao.
I've missed one issue of the event in 2017, in Barcelona, but I was present at the most recent Enosound show, in Balmaseda, close to Bilbao. The venue of choice this time was the Hotel Convent San Roque owned and enthusiastically run by Bibiana Castellano, who happens to be Cayetano's sister. As it turned out, Bibiana has a real knack for fine food, fine wines and appealing interior decoration.
This is the beautiful inside garden of Hotel Convent San Roque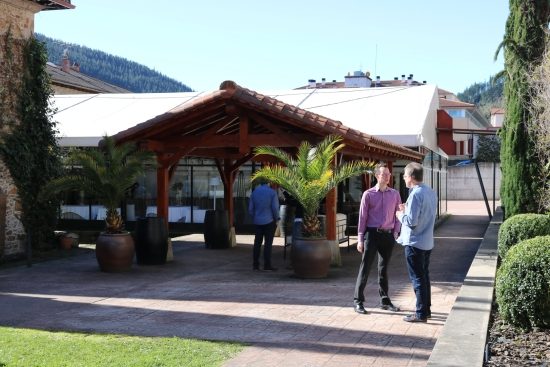 This year, they are celebrating the building's 350th year in existence and what better way to emphasize this by having the hotel's most beautiful rooms equipped with super high-end audio systems that play while the guests enjoy fine dining? What's more, Cayetano will also take this occasion to present his new wine brand Pekatu. And as if this wasn't enough to convince me to go, he also mentioned that we could see the Guggenheim Museum, get Pinchos (Tapas) at the best places in Bilbao and visit Europe's largest private car museum.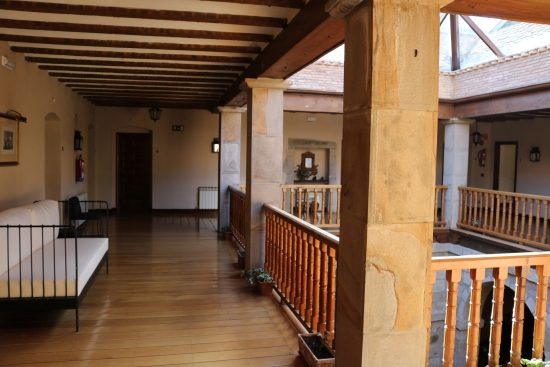 The second floor, from where all the rooms are accessed. In the middle is a view downstairs into the main hall and upstairs is a view outside through the glass ceiling.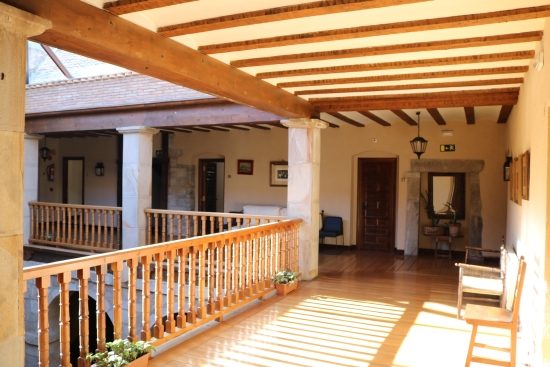 This is the wonky wood stairs that I would walk up and down countless times. It's not exactly level and a bit crooked (to be fair: it is 350 years old!) but very sturdy.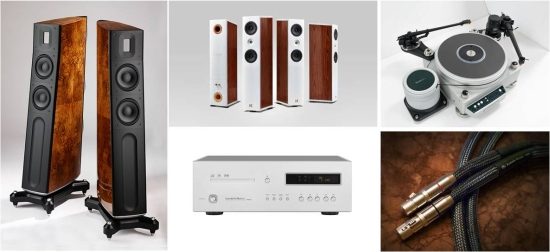 Although this should probably be described as a music event with food and wine served, I kind of perceived it the other way around: wining and dining with very nice folks, with great music to go along with it! But that's not to say that the sound was subservient to the rest, as the systems were very, very serious!
In all seriousness, the purpose of this show was twofold: to get exposure for Cayetano's new Pekatu wine brand as well as for the exhibiting audio brands, not least of which is the new Kroma Audio brand of which the new Elektra speakers were demoed with an all CH Precision system, and to introduce non-audiophile people to the wonderful world of high-end audio.
Room1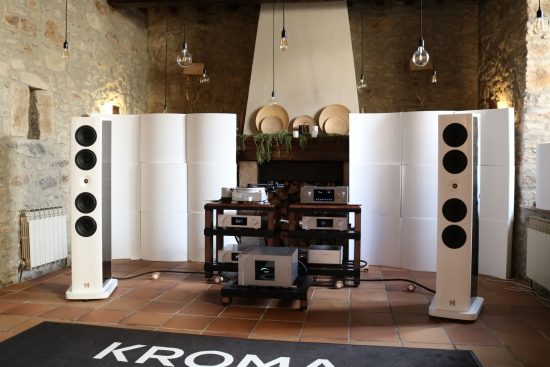 Kroma Audio Elektra
T+A MP-3100
TechDAS Air Force III
Kuzma 4-point tonearm and Kiseki Purple Heart NS Cartridge
CH Precision M1 and L1
CH Precision C1 converter with streaming option
Room 2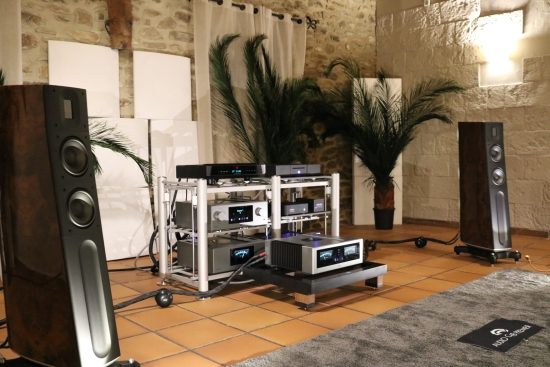 Raidho D2.1
T+A P3000HV Preamp
T+A A3000HV Power amp
T+A PS3000HV power Supply
Gryphon Kalliope Dac
Antipodes DX3 and Core
Cables Kubala Sosna Realization
Room 3
Elac Adante
Luxman L-507 Mk2 and L-509X
Luxman D-08u and D-06u
Cables Kubala Sosna
Movie theatre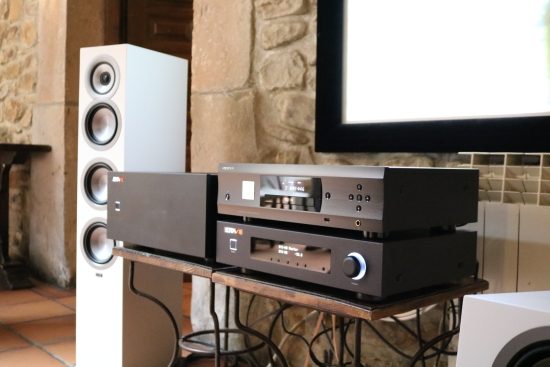 Oppo Audiocom
Av Processor IOTAVX
Multichannel Amp IOTAVX
Elac Unif FSU5
Elac Unif BSU5
Elac Unif CCU5
Sub Elac S12 EQ
Cayetano was so kind to pick us up from the airport and drive us to the hotel, where the show would also take place. Also in the car was Raphaël Pasche of CH Precision (above left), with whom Jan Willem and I had lots of fun right from the start. Being one of the hardware engineers at CH Precision as well as a very witty person there really was no shortage of subjects to discuss.
Pekatu wines and Clausura Cava on display in the Hotel Convent San Roque central space.
On the first day of arrival, there were no guests yet, only a select group of invitees, so we basically had the whole hotel for ourselves. This was really great: imagine walking from room to room listening to music, going via the bar for some nice food and beers, then returning via the central space where delicious entrees were served as part of a wine tasting event!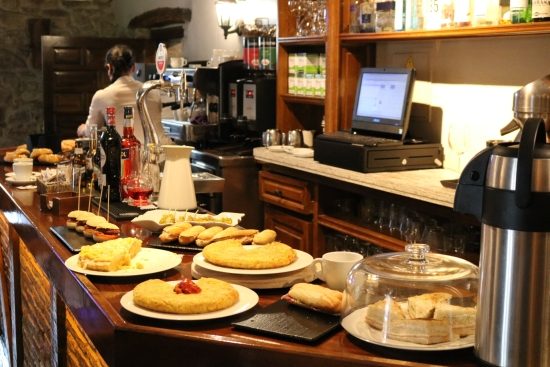 Here's a view of the hotel bar with THE BEST Tortilla that I have ever had. A few years ago I got introduced to the dish by a Spanish girlfriend and she was great at making Tortilla. This version, however, was truly in a class of its own! I must have had at least 5 slices during my stay.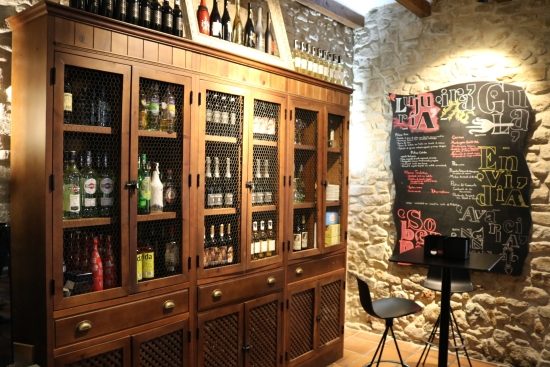 Here are Ignacio Salvador (left) and Miguel Castro (right). Miguel is one of the two owners of Kroma Audio, which is the brand of the speakers in room 1. He also designed the new Artesania racks, but I will get to that later. Ignacio is a distributor of Jeff Rowland equipment in Spain and when he heard that JW and I have owned almost every JRDG component out there, we had plenty to talk about.
This was the first dish to go with one of the wines (I forget which one): Tuna with pepper and sesame on the edges. That might seem simple, but it was done just right and tasted heavenly.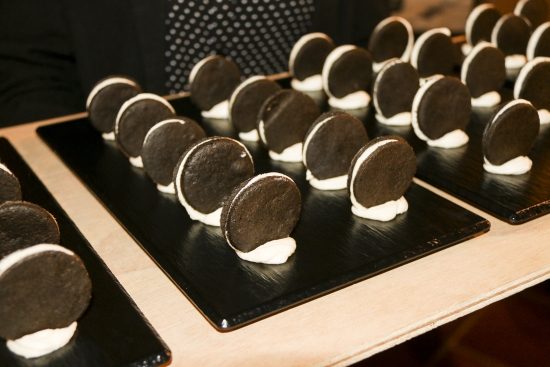 Here is another interesting dish: it's something with deceptive looks. They had a Spanish name for this but the wine made me forget… Anyway: it looked like an Oreo but was actually made from black olive with a cream filling.
JW and Raphaël, with what would be the first of a range of slices of Tortilla and… Amstel beer! I was hoping for some nice Spanish beers but the pub served Dutch Amstel! It tasted different though. Clearly being brewed locally makes for discernible differences, for the better BTW:-)