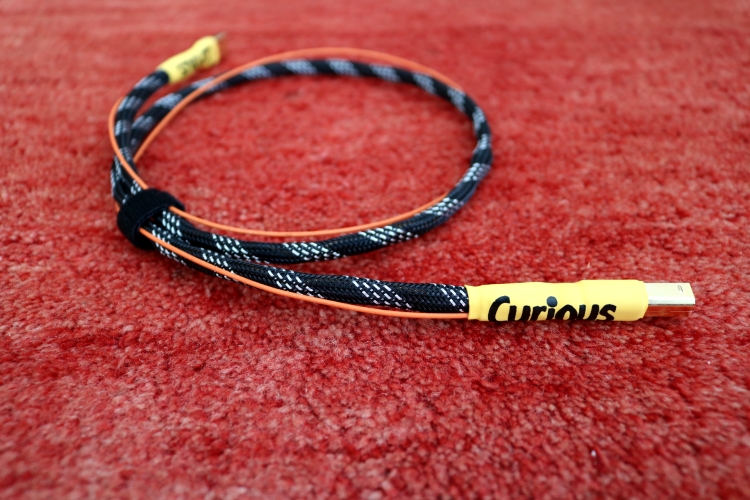 A Curiously Great USB Cable
Retail prices:
$340 for 80 cm (as reviewed)
$380 for 100 cm
$420 for 120 cm
(Other lengths available)
There's no lack of debate about whether or not USB cables can make an audible difference and also no shortage of "proof" offered as to whether they cannot. I've added my point of view on this matter in various places on this site and hope I'll be excused for not repeating myself here. Let me cut to the chase: Yes, for whatever reason, USB cables matter. What's more: they can have considerably more impact than one might assume. Here's a brand that I had not heard of until a reader asked me about it in the comments: the Curious USB by Curious Cables. I'm glad they asked!
The cables are manufactured under license by Mike Lenehan from Lenehan Audio – Queensland, Australia. Curious Cables' Australian owner and designer Rob Woodland spent 12 months examining every aspect of USB cable design and offers the following explanation for why his USB cable performs the way that it does.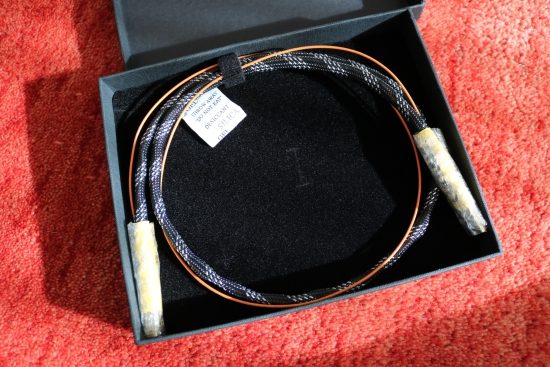 Cracking the code of the humble USB cable… (by Rob Woodland)
Why does the humble USB cable make such a difference to sound quality in a computer-based Hi-Fi system? When  I started using a computer server, people said "You won't have to sweat over USB cables – they don't make a difference!  It's packets of data –  it's not analog." Nevertheless, I  continued to question why I was getting a flat, lifeless, edgy and uninvolving sound from my system – despite using the best processor, USB card, power supply and so on. And yes, I did try a number of high-end, highly regarded USB cables – with similar disappointing results. This required investigation. From a previous career as an audiophile cable and connector manufacturer, I  had plenty of wire on hand to start the experimental process.  And what do you know? Just about every wire combination I tested had an immediate, yet varied impact on sound quality.
So began a 12-month quest to discover a USB cable design that would deliver a truly three dimensional, musical sound – like the real thing.  I left no stone unturned. I tested different diameters of wire, different metallurgy, shielding, dielectrics, ground techniques, how to deal with the 5V power leg and so on. All the time listening. And after a while, I built up a set of parameters for a USB cable that worked for the delivery of music, rather than just the delivery of data. 
The result? Music from my computer-based audio system sounded significantly better – in every way!  Much cleaner than before, more open and spacious, more detailed, smoother, more dynamic – and more involving. Some may even use the word "musical"!
But hang on – USB cables aren't supposed to make a difference? All I can say is this. To my ears and those of experienced audiophiles –  the new "Curious" USB cable offers a superior listening experience to many other USB cables.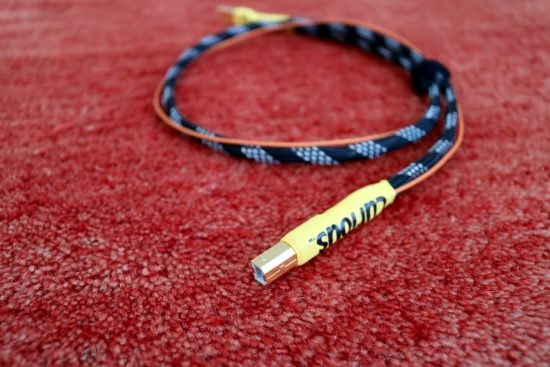 The relativity of USB Cable sound
So far, the USB cables that have impressed me most are the AudioQuest Diamond USB, the Mad Scientist Heretical USB and more recently the MadScientist Black Magic USB. The AudioQuest has been my reference for a long time when I still used the AudioAanZee Reference Flow music server with Jeff Rowland amplification and Apogee Diva speakers. With this system, the cable's neutrality and impressively articulate sound were precisely what was needed to obtain the right balance. The Mad Scientist Heretical USB was a revelation in terms of smoothness and liquidity and it produced an immediately likable sound that was never aggressive, but it arguably also compromised transparency, impact, and pacing. While I was fond of this cable, it was not the ideal match in the aforementioned system. Somewhere in between, I changed the setup and its position in the room entirely and added room treatment. The new CH Precision and Wilson Watt/Puppy 8 set up is much more dynamic and also more articulate and precise. In this system, I could still hear that the Mad Scientist Heretical USB cable rounded off the sound a bit but it actually worked quite synergetically. The Black Magic USB finally, which is the Mad Scientist's current USB cable, improved on their former model by sounding more confident and upbeat, more transparent and more lively, while retaining the richly colorful, fluid and relaxed sound that made its predecessor so pleasing. It will come as no surprise that this cable worked like a charm in the new setup. It provided all the transparency and neutrality that I needed while still enhancing the sound with a pleasing smooth liquidity.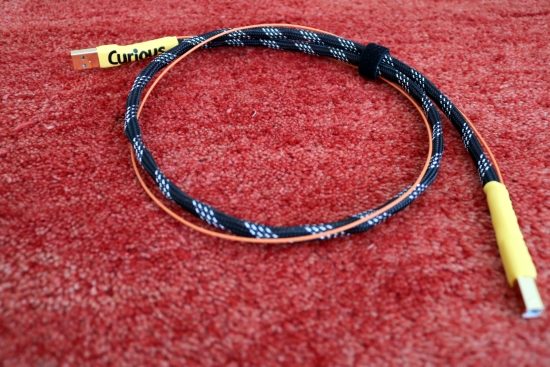 Or is it not relative at all?
Now, of course, one can ask the question: Was the aforementioned smoothness a lack of glare or degradation of the digital signal? And another question might be: Should cables be used as tweaks or should one strive for technical perfection, regardless of the results are pleasing or not?
Naturally, I have my own ideas about this and must admit having changed my views a bit from what they used to be. Currently, I believe that finding the best combinations of cables and components in a given room for a given taste is still important but it is of equal importance to use cables that do not subtract too much from the signal. When I was younger I cared more about refinement and fluidity than anything but these days I care most about dynamics and timbre. This is why I now prefer cables to ideally transfer all the energy in unaltered form and not being used as equalizers because whenever a cable is used as a filter, you lose some presence in the sound. However, it is a delicate balance. One can also go too far and the sound can become overly controlled and then you can lose the natural flow and as a result have less of an emotional connection with the music.
When Garmt of AudioIngang brought the CH Precision equipment for review, he also brought along a Melco music server. The Melco is, in essence, a high-specced NAS with two network environments: the input (dirty) and the dedicated player output (clean). As it turned out, the direct Ethernet connection to the CH Precision C1 Renderer/DAC made for a leap in sound. The Melco can also be connected using USB but sounds best using Ethernet. In this combination, it sounds rhythmic, fast, nimble and dynamic yet also fluid and free-flowing. The Melco via USB, by comparison, sounded more strident and less involving, no matter which USB cable I used. To cut a long story short, I was so impressed with it all that I decided to take the leap and switch systems altogether.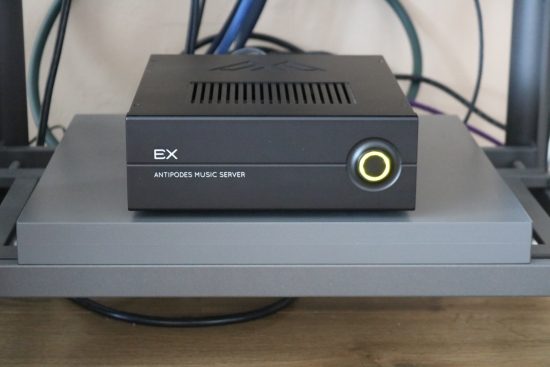 Getting on with it
The Melco N1ZH is a low-power UPnP-only server that cannot run Roon, but the Antipodes EX does. The EX is a pretty special server, too, and its USB output really is the best I've heard so far. And because I prefer to use Roon for my day-to-day music listening, the matter of USB cables is still of great importance! When connected with the AudioQuest Diamond USB it has a very detailed sound but the stage is constrained to the speakers and the whole sound is not as engaging as it is with the Ethernet-connected Melco, which at this stage is my point of reference. The EX actually comes much closer to the Melco's presentation when connected using the Mad Scientist Black Magic USB cable rather than the AudioQuest Diamond USB. And this brings us full circle, back to the initial question: should cables be used as tweaks?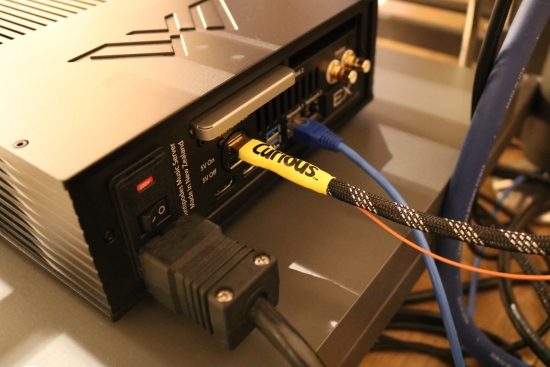 Curious USB sound
Using the Antipodes EX and CH Precision C1, changing the Mad Scientist Black Magic USB for the Curious USB, made for a startling difference. To be honest, I kind of expected this cable to sound very tight and precise and potentially relatively technical, but I was proven wrong on all accounts! Yes, it was technically better: more articulate, tighter, faster, nimbler and more open and more dynamic but it was also airier and had a more freely flowing soundstage with more clearly defined focus and layering. How about that? This cable clearly did not act as an EQ or filter and it sounded even more upbeat and precise than the AudioQuest, yet it did not sound overly controlled at all. In fact, with the Curious USB cable, the EX now sounded closer to the Melco in presentation than with any USB cable that preceded it.
There you have it: the Curious USB cable was indeed technically better, but also musically more realistic and involving. I definitely did not see that coming.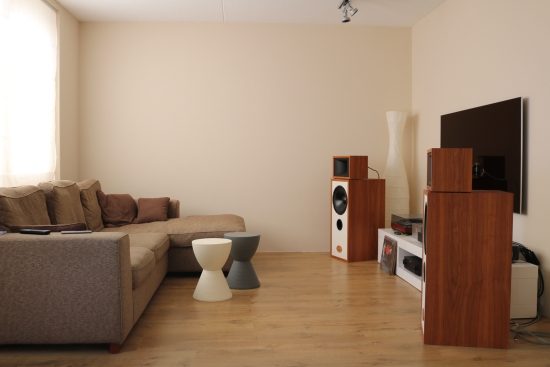 Second setup
In order to lessen the influence of system dependency, I also repeated the test using my second system in the other room. This system is subject to constant change but currently consists of an AudioAanZee Reference Flow music server with Euphony Drive as the basis with two DACs to choose from. The Ayon Stealth DAC/Preamp and the Aqua Formula xHD DAC. The Stealth is used with its own tube preamp section in combination with the NuPrime ST-10 power amp and the Formula xHD is used with the Line Magnetic LM-88IA integrated amp which is on visit as part of another review. The speakers, in this case, are the Gustavson LS-Ones.
Above left: Line Magnetic LM-88IA Integrated Amplifier, right: Ayon Stealth Preamp/DAC. At the bottom is the AudioAanZee Reference Flow music server.
Above: the Gustavson LS-One speakers with a range of Line Magnetic amplifiers that were on visit for another review.
Using the Ayon Stealth DAC/preamp and NuPrime power amp, the Curious USB cable again was like a breath of fresh air and it sounded so convincing that I did not want to remove it anymore. However, when I tried it anyway, in this system, the Mad Scientist also worked beautifully. Sure, the upbeat foot-tapping quality was diminished and the whole delivery was more rounded and definitely less precise but nevertheless still very pleasant. This is probably a good example of system synergy: the Gustavsons are highly communicative and the NuPrime's energetic character also injected so much energy into the system that the smoother USB cable still provided a well-balanced, musically highly engaging sound. While I still preferred the Curious USB because of its more lively delivery I can also imagine people choosing the smoother balance in this setup. In this case, it is a matter of perspective.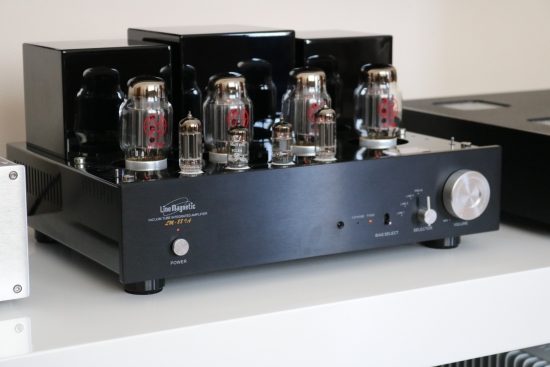 Changing from the Ayon/NuPrime combo to the Aqua Formula xHD DAC with the Line Magnetic LM-88IA integrated amp, the situation would turn out to be more clearly decided. With the Mad Scientist Black Magic USB cable the sound was again very pleasant but also remarkably refined and highly resolving. If I did not have the other cable at hand I would probably not even have any desire for further experiments. Swapping for the Curious USB cable, however, improved the sound on all levels: a fuller tonality, more convincing timbre, more dynamics, bass with more bite and body and all while retaining the overall refinement and airiness in the treble as well as the musical flow. Going back again just to make sure, the Mad Scientist cable was certainly still pleasing with its seductively warm and smooth sound but now I found it also to be less realistic and exciting than the Curious USB. This cable is quite the stunner!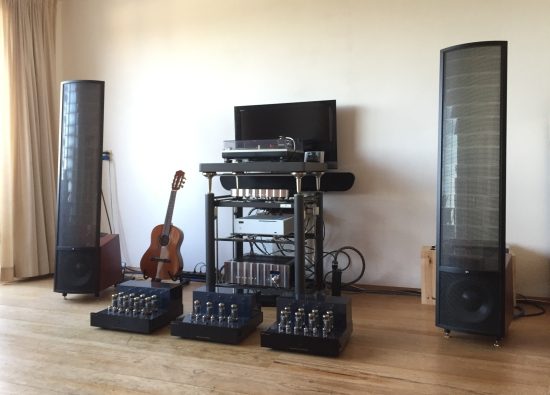 Final test
As a final test, I brought the Curious USB cable with me when visiting audio buddy Niels. His system consists of an AudioAanZee ReferenceFlow music server, Jeff Rowland Aeris DAC, Jeff Rowland Concentra II integrated amp and Martin Logan Spire electrostatic speakers. Don't mind the PrimaLuna amps, these were part of another review. Niels' long-standing favorite USB cable is the KingRex uART which was an early favorite of mine too. The KingRex is based on OEM cable provided by WireWorld and the cable did indeed have a similar character to the WireWorld Starlight 7. To allow for a blind test of sorts, I did not inform Niels about what to expect and we first listened to a few tracks with his usual setup. When swapping the KingRex for the Curious USB cable, the first thing that stood out was that there was now a better flow, in terms of rhythm and pacing as well as in terms of soundstaging. Images leaped out and forward more than they did with the KingRex cable. Along with this came the aforementioned perks of better resolution, more airy treble and an overall more realistic and lifelike sound. Meanwhile, the typical (classic-) Jeff Rowland smoothness and liquidity were not diminished in the least. The Curious USB cable made such a good impression that Niels is going to order one. And me? I'm absolutely not sending mine back!
Conclusion
That USB Cables can change the sound of a system is still a controversial concept in some circles but really it should not be. For me, it is clear that they do and the tests done as part of this review certainly further solidify my convictions. A given music server with a standard USB cable can certainly sound pretty good. It's not that a cheap USB cable will sound crap. But you might be surprised how much there is to gain. After using the Curious USB cable, you won't ever want to go back to that flat and uninspiring sounding regular cable.
As my experiments showed, system-dependency something to take into consideration when selecting (USB) cables. But who would have thought it possible to improve the performance in audiophile parameters such as dynamics, tightness, focus, and articulation (to name just a few) while retaining all the fluidity, flow, and musical engagement by using a different USB cable? I certainly did not. But there you go. Here is a USB cable that works wonders in three very different systems. Well done Curious Cables!

External Links
Manufacturer: CuriousCables