Antipodes CX + EX Music Server and Renderer part 3/3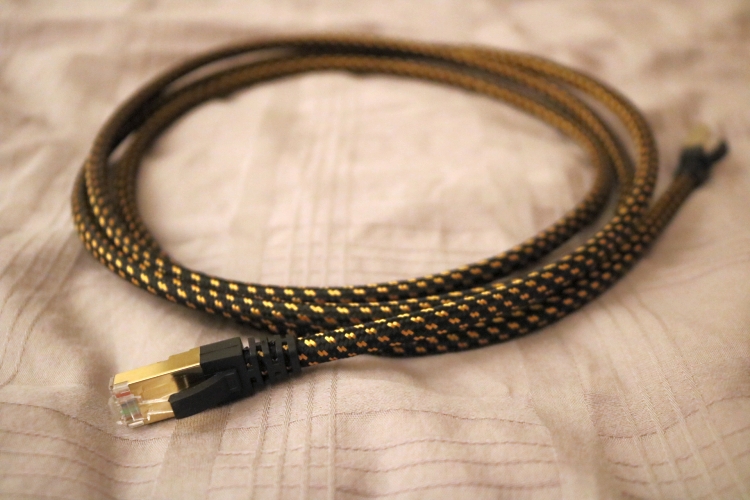 Side Notes (for the technically-inclined or truly devoted)
Due to the design of the power supply, the EX and CX require some running in to sound their best. It's not a lot, I'd say less than a day. The sound is powerful, clean and dynamic right away but gains more smoothness and warmth after about an hour and further develops over the following hours. The next day I noticed no further improvements. After having been powered off for a certain period, the units again need some time to warm up but it's only an hour, maybe two. So, it's good to just always leave the units switched on.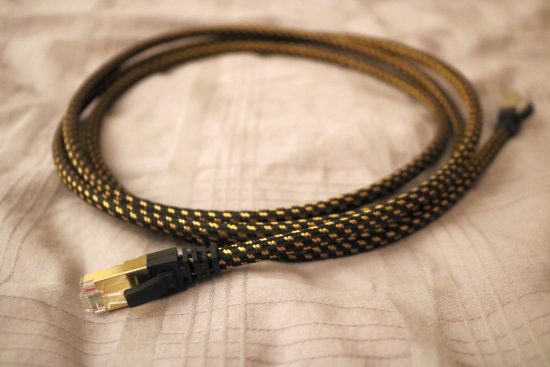 Antipodes-supplied Ethernet cable
I know, this is controversial, but please bear with me. The EX and CX come complete with a nice Ethernet cable in the box. Normally an afterthought but in this case, this cable was carefully selected for its audio qualities and after comparing it to a bunch of other Ethernet cables, I can understand why.
Compared to standard cables, regardless of their Category, the cable that came with the CX made for a very noticeable increase in impact and tautness! Mark Jenkins, CEO of Antipodes, had already informed me that these cables were something special but also warned me that they would need a considerable amount of running in. Now I must admit to being a little skeptical about the latter myself. I can understand that noise on a cable can affect the performance of a component downstream but an Ethernet cable that needs running in?
I asked Mark about his thoughts on what causes one Ethernet cable to sound warm and relaxed and another to sound tight and dynamic and he responded that this is due to noise. More specifically, he feels that the tighter and faster the sound (due to Ethernet cabling) the better the cable is.
In order to put this to the test, I connected one of the two cables and left it connected while using it between CX and EX for two weeks. Then, I swapped it for the other identical cable that has seen no use. Guess what? Mark was right! The unused cable, by comparison, sounded thinner in the midrange and while bold and impactful, a little bit too tight, while the used cable was just as speedy and dynamic but at the same time lusher and sweeter.
How can an Ethernet cable make a difference? And more so, how can it become better as a result of burn-in? I've asked Mark these questions and that resulted in a very interesting but also very lengthy email conversation. Let me just publish some parts below that I hope may help get our collective heads around it.
Mark Jenkins on digital transmission
It is true that transporting bits data from one storage medium in one place to another storage medium in another place is easy. What is stored at the destination is only the data, no noise or jitter. But inducing knowledge, unsupported by experimentation, to claim that it must also be trivial to transmit data to a system that has to process that data in near real time, is simply bad science. You need to conduct a relevant experiment. For example, you can send the digital data as a sine wave, and prove even this can result in bit-perfect transmission of the data. Then listen to a DAC processing a sine wave versus a saw-tooth wave versus a square wave, in any kind of blind test method you like, and any audiophile will agree that they sound different.
As some may not be aware, Antipodes Audio has actually been developing wire technology for audio cables since 1994 and marketed audio cables using their own silver wire and gold wire between 2004 and 2016 and so they know a thing or two about cables.
Mark Jenkins on cable burn in
When a wire is manufactured, it has imperfections. Various methods can be employed to reduce these imperfections. Annealing will boil off some imperfections, but the super-heating of the wire can introduce new imperfections. Cryo treatment can also squeeze out some imperfections. But simply using the cable to transmit a signal will slowly achieve the same thing and with fewer side effects than annealing or cryo treatment. We find that if the wire is made very well then annealing and cryo treatment are not beneficial, but poorly made wire does benefit from these processes prior to burn-in.  In any event, all wire is improved by simply using it and it does this by doing, over a long period, the same that annealing and cryo treatment do, which is to adjust and clean the lattice structure and the imperfections between crystal boundaries.
Whether or not this is audible, and relevant to the enjoyment of music, is the real question. The problem for all of us in audio is that the relevant measurement tool – our ear-brain system – does not have a consistent numeric read-out. But measurement systems that do have a numeric read-out often
fail to explain what we hear. "Not everything that counts can be counted, and not everything that can be counted counts". This is one reason why we have the incessant and interminable polarised debates.  Another reason is that some people take simple accepted mental models and dogmatically assume that
they are complete descriptions of reality. Ultimately, what really matters is experimental outcomes, not the theories. I can pose a theory as to why something happens, and it can be read as an explanation, but it is not an explanation, it is just a possible explanation that is my current best guess.  People may want definitive explanations, but a true scientist would admit that there aren't any. You really do need to do some listening for yourself.
Audiophiles need to appreciate that despite a music server or streamer seeming to be just a computer, making one that sounds good is as much an art as making any other piece of high-end equipment.