AudioAanZee Reference Flow Music Server
Superbly analog-sounding Music Server that beats my long-standing reference in digital music playback
Review sample kindly supplied by AudioAanZee, developer of and dealer for the AudioAanZee music servers.
Retail price Reference Flow 2999 euro
Available in silver or black
History
As regular readers know, computer-based audio hadn't convinced me for the longest time. Regular computers such as Windows PC's and Apple Mac's can sound very good on a technical level, but never succeeded in evoking an emotional response from me like good CD players can, and turntables can do even more easily.
The first streaming audio solution that I found to be more or less on par with CD quality was the PS Audio PWD MKII. This endpoint kind of component managed to sound even more spacious, with much better soundstage layering than my best CD player at the time, the Wadia 861. However, the PWD MKII never was quite as fluid or refined in the treble, and it could sound a bit coarse overall. The Linn Klimax DS/1 really was very, very good. It not only improved on the PWD MKII's treble but easily beat my best CD player in terms of micro-detail, refinement, and fluidity. But it did not quite have the PWD's natural timbre, nor the PS Audio/Wadia typical solid bass, and its soundstage size, focus, and layering were less than impressive. Also, all UPnP solutions tried so far had instability issues, and their iPad apps were limited in functionality.
Aurender introduced me to a highly stable system with excellent iPad app control (I later learned that this was based on MPD and mPad) but the sound (Motherboard USB out into the PWD MKII), while exciting, remained somewhat technical for me. Its S/PDIF output should've been its magic trick but for me did not reach the sound quality of the USB connection.
When Meridian Sooloos entered the building, I was gobsmacked by the superb user experience and stability, but the sound quality didn't reach the levels that I expected until I arrived at the MS600 and 818 Reference Audio Core. On balance I found the 818 to be more or less the equal of the Linn Klimax DS/1, although their virtues and vices were in different areas. If the Sooloos architecture hadn't been so closed off (no access to the physical files once imported) and if the bugs were addressed properly (mainly incorrect matching when importing only a selection of a CD rip, and the inability to simply using my own available metadata) I might still have enjoyed that system now.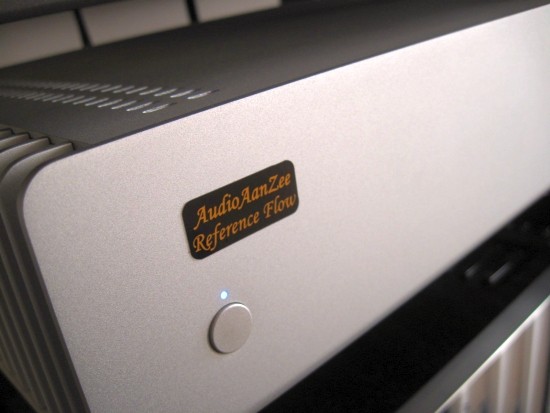 Enter AudioAanZee
Maybe it was a coincidence, maybe it was fate. Evert of AudioAanZee approached me saying that he had this fantastic music server called the Ultra Flow, and if he couldn't drop by for me to have a listen to it. That was the Ultra Flow, and it was a turning point for me. The Ultra Flow offered the open system architecture that I craved, an excellent iPad app and a sound more fluid and airy than I had ever heard it from a computer source before. Thinking back maybe the Klimax DS/1 was equally refined, but that was a streaming endpoint, not a USB DAC, and as soon as the Jeff Rowland Aeris DAC came into the picture, all other DACs were off the table, and the Aeris sounded considerably better than the Linn did anyway. The UltraFlow became my reference and it has maintained that position for 3 years already.
Evolution
The Ultra Flow uses VortexBox software, and until recently that included MPD (Music Player Daemon), which was controlled by the mPad app. It wasn't until recently that it dawned on me that the Aurender app showed quite a few similarities to mPad, and later it was confirmed that indeed the Aurender app is based on mPad. A good choice I would say. Various other manufacturers make use of VortexBox, some covertly, others openly. Some use it stock, others make modifications to the code, or add plugins. The important thing to understand is that while VortexBox might seem like a no-brainer solution, the combination of components makes the product. Brilliance isn't achieved by smacking together random components. You might be surprised how much influence the power supply has, or the regulation, the USB output, the type of hard disk, and the way that it is all mounted. In short: just like in the analog world, everything matters.
Since introducing the Ultra FLow, Evert hasn't been leaning back. Quietly he was working on improving the Ultra FLow. In the meantime, VortexBox was upgraded from 2.2 to 2.3 and MPD was swapped for SqueezeLite, which did not only bring improved stability and better iPad control using the iPeng app but also improved DAC support, while even improving the sound. With VB 2.2 as the basis, Evert worked on improving the hardware, setting focus on the power supply. After all, until now he had used a very good switching type, but personally, I favor analog linear types.
Last year (2014) in December Evert received the first linear power supply that really fulfilled his needs: the HDPlex, and since then he worked on perfecting the implementation.
AudioAanZee Reference Flow
The Reference Flow uses a new external linear power supply made by HDPlex, which has independent power rails with multiple outputs that can serve to independently power the computer and the SOtM USB card. An important part of using a linear power supply with a computer is that it needs to be over-dimensioned. If only barely coping, it will quickly start to sound slow, and less impulsive than a simple switching type. Perhaps of equal importance is the internal DC regulation, which can be done using various products. Evert found that the differences in sound between products were enormous, and used the one he found to sound best. The internal layout of components for the Reference Flow has been carefully refined, with the whole housing damped throughout and crucial components coupled to the housing via compliant materials.
I first heard an early incarnation of the Reference Flow in January this year, and even if Evert's setup is entirely different from mine, I was impressed with the level of emotional communication, the sound being utterly engaging.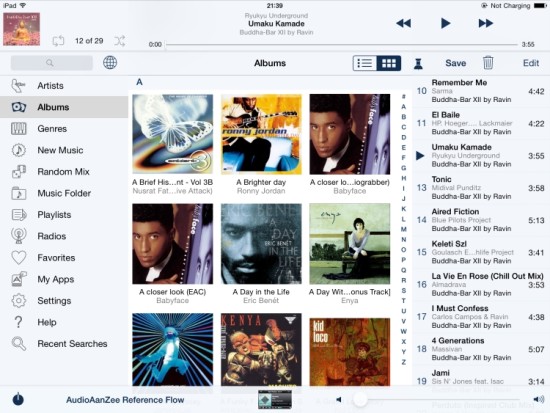 Operation
In broad terms, the Reference Flow can be seen as an integrated Music Server, automatic CD Ripper, and music player, that doubles as a very fast NAS (Network Attached Storage). It purposely does not have a DAC on board but instead offers a high-end USB output that works with every DAC you care to connect.
Insert a CD and it will be automatically ripped to both FLAC and mp3, and are ID3 tagged and completed with cover art. Alternatively, you can also drop files onto the samba share from any computer connected via the network. Supported files include WAV, AIFF, mp3, FLAC and DSD/DXD. Natively the Reference Flow plays PCM files up to 32/768 and DSD64, DSD128 & DSD256 via DOP capable DACs. Files can also be downsampled to match the maximum sample rate of your DAC.
The Reference Flow can be entirely controlled via iPad or Android tablet, there's no need for a monitor or keyboard.
No matter how you control it, playback is 100% Gapless.
I use iPeng 8, which works even better than mPad. iPeng has many more features and user settings than mPad, so for inexperienced users, set up at first might be a little bit more complex than with mPad, but Evert of AudioAanZee is always available for advice, and if you're in the Netherlands, he will carry the setup out for you and tell you all you need to know. In use, iPeng is actually much more pleasing than mPad, offering several additional functions such as for example the possibility to browse recently imported music, shuffle by predefined genre(s), broken down into artist, album or by track, showing file format (WAV, FLAC mp3 etc.) for each track as well as showing all, and I mean ALL file properties on demand, showing artwork when browsing physical folders, and just having an overall more comprehensive interface that is customizable. For example, the playlist can be removed from the screen when not needed, or be pinned to stay in place.
Likewise, the left navigation column can show labels, or be minimized to only show icons, leaving more space for the selection pane. Also, cover art is much better supported in iPeng than in mPad, now displaying artwork embedded either into the individual songs' ID3 tags or from image files residing in the same folder as the songs. It also allows for multiple artwork names. By default, images named cover, folder, album, and thumb are used, and one can specify additional names.
Above: playlist hidden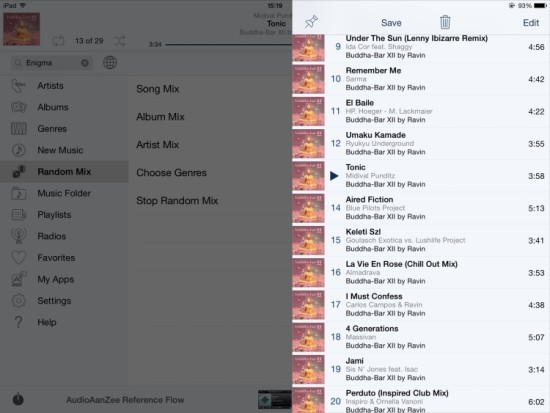 Above: Hidden playlist swiped into view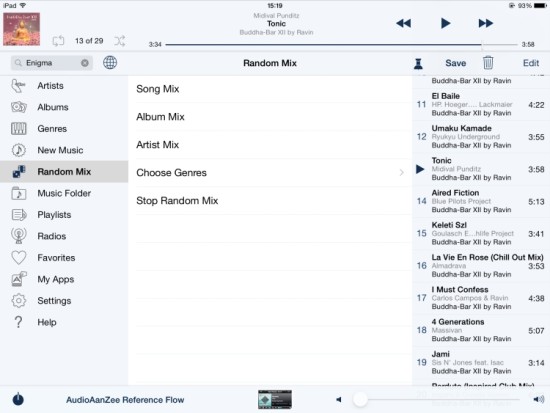 Above: Playlist pinned in fixed position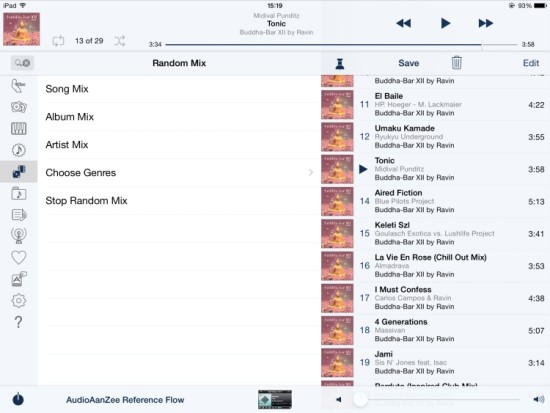 Above: Navigation bar minimized
Extras
The Reference Flow comes standard with integrated internet radio and on-demand streaming audio, with services such as for example Spotify, Deezer, Last.fm, Pandora, Rhapsody, SiriusXM and TuneIn radio. Optionally many more options can be enabled such as high quality on-demand streaming audio services Tidal and Qobuz, or things like iTunes and Podcasts integration or smart plugins that automatically rescan the database upon detected changes or downsample DSD to run over PCM into any DAC, and many, many more. Most users never need to alter the configuration though, as AudioAanZee preconfigures the unit according to your needs.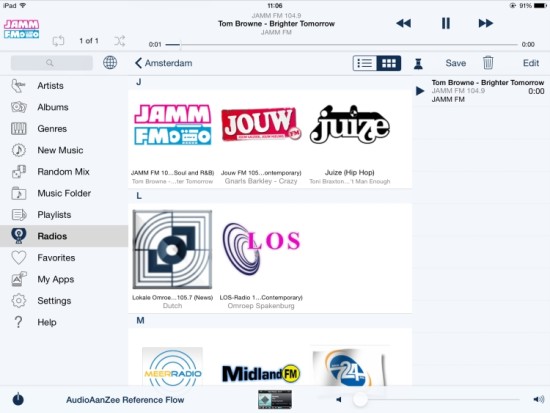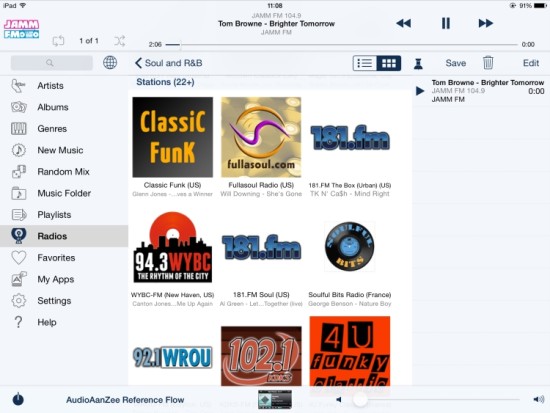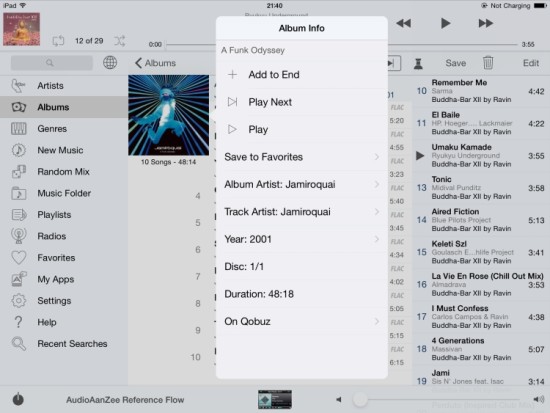 Above: Context menus are available on Album (shown above) or Song, and is very comprehensive.
For example, from a local album, you can look up other albums by the same artist on Qobuz or Spotify.
Above: More albums by the same artists – all at two clicks' distance.