Denafrips Hestia and Athena preamplifiers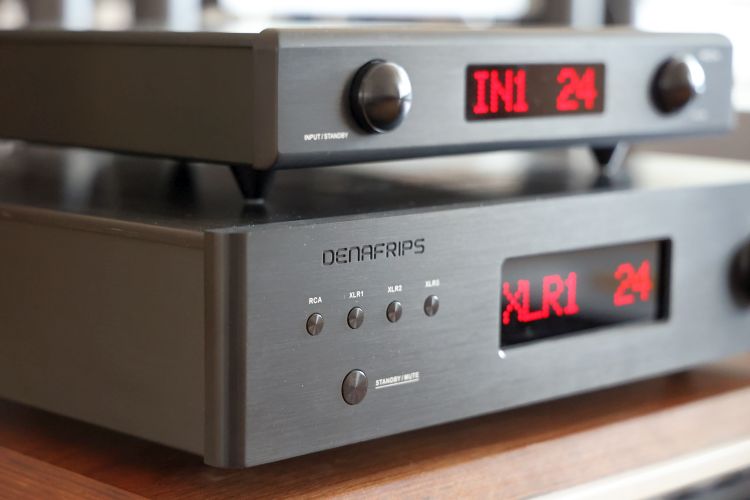 Review sample supplied by Vinshine Audio
Retail prices including 21% VAT:
Hestia – 1.236 euro
Athena – 2.432 euro
Denafrips has 3 analog preamps in their portfolio: the entry-level Hestia, the middle model Hades, which is based on the Hestia with improvements in key areas, and the Athena, which is the top model. For this review, I will be listening to the Hesta and the Athena.
Hestia
The Hestia is Denafrips' entry-level analog preamp. It is what the manufacturer describes as a Pure Class-A, True Balanced, Fully Discrete Line Stage with a 60-Step Microprocessor Controlled Relay Based Stepped Attenuator, Precision-Matched Resistors & Components with Perfect Channel Balance And Low Distortion. A very low measure of 0.000230% distortion is quoted. The Hestia offers 2 XLR inputs and a single RCA input. Outputs are available in XLR and RCA.
Athena
The Athena is the company's flagship full-sized, True Balanced, Class-A biased preamplifier. It is equipped with the advanced microprocessor CPLD discrete relay-based 60-step volume control, coupled with current drive Darlington arrays network and precision-matched Military-Spec Metal Film Resistors, quoted to yield perfect channel balance with ultra-low distortion THD+N at 0.000120%.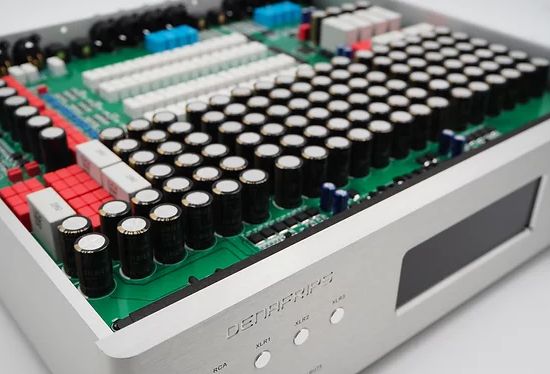 Denafrips is a strong believer in how clean power equates to the foundation of good sound quality. Whereas the Hestia's internal components all share the same single housing, the Athena's more elaborate design features a separate power supply section, encapsulated in a double metal shield.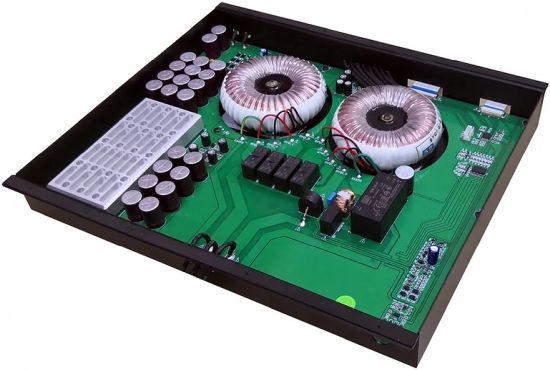 In the same chassis, the encapsulated power supply unit is located underneath the main control board – with double layers of MU Metal sheets shielded in between.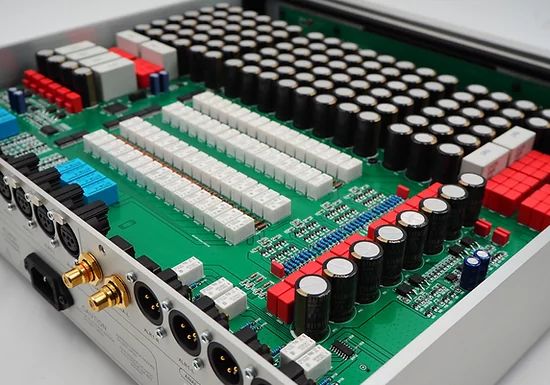 The separate section suppresses harmful EMI/EMF from the PSU. Further, multiple stages of Low Drop Out (LDO) voltage regulators and a large capacitors bank provide clean power to the Class A circuitry. The Athena offers 3 XLR inputs and a single RCA input. Outputs are available in 2x XLR and 1x RCA.
Hestia on top of Athena showing the inputs and outputs. with the Hestia, all connectors are placed from the inside to the outside in a mirrored fashion for the left- and right channels and for both the inputs and outputs. For the Athena, the inputs are again mirrored but the outputs deviate from this logic by being positioned sequentially: RCA R, RCA L, XLR1 R, XLR1 L, XLR2 R, XLR2 L.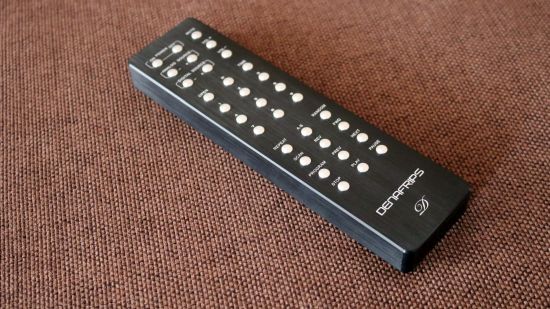 The remote control unit is machined from a single block of aluminum, anodized in black color. It controls the preamp volume, source selection, and the dimming of the display. In addition, it also controls the Avatar's transport functions.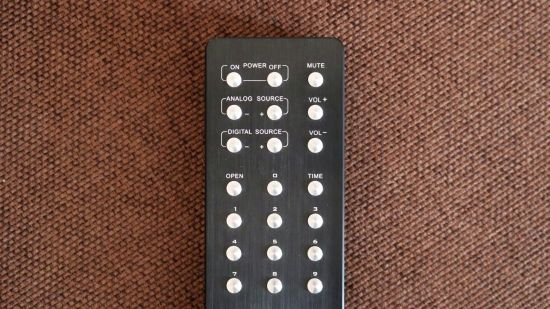 Review Context
The core of the main system in which the two preamps will be tested consists of the CH Precision C1 DAC and normally the L1 preamp, with the CH Precision A1.5 power amp, Grimm MU1, Antipodes K50, and Taiko Audio Extreme Music Servers, and Magico S1 MkII speakers. For speaker cables, I use the Mad Scientist Black Magic. More details can be found on the Main System page.
For all comparisons in this review, I used the CH C1 DAC and all-Driade Flow Link Reference 808 cables, both XLR and RCA. For power cables, I used Belden 19364 with Bals Schukos and Oyaide C-004 IECs. The preamps were positioned alternately by themselves on an Artesania Modular Rack. Where both preamps can be seen on top of each other, this was during running in and only for non-critical listening.
Before any serious listening, I made sure to leave both preamps running for well over two weeks during which I checked the sound now and then. I'm not sure how much they had been used already but if there was some running in left to do, it did not result in huge shifts in sound.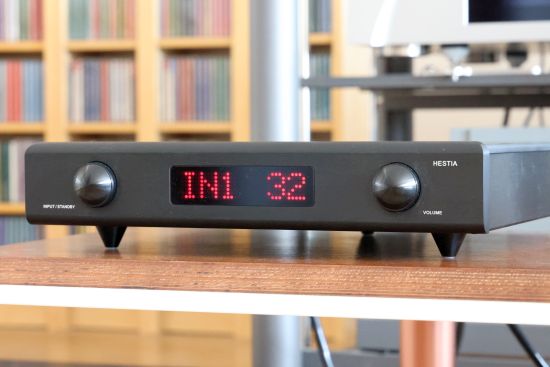 Hestia
Starting with the small but surprisingly heavy and very sturdily-built Hestia, the sound is solid, upbeat, lively, and hugely expressive. It's very much a toe-tapping kind of delivery, speedy and full of joy. The Hestia may cost what a spoilt audiophile would refer to as peanuts-money, but it offers a level of detail and uncolored linearity that I did not expect. In spite of being very open and explicit, the Hestia is not clinical, nor harmonically deprived. There is also no wooliness, softness, or rounding and not even a hint of artifice. Where cheaper products often fail is in the natural portrayal of tonality and harmonics, the timbre, and here too, the Hestia does not let down. I could also not fault its focus or soundstaging.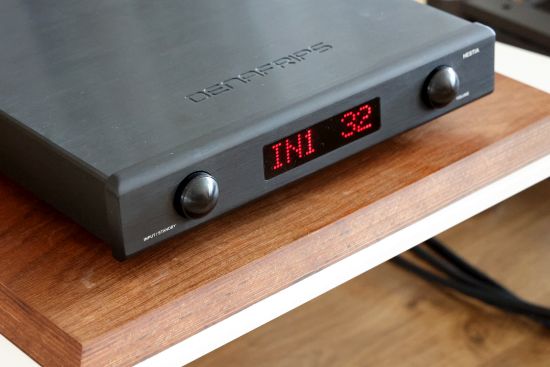 It is only to be expected that an entry-level preamp would not score high marks across the board but it is important to note that what sins the Hestia has, are of omission, not of commission. Its sins of omission are in the fields of finesse, fluidity, and refinement.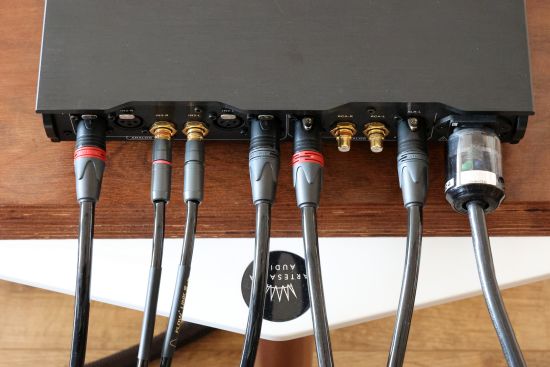 The Hestia will not add warmth or richness and it can sound a bit dry, making it not necessarily lacking magic but certainly not adding it. In other words, this will simply not be the ideal preamp if you are looking for tube richness or -liquidity. It is a transistor design, and the preamp does not hide it. Some might find it has a matter-of-fact kind of delivery but you really can't fault its unadulterated performance.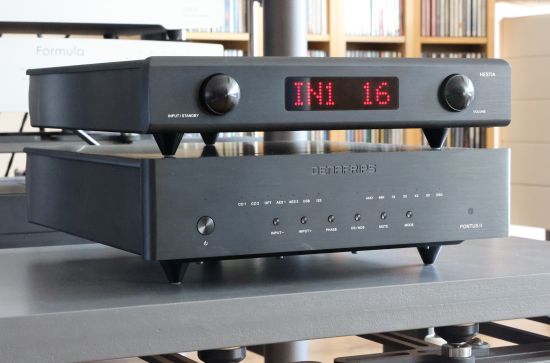 The front panels are curved differently but the Hestia has the same overall dimensions as the Pontus II DAC. Alas, all Denafrips DACs had continued their journeys before I started this preamp review but you can be sure that any of the Denafrips DACs would have made a fine pairing.
The preamp has great control and is delightfully direct but it is also a little rough and "square". What this aids immensely, is the bass, which is as robust as I have heard it from a preamp in any price category. The tricky thing is that this behavior also extends into the treble, where it leads to a sense of dryness and a hint of roughness.
When taking the CH L1 into account, it is a bit like comparing two TV screens that are both faithful in terms of color, brightness, and contrast, where the L1 is like a 4K screen and the Hestia 720pix, in other words, good in every sense and better than standard definition, but not HD. With this as its only major flaw, I am still amazed that the Hestia can achieve this at its very modest retail price. More importantly, the preamp compensates for this with great dynamics and a bass that is well-controlled yet robust and neither lean nor fat. More to the point, in this price range, I don't think it has competition.
Comparing the XLR input to the RCA input, again using a Flow Link Reference 808 interlink, I hear much the same differences between the XLR and RCA cables as I hear using the L1 as a preamp, which is hardly any difference at all. As I heard before, the balance is the same but the XLR cable is just a tad tighter and more controlled. The exact same goes for the Hestia's XLR/RCA outputs. This goes to show that the Hestia's input/output section is very transparent. Very well done for an entry-level preamp.
Next: Athena