Analog Preamplifiers in a Digital Streaming World
Aries Cerat review samples supplied by Ultisone and Callas Audio
Soulution review sample supplied by Ray of Welcome To Playground
These days, most DACs are equipped with volume control, usually of the digital variant but sometimes also in the analog domain. And if your DAC can be connected to a power amp directly, what could there be to gain by switching another component in the signal chain? In other words, when everything on the source end is digital, what is the use of a pure analog preamp? With this article, I hope to shed some light on this quandary.
Ever since LP became the preferred format in 1957, the analog preamp has been a prerequisite for music playback. When LP was joined by analog tape a few years later, the preamp extended its role as input selector, gain stage, and attenuator by also providing recording functionality and a tape monitor loop. The tape output signals were usually already at line level but the phono cartridge's delicate signals necessitate RIAA correction (basically equalization) as well as extra amplification. This was always done inside of the same unit which was usually an integrated amplifier. Later, separate pre-and power amplifiers would make their entrance, but at first, the phono stage would still be incorporated into the preamp. As CD overtook LP in the early nineties, more and more pre-amplifier- and integrated amplifier manufacturers stopped including phono stages in their products and this spurred the release of stand-alone phono preamps.
So far, this all makes perfect sense, right? When you play LPs, you will need a phono stage and an analog preamp. That is unless you have a DAC with an A-D input and are willing to listen to digitized versions of your records or, on rare occasions, if you have a DAC with an additional pure analog input-output path. In the case of the latter, though, you are still using an analog preamp, even if it is hidden inside of the DAC.
But what if you don't spin analog records and only use a digital source like a CD player, server, or streamer? In that case, and if it has volume control, there is nothing stopping you from connecting the DAC directly to the power amplifier. And in this case, what could possibly be gained by switching another component in the signal chain?
Volume Control
One aspect to consider is that volume control in the digital domain can only be done by removing bits and in doing so, some resolution is lost. DACs counteract this by upsampling the input signal and performing the calculations at a higher bitrate, reducing the damage done by the removal of a few bits. But this is only effective up to a certain level of attenuation and even when applied in the uppermost range, often, the processing can already be heard even after the first step down. DACs with analog volume control will bypass this issue and avoid having to tweak an otherwise bit-perfect signal as all the extra processing always injects 'flavors' that do not always favor the musicality.
Beware though, if the integrated volume control is passive, rather than buffered. While a passive attenuator may seem to represent the purest possible path, they tend to raise the output impedance and lower the current as they attenuate the signal while the combined capacitance of the cable and input can affect the linearity of the frequency response. More annoyingly, the frequency response may change as the volume is adjusted.
A popular explanation that is used to explain why dedicated preamplifiers work better than DACs is that it is a matter of current. The notion would be that preamplifiers (can) have bigger power supplies with larger DC buffer capacity so that they are capable of providing more drive and control even when faced with very long interconnects. Well, this could be an argument but only if the connecting power amplifier has an unusually low input impedance, like 10 times that of the source component's output impedance. In that case, the bass impact and overall dynamics will very audibly suffer. With the usual 10k – 100k impedance, there is no current to speak of. But there are DACs with massive power supplies and this argument holds less and less value as DAC output stages also get better and better. Yes, Op-Amps can be current-limited but they can still provide plenty of power. Also, these Op-Amps are also employed en masse in preamp output stages, further invalidating this specific argument. So, is it a matter of Gain? Yes, for some power amplifiers that have low gain and when combined with very inefficient speakers, that can still be a valid argument, although there are plenty of DACs that will happily output 4 volts or more.
The above is far from the complete story but I merely want to illustrate that it is hard to make a case for adding a preamplifier purely on technical grounds.
So, if it is not so much a technical requirement, could it be that the argument is predominantly one of system synergy and taste? Here's where we enter the really interesting bit that I will address by inserting a range of preamplifiers in my previously preamp-less setup and using various CD transports and Music Servers/streamers as sources.
Back story
With previous systems where I used a Wadia digital source (Wadia 12, 25, 27, 861, 781i, and 521) I have always needed a preamp to get rid of some of these sources' roughness and dryness. Throughout a large chunk of my recent audio past and throughout various speaker changes, my preamp brand of choice was always Jeff Rowland (Synergy I, II, IIi, Coherence II, Concerto, Criterion, and Corus, ultimately with PSU) for their superb refinement, airiness, and liquidity. Sure, the Rowlands tended to add some sweetness and reduce transient sharpness and dynamic slam, but on balance, the sound was always better without a preamp in the system.
With my current CH Precision system, I have long refrained from adding a preamp, precisely for the aforementioned reasons, as well as because the C1 DAC is so much more refined than the Wadia sources, that there weren't any nasty sonic to ameliorate, nor was there anything to gain by adding a preamp. Or so I thought!
After I had improved my acoustics over the course of several years and achieved some particularly great results last year, I was in awe with my bass performance, but less enamored with the fluidity and treble performance. For the first time in this apartment, I was truly hearing what the system was doing, and this re-sparked my interest in analog preamplifiers.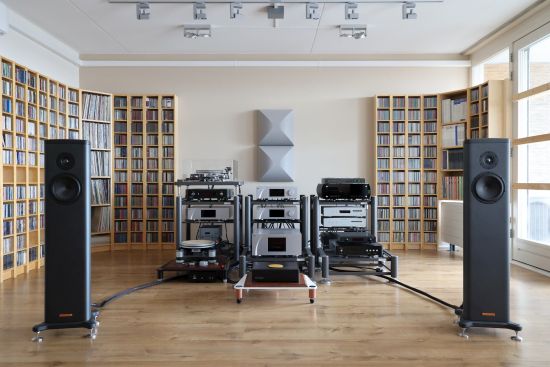 Review Context
The system used for this article consists of a CH Precision C1 DAC, CH Precision A1.5 power amp, and Magico S1 MkII speakers with a Grimm MU1 Music Server. More details can be found on the Main System page.
Ayon Stealth
Astute readers will have spotted the Ayon Stealth preamp (6995 euro) that has been lurking underneath the turntable for quite some time. This is an analog tube preamp with a DAC on board that I have used quite successfully in various circumstances in both setups and lately exclusively with the turntable. The Ayon house sound is not typical for tubes, or at least I don't think so, because the company's components are typically not sweet, smooth, euphoric, or particularly liquid, but actually surprisingly solid and robust.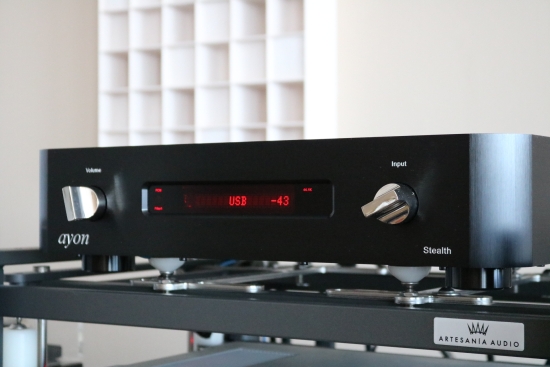 The Stealth has an attractively ballsy if somewhat rough and dark sound with strong rhythm and powerful dynamics. It is not particularly refined and it does not have the highest resolution or the best transparency which precludes its use as a main preamp, but in this application when combined with the CH P1 phono stage, the Stealth has always worked very well. In practice, I would connect either the C1 DAC or the Stealth preamp to the A1.5 power amp, depending on the need for that particular listening session.
As a preamp and switched behind the C1 DAC, it does not do the DAC justice, which is no shame given its relatively modest cost. Its built-in DAC adds a nice sweetness and fluidity, but again, it's not at the level that I am currently aspiring to.
Next: Aries Cerat Incito S