Qobuz Hi-Res On-Demand Streaming Audio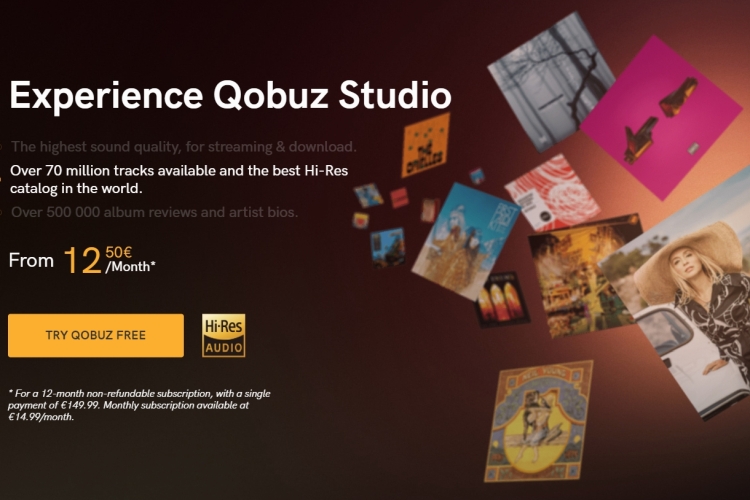 I wrote my initial Qobuz review almost 6 years ago. In the meantime, a lot can happen and indeed, a lot has happened.
At the time of the earlier review, I compared Qobuz to Spotify as well as to local playback. After that review, I lost interest in Spotify and to this date, it has not come back in my favor. Not because of a lack of convenience or catalog size but because the service is streaming heavily compressed files. Although Qobuz sounded much better than Spotify, local playback sounded even better still. And so, I forgot about streaming for a long time.
Fast-forward to the present where, thanks to the lure of Roon-integration, I have started to use Qobuz Premier (Hi-Res streaming + download) on a regular basis. Ever since May 2020, the service has seen lots of use and I must say I am mightily impressed with the sound quality as well as the superb integration in Roon.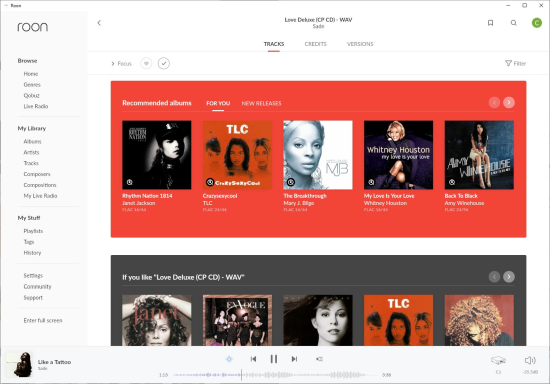 Ever since I reviewed Roon for the first time in May 2015, the service and software have seen massive growth. Maybe I was a little early pronouncing it to be the new Industry Standard in 2015 but by now, it sure is indeed the standard against which all others are judged. Not only that, my feeling is that if a streaming device does not offer Roon, then it is at a disadvantage.
For those unfamiliar with Roon, please see my review or simply head to the Roon website for more info. For this revisit, I will assume familiarity with both Roon and Qobuz and I will focus only on the sound quality of Qobuz compared to local playback.
Listening Context
In the main system, I use the Antipodes K50 Music Server, streaming directly to the CH Precision C1 DAC's ethernet input. The DAC's output goes straight to the CH Precision A1.5 power amp that drives Magico S1 Mk2 loudspeakers via Jorma Trinity speaker cables.
Sound Quality
In order to make valid comparisons, I purchased several recent digital albums and downloaded the files via Qobuz in WAV and FLAC and for some, I also purchased the physical CD elsewhere. Then, I ripped the CD using dB Poweramp's AccurateRip mode at 8X speed and compared all three variants using Roon.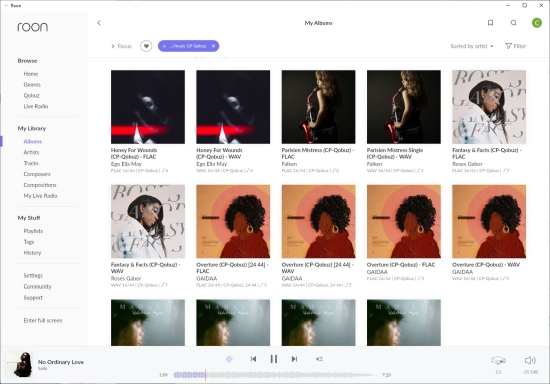 The above screenshot shows only a selection of the files that I compared
After having given Qobuz a new chance, and having compared several of my self-ripped albums and tracks to the downloaded files and the streaming content available on Qobuz, I am happy to conclude that my aforementioned reservations are no longer valid. Not only that but rather surprisingly, many recent releases now actually sounded even better via Qobuz than from the ripped CD! How is this possible? I think it has a lot to do with the source (in the best case scenario conceivably a direct export from the workstation) whereas a CD is the result of many intermediate steps prior to production of the physical format and requires ripping.
Superb Sound Quality
The differences include cleaner transients, larger perceived dynamics, and an overall crispier, more articulate sound. Compare that to Spotify that does the opposite by sounding softer, less crispy, and less dynamic.
Lowered Prices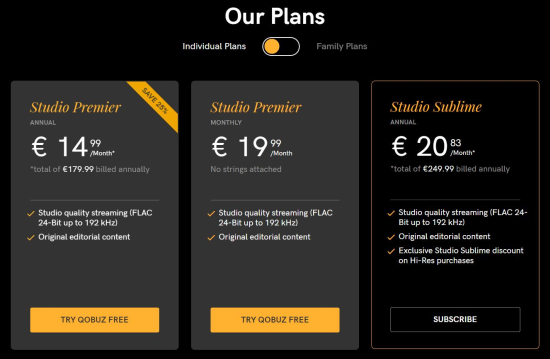 Above: pricing at the time of this review; below: current new lower pricing (November 2021)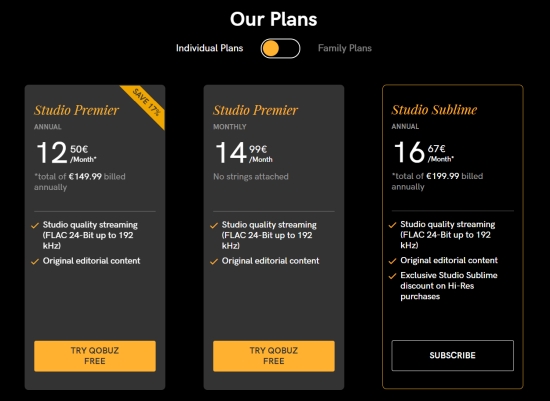 In addition to CD-quality playback, Qobuz also offers Hi-Res streaming and downloads. Although I feel that well-produced 44/16 material leaves nothing to desire, the instances where I compared Redbook to higher-res versions of the same album, the latter always won from the more mundane format by sounding more nuanced and refined.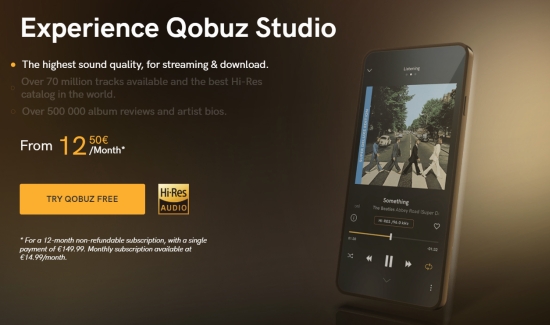 Production quality aside, I have a strong feeling that the quality of the Qobuz service itself has also improved over time. In further comparisons, I sometimes still find that my local files sound better but it's difficult to be certain that it is the exact same release. But, honestly, the differences (if in favor of local playback) are not earth-shattering. In fact, they are so relative that I stopped worrying about this altogether and simply let Roon play whatever it wants, be it my own library material or something fresh via Qobuz.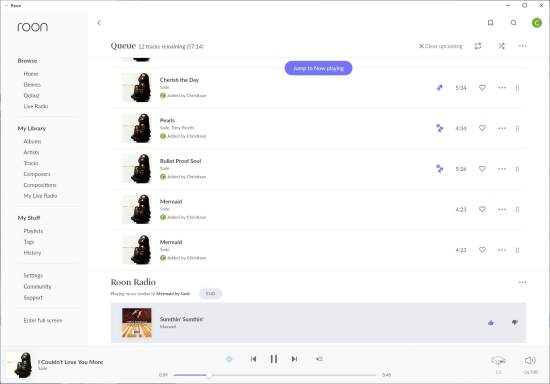 Perhaps the best reason for using Qobuz, for me, is that it helps me discover new music when combined with Roon Radio. The underlying AI knows what I like and suggests material based on my preferences and thanks to this I have discovered dozens of new artists that I would otherwise probably never have heard of.
Try out Roon for yourself
Read Also:
Qobuz and Spotify (initial review)