On-Demand Streaming Audio: Qobuz and Spotify
Everybody knows Spotify, but Qobuz is a relative newcomer, and perhaps not yet that well known. With this review, I intend to change that!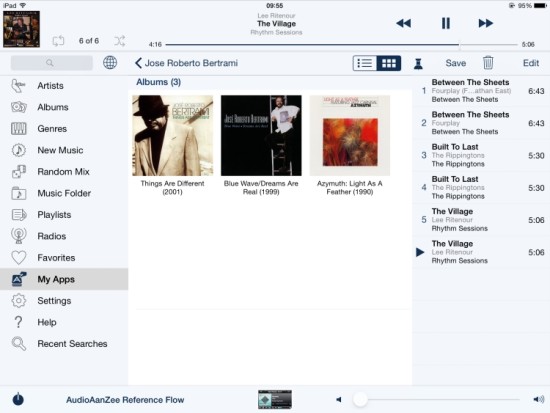 Above: Spotify album view using iPeng with Squeezelite, note the years in brackets
Spotify
Spotify is hugely popular, and several of my friends actively use it, they have let go of their CD players and are solely using this service for their music needs. It's not difficult to see why: virtually all music ever made can be found, and it is easy and fun sharing playlists and recommendations among other Spotify users.
One of the aforementioned friends, Jeroen, came over a few years ago, when I still used my Windows PC for music playback with a HiFace EVO, into a Levinson 360S DAC. Jeroen logged into Spotify with his account and played all the tracks that he knew so well, but he had to agree with me that it didn't sound very impressive. Even if I will not likely mistake an mp3 file for a WAV, AIFF or FLAC file, mp3's can actually sound ok if done well, but the Spotify playback sounded even more compressed than my average local mp3, dynamically, in transient behavior, and timbrally. No matter how convenient the service is, based on the sound quality I decided there and then that this was not for me.
Spotify is also available on the AudioAanZee Reference Flow music server. At the time that I reviewed this server, it was said that Spotify had improved the quality of their streaming, so when I carried out the review, I included a comparison between Spotify and Qobuz. Apparently, Spotify is now streaming at 320kbs, and the Spotify app in iPeng tells me the format is Ogg Vorbis. Naturally I did not check hundreds of artists, but I did try to enter non-mainstream ones, and for each of the artists that I did try, I found many albums, many of them the complete range. Spotify also displays doubles, and sometimes this concerns originals and remasters, and that's easy to see from the year that is displayed under the album title. The originals and remasters did indeed sound different in the ways that you would expect, with remasters sounding louder and on the surface more expressive, but ultimately actually less dynamic and too much in your face.
Across the board, to my ears, the sound unfortunately has not improved. It really just sounds like mp3, and although there are no swooshing artefacts like could happen in the early days using bad encoders, Spotify still sounds very noticeably less lively than local mp3 files. There is precious little life or spirit present, dynamics are compressed, and it feels a bit like all songs are played in minor, the artists having an off-day or something. Alas, no matter how convenient and affordable, I can't recommend Spotify to audiophiles.
Do note that the free version of Spotify won't work with a Music Server: you need a premium subscription, currently 9,99 euro per month.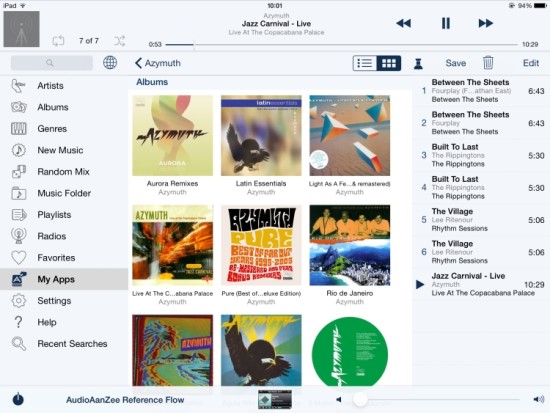 Above: Qobuz album view (no years mentioned)
Qobuz
Qobuz works in a similar way as Spotify, but offers FLAC streaming in "full CD quality", and this is indeed confirmed by looking at the track properties in the iPeng app. Qobuz does not offer a free alternative as Spotify does, but there are various types of subscriptions, ranging from 4,99 euro per month for 320kbs mp3 to 19,99 euro per month for true lossless 44/16 CD-quality FLAC. The database offers albums for every artist that I tried, but it doesn't always offer all the albums they made. Indeed, sometimes, Spotify offers even double the number of albums that Qobuz offers.
Like Spotify, Qobuz regularly shows duplicates of albums, and I found similar cases with the original album and a remastered version. However, unlike Spotify, Qobuz does not show the year, so unless the cover clearly shows the difference, you have to listen to both albums to make the distinction. As with Spotify, it was evident that the remastered versions played louder and sometimes cleaner, but always less involving than the originals.
Something I found quite annoying was the inability to cue (scrub) within a track. Spotify works the same as when playing a local track: you can just drag the progress bar to anywhere within the track. Not so with Quobuz: the track starts at the beginning, and all you can do is skip to the next track.
Qobuz versus Spotify
To assess the sound quality, first I cued up tracks from the same albums both for Spotify and Qobuz using the AudioAanZee Reference Flow music server and played them one after the other. It doesn't take golden ears to hear the difference: it really is night and day. Whereas Spotify sounds very restrained and uninteresting, Qobuz immediately does grab your attention by sounding much more articulate, faster and more transparent. Subtle details are clearer and the whole is more dynamic, too. There's life to the music, which is simply missing with Spotify.
Qobuz versus local CD rips
To further assess the sound quality, I played a whole range of albums that I also have on CD, using the best quality that Qobuz offers: 44/16 FLAC. Qobuz is not boasting: as I already heard in the Spotify comparison, their service really does indeed sound much, much better than on-demand mp3 streaming services like Spotify or regular streaming radio.
Even though Qobuz streams in lossless FLAC format, when compared to Local files, be they FLAC or WAV, I still cannot say that the quality is the same. No doubt, compared to Spotify, transients are faster and sharper, and there is definitely more of a lyrical quality to the performance, but the music still does not feel entirely unrestrained. I find the sound still somewhat veiled and slightly processed, not hugely distracting, but akin to listening with speaker grilles on (as opposed to removing them).
The important thing about Qobuz, though, is that everything that I tried definitely easily sounds good enough to enjoy. The "processed" quality as described above is not so evident that it ruins the performance, oftentimes merely offering a very mild form of polish, to make rougher recordings sound more friendly.
I am not bashing Qobuz, to the contrary: it is the best streaming service that I have thus far experienced. But it doesn't sound entirely as good as local files. Should it? Maybe not. For me, I still like to own the physical files, and I still buy CD's, for ripping, and to play at friend's places. But Qobuz is perfect for exploring new music, as well as for reminiscing with music from my youth, that I only want to listen to once more and not necessarily need to own.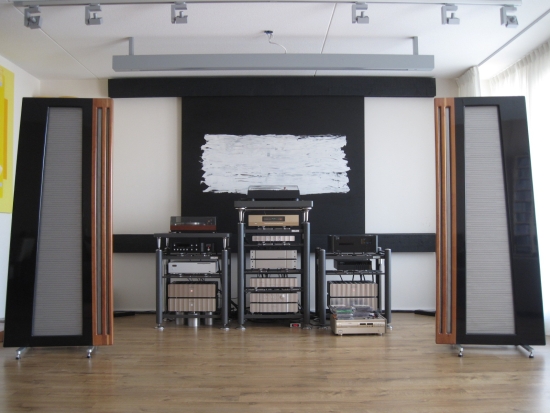 Above: the setup used to assess the differences.
Update December 2020
After many changes to my setup and having given Qobuz a new chance, I must add that my aforementioned reservations are no longer valid. Many recent releases now actually sound even better via Qobuz than from the ripped CD! How is this possible? I think it has a lot to do with the source (in the best case scenario a direct export from the workstation) whereas a CD is the result of many intermediate steps and requires ripping. I also have a strong feeling that the quality of the service itself has improved over time.
These days, I use Qobuz and my local library interchangeably in Roon (via HQPlayer into the Aqua LinQ) and, honestly, Qobuz sounds so great that I no longer worry about the source of the music.
Try out Roon for yourself
Read Also:
Qobuz alternative Tidal sound quality described in the Aurender N10 review