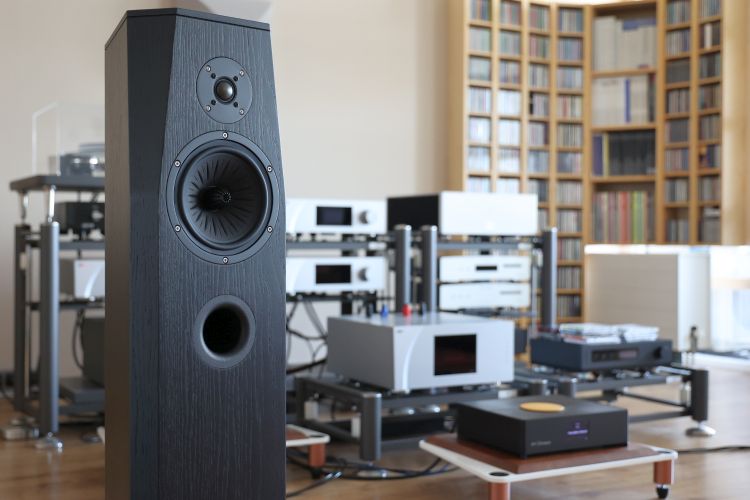 Review samples supplied by Driade
Benelux retail prices per pair including VAT:
Premium 2S Oak natural or whitewash – 5.000 euro
Premium 2S Oak black or white satin or American Walnut – 5.200 euro
Premium 2S Teak – 5.400 euro
MDF Fronts with black fabric and Neodymium Magnet-coupling – 400 euro
About Driade
Driade loudspeakers stand for natural sound, pace & rhythm, and revived joy in music. The research is mostly focused on natural sound reproduction and the loudspeakers' shapes are crafted to gracefully complement the home furnishing. The classic appearance may suggest otherwise, but Driade keeps up with the latest technological developments in loudspeaker design and even takes the lead in certain areas whilst remaining committed to offering an unsurpassed price-to-quality relationship.
Hand-made in the Netherlands and Germany
Driade is one of a few high-end loudspeaker manufacturers that develop their own drivers. All Driade drivers are designed by Arnold Heres in cooperation with Philipp Vavron. All drivers, enclosures, and other parts are exclusively manufactured in the Netherlands and Germany.
Premium Model 2S
It was a bit of a shame that I have reviewed various Driade cables but never any of their speakers. The recent Premium 2S provided the perfect occasion to rectify this!
The Driade Model 2 loudspeaker was recently replaced by the Model 2S. This model has a Carbon-paper woofer cone, coils impregnated and baked with polymolecular paraffin and induction-free resistors that are manufactured to specification for Driade. Upon first glance, one might not notice anything special about the Premium model 2S but the speaker's slender silhouette belies its sturdiness and structural integrity. Rather than using unnecessarily thick panels for the entire enclosure that needlessly add weight, cleverly-positioned internal bracing, two sand-filled cavities, lock-jointed, bonded 20mm dual-side veneered MDF paneling, and 20mm solid wood top and bottom ends provide precisely the right amount of strength and rigidity that is required to create a speaker that performs cleanly and uncolored yet lively and expressive.
Fitted in the two-way floorstanders are technically advanced transducers and innovative cross-over circuitry for seamless frequency, impulse, and phase control. Arnold is understandably close-lipped about it but the cross-overs are not standard designs. Likewise, the port on the front panel is not a straightforward bass-reflex port but rather a vent into several inter-coupled internal cavities, a construct that is aimed to provide not only deep-reaching-, but also very fast and articulate bass.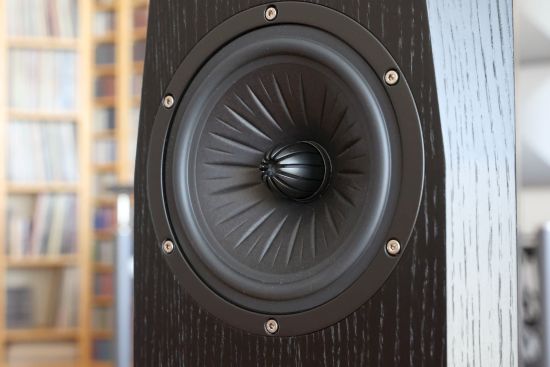 The 7" Carbon-paper bass driver features an open, airflow-optimized magnet system with ventilated phase plug construction, a 32mm voice coil, and a massive, under-hung magnet system with polished open pole plates whilst the 25mm hand-coated silk diaphragm tweeter features an extremely low resonance frequency. With an 88.5dB efficiency and a static impedance of 7.7 Ohms that drops dynamically no lower than 3.5 Ohms, the speakers are very easy to drive with any amplifier.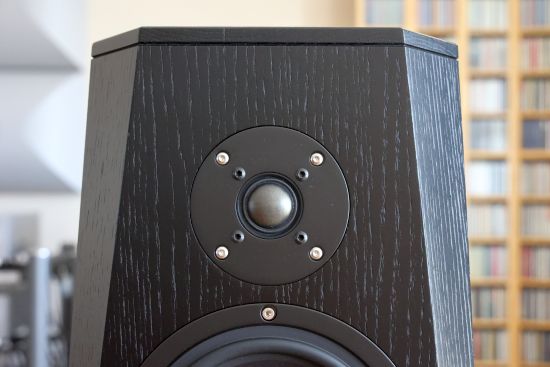 Driade does not use standard damping material or copper sleeves that encapsulate the voice coil gap. Internally, all Driade loudspeakers employ carbon-based damping material and proprietary Driade Flow cabling. Consciously, the company uses no bi-wiring option. For all Driade speakers, all components are measured and paired and the total of all components in one crossover set is paired within 0.1 %!
High-Quality spikes are fitted as standard and supplied along with floor-protecting discs. All models are available in real wood veneers and in black satin lacquered Oak (RAL 9005) or white satin lacquered Oak (RAL 9010).
Review Context
The main system used for this review consists of the CH Precision C1 DAC and CH Precision A1.5 power amp with Grimm MU1, Antipodes K50, and Taiko Audio Extreme Music Servers. More details can be found on the Main System page. For speaker cables, I used the Mad Scientist Black Magic, the Jorma Trinity, and the Driade Flow 405. The first are my current favorite cables for use with the Magicos (if cost is no object) and the latter have proven always to be hugely musical and easy-going performers.
The secondary system consists primarily of the Ayon CD-10 II CD player and the Ayon Spirit III integrated amplifier. Here, I used the same Driade Flow 405 as well as the FoilFlex speaker cables, and Driade Flow Link Reference 808 interlinks.
Additionally, Arnold provided a Kora TB140 hybrid tube/transistor integrated amplifier for two reasons: first, it combined very well with the Premium Model 2S, and second, at 5.000 euro, it sits in exactly the same price class. I will start with my own two systems and will save the Kora for last.
Initial Listening
Prior to being delivered to me, the speakers had been playing for over 100 hours during which, Arnold assures me, they have been properly tortured. As I often do with new review loudspeakers, I first installed the Premium Model 2S in my secondary system in place of the Xavian Perla Esclusiva and connected them to the Ayon Spirit III tube amplifier, to let them acclimatize and to get an initial feel for them. With their modest size (100 x 24.5 x 29 cm), the Premium Model 2S is less tall than the diminutive Xavians and one could be forgiven for assuming that the Driades might be best suited for smaller spaces. But as I already knew from audio shows, Driade speakers have no problems filling even very large halls, and this was about to be proven once again the moment that I fired them up.
It's clear from the very first notes that these slender beauties sound anything but small. Quite the contrary, they sound solid, well-rooted, confident, lively, and beautifully expressive. In those last three respects, they remind me of the Qln Prestige Ones that were also compellingly lively. But there's more to the Driades than first meets the eye and ear. While it's natural for a floor-standing speaker to outperform a monitor in the bass, the Premium Model 2S' bass is truly something special. For a minute, though, I thought that the FoilFlex speaker cables were responsible for that especially nimble bass quality but a swap to the smoother and rounder Driade Flow 405 proved otherwise, while resulting in a lusher, more relaxed delivery, the speakers still provided the same kind of immediate propulsion and expression.
Playing Chris Standring's latest CD Simple Things, the Premium Model 2S are remarkably well-behaved in the bass and while deep and super-articulate, not at all thick or boomy. With both cables but certainly less so with the Flow 405, the upper midrange and lower treble are quite forward but even with the very explicit FoilFlex, the sound is not edgy or sharp. Honestly, I'd much rather have speakers behave like this than the all too common inverse alternative: speakers that sound saddled: with a dip in the midrange, making them cozy and forgiving but also less exciting. After a few minutes, I'm already growing accustomed to their balance and the impression solidifies that the speakers are not only articulate and expressive but judging from my tapping foot, PRaT is also a very strong asset. These speakers really know how to boogie!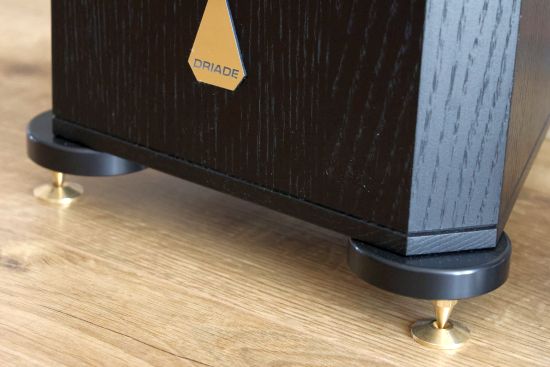 Another strong quality of the Premium Model 2S that really speaks for their design is that you simply cannot hear the transition from woofer to midrange. Audio buddy JW was particularly quick to pick up on this, noting that the speakers sounded very coherent and with no dips or audible phase shifts in the very important midrange, and in that respect, more like a well-executed 3-way than a 2-way speaker, as well as having no perceptible cabinet coloration. The latter is an important aspect for JW and me alike since we both have a long history with dipoles, which are known for their inherently low coloration.
As it rarely happens anymore, I found myself listening to the entire CD, which left me wondering why I don't spend more time with my secondary system. Well, the answer, of course, is the change of speakers. There's something quite addictive about the Premium Model 2S. As I listened to the entire CD I could only conclude that they are capable and deeply engaging performers.
Changing to Brendan Rothwell's rather luscious and full-sounding Sentiment CD or any of Brian Culbertson's latest Trilogy CDs, alas, the room mode made itself known and the bass excess took me out of my zen mood. Still, the midrange was crisp and expressive and the upper bass articulate and precise. Although there was now a rather voluminous room-induced bass boost, I was surprised to find that it was very evenly distributed and not confined to a single frequency, as is normally the case in this room when using full-range speakers, especially big ported ones. Of course, any speaker that extends more deeply than the Xavians will excite my room mode and the only reason that I'm normally getting away with this is that the Xavians roll-off in the bass just before the room mode kicks in. That way, the room mode actually aids the bass response, rather than messing with it, as is all too often the case.
This does illustrate that, in order to achieve the most even-handed sound from the Driades, as with pretty much any loudspeaker, you should not place them too much into a corner.
Interestingly, with these warmer-than-average CDs, I did no longer notice any forwardness in the upper midrange but once I had reconnected the Perla Esclusivas, I was surprised to find them sounding like they had a suckout in the upper midrange. Moreover, the normally quite spicy performers now sounded a little lackluster, confirming that the Driades really are exceptionally expressive.
In any case, given the pleasing results with the Ayon amplifier, a nice takeaway from this first listening session is that the Driades seem to be really happy when paired with tube amplification.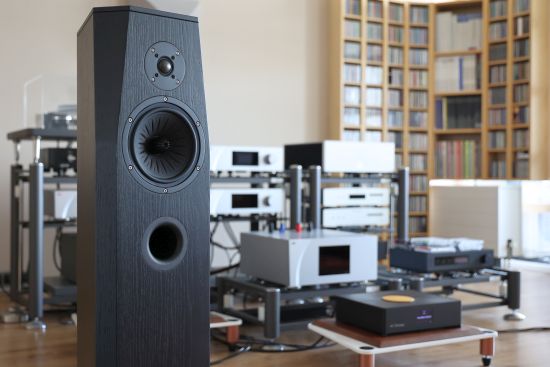 Next: Main System