Way Cables Substance Plus Power Cable
Review sample supplied by Colab
Retail price in the Benelux (including 21% VAT) 1,5m: 1.725 euro
Way cables are made like no other cables. Hand-made in Serbia, a major part of their design is the proprietary cotton damping construction but the conductor materials and their configuration are not left to chance, either. The Way Cables site describes all this in detail and so, instead of copy-pasting that here I will simply mention the highlights.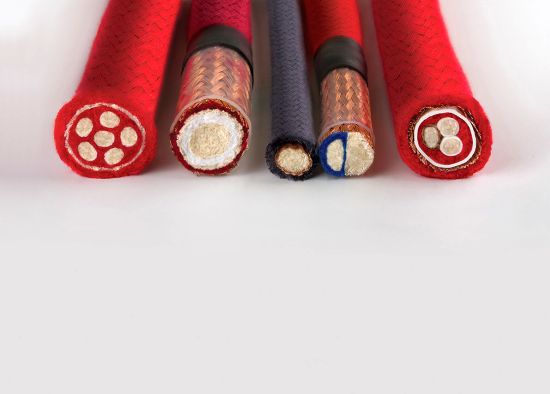 Technical Highlights
The Substance Plus power cable employs the UXD4-WAY™ Extreme Damping System using cotton with a 1.3 dielectric constant, sheathed with breathable yet waterproof PTFE. There is a separate pure copper braid shielding for grounding and the entire cable. The conductors for Line, Neutral and Ground are a Multi-core hybrid comprised of 5N single-crystal silver and 6N single crystal copper wires with a gauge of 14.15 AWG / 2 mm² per conductor (3x 2 mm² per cable). Fitted are IeGO power connectors with 4N copper contacts, customized with double 4N silver-plating (including ground). Finally, the connectors have been fitted with an anodized aluminum damping ring. While the cable is fairly thick with an outer diameter of circa 21 millimeters and is suitably heavy, it is extremely flexible.
The cable is specified as having a burn-in time of over 100 hours but I was informed that it had been run in already. Just to be on the safe side, I gave it a couple of days of use prior to any serious listening.
Review Context
The review system is centered around an Antipodes CX+EX music server combo, a CH Precision C1 DAC, a CH Precision A1.5 power amplifier with Martin Logan ESL15A and Magico S1 MkII loudspeakers. Additionally, I will make comparisons using the NuPrime ST-10 power amplifier and the APL DSD-AR DAC. For power cables, I normally use Belden 19364 with Bals schuko and Oyaide C-004 IEC connectors.
While both speakers are very transparent and exceedingly neutral, the CH Precision C1 DAC and the Antipodes combo have a tonality that tends slightly to the earthy and full-bodied. Because I use no preamp, that works out perfectly in this system, creating a highly revealing and neutral sound while avoiding sounding clinical or tonally gray. To offset the DAC and server's inherent slight darkness, I also use two different CD transports of which the Aqua La Diva, in particular, sounds extremely neutral and open. As I just finished the APL DSD-AR DAC review and the unit was still connected, I opted to start my assessment of the Substance Plus power cable (and the Way Cables Champagne Plus USB cable) with this highly transparent DAC.
Listening
As soon as I connected the Substance Plus, I noticed that the sound of this cable was very different from my usual cables. As a starting point, I normally use standard Belden 19364 cables with Bals schukos and Oyaide C-004 IECs to obtain the best balance between neutrality and refinement. These cables are far from spectacular, not warm, not smooth and in no way exceptional. But that's precisely fit for purpose as this yields predictable results when evaluating review components in my system. As such, these cables also cannot act as tuning devices. The Way Cable, however, operates differently. While very revealing and not colored, it nevertheless has a strong character that makes it more of a tuning instrument than a neutral pass-through conduit. As it turned out, this cable alone can pull a system's performance from slightly cool to smooth and sweet.
Like the USB cable, the Substance Plus power cable has a velvety-smooth, luxurious and spacious delivery quite unlike the comparatively rather dry and business-like presentation of the Belden cables. Unlike the USB cable, though, the Substance Plus power cable has an emphasis on the lower end of the audio spectrum.
The Substance Plus power cable honors its name by sounding quite substantial indeed. It has a sonorous delivery with very solid and full-bodied bass, a warm and liquid midrange and super-refined yet comparatively toned-down treble. It's not that the cable sounds dark per se, its treble is highly resolving and nothing is left out, but this perception is a result of its bass being so forceful while its treble is very mild and sweet. This is not an unusual balance, though. There are other cables in my arsenal that have a similarly powerful bass-focused balance such as the Vermouth Reference, although it is otherwise a very different cable. A better example of a cable with an overall comparable character is the Taiko Nagado. I no longer own this cable but if memory serves, it had a less solid and forceful, but similarly lush sound. When comparing with the Belden, however, or a Siltech SPX or an NBS Dragon/Fly, one could label the Substance Plus as being slightly dark. Another perspective could be to label the Beldens as overly open on top. Honestly, who can determine absolute neutrality? Obviously I can't, but for me and based on my experience, the Belden cables are quite neutral and not tipped up as some others actually are. Whereas the Beldens can be a little unforgiving the Substance Plus has an inherent sweetness which combined with extremely high resolution makes for a treble that is revealing yet never unpleasant. There's that, and the Substance Plus actually makes the Beldens sound quite insubstantial.
A matter often left untouched is timbre. It is the measure with which a cable or component allows instruments to be replayed with their natural texture and tonality. Here is where the Substance Plus also excels. This cable's timbre is wholly natural and very realistic, more so indeed than with the Belden. A big part of this lies in the fully-developed bass (which is further substantiated by the IeGo connectors) but it also seems obvious that the cotton plays a major role in this by not adding the typical PVC colorations.
The cable's unforced and natural delivery makes it easy to stop fretting over technical details and letting the flow of the music takes over.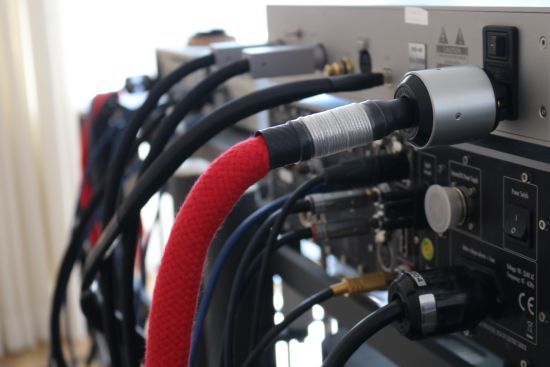 In a way, the Substance Plus is not a typical audiophile cable. It actually has a remarkably refined and highly resolving delivery but it goes about it with such calmness and poise and with such a buttery-smooth overall balance that it presents as a far cry from the more usual uber-crystal-clear, over-delineated, in-your-face and often overly controlled alternatives.
In terms of soundstaging, the Substance Plus presents the music in a very deep and very wide canvas. It throws a room-filling bubble of ambiance in which all the individual sounds seem suspended freely mid-air, flowing freely in the soundstage.
The Substance Plus allows all the musical ingredients to shine through but with slightly less transient attack and overall expression than with cables that I regard as being more neutrally-balanced. This cable's rich and relaxed presentation makes that it is not the ideal candidate for inherently rich or full-bodied sounding components and it is indeed not the best match with the CH Precision C1. Less full/more slender sounding DACs such as the APL DSD-AR, the Weiss DAC502 and the Aqua Formula xHD, however, all combine very well.
Conclusion
The Substance Plus power cable honors its name by sounding quite substantial indeed. It has a sonorous delivery with very solid and full-bodied bass, a warm and liquid midrange and airy and super-refined, decidedly non-forward and very well-behaved treble. It's not that the cable sounds dark per se, its treble is highly resolving and nothing is left out, but this perception is a result of its bass being so forceful while its treble is very mild and sweet. It emphasizes smoothness, tonal richness and musical flow over transient sharpness and the sense of attack. Meanwhile, however, it is remarkably refined and actually extremely hi-res but without sounding the least bit edgy. As with the Champagne USB cable, I find that the single word to best describe this cable's performance is Magic.
External Links
Manufacturer: waycables
Distributor for the Benelux: Colab
Read also