Way Cables Champagne Plus USB Cable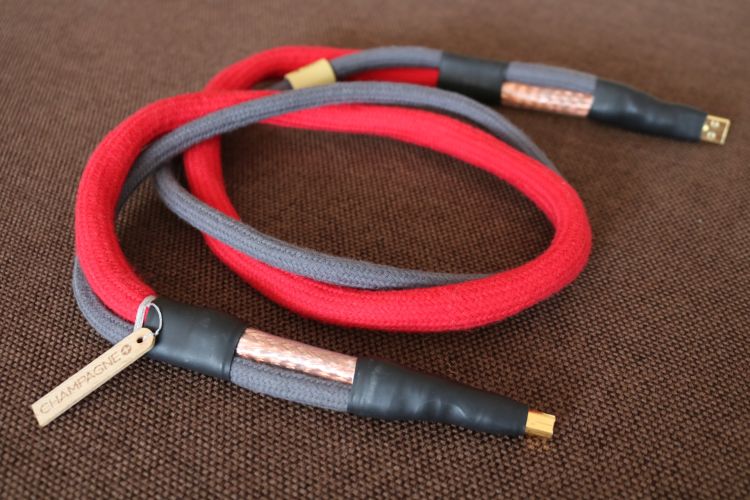 Review sample supplied by Colab
Retail price in the Benelux (including 21% VAT) 1-meter: 933 euro
Way cables are made like no other cables. Hand-made in Serbia, a major part of their design is the proprietary cotton damping construction but the conductor materials and their configuration are not left to chance, either. The Way Cables site describes all this in detail and so, instead of copy-pasting that here I will simply mention the highlights.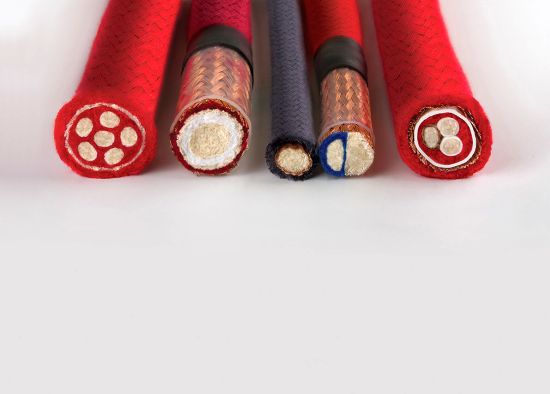 Technical Highlights
The Champagne Plus USB cable employs the proprietary UXD3-WAY™ Xtreme Damping System using Cotton with a 1.3 dielectric constant around solid-core, identical, 5N single-crystal silver wires with a partial pure copper braid shielding for shielding signals and a separately isolated (fully shielded) power line. The signal wire gauge is 16.63 AWG / 1.13 mm² while the power & grounding wire gauge is 17.86 AWG / 0.85 mm².  The connector contacts are made of gold-plated HQ copper alloy and are soldered using lead-free, high-silver percentage solder. With an outer diameter of circa 24 x 16 millimeters, this is quite a massive cable yet it is extremely supple and quite lightweight.
The cable is specified as having a burn-in time of over 100 hours but I was informed that it had been run in already. Just to be on the safe side, I gave it more than a week of continuous running time using the Antipodes CX+EX combo and Roon on shuffle using the APL DSD-AR DAC that I just finished reviewing.
Review Context
The review system consists of an Antipodes CX+EX music server combo, a CH Precision C1 DAC, a CH Precision A1.5 power amplifier with Martin Logan ESL15A and Magico S1 MkII loudspeakers. Additionally, I will make comparisons using the APL DSD-AR DAC.
Listening
After having been connected for well over a week while continuously playing music from the Antipodes CX+EX combo into the APL DSD-AR DAC, my listening session started. Even without a direct comparison, it was immediately obvious that something was different. Clearly, the Champagne Plus USB cable has a marked influence. The sound of this cable is smooth, rich and lush, with juicy-liquid mids and a very gentle and airy treble. There is an immense sense of freedom with this cable, an almost magical and rather un-electronic manner of music-making indeed. The lush and seductive midrange sweetness also extends down into the bass where it adds a friendly bloom that nevertheless leaves this region slightly less well-defined than I prefer it.
In order to put the cable's performance further into context, I also pulled out the Pink Faun USB cable, which is itself one of the richest-sounding cables I have heard. Indeed, compared directly, the Pink Faun also sounds voluptuous and tonally full but with tighter and more solid bass. The Pink Faun has an overall energetic and impactful delivery but while it is tonally similarly full, it does not sound quite as lush and organic as the Champagne Plus and is considerably less free-flowing.
While on the subject, the Final Touch Audio Callisto is my most free-flowing USB cable and in comparison to the Champagne Plus, its signature airiness and tight yet fluid sound is still evident. In other comparisons, the Callisto usually errs on the gentle and ethereal side and it usually does not have the most solid bass or the most impact overall. In comparison with the Champagne Plus, the Callisto's bass is also definitely not as big or full but it is tighter and more articulate and this comes along with more presence in the midrange. What's interesting is that compared to the super-lush Champagne Plus, the Callisto sounds relatively sober and matter of fact. Go figure. I have heard a lot of USB cables and I can comfortably say that the Way Cables Champagne Plus USB cable has created a very special category all for itself.
But as I had already established in the APL review, this DAC has a tendency to reduce the differences between USB cables. Given that the Way Champagne Plus still puts its mark on the sound so very clearly, how does the cable fare with another DAC?
More Listening
With the inherently full-bodied-sounding CH Precision C1 DAC, the Champagne Plus is creamier and more liquid, as well as spatially more atmospheric than the Callisto. That last observation is quite remarkable because the free-flowing aspect and the room-filling aura were where the Callisto normally excels in comparison with other USB cables. Yet, the Champagne Plus effortlessly manages to further improve on this.
In line with the results using the APL DAC, the Champagne Plus's bass with the C1 is fuller and bigger but also less incisive. The treble is again sweet and airy and the midrange is especially warm and smooth and while the cable's overall perceived speed is relatively unaffected, the abundant creaminess does affect the perceived dynamics and attack in the midrange. With the C1 more so than with the leaner APL DAC, in creating this particularly lush sound, the Champagne Plus's transients are just a little softer and gentler and slightly too rounded on their peaks, for my taste at least. What this does yield, however, is a sound that is utterly stress-free which allows for relaxed listening for hours on end.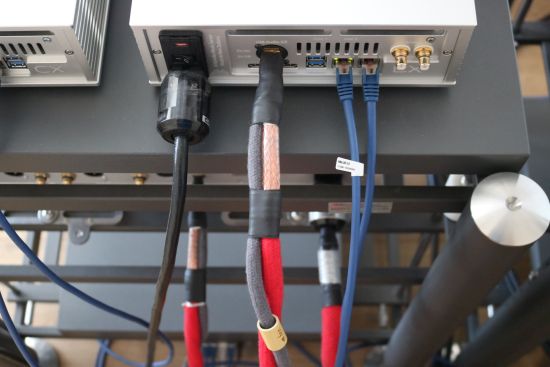 Throwing in the Pink Faun USB cable again for a final comparison, it neatly positions itself midway between the Callisto and Champagne Plus. The Pink Faun cable is similarly full in the bass but a little bit more solid, less lush, but more upbeat, with more slam and an enhanced sense of PRaT and with more presence in the midrange. While the Pink Faun also has a smooth delivery, it is not quite as liquid and free-flowing and therefore arguably less magical than the Champagne Plus. Indeed, when coming from the Champagne Plus, any other USB cable sounds a bit sober.
The more digital cables I review, the more it seems like magic can only be had at the expense of an amount of precision, which exhibits itself mostly in terms of transient sharpness, articulation and overall expression. The more magical a cable is, the less it has that old Naim-like "Rock 'n Roll" PRaT and vice versa and because of this, the Champagne Plus will likely divide opinion. But even though I tend to favor tightness and neutrality over a euphoric presentation, this cable's seductive sound offers a unique proposition.
Conclusion
The Way Cables Champagne Plus will no doubt divide opinion. There's nothing wrong with that – after all, no two systems are the same and personal preferences will always vary. This is a cable that will be ideal for those who value spatial immersion, smooth creaminess and free-flowing liquidity over tight transients and speed.
External Links
Manufacturer: waycables
Distributor for the Benelux: Colab
Read also