CH Precision P1 Phono Preamp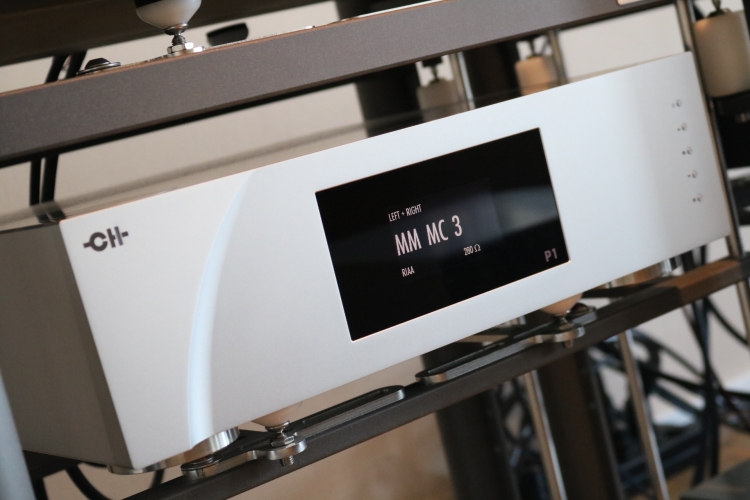 Review sample supplied by CH Precision
Retail Prices in the EU (incl 20% VAT):
P1: 31.000 euro
Optional EQ board: 1.800 euro
Life is all about setting priorities and the audio hobby really is no different. Especially given the cost of ownership with components in the upper echelons, one has to carefully weigh the benefits of every upgrade prior to committing to it. My main system basically consists of two parts: a digital music server-based part and an analog turntable part. Even though I have often raved about the special qualities that are hidden within those black discs, so far, I never committed to spending even remotely similar amounts on the analog chain as I do on the digital part, mainly because digitally stored music is my primary source. As regular readers will know, I am deeply impressed with the quality of CH Precision electronics and adding their state of the art P1 phono stage would seem like an evident decision. Indeed, that thought had crossed my mind several times but, so far, I remained hesitant.
Of course, there is an obvious reason for this. Money. The cost of ownership is very serious and my income not infinite. So, when it was time to decide where to spend the available funds, I opted to further enhance the DAC and the power amp and stick with the SW1X LPU-1, Benz Lukaschek PP-1, and Schiit Mani phono stages that I already have.
One very nice aspect about analog replay is that even a very modest but properly calibrated classic Thorens TD160 MKII turntable with a good cartridge and one of the aforementioned phono preamps can produce a sound that already challenges even very costly digital components in certain areas. The communicative aspect and the effortless emotional connection are what seem to be embedded in the DNA of analog replay and these aspects seem to come out even with modest means and especially so when using the tube-based SW1X phono stage. Because these are the aspects of analog replay that I value most I had accepted that my digital system was much better in several other areas. I did try upgrading from the humble Thorens player several times but with mixed success. Usually, the dearer turntables would indeed improve on the Thorens in several audiophile aspects but also diminish others leading to a loss of emotional involvement.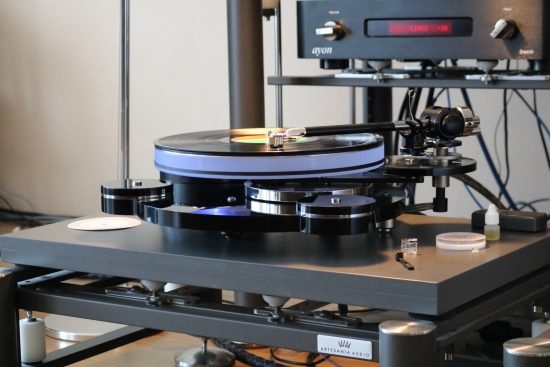 It wasn't until I got the Origin Live Calypso mk4 turntable with Multi-layer Platter with Illustrious arm (review forthcoming) and Aidas Rainbow MC cartridge, that I finally got a slice of proper high-end analog replay. This combination did everything that the Thorens player could, and then some!
The major improvements that the Origin Live turntable and Aidas cartridge injected into my system triggered me to think about further upping the game with a more serious phono stage. So far, for MC cartridges, I had to "make do" with the Schiit Mani or the Benz Lukaschek PP-1. The former is surprisingly capable but it remains an entry-level phono stage. The latter is actually a very good phono stage but it uses an extremely high 22.000-ohm input impedance that cannot be altered. Although the maker claims that this leads to the best sound (with certain Benz cartridges, at least) I feel that this is far from ideal (with the cartridges that I used it with, in any case). In my experience, most MC cartridges sound much more balanced and less shouty when terminated with much lower values in the range of 180-300 ohms.
About 6 years ago, I owned the Pass Labs X-Ono phono stage and a couple of years later I reviewed its successor, the XP-17. While the former was great and the latter was really excellent, I was not happy with the requirement for taking off the top of the X-Ono or to crawl behind the rack for the XP-17 to get to the rows of microswitches for cartridge loading and gain setting. Although both offered an abundance of possible values to choose from, these were derived by combining two or more positions of the aforementioned microswitches using a lookup table in the manual in the case of the X-Ono and a printed pin-out on the back of the XP-17 and both of these solutions were just too fiddly for me.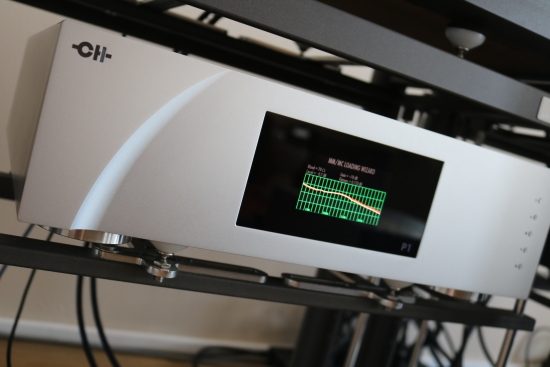 For my reviewing purposes as much as for my inherent constant cartridge swapping-behavior, I now wanted a phono stage that offers access to all the important settings directly from the front panel and ideally even via remote control. I looked at all the available serious phono preamp brands and models and, honestly, with this requirement in mind, there aren't that many. Also, given that I was by now used to listening with CH Precision gear for the digital section, I was finally motivated to make not just a step up but the biggest possible leap that I could. Of course, the option that stood head and shoulders above the rest was, you guessed it, the CH Precision P1. The top two Pass Labs phono stage models also catered to my operability needs with a good range of selections available from the front panels. However, these are not priced quite as friendly as the XP-17. Given that the CH Precision P1 is much more flexible still, has that marvelous tablet control right from the listening position and since I had no doubt that it would match with the rest of my system so nicely, at a certain point, its elevated price didn't look like such as stretch anymore. I know, an audiophile's rationalizations have no bounds. One guy gets a brand new car, another guy gets a state of the art phono stage. Oh well. But anyway, with its price point out of the way, let me tell you all about why I think the P1 is so great.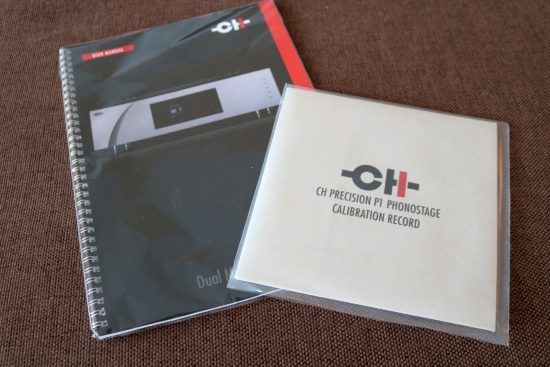 Flexibility
The P1 phono preamp not only offers all the flexibility that anyone could ever want along with all of its settings neatly accessible via the front panel buttons and display, it actually allows the user to control all of its parameters conveniently from a tablet in real-time right from the listening position. By default, the P1 holds the standard RIAA and eRIAA playback equalization filters. Additionally, a set of other EQ filters is available as an option board that can be factory fitted or retrofitted to the unit. These additional filters are EMI, Columbia, Teldec, and Decca and these come in handy when playing old records that were produced before RIAA became the standard. All the equalization filters are extremely accurate and linear within +/- 0.1dB.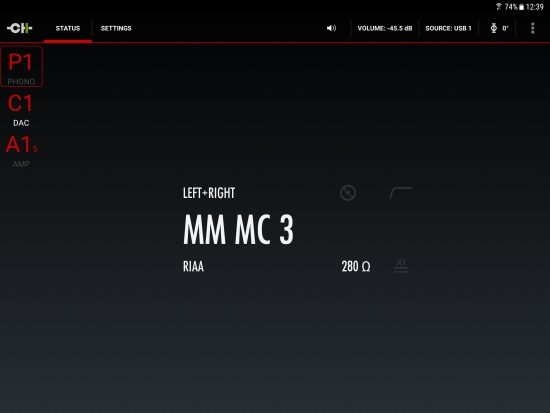 Main status overview in the app, mimicking the information on the P1's front panel display.
The settings page is comprehensive (only part of it is shown here) and contains every function that you could wish for including separate adjustments for the three inputs.
The unit offers three inputs all on XLR as well as cinch and BNC, two of which are in current mode, dedicated to MC cartridges and the third input is in voltage mode, accommodating both MM and MC cartridges. The MC-only current mode input takes the current generated by the cartridge (rather than its voltage) and, according to the manufacturer, this yields a superior signal to noise ratio and better immunity compared to a conventional voltage-input, and by its nature no necessity to match impedance. Apart from the gain selection, this method is Plug and Play. The voltage mode input is used for all types of cartridges (MM and MC) and this input is fitted with a resistive load that is variable between 20 Ohms and 100 kOhms in what seems like a gazillion steps. The manual states that there are actually over 500 values available. The gain can be set at +35dB, +40dB, +55dB, +60dB, +65dB, and +70dB and there is also a user-selectable 3rd order high pass filter set at 10hz.
The cartridge loading can be set in over 500 steps of 5 ohms either by dragging the bottom rotary knob for large steps or the top row for small steps.
What's more, and this is a unique feature as far as I am aware, the P1 even has an automatic calibration system that uses a supplied calibration record to yield the best signal to noise ratio and the flattest frequency response, measured across the entire system of the cartridge, cables, and P1 input section. This procedure performs more than 20 frequency response curve acquisition per run, each time with a different loading value spread evenly on a user-defined range of values. Once these acquisitions are completed, you can scroll across all analyzed loading values. For each value, the frequency response curve of the entire system is displayed on the P1 front panel screen, along with level attenuation and curve flatness. Based on this information as well as by listening while applying each loading in real-time the loading that provides best results can be selected. The wizard can be run more than once, each time refining the measured loading range around the new optimal value. With such an extensive set of options and automated calibrations, the P1 is truly a feature fetishist's dream come true.
Technology
The P1 is a pure Class-A discrete transistor-based design. The abundance of possibilities might make one think the signal is digitized but although the unit does indeed contain a digital section for control and analysis, the music signal stays firmly in the analog domain throughout. There are tight tolerance, high-grade metal film resistors throughout the audio signal path as well as custom high-grade film capacitors in the filtering sections. The P1 is powered by a massive linear power supply with multiple independent local regulation circuits. In addition to the main toroidal transformer, a second, smaller toroidal transformer is used for the standby mode that meets the latest energy-saving regulations.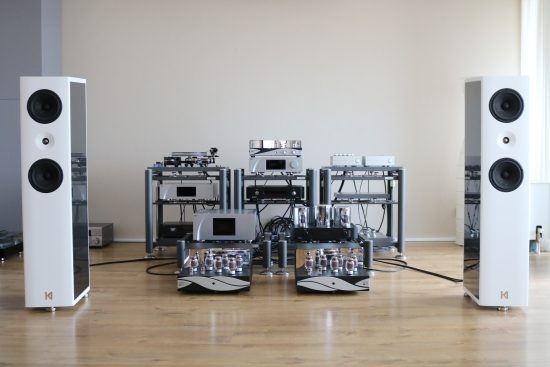 System Context
The listening started using the CH Precision A1.5 amp and the Kroma Audio Carmen loudspeakers with the Ayon Stealth tube preamp and alternately with the Ayon Spirit III integrated tube amp instead of the CH A1.5.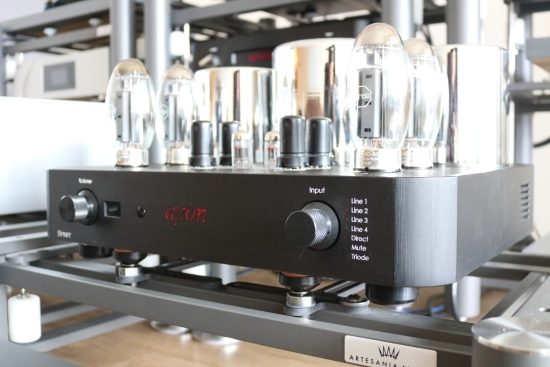 Naturally, a CH Precision L1 preamp would have been a more obvious choice between the P1 and A1.5 but although I have already planned to review one in the near future, at the moment, I cannot afford to also add it to my system. So, for now, the Ayon takes care of all my LP playback duties. While the Ayon is not extremely transparent, it has a very engaging delivery and never gets in the way of the musical flow. What's more, as it has become the standard preamp for my LP chain (both in the main and secondary system), it makes a dependable partner. In terms of loudspeakers, I am not hinging my conclusions on a single set. While the Kroma Carmen loudspeakers are even-handed, quite neutral and very revealing, they are also tonally tilted toward a full and rich sound.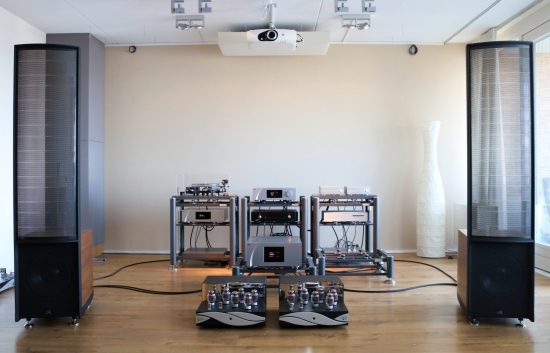 To offset this, I also used a pair of Martin Logan ESL 15A electrostatics, which are very transparent and can certainly not be said to add any richness to the sound. The Logans have a very low dipping impedance that makes them incompatible with most tube amplifiers and so, these speakers were used only with the full CH system. As it would turn out, the P1 phono stage works just as sublimely with both speakers. The big Zesto amps will be reviewed separately.