XFi 2019 Show Report – part 3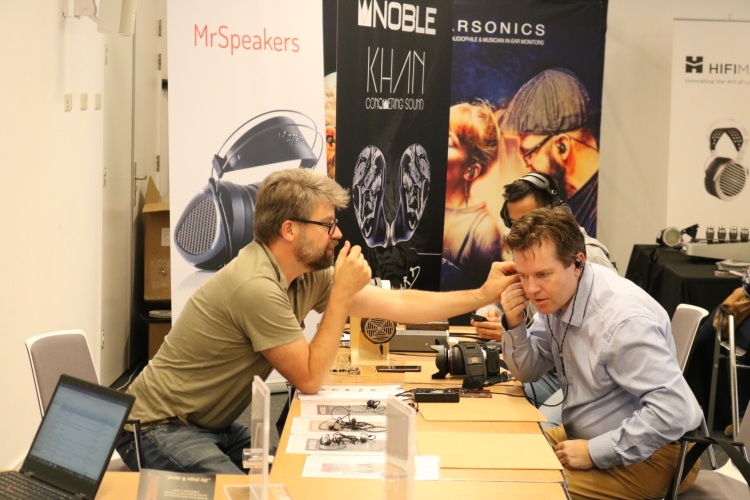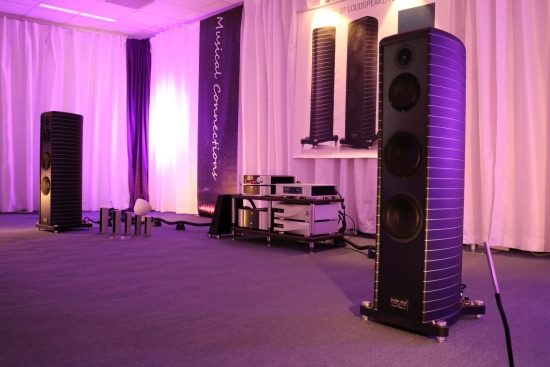 The More Music room was one of the highlights of this show with Aurender server, dCS conversion, Moon amplification, and Gauder Akustik DARC 200 speakers, the latter with Black Accuton ceramic drivers. The sound was simply staggeringly good in all aspects: transparency, richness, speed, weight, detail, refinement, etcetera. This system just does it all. The quality of the electronics notwithstanding, I have a feeling that Gauder is truly onto something with these damped machined aluminum-slice cabinets.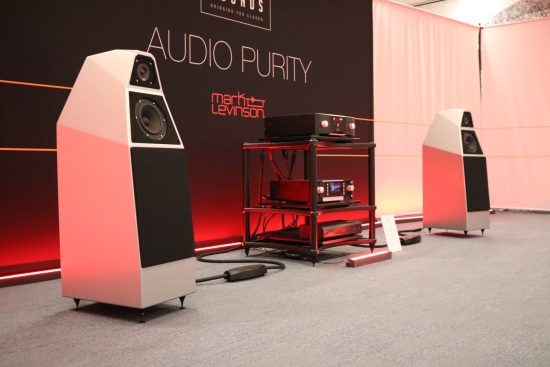 As I missed the Wilson Alexx demo last year, this year I made sure to not miss the Reference Sounds room again. Although it was "only" the Yvette playing, I'm glad that I did visit because the system played beautifully. Michael told me that initially, the room had lots of issues but clearly, his efforts to cure this have paid off. This system with Mark Levinson no. 5805 integrated amplifier and Mark Levinson no. 519 media player clearly showcased the typical Wilson "live-performance-like" qualities while having none of the occasional treble hardness that could plague older designs.
Aspera showed the YG Acoustics entry-level model Carmel with a full PS Audio Stellar system including the new Stellar phono stage in an Artesania Exoteryc rack and TW Acustic Raven GT2 on a Krion turntable platform. This was the first time for me hearing the Carmels but I was happy to find that these speakers also most definitely possess the YG DNA. They sound open, airy, and transparent and extremely linear. And as far as I could hear in this setup and during the time that I spent in this room, I did not feel that there was anything lacking in the bass. Well, perhaps the speakers were a little lean but because they are so linear I did not want for bigger bass.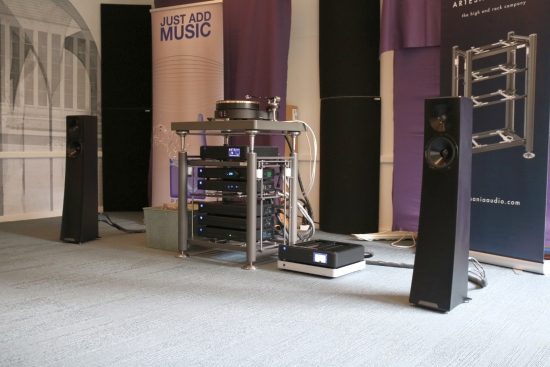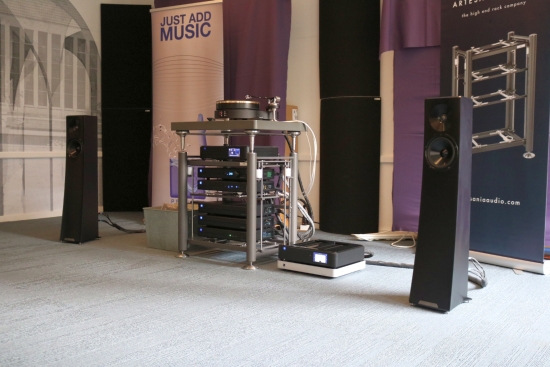 At the end of the day after having re-grouped with my friends, audio buddy Niels told me that I had missed something really great which is the Steinway Lyngdorf Model B room. With this digital system, all speaker units are directly controlled via the RoomPerfect room correction software. Judging from the image below, indeed, I wish that I did hear this remarkable open-baffle system.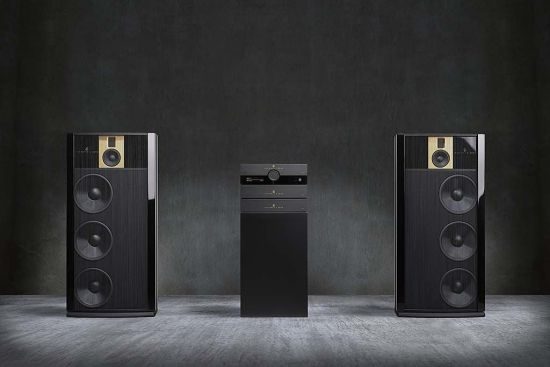 Also missed, due to overwhelming crowds and closed doors is the Hexagon Audio room that showed Aqua and Lejonklou, among others. What I know is that the new Lejonklou Entity MC phono stage was revealed with the production version being expected in about 4 weeks and that Aqua is about to issue some interesting items. First, a new output board for the Formula xHD DAC which is said to transform the DAC's performance. Second, the Aqua LinQ streaming endpoint which will have I2S connectivity which is great if you have an Aqua DAC or another compatible DAC. I will have more to say about these products soon because a review is already scheduled. The board is already available and the LinQ is expected to be issued near the end of this year.
Running in, Room Modes, and Flutter Echo
Rooms can create lots of issues for the audio systems that are demoed in them. Still, I have to say that this year, the large majority of rooms sounded very well-balanced. And thankfully there was very little tendency to "blow the roof off". Even in the AvantGarde room, the music was played at a civil level, go figure!
Room issues aside, the exhibitors sometimes use products that have "rolled off the presses" just prior to the show and they have only limited time to tune the rooms and tweak the systems. This means that sometimes there can be a great synergy and a system sounds sublime and other times a system may perform less than stellar. And, of course, there is only one spot in a room where the sound is ideal, meaning that basically all the other locations are compromises where the sound is off-balance, sometimes, even to the point of being unacceptable. It is important to be aware of these factors.
Headspace
Thankfully, with headphones, room acoustics considerations absolutely do not apply. The  large Headspace was filled with more gadgets than I could count. Despite the wall-to-wall desks filled with equipment, this space had a very serene feeling and, of course, no music was heard and this was actually quite pleasing and relaxing after having heard so many systems.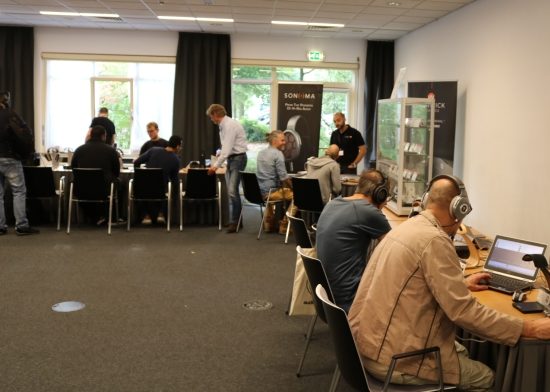 One corner of the X-Fi's Headspace section.
Here's audio buddy Niels getting in-ears fitted with help from Harry Meewisse of Glorious Sound.
The large Headspace room showcased more brands than I could count. According to the official X-Fi rundown, there were products from Lotoo, Shanling, Hifiman, Final Audio, Burson, 64 Audio, Campfire Audio, MrSpeakers, Earsonics, Meze, Feliks Audio, VivA, Chord Electronics, Abyss Headphones, XIaudio, Spirit Torino, Astell & Kern, InEar Germany, MySphere, RAAL Requisit, S.I.N. Audio, Modenaudio, Room's audio line, Riviera Labs, FiiO, iFi Audio, Ikko Audio, RoonLabs, Airtight, Noble Audio, oBravo, Cayin, and Dethonray. Phew, that's quite the list…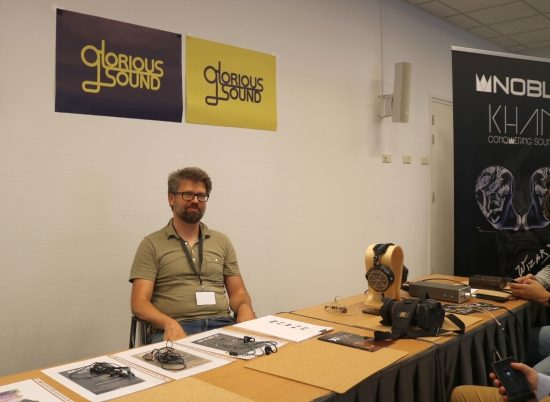 Here's Harry Meewisse of Glorious Sound, you got to love that name! Among others, Glorious Sound is the importer of USA-base in-ear brand Noble. Harry let me hear a selection of his in-ears and I have to say that I was absolutely surprised at the superb sound quality that is possible with these tiny earphones. They're not only good considering their size but they are better than literally anything else that I have heard and that includes large over-ear Sennheisers such as the HD650 et al.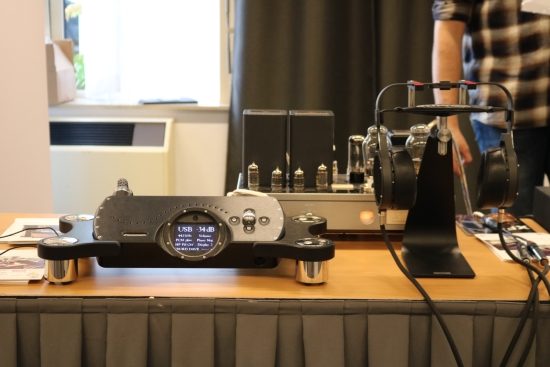 Chord DAVE with Spirit headphones.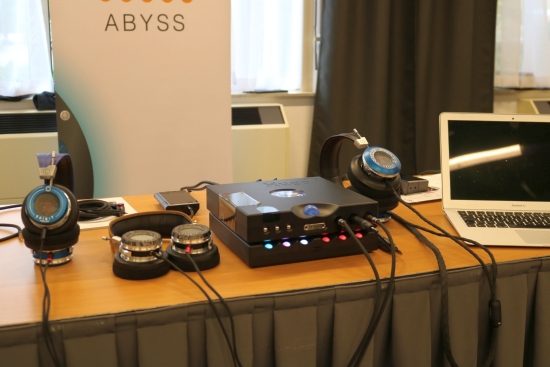 Chord HUGO TT 2 and M SCALER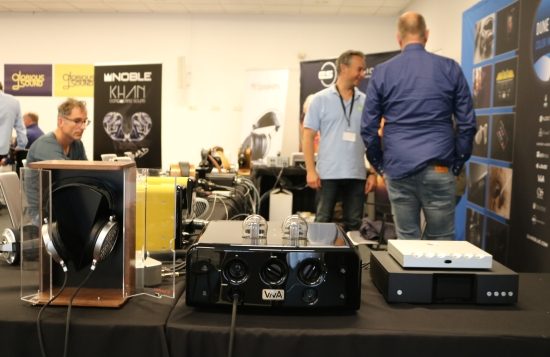 Viva Egoista STX – for its shape alone, I must have one!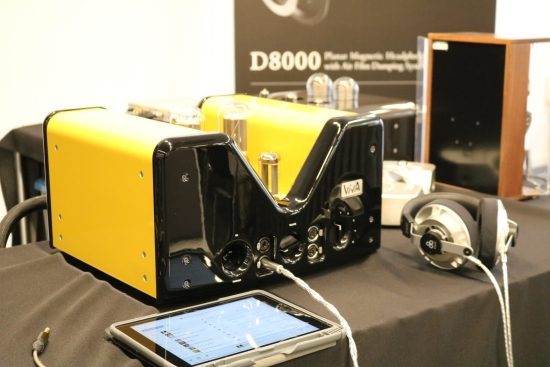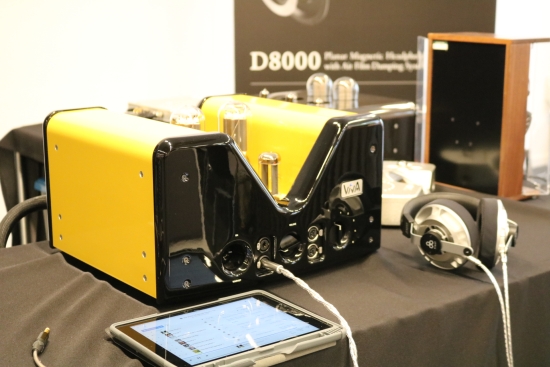 Viva Egoista 845 – a headphone amp using 845 tubes, that's insane! Insanely interesting, that is!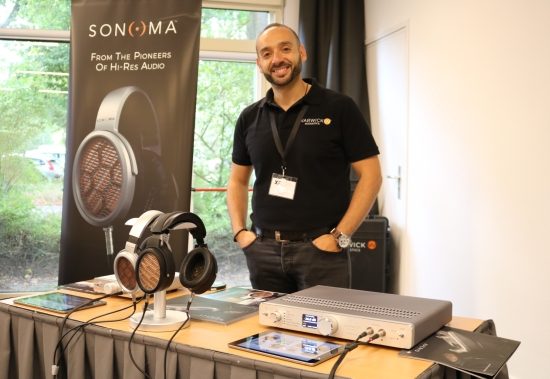 Warwick Acoustics Sonoma electrostatic headphones.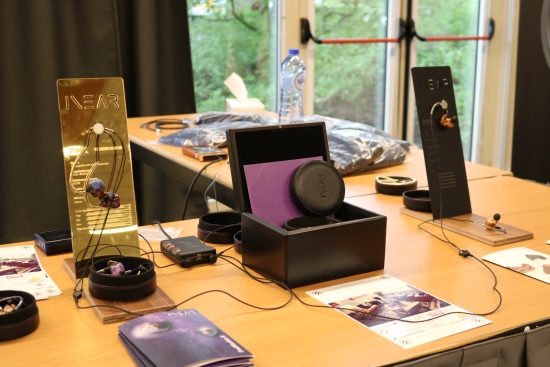 InEar Germany.
That's it…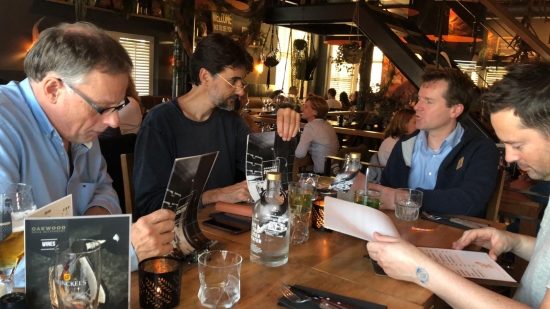 Dinner at Oakwood with the boys: JW, MP, Niels and myself. The person taking this picture is another Niels, referred to by us as Grote Niels.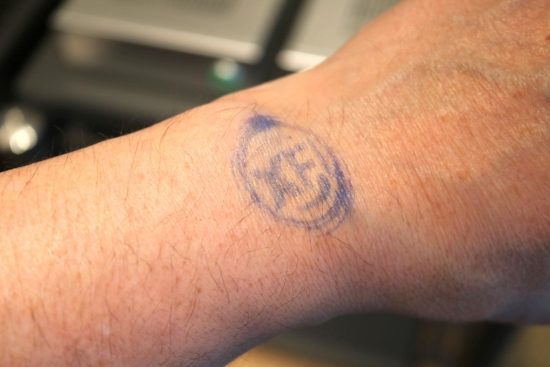 Even 2 days later the show still makes a lasting impression:-)
HFA selection for Best Sound
Here is the totally subjective HFA selection of rooms with the best sounding systems.
Shared first place
More Music
Gauder Akustik Darc 200
dCS conversion
Moon amplification
Aequo Audio and Taiko Audio
Aequo Audio Ensis
Taiko Audio SGM Extreme
TotalDAC D1-12 mk2
Vermeer Audio TWO
CAAS Audio Elysian 100
Shared second place
Reference Sounds
Wilson Audio Yvette
Mark Levinson no. 5805
Mark Levinson no. 519
Harmony Audio Import
Kroma Audio Stella
Zanden Audio 3100
Zanden Audio 8120
Third place
Aspera
YG Acoustics Carmel
PS Audio Stellar
TW Acustic Raven GT2
Honorable mentions
Driade Systems and Mafico
Driade model 3
Ayon Spirit III
Ayon S-3 Junior
Hansted Audio
Diesis Audio
Pluto Audio
Jadis JP30MC mk3
Jadis JA30's (with KT-120's)
Pluto 12A black mk2
Ilumnia BVBA