XFi 2019 Show Report – part 1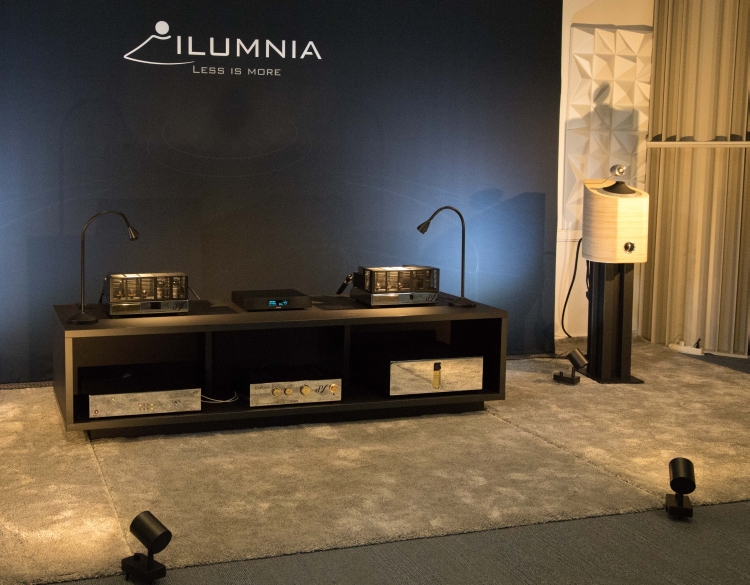 Sometimes it's super-crowded, oftentimes there is more to see than there is time and I still cannot make sense of the room numbering but, still, I always enjoy visiting the X-Fi Premium Audio Show. There's just something about it. Maybe it's the timing, maybe it's the location, or maybe it's the perfect mid-point between summer and autumn with colorful trees and mild weather but everybody who attends just always seems to have a good time. And, of course, it also further adds to the friendly ambiance that one can get really nice freshly-made apple-pie and croquettes throughout the day.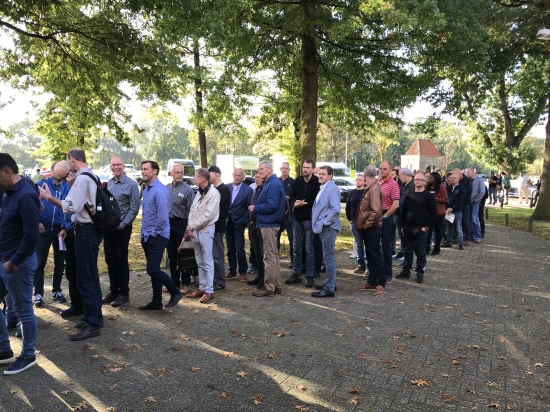 A long queue had formed already even before the show was open
The below overview does not cover everything, not by a long shot, I'm afraid. What you'll find is an impression of what I encountered while walking willy-nilly from room to room while losing my way around the maze that is the NH Hotel at the Koningshof. Some rooms have been skipped due to the doors being closed for scheduled presentations at the time that I passed and other rooms were just too crowded to enter. And, as always seems to happen to me at the end of the day, ultimately, some rooms were also skipped due to time restraints. This happened to me last year with Reference Sounds (Wilson) and it almost happened again this year because I could not find room 40. Fortunately, I ran into Jaap Veenstra of Alpha Audio who pointed me in the right direction. I took solace in seeing many other people throughout the day going berserk trying to find certain rooms so, at least it wasn't only me:-)
Very Fine Solutions had a system based on TAD Evolution One TX (TAD-E1TX-K) loudspeakers, MSB DAC and Thrax Ares integrated amplifier. This was the first time for me hearing this model TAD speakers and I have to say that the delivery on this occasion was different than I am used to so far from other TAD speakers (both Evolution and Reference). This particular delivery was warmer and smoother but also less energetic and less sparkly than in earlier demos. I think a large deal of this is due to the room being quite damped and maybe it was tweaked to sound like this. In any event, it was a friendly and relaxing sound with absolutely zero edge or harshness. And that's not something that can be said of all the systems.
Daan Vreeswijk and Robert Brijde of Goldmund Benelux and owners of PUUR Audio, Video and Domotica were proud to introduce the Goldmund Prana active wireless speakers. Visually a scaled-down version of the Satya, the Prana's deliver a very similar performance in terms of timbre, neutrality, and overall live-performance-like delivery. In as far as differences can be objectively assessed between the Prana's here at the X-Fi compared to the Satya's at the PUUR demo room, I'd say that the smaller Prana's differ mostly only in terms of ultimate power and in the level of differentiation in the bass when playing really loud. To be fair, the Prana's do not have the same scale as the Satya's but they also cost a lot less.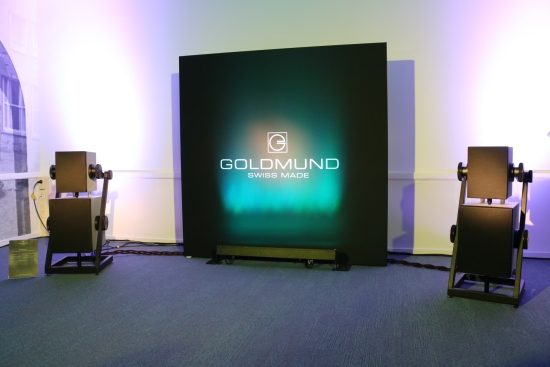 The concept of combining a high-end speaker with wireless audio transfer may seem contradictory to old-school audiophiles but I think this is a direction that will gain more and more followers. What's more, I think that it would be great if more of the audio industry would investigate this route. After all, simplicity and having no cables is what most people want.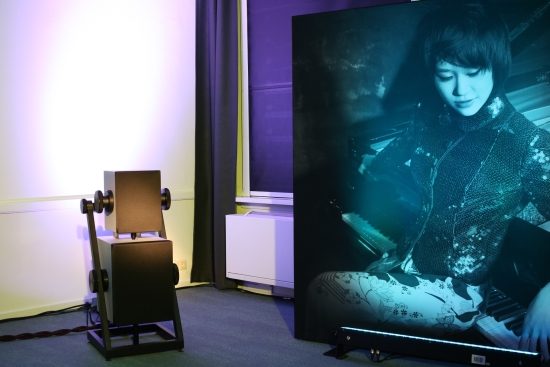 I'm not sure who the lady in the photo is but she certainly makes the Prana's look diminutive.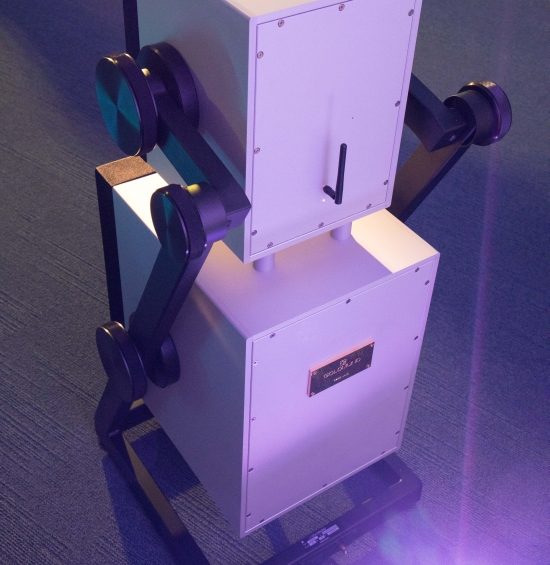 All that's needed is wifi and a power cable and Bob's your uncle.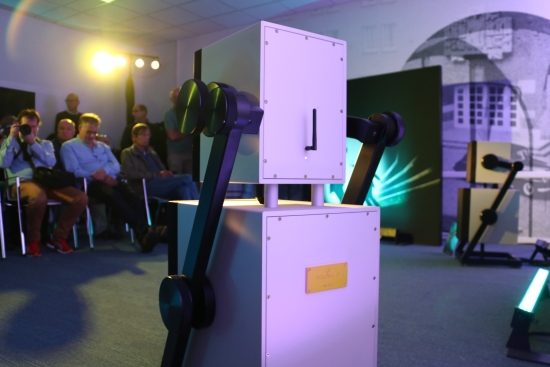 See that guy on the left taking a picture just as I am photographing the speaker's rear side? That's Niels who took some of the pictures of this report.
Got me!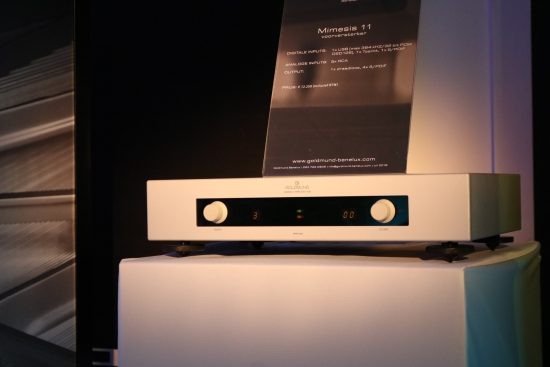 The Mimesis 11 is used for volume control and it also offers multiple inputs. It is not mandatory to use this unit though – the speakers also come with a Dongle that connects directly with a music server.
Here's Rodolphe Boulanger, international sales Director for Goldmund, speaking with the Hifi.nl gents. I made three photos of him with Robert but, unlike the speakers, the guys were not in sync – each blinking or looking the other way precisely when I clicked so I elected to leave it at this:-). I did ask Rodolphe about the wireless connection and how it prevents clock drift between the two speakers, and while understandable Goldmund trade secret agreements prevented him to go into details, he could confirm that there is indeed some sort of communication between the speakers to maintain sync.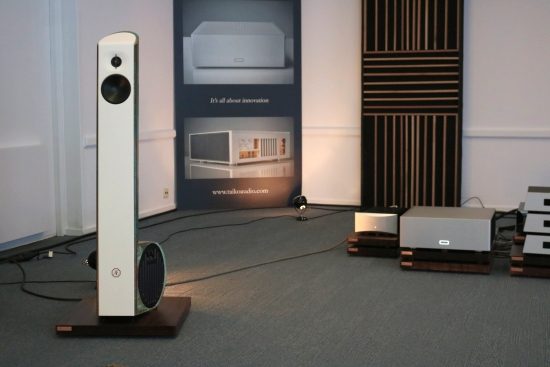 The Aequo Audio / Taiko Audio room really surprised me with its airy and transparent sound. The speakers were unknown to me until this point, as were the amplifiers. The rest of the system was comprised of the Taiko Audio SGM Extreme Server, TotalDAC D1-12 mk2 DAC, Vermeer Audio Two preamp, CAAS Audio Elysian 100 mono power amps and the Aequo Audio Ensis loudspeakers.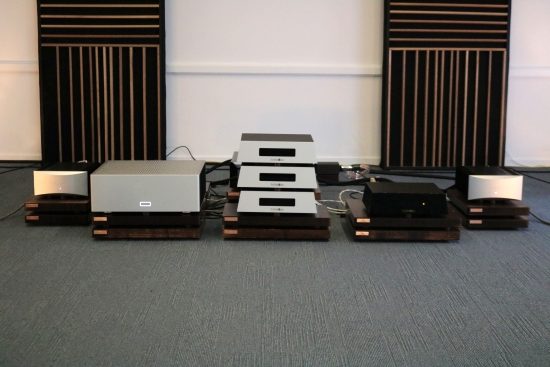 The above two pictures seem identical but look closer… The top picture was taken by me using a Canon EOS 750D camera with a standard lens. Not high-end but definitely also not entry-level. Below it is the same picture taken by Niels with his Canon EOS-R with a full-frame sensor and a 24-105 f4 L IS lens. Even with these scaled-down images, I'm afraid that the difference is clear. Yup. I should upgrade…
Based in Eindhoven, Aequo Audio is a Dutch brand who develop and produce their loudspeakers in-house. As I understand it, the brand has been received enthusiastically abroad but needs to be picked up more widely in the Netherlands. Well, I for one am impressed and hopefully, I can help bring more attention to this brand with an upcoming review.
So, why am I so impressed? Well, for starters, being small and narrow, these speakers have an unassuming appearance. Further, they are a part active, part passive design which automatically leads to certain presumptions and finally, I never read anything about them and as the Dutch say: "onbekend maakt onbemind" which broadly translates to "what's unknown remains unloved".
But never mind all that. Evidently, this room's acoustics were complimenting the system rather than working against it, and all the components of the system were clearly working well together. These speakers have immense transparency with superb focus and soundstage depth along with a room-filling sound bubble, combined with fast, articulate, deep, and remarkably powerful bass. The latter, of course, is not unexpected from an active woofer section with adjustment controls but in this case, there is something special going on. These speakers deviate from the norm by using purely analog circuitry for the room size and placement adjustments. So, there is no DSP and no digitizing of any sort. The makers claim that digitizing the bass part inevitably leads to phase issues that translate to sacrifices in terms of the coherence and soundstaging. If the performance of this system is anything to go by, then there certainly seems to be validity in that statement.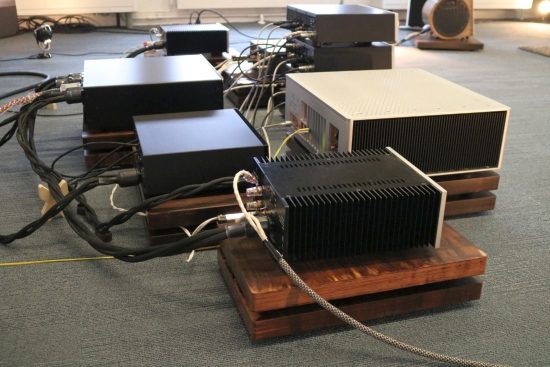 There's a lot more to say about Aequos and all the different configurations that are possible with their speakers but I'll leave that for the review.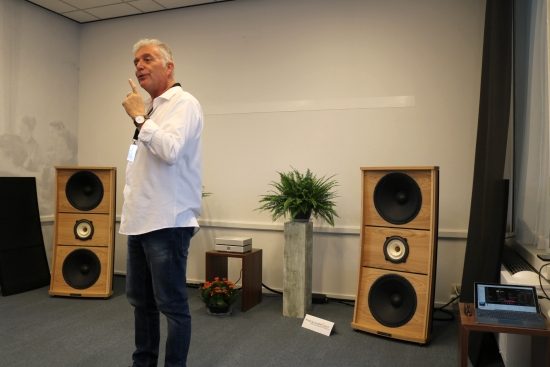 The PureAudioProject room showed the Classic 15 open-baffle speakers. Room-modes were definitely a not-helping factor here but, regardless, I also see a trend where many open-baffle speakers produce remarkably deep and powerful bass at the expense of some articulation and control. Although lacking tightness and not being as linear as I like, this system's sound was very pleasant and although the Vovox units can have some peakiness or even nasality when used in some other designs, they were blended in very well here. There is no cabinet and this means that the sound was free from cabinet-induced colorations.
Also noteworthy is the diminutive stack of Exogal DAC and power amp. The units are easy to overlook but the people behind this brand have a history at Wadia Digital and so this brand should be taken very seriously. I've owned and reviewed the Comet and still think it is one of the best options in its price class.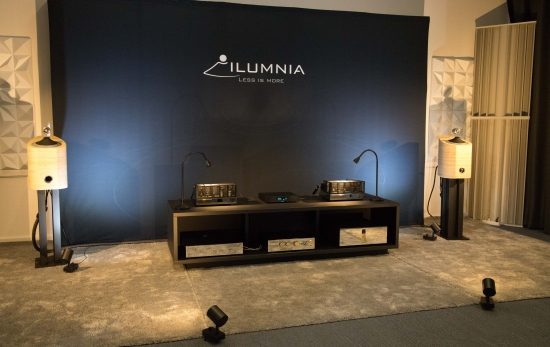 (Photo by Niels van Marle)
Ilumnia BVBA demoed the very pretty Vocalis stand mount speakers with EAR amplification by Tim de Paravicini and Lumin streamer. The speakers use a unique woofer design which they refer to as "Floating Cone". This design uses no spider and no surround and this is definitely a novel idea. Take a look at the Ilumnia website to learn more. The sound of this system was highly refined and sweet and very nicely balanced. Although I personally felt that some focus and definition was amiss I couldn't help but notice that the friends in my group, as well as several other people around me, were quite taken with this system's relaxed and spacious delivery. Maybe this is not a sound for everyone but it is certainly a nice alternative to the more usual beamy delivery of most other speaker designs.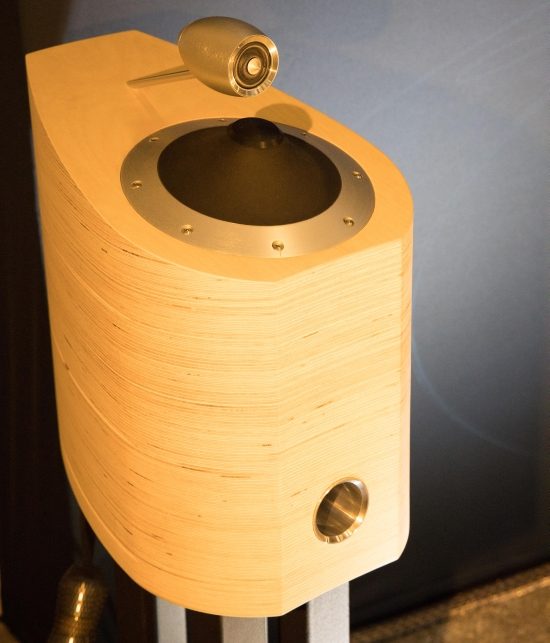 (Photo by Niels van Marle)
The speakers have a well-proportioned appearance and the visible plywood nature of the cabinets further add to their charm.