XFi 2019 Show Report – part 2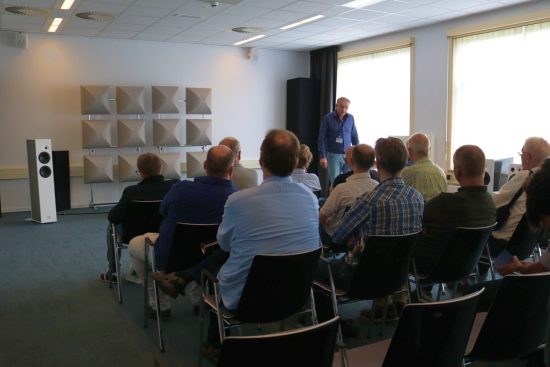 For the first time in the Netherlands, Harmony Audio Import demoed the Kroma Audio Stella – the new floorstander placed between the Mimi and the Carmen. using the Zanden Audio 3100 preamp and Zanden Audio 8120 power amp.
While not exactly affordable it possesses a large portion of the Carmen's qualities and it definitely lowers the Kroma Audio entry point for true full-range sound. I've heard nearly all the Kroma Audio loudspeakers and some of them on several occasions and in different rooms and regular readers will also know that I own Carmens myself. In as far as I can compare speakers in different rooms, I would say that the Stella possesses a very large portion of the Carmens' bass range, scale, and dynamics which at roughly half the cost is quite an achievement.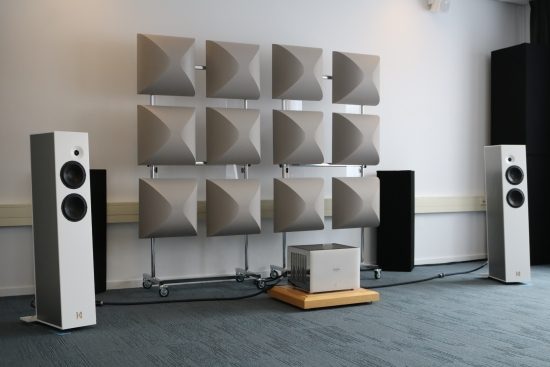 While the dearer Kroma models use Hiquophone tweeters, the Stella's tweeter is an optimized ScanSpeak unit and although I have a feeling that it is not quite as refined and rich-sounding as the gold-domed Hiquophones, it absolutely never misbehaved.
What all the Kroma Audio speakers have in common is the way that they leave the technical aspects out of the equation and let the music shine through. The Krion cabinets add no coloration but unlike other very stiff and heavy cabinets, the Kroma sound is the antithesis of a cool and clinical sound. With a sonorous, richly-textured, and full-color delivery and no hardness irrespective of how loudly they are played, Kroma Audio loudspeakers always sound well-balanced, big and involving.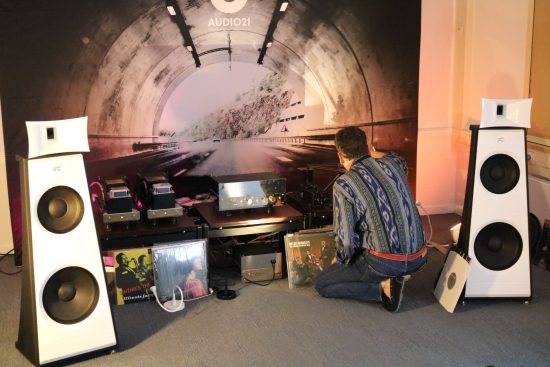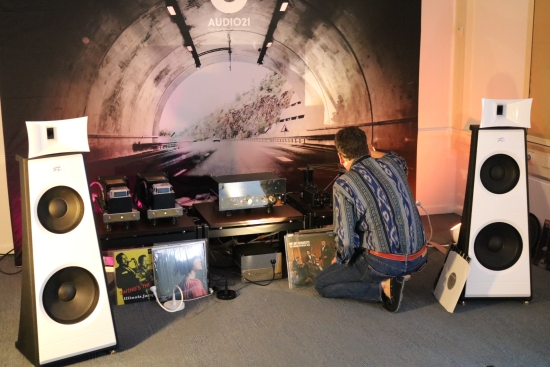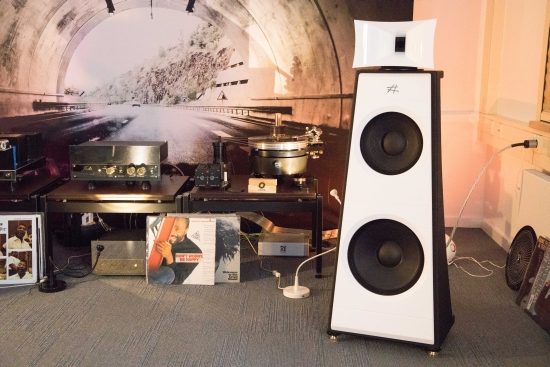 (Photo by Niels van Marle)
Hansted Audio demoed the Diesis Audio open-baffle loudspeakers with a Jadis JP30MC mk3 preamp and Jadis JA30's (with KT-120's) and an absolutely beautiful Pluto 12A black mk2 turntable. The high-efficiency Diesis Audio speakers from Italy are unusual for combining a horn tweeter with open baffle woofers.
Tuned by Mark van Braam of Audio21 in Heerde, this system excelled in naturalness and had an unforced yet energetic delivery, entirely free from glare or grain. With these open baffle speakers, the woofers do not seem to be tuned for the maximum bass output but rather the best integration. Or at least it sounds like that to me. At the time that I visited, Jesper's selection of records was limited to pure jazz and so I could not get a full impression of the system's performance. Based on what I heard, though, I still have a distinct feeling that this system is something special.
Made of Ebony, Balsa wood, Aluminum type 51, POM, Platinum, Silver, Silversteel, Gold wire, Magnesium, Diamond, Rhodium, Ceramic, and Copper, and topped off with Etsuru Bordeaux cartridge, the 12A is very impressive.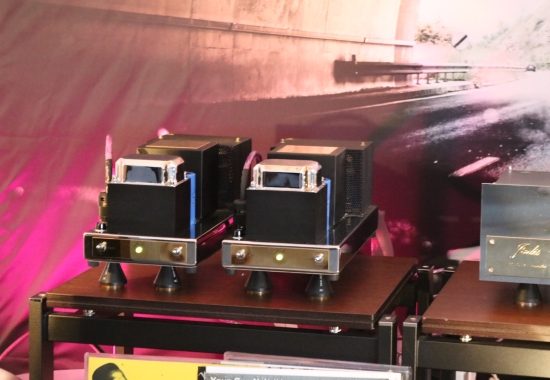 Jadis JA30 mono power amps with KT120 tubes.
Rear side of the Diesis Audio open baffle loudspeakers.
Colab High-End Audio Import showed a system based around the new Electrocompaniet ECI80D  integrated amplifier and Audel Sonika Mk 2 loudspeakers.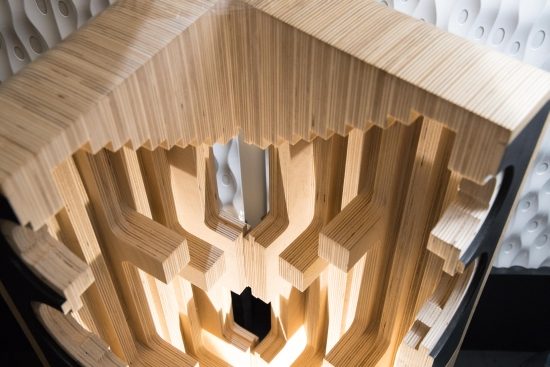 The Audel loudspeakers are constructed very cleverly from many layers of plywood that also form internal ribs.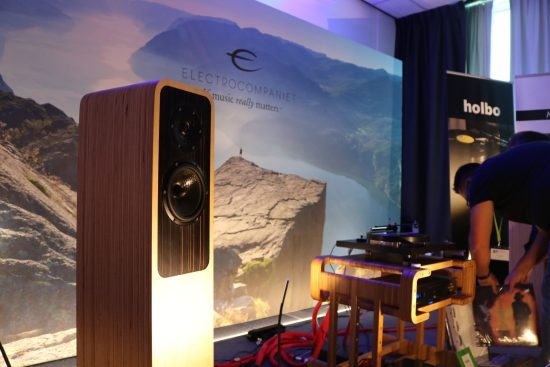 This system played with an immensely upbeat and rhythmic quality – fast, tight, upbeat and tonally neutral, if not quite as differentiated and refined as I normally like. But I would not know if that is down to the speakers, the cables, the software or the amplifier. Speaking of which – I may finally review one or more Electrocompaniet products, that's certainly about time!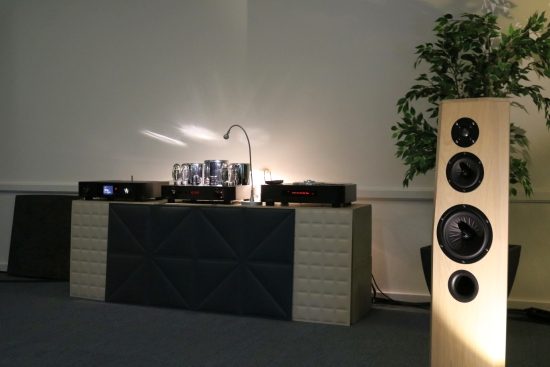 Driade Systems and Mafico joined forces to demonstrate Driade speakers with either Bryston or Ayon electronics. Although the two systems used different Driade models, the distinction between Ayon and Bryston was clear. Incidentally, the Spirit III was used in Triode mode which makes it sound even more seductive but also less linear than in the more powerful Pentode mode. The Ayon system with Driade model 3 sounded coherent and lively, nicely rich and full-bodied, and very well-balanced. The Driades also have an inherent toe-tapping quality and are utterly neutral. Combined with the Ayon system they retain their agility and neutrality yet with that full-blooded, rich tonality that only tubes seem to provide.
The Bryston system sounded even more agile and above all more linear and transparent and absolutely not rough or overly clean but also not quite as tonally rich as the Ayon system.
Ayon S-3 Junior music player, Spirit III integrated amp with KT150 tubes and CD-10 SACD player.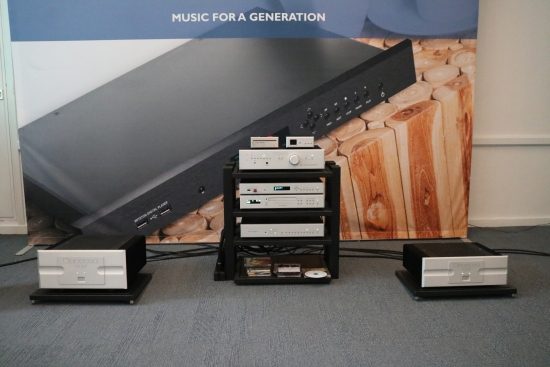 Bryston 14B Cubed, BDA-3 DAC, BCD-3 CD player, BDP-3 and BDP-π digital players, BOT-1 optical transport, BP17 Cubed preamp, and 4B Cubed power amp. The latter was only on display when I listened to the system.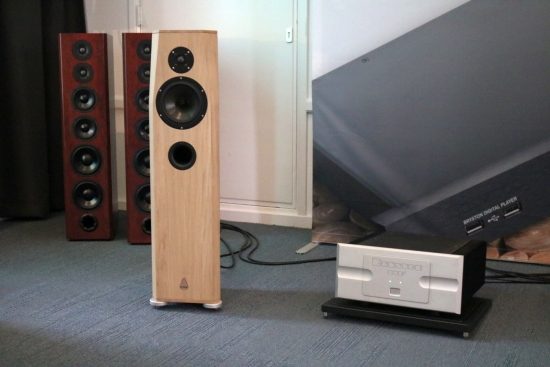 Driade model 2 with Bryston 14B Cubed and Bryston model T Passive loudspeakers behind the Driade.