HFA Audio Setup History 29 – Speakers and Amps – Dec 2017/April 2018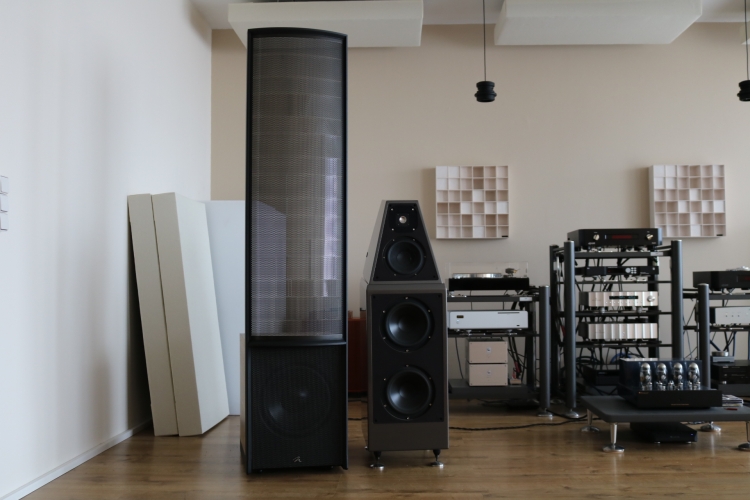 Finding my next reference speakers and amplifiers – part 2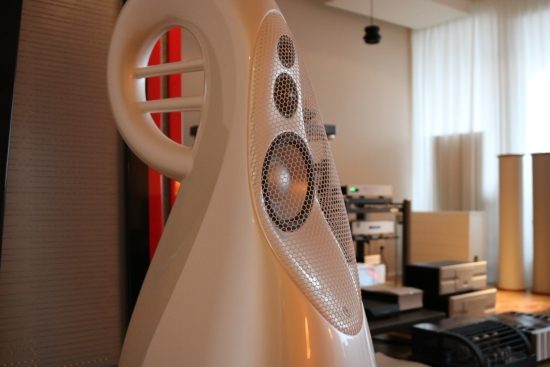 After having heard several models on shows, I had a feeling that Vivids are one of the rare dynamic speakers able to deliver those aspects of Ribbon sound that I value most, and that they could be the ideal replacements for the Apogee Divas. After all, it was always my aim to find in a dynamic speaker a sound that at least approximates the delicacy, air, and soundstaging that Apogees do so well, combined with propulsive, powerful bass and highly dynamic behavior.
Having recently sold the Jeff Rowland model sixes as well as the Divas, the aim was to find a new reference amplifier to work with my next speakers, not yet knowing what these speakers would be. A nice advantage of being an independent reviewer is that I can choose what equipment to review. Given that the Christmas holiday period was to come, I requested various amplifiers and speakers for review and tried to get everything delivered as much as possible in the same 3-week period. Fun times!
My focus had been converging toward either Vivid or Wilson speakers, and so I requested both the Wilson Sabrina and the Vivid Giya G3 s2 for review. Meanwhile, I found a pristine set of used Wilson Watt/Puppy 8, which are the latest in this series, and took a gamble buying them. Quite unexpectedly, I completely fell for these speakers, even if at first I could not get the bass quite right. Also, at this point in time (not yet having optimized the room acoustics and listening position for dynamic speakers) the Wilsons sounded communicative and lively but also quite uneven.
With the Jeff Rowland Corus + PSU preamp and the Wilson speakers as a starting point, using the Bricasti M1 and Aqua Formula xHD DACs I set out to find the perfect amplifier to not only match these speakers but also be capable of driving more difficult speaker loads. The latter is a requirement to enable reviewing a wide range of speakers and also caters to the possibility that my future requirements could change, which, of course, knowing myself, they will. This was another reason for turning away from tubes, even if I liked them a lot when the match was right.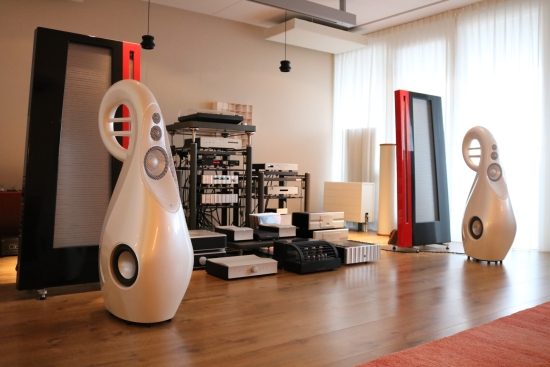 Vivid Giya G3
Vivids are usually demoed at shows using Mola-Mola equipment. This is no coincidence, as both parties agree that their products perform best when combined with each other. Nevertheless, one can grow suspicious of such a thing, and as it happens, I am in the position to investigate this. Having the Vivid Giya G3 s2 as well as the Mola-Mola Makua preamp and Kaluga power amps on review as well as the Analog Domain M75D and M75P as well as various other amps, I could make comparisons to my heart's content.
The Vivid Giya G3 s2 really are exceptional speakers: they have virtually no character of their own and just relay whatever is in the source material. Set up in the same positions as the Wilsons, regardless of my room issues, they had clearly superior bass that was tuneful, linear, articulate and very deep. Their detail retrieval, treble refinement and airiness, coherence and overall transparency is second to none. Indeed my suspicions were correct: these speakers are indeed able to perform many of the traits more typical to dipole ribbon speakers. They sure are quite pricey, though, and even if the Wilsons cannot achieve the same level of technical perfection, they are every bit as communicative and actually even more lively. They never fail to make my foot tap and somehow, I enjoy them even more than the Vivids. So, it looks like the Wilsons will stay for the foreseeable future. Now all that remained was to find my next amplifier.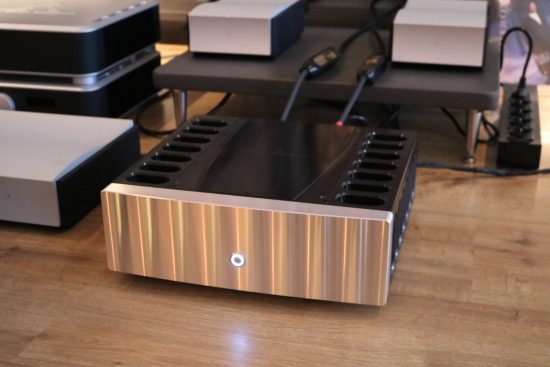 Rowland 625 S2
Used with the Vivids, the Jeff Rowland 625 S2 sounds remarkably full-bodied and almost as sonorous in the bass as the Brystons. Surprisingly, it is not too different tonally, but it is more transparent and you do hear more nuance in all the instrumental overtones, most evident in the equally smooth, but more detailed and more clearly textured midrange. It's still a Rowland, of course, so it is still lush, rich and relaxed and even slightly warm. The Brystons, by contrast, are also very smooth, but not warm, and (no matter which model) they sound more articulate and more lifelike in the bass and lower midrange.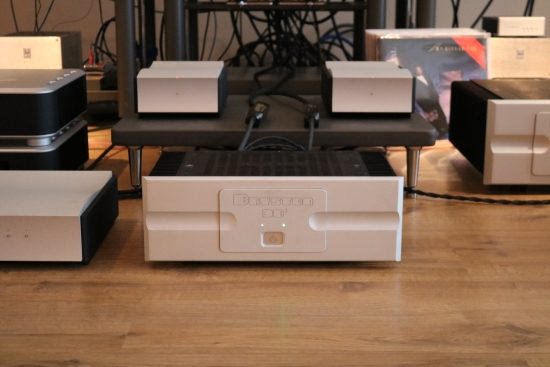 Above: Mola-Mola Kaluga mono power amps surrounded by Analog Domain and Bryston amps.
Mola-Mola
The Ncore-based Mola-Mola Kaluga power amps have fluidity, refinement and treble performance to challenge the Rowland sixes, in addition to ultimate transparency and superb bass definition. What's more: they don't seem to have any character, while avoiding sounding cool or dry, or synthetic. They are more similar to Ice-Power than Pascal but much better than either. Could they be the perfect amps? If you're looking for ultimate transparency and neutrality, quite possibly. For my taste, though, I thought they could do with a little bit more character, most specifically I prefer more body and "wood" in the midrange to make it more acoustically convincing, even if that means adding coloration. Brystons do this very well, as does the NuPrime but neither of those amps has the resolution and delicacy that the Mola-Molas do so effortlessly.
Switching to the Analog Domain power amp, I was presented with perhaps the best blend of qualities so far. Transparency, bass definition, speed, and pitch are as good as they get, and overall resolution is very high but admittedly not quite as stellar as the Rowland's or Mola-Mola's. The Analog Domain's midrange is special too: as clean as the MolaMola's, but fuller and richer, somehow without dulling or thickening, or losing the overall sense of transparency and definition. More neutral than the Rowland 625 s2 but richer and tonally fuller than the Mola-Molas, the Analog Domain seems to me to be timbrally more realistic than the other amps.
While the MolaMolas are indeed very good and they do perfectly highlight the Vivid's strongest points, I find especially piano to sound more convincing with the Analog Domain, even more so when using pre-and power amp together, not because it sounds richer or warmer or anything like that, but because it better creates the illusion of strings suspended on metal mounted on wood, being hit. In other words, while I can make out all these details just as well with the MolaMola (perhaps even more easily), I just find the combined effect more convincing with the Analog Domain.
Audio buddies Meneer Buis and the Tube Doktor talking about ribbons, statics and toeters and what not
Apogee Duetta
As the Divas had been sold, remaining on the scene at this time was only audio buddy JW's speakers, the re-refurbished Duetta Signatures and the original Centaurs, both on seemingly eternal stay at my place. The Divas sure have made life difficult for me, is revealing of the subtlest of nuances while needing copious amounts of power and even then, still sounding a little lazy. I'm sure that a stack of Analog Domain amps would have been just what the doctor ordered! Alas, I cannot try this out, but I did drag the Duettas back into position and connected the Analog Domain amps. Whoa, yes indeed, this was pure fun! Even in single-ended mode, the Analog Domain amp had excellent control over the Duetta's woofer ribbon while allowing the midrange to bloom. Much of this I think has to do with the immediate dynamic attack and the lack of blur. But when going to bridged mode the fun seemingly doubled! While beautiful before, especially in this mode the performance had a distinct live-like performance.
You've guessed it – with the Soulution out of reach, things seemed to converge to Analog Domain being ideal for me, but more was still to come…
Tubes Again!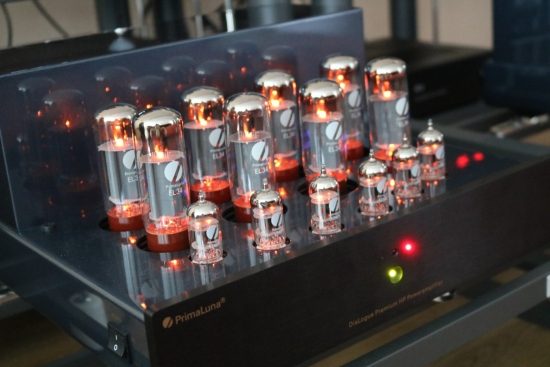 Audio Research VT200
Audio buddy Jan once again rang me up with the message that he had some interesting cargo in his car. Would I be interested in hearing an Audio Research VT200? Of course, I was! The VT200 uses 8 matched pairs of 6550 tubes. It draws considerable power and gets hot, but not more so than the Soulution 711. I have no clue about the state of the tubes so please bear that in mind when reading the comparisons that will follow.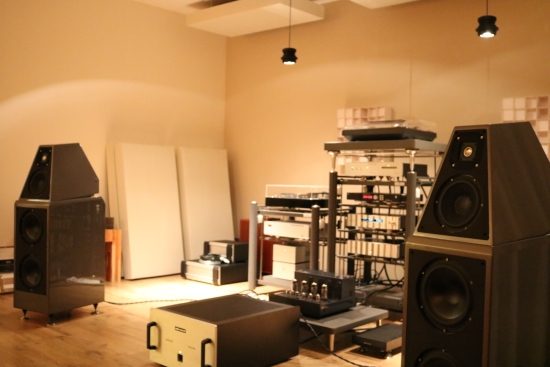 The VT200 is a lot smoother and fuller-sounding than the Ref75. While the PrimaLuna sounded more full-bodied than the Ref75 SE, the VT200 easily beats the PrimaLuna again in that field. Even though the former uses 6550 tubes and the latter is outfitted with very powerful KT150 tubes. The VT200 does not have all of the "Reference" super-transparent and highly refined ARC sound quality but sounds smoother than a Rowland and, when properly warmed up, sounds room-filling spacious. Its layering is not as extreme as the Soulution 711 but still very convincing. The VT200 is not extremely articulate but neither is it slow or ponderous. What is quite amazing is its bass-power. Where less powerful tube amps run out of steam at some point (when playing really loud, or playing very dynamic material), the VT200's power reserves seemed to be utterly endless. And because it sounds so lush, you can keep turning the volume knob without even a hint of harshness. It's quite the experience!
While the VAICs were in a way the opposite of the Ref75 SE, tonally the VT200 comes much closer to the VAICs. The latter was more lifelike still, but the VT200's incredible power is also very seductive.
The PrimaLuna, while more sonorous and richer-sounding than the Ref75SE, actually sounds dry, compared to the VT200, even if it is more dynamic and articulate either with EL34's or KT150 tubes. The VT200 is simply smoother, more fluid and lusher. It has a more tube-typical midrange glow, whereas the PrimaLuna is altogether more neutral, which is also a good thing.
PrimaLuna tube doubling
The PrimaLuna DiaLogue Premium, although not on the audiophile level of the Analog Domain, still sounds very nice and the magic tube sound does keep luring me in. As part of ongoing tube investigations for which the PrimaLuna is permanently part of my arsenal, sponsored by Herman and Jochem of Durob Audio I conducted an EL34 versus KT150 comparison.
There is a lot to write about this, but the short version is that KT150's do not make an Audio Research out of the PrimaLuna. Not that that would be ideal, as the PrimaLuna actually does some things better than the Ref75SE.
Things got spiced up further when Jochem proposed to do a review of the 8-tube DiaLogue Premium HP (High Power) amps, not one, but two of them! The HP versions do indeed sound even more powerful and controlled, but also slightly less romantic. When bridged, they drive Martin Logans like no tube amp has done before, in my experience.
Read the PrimaLuna DiaLogue Premium review
Read the EL34 versus KT150 comparison
Read the PrimaLuna DiaLogue Premium HP review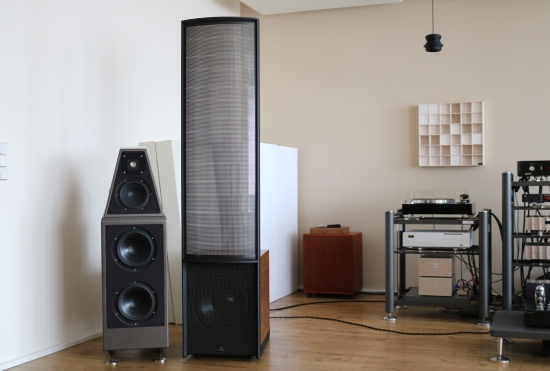 Martin Logan ESL15A
After selling the Divas, and before I got the Wilsons, I was very, very close to purchasing a pair of Martin Logan ESL11A's, not even because of their transparency and focus but mostly because of how truly fantastic their bass was in my admittedly then troublesome room. At this time, Dipoles such as the Apogees worked really well but dynamic speakers were more difficult to get sounding right in the bass.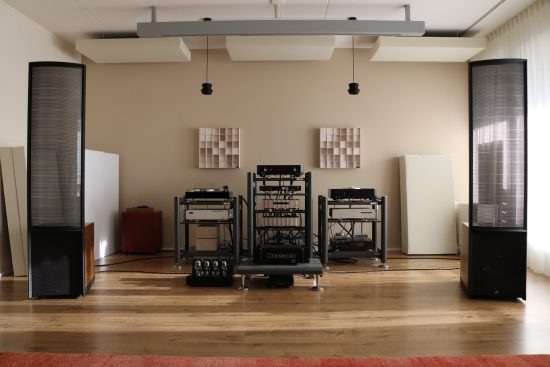 I got the Wilson Watt/Puppy 8 primarily to address my craving for dynamics and bass punch, and this wish, they certainly granted. However, in my room, due room modes causing nulls and peaks, some of the lowest notes were reproduced on the Wilsons with clearly less power than those one octave up, or simply vanish altogether, while some upper bass notes excited certain room modes that made for a boomy sound.
Not so with the ESL11A's, and also not with the massive Renaissance ESL15A's that were on a visit for review (in the same room and the same positions): all the notes are played with equal pressure, all the way down to the lowest notes that can be reproduced by digital equipment. A lot of this I think has to do with the Logans being a closed cabinet and the Wilsons having bass reflex ports but it also ties in with the Martin Logan's smart double-woofer configuration.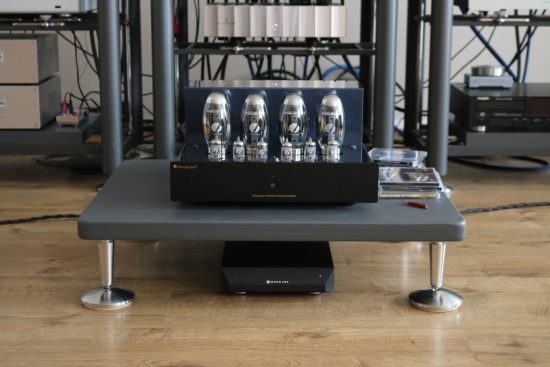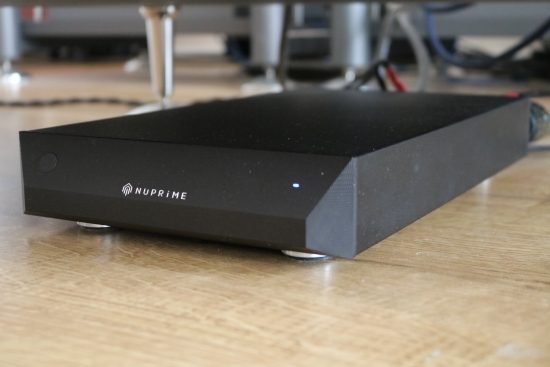 Initially, I used the Logans with the NuPrime ST10 amp and this worked very well. The PrimaLuna tube amp was also tried but this was not a good match, the Martin Logan's low impedance in the treble making life difficult for the tube amp. The Martin Logan ESL15A's further improved on the ESL11A's in many areas. Their midrange was richer and more colorful and timbre was more natural, bass-ribbon integration was even better and the bass itself was even more even-handed, and of course, even more powerful. As if that was required coming from the 11A's…
Above is one of the NAT SET mono power amps that meneer Buis brought along. Alas, these amps were no success. I'm not sure if they had gone off spec or were simply not a good match but they sounded thin and shouty with the Wilsons and in spite of their special "Electrostatic" setting, were even less of a match with the Logans. The latter combination was smooth and lush, which buddy JW appreciated but I found the combo lacking speed and drive and dynamic transients were seriously softened but speed was low and transients softened. We had high hopes but these double SET amps did not sound at all like the VAICs.
CH Precision
As coincidence would have it, I met one of the designers of CH Precision at the Enosound show in Bilbao Spain and from the get-go, we got along really well and it was quickly established that I would carry out a review of these very fine Swiss electronics.
A very nice collection of CH Precision components in the new to be released Artesania "The Absolute" audio racks, made from a combination of Krion and Panzerholz.
Left to right: Cayetano (organizer of Enosound, manager of Artesania and performing many other functions in the audio industry). Raphael (CH Precision engineer), me, and audio buddy JW enjoying a nice glass of Pekatu wine at the Enosound show in Bilbao.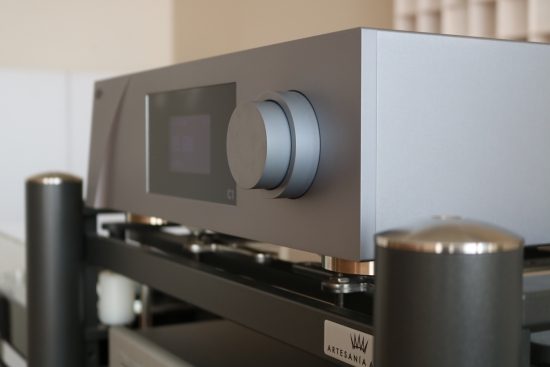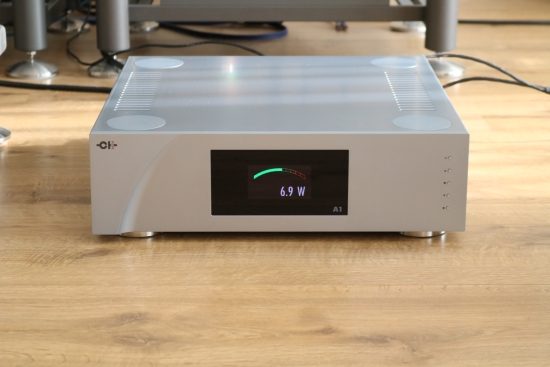 And so it happened that at this point in time, I also had access to a CH Precision C1 DAC/Controller and two CH Precision A1 amps. These components have mind-boggling pricetags, but boy, do they justify their cost! I mentioned that Logans do not require ultra high-end equipment to sing beautifully, but their inherent high resolution means that they do definitely let you know in no uncertain terms when the electronics have stepped up a notch, or six!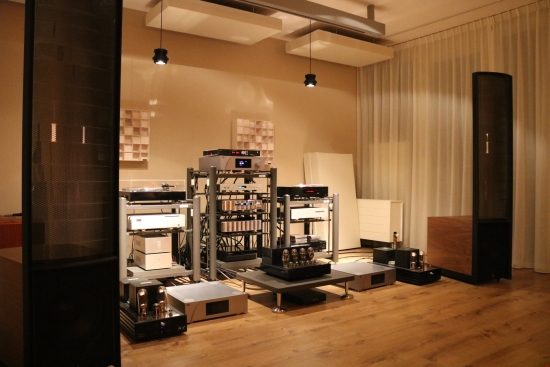 All CH Precision components offer an incredible amount of user settings which can all be controlled via Ethernet connection using an Android app. The most unusual setting that the A1 amp has, is user control of the balance between local and global feedback. In 5 steps one can set the amp anywhere between 0% and 100% Global Feedback. Since the interaction between amp and speaker is very decisive for the end result, this makes it possible to find a good setting for all speakers. In general, I prefer a low setting, even 0 for the Wilsons but for example Apogees can make good use of a higher setting.
CH + Martin Logan
It has to be said: these CH components turned out to match phenomenally well with the big Logans! With the feedback set anywhere between 0 and 40, they sound great but I tend to 20 as the best value for the Logans. A value of 0 makes for beautiful mids but overall, with the Logans which are themselves relaxed, this can make the sound a little too relaxed.
Martin Logans have very many great attributes, some of which are very difficult to obtain with dynamic speakers. One of their downsides I find is that they can sound timbrally less convincing, a little synthetic if you will, unless matched with a particularly natural-sounding amp. In the recent past, I've found AVM amps (both their entry-level equipment as well as their high-end offerings) to work very well in this regard, much better in fact than the Jeff Rowland model 6 power amps that I have used for so long. The CH Precision amps also excel in this regard, making the Logans sound timbrally wholly credible yet superbly neutral from top to bottom and with a transparency that is simply unbelievable. Resolution is first-rate and treble is nicely fluid and airy and in spite of there not being an analog preamp, there is no dryness whatsoever.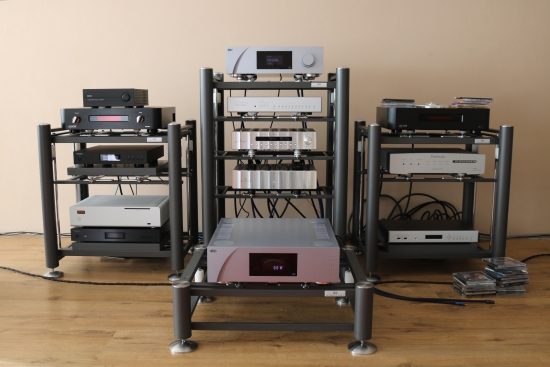 The CH Precision A1 amps not only offer a similar fluidity and refinement as the model sixes did, they actually improve on them on all other parameters. While the sixes excelled in the aforementioned aspects, they were never state of the art in terms of dynamics, bass power, or timbre, and texture. Brystons sounds bigger and beefier, Pass Labs amps have purer midrange and more natural timbre and, although the sixes are very stable, it is not difficult to find an amp that sounds more powerful. The incredibly affordable NuPrime ST10, for example, has more impressive drive and dynamics as well as more natural timbre than the sixes, but as would be expected, it does not provide a Jeff Rowland level of resolution and refinement. To cut a long story short: it is difficult to find an amp that does everything equally well. The A1's however, do, and then some! They tick each and every one of the audiophile boxes but they also make beautiful, soul-stirring music in a decidedly non-technical manner. Again, I came very close to obtaining a pair of Logans, this time the considerably more costly ESL15A's.
Overview of all HFA Audio Setups: