Martin Logan Renaissance ESL 15A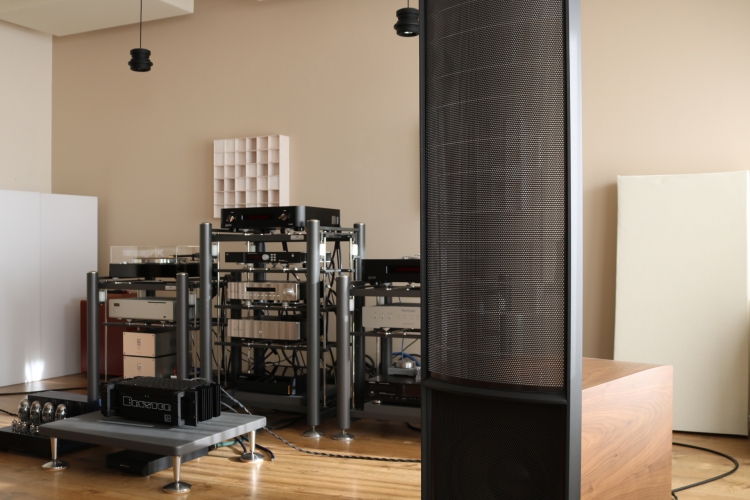 Quite simply the Best Martin Logans I've heard
Review samples kindly supplied by LookenListen, distributor for the Benelux
Retail price for a stereo pair in the Netherlands:
30.000 euro in Walnut (as reviewed) or Hi-Gloss Black
33.000 euro for Special colors
Regular readers will have noticed the absence of the Apogee Divas in my room, not too long after having reviewed the Martin Logan Impression ESL 11A's. This is no coincidence! In fact, I was very close to purchasing a pair of 11A's. Circumstances led to a different decision but after having obtained such great results with the 11A's, I couldn't help but wonder how the biggest model of this series would perform. After all, the Renaissance ESL 15A, part of the Masterpiece series, is the company's very best hybrid speaker, if you don't count the extravagant, cost-no-object Neolith above it.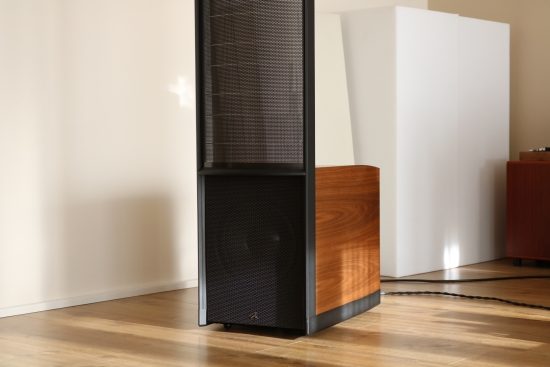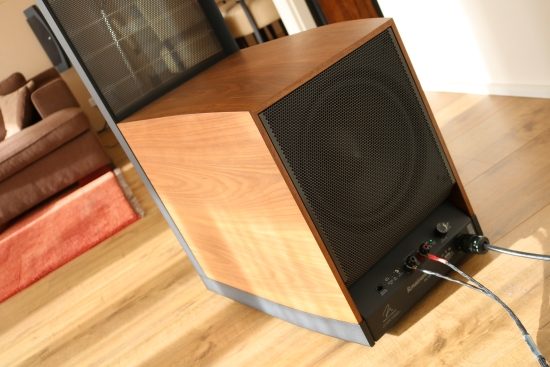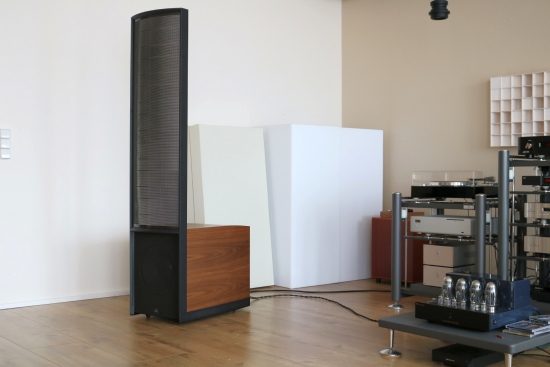 Technical properties
The Renaissance ESL 15A uses two 12″ (30cm) woofers per cabinet, driven by two independent 500 watts class-D amplifiers. The two bass drivers are smartly driven in a part bipolar, part dipolar configuration. In other words, the phase is selectively adjusted between the woofers. For a part of the range, the two drivers are used in a bipolar configuration meaning that they are both in phase, and they both extend outward. For another part of the range, they are in dipolar configuration and in reversed-phase, so they move as a dipole planar speaker would. With this technique, they effectively counteract rear wall reflections. These speakers produce extremely powerful and coherent bass, unheard of not only from a hybrid speaker but truly reference class in its own right. The low-pass filter for the woofers is controlled by 24-bit Vojtko DSP, with the option to further optimize the frequency curve of the woofers using Anthem Room Correction technology. The frequency range is quoted as a staggering 22–21,000 Hz ±3dB which is not just marketing speak. Judging from my listening sessions I am certain that they actually do indeed achieve this. The ESL 15A's are wider and taller than the 11A's, and a lot heavier. Rather than being tilted back like all smaller Logans, the ESL 15A's stand straight up in a perfect 90-degree angle.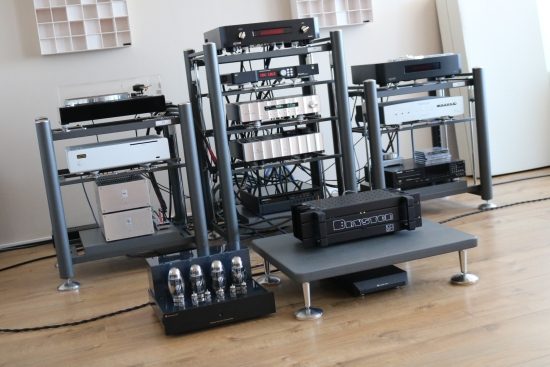 Running In
I was told that new Logans need hundreds of hours for running in and that they wouldn't sound very good when new. Still, that did not stop me from starting the first listening session right after connecting them to the NuPrime ST-10 power amp. Cold from their boxes, set up in the same positions as the 11A's, contrary to expectations, the speakers sounded utterly smooth, relaxed and full-bodied, with absolutely no sharpness. But they were quite dark and not very articulate. The bass was a little boomy and at this time did not seem to reach particularly low. The smaller 11A's definitely sounded airier, richer and more voluptuous. At this stage, Dutch distributor Jan Legel informed me that the very 11's that I had reviewed had also needed copious amounts of playing until they fully opened up. So, running in is a real factor to consider and that makes perfect sense. Each cabinet houses two enormous woofers with very stiff spiders and surrounds and the built-in amplifiers and analog filters are also brand-spanking-new. It's no wonder that all these components would need some time to break in mechanically and electrically.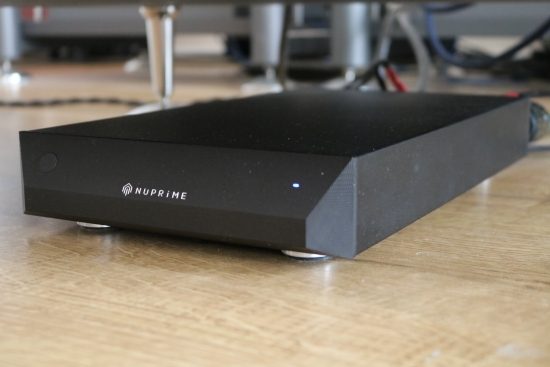 So, I ran them in using a variation of music for up to 10 hours per day, for almost two weeks. Now and then, I would sit down and assess the development of the sound. As it turns out, the process is quite linear, with the first improvements being audible around 2 days in, at the 15-hour mark. At this stage, treble had become a little more open and the music breathed more freely. The bass did not change until later. It was already powerful, and from the start exceedingly well-connected to the electrostatic panel, but lacking propulsion all the way down. At 55 hours, however, the bass started "ripening" in its upper range and seemingly filling out more all the way at the bottom. Meanwhile, the treble opened up further and the whole sound became lusher. At 66 hours the bass seemed to finally have settled in, with rich and full low notes and no more emphasis on the midbass. It's at this point that the midbass switch could be changed from 0 to its +2 setting, just as it worked so well for the 11A's. At 77 hours, finally, the speakers seemed to have settled entirely, with a very even spread of power and an overall relaxed, yet highly transparent and revealing presentation. The foil's behavior (or the crossover driving it) had not altered perceptibly anymore over the last 20 or so hours and at this stage, it seemed to me that further running in would yield diminishing returns.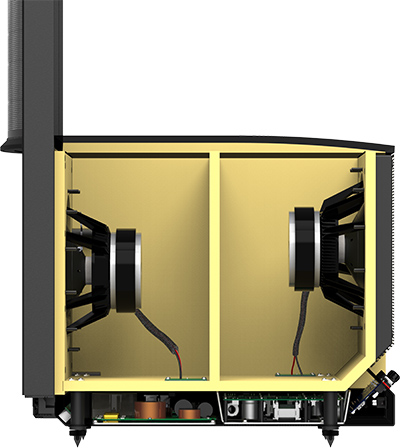 Bass matters – Full Range Dipoles and Wilsons
Before I dive further into describing the sound of the ESL 15A's, let me explain a little bit more about my experience with the kind of speakers that I used for over a decade: Apogee and Magnepan magnetostatics. The thing with large dipoles such as these is that their bass is very pure and precise and can go very low indeed, but lacks attack and real impact, compared to many dynamic speakers. The Divas, in particular, go deeper even than some subwoofers, but never really lash out when they need to in the upper bass. This was the main reason for my wanting to part with these speakers and to start exploring other speaker options.
The Martin Logan ESL 15A's go straight down to the lowest possible frequencies but rather than holding back in slam anywhere in the frequency range, they actually keep on pushing with equal pressure from the upper bass all the way down to 22hz. Their incredible reach into the frequency depths is clearly evident with electronic music such as dub-techno and modern R&B music that often contains very low bass-synthesizer lines. Once used to the ESL 15A's, it is an absolute deception to listen to most other systems, as the bass will invariably not be as deep, as articulate, or as clean and powerful.
After selling the Divas, I purchased Wilson Watt/Puppy 8 primarily to address my craving for dynamics and bass punch, and these wishes they certainly granted. However, in my room, which was at this stage pretty difficult, some of the lowest notes were reproduced on the Wilsons with clearly less power than those one octave up, or simply vanish altogether, while some upper bass notes excited certain room modes that made for a boomy sound. Naturally, this was not the Wilsons' fault: these were the result of room modes and nulling but even so, the Logans had to deal with the same circumstances. Even when placed not very accurately at all, the ESL15A's reproduced all the bass notes with equal pressure, from the tricky lower midrange/upper bass all the way down to the lowest notes that can be reproduced by digital equipment. Naturally, the Logans are different in that they have closed cabinets rather than the Wilsons' ported ones. But still, even taking the room-speaker peculiarities into consideration, there is no way around the obvious difference in bass linearity and overall quality between these speakers.
But it's not just the bass where the ESL 15A's are so great, they really are great all around! The Wilsons are bolder, spicier, and more dynamic but they can be a little rough and, in my room at least, don't sound as linear as the Logans. As demo's elsewhere confirmed, in a perfect room, the Wilsons' bass can actually be fabulous. But still, the Wilsons that I heard in other circumstances, as well as pretty much all other dynamic speakers using a cabinet, especially ported ones, do have some peakiness/forwardness/boominess and/or colorations in certain places. Now, that can certainly lead to pleasing results but this kind of unevenness is simply not there with the Logans. These speakers' entire frequency range just seems to be ruler-flat.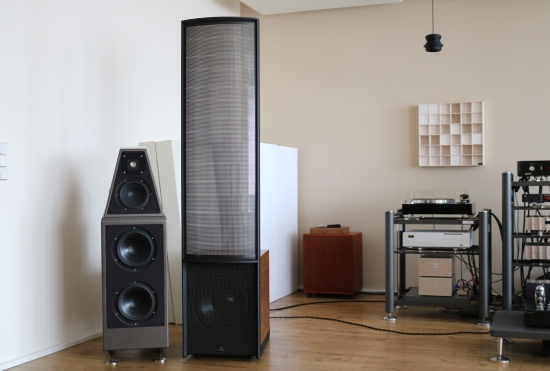 Big is Beautiful
Wilson WATT/Puppies are no small speakers, but compared to the ESL 15A's big-booty bass cabinets the Wilsons almost look cute and petite! Because they're so beautifully proportioned, however, the ESL 15A's appear to be only slightly wider and slightly taller than the 11A's. When looking at their well-shaped bums and the mighty 12 inch woofers that they contain, it is very obvious that these are very serious speakers. But their clever design prevents them from visually dominating the room.
More Listening
I had several amps at hand for comparison with the Logans. Since the NuPrime ST-10 was used for the running-in, and it seemed to drive the speakers very well, I also kicked off the serious listening sessions using this amp. I was already super impressed with the ESL 11A's, but the ESL 15A's manage to further improve on them, considerably, I might add!
Not only do the ESL15A's reproduce world-class bass but the integration with the electrostatic panel is also exemplary. While Bass-Foil integration has been an often discussed trade-off of hybrid designs such as these for an otherwise spectacular sound, with the ESL 15A's I really can't imagine anyone being bothered with the transition anymore. Granted, you could still say that the bass has a different character than the midrange, the former more voluptuous and the latter more ethereal but the transition between the two is absolutely not audible. In fact, I'd say that these hybrid speakers are more coherent than many traditional multi-driver dynamic speakers.
Above: Renaissance ESL15A, Expression ESL13A, Impression ESL11A, and Classic ESL9
Although Martin Logans are typically more immediate and articulate than full-range magnetostatic dipoles such as Apogees and Magnepans, the Wilsons are more expressive still. For all their detail, immediacy, and transparency, the Logans are quite smooth and relaxed. This makes them perfect for partnering with enthusiastic sounding equipment and that does not necessarily mean ultra-expensive stuff. The NuPrime ST-10 is a perfect example and it is really incredible what this amp achieves for only 1600 euro. Being very lively and dynamic, with great timbre, it really brings the Logans to life.
As with many large dipole panel speakers, with careful setup, Martin Logans have excellent focus and separation of the elements within the soundstage and they are capable of filling even very large rooms with a fully enveloping aura. There is sharp imaging with individual layers clearly distinguished from each other. However, acoustical instruments and vocals possess less body and less of a sense of 3D as there can be with the best cabinet speaker designs. This is just a fact of planer speaker life and for me, this is far outweighed by the speakers' countless fields in which they excel.
Wider is better?
It has often been said about Martin Logans that as far as electrostatic foils are concerned, wider is better. After all, the air is excited over a larger area and the foil has slightly more room for movement. And indeed this seems to be true. What the ESL 15A's improve on over the 11A's is not only in the bass itself: it's also the transition between bass and mid/high frequencies and the sublime "one-ness" of sound that these two very different drivers achieve. The ESL11A's had a slightly lean midrange that could be minimized with careful adjustments of its controls, but the ESL 15A's just don't have any inherent leanness. The ESL 15A's also improved on the 11A's in terms of overall richness and in midrange timbre. The ESL 15A's bass drivers might also be partially responsible for this but it seems that another advantage of the larger foil is that acoustic instruments sound more realistic than they did on the 11A's, or other, smaller Logans. And the ESL 15A's simply never ever become aggressive, even when playing at hurricane levels. The treble is always clean and fluid and the midrange smooth and rich. No matter how softly or loudly they play, these speakers really are incredibly well-behaved. Finally, as a bonus, having such tall stators prevents treble fall-off and makes it possible to stand up and walk around the room with all the treble air and openness intact.
There is also a flipside to having wider foils because the focus with the ESL 15A's is slightly less razor-sharp and the soundstage layering in the depth plane slightly less precise, than with the narrower 11A's. But that's it: other than this, the ESL 15A's are uniformly and very convincingly outperforming the 11A's. Don't take only my word for it though: my listening buddies all agree: these are the very best Martin Logans that they have ever heard.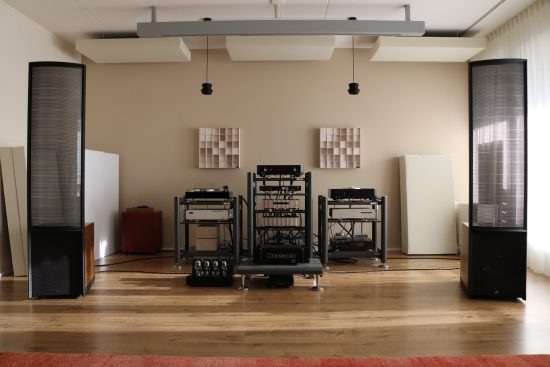 Anthem Room Correction
To run Anthem Room Correction (ARC) with the Logans, you need to purchase a PBK (MartinLogan Perfect Bass Kit) for 149 euros. The Martin Logan microphones are fully compatible with Anthem Room Correction for MartinLogan speakers and the ARC software can be freely downloaded from The Anthem website. Note that the software only works with PBK-compatible microphones. For example, I tried using a MiniDSP Umik-1 but it was not recognized.
The measurement process is simple and painless, and after the measurements, the optimized curves can either be adjusted using a range of settings or uploaded to the speakers as they are. After that, ARC can always be switched on and off using a button on the rear of the speakers. ARC is most beneficial when the speakers are set up in non-ideal positions but even when the setup is physically as perfect as possible, using ARC still results in an even more linear and cleaner bass. At the moment of this review, I could not really decide which I preferred, though. ARC indicated that there was a bump down below which can be flattened perfectly, but with that version of the software, I found the adjusted sound a little lean, even if it was more accurate. Re-adjusting the bass level on the rear of the speakers did not really make it better, either. For now, I chose to use the speakers with no correction because they sound mighty fine that way already.
Meanwhile (January 2020), Anthem released ARC Genesis which is much improved from the previous version. It looks much better, is easier to use, and offers many settings that can be used to further tweak the sound before or after the measurements. With this version of software, my room's issues were clearly laid bare and after some experimentation, I finally got a handle on how to approach my unique situation appropriately. In this separate article I've explained the full process.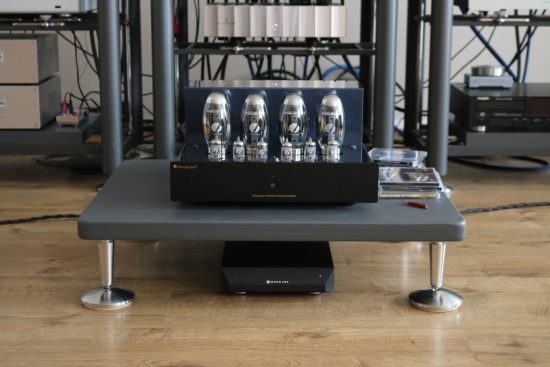 Source and Amp changes – do tubes apply?
All the music servers that I tried worked very well, but the Ayon CD-T II CD transport so far was definitely the best source, making for the most impressive and lively delivery. So far I used the Jeff Rowland Corus + PSU preamp and the Aqua Formula xHD DAC. Switching from the NuPrime amp to the PrimaLuna DiaLogue Premium tube power amp with KT150 tubes marked the very first instance in which this amp did not quite partner so well. The PrimaLuna has a modest power output but so far it turned out to punch way above its weight, even driving the Apogee Duettas remarkably well. So why would it not work so well with the Logans, especially since they don't require much power at all? The thing is: their impedance drops very low in the high frequencies. This is a conscious choice made by Martin Logan, to make the speakers perform well with the majority of transistor amplifiers out there. Transistor amps are not bothered by this at all since there is almost no power required to reproduce sounds in that range. Many Tube amps, however, have higher output impedances than typical transistor amps and so they behave differently, their output impedance effectively shaping the speaker's impedance curve into a frequency curve. The audible effect with this particularly tube amp is a midrange that is impressively smooth and lush but lacks sparkle and energy and a treble much darker than it should be. It's not an unpleasant sound at all and audio buddy JW was actually quite fond of this combination but I would not call it a linear, upbeat, or articulate sound. The PrimaLuna is a Push-Pull design so Single Ended Triode designs would also not apply. Indeed, I've tried three different SET tube amps with other Martin Logans in the past and this has led to similar results.
As this is a matter of output impedance, not a matter of power, this means that a tube power amp with more tubes does not necessarily work better unless it also has very low internal resistance.  An audio buddy with Jadis JA-200's, however, drives his Martin Logans with superb results. And my own experiments using two PrimaLuna DiaLogue Premium HP power amps in bridged mode also yielded fantastic results with a friend's Martin Logan Spires. So, tubes can definitely apply, but the match needs to be made carefully.
Above: Meneer Buis (Jan Cramer) and herr Tube Doktor (JW) discussing who knows what. What's for certain, though, is that it must have related to tubes…
Returning to the NuPrime amp and connecting the Ayon Stealth DAC/preamp instead of the Corus, however, lead to very interesting results. Although the Stealth cannot match the Corus' insanely refined and transparent sound, it does sound very powerful and richly colorful, and this also worked very synergetically with the Logans.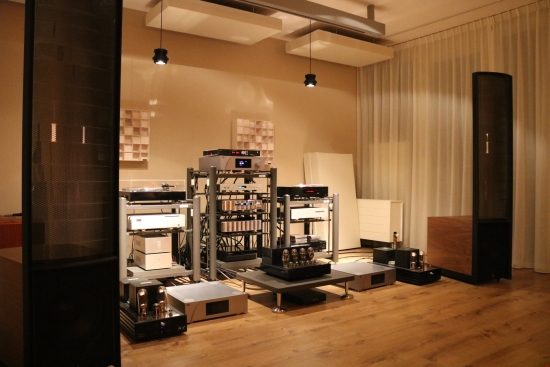 Stepping up the Amplification
At this stage in the review, I also had access to a set of very fine Swiss electronics, consisting of a CH Precision C1 DAC/Controller and two CH Precision A1 amps. These components have mindboggling pricetags, but boy, do they justify their cost! I mentioned before that these Logans do not require ultra high-end equipment to sing beautifully. They tend to sound sweet and smooth irrespective of the rest of the setup, but their inherent high resolution means that they do definitely let you know in no uncertain terms when the electronics have stepped up a notch, or six!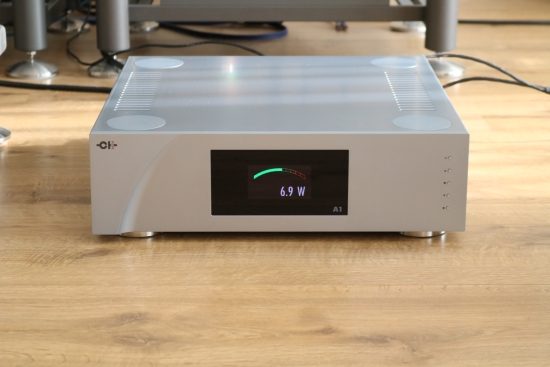 The CH components really play to the Logans' strengths, with incredible resolution and evenness and utter transparency. In addition, they do not sound clinical in the least, they actually have a super-natural timbre, and even more, make a showcase for the ESL 15A's incredible bass performance. As good as it was with the NuPrime, the sound was now entirely of one piece, utterly coherent, so precise and perfectly neutral, yet incredibly believable and realistic. These CH Precision components have the uncanny ability to sound impressive by not trying to sound impressive at all. in a way, they sound so "normal" that it is easy to dismiss their quality until you revert to the old situation! This was the antithesis of an electronic sound and it takes no time at all to conclude that this performance is simply fully in balance. There are no more ifs and buts, and all that remains is to enjoy the music! Garmt van Zel of AudioIngang, who installed the CH components for review, was just as much in awe as I was and together we listened to all sorts of music for hours on end.
By the way, should you decide to try this particular combination: the CH Precision A1 amplifiers allow adjustment of the balance between local and global feedback, and the ESL 15A's worked excellently with any setting but I did have my preferences. While the bass was most articulate with a setting of 40%, I tended to prefer 20% as the best overall balance between lushness and articulation.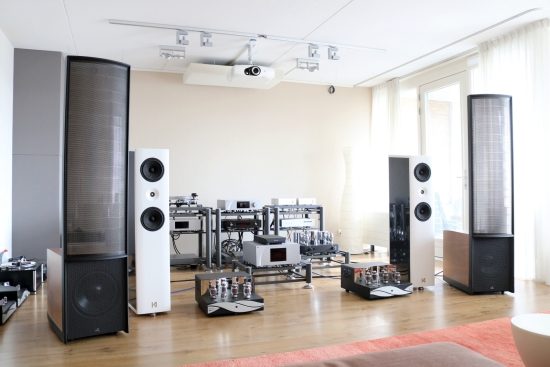 Update 31-08-2019
The Wilson Watt/Puppy 8 are fabulous speakers but they require not just a large space but also a very even-handed room. The thing is, even with lots of acoustic treatments, my room is far from perfect. I still have a couple of resonance modes that seem impossible to get rid of entirely unless I sit extremely close to the speakers but, alas, that introduces other issues. After the Wilsons, I got the Kroma Audio Carmens and besides these sounding more coherent, richer, and more emotionally engaging than the Wilsons, their bass behavior is also much better in my resonance-ridden room. But still, the Martin Logan purity and even-handedness kept haunting me. And also, I fondly remembered how awesome the Logans' bass was even with the speakers positioned at the most difficult end of my room. And so, when a great opportunity arose, I decided to forego sanity and add a pair of ESL 15A's to my system. Now, I can use either the Logans or the Kromas, precisely as my mood dictates or the application requires.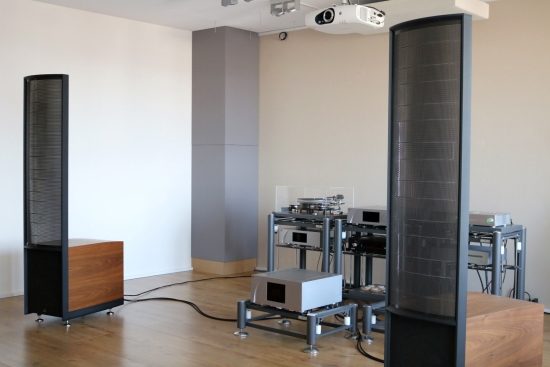 Oh, since I did not get around to doing this when I first reviewed them: adding the spikes does make for a large improvement and is well worth doing. Even if the speakers are already hugely impressive right out of the box and using their plastic feet, the spikes make the speakers produce even tighter and more articulate bass with a more clearly textured midrange and overall further increased definition.
One last addition: the absolute best power cables that I found for using with the Logans are simple leads that I made myself from 3 lengths of standard 2,5 mm solid core installation wire, called "VD draad" in the Netherlands. While Belden 19364 sounds great, the installation wire further solidifies the bass and adds a welcome sense of body to the midrange and it makes for an even more solid and dynamic presentation. In the USA, litze or a bundle of thinner solid core wires is often used but I imagine that, here too, the best results may be obtained by basically extending the inner wall cabling all the way to the speakers.
Conclusion
The Renaissance ESL 15A's are the absolute best Martin Logans that I have heard. They have seismic yet superbly articulate and very even-handed bass, coherence to rival the best multi-driver dynamic speakers, and, of course, ultimate freedom of cabinet-induced colorations. In addition, they are incredibly transparent and super-refined, yet with a smooth and gloriously rich midrange and with precise, fluid, and airy treble. These speakers combine so many audiophile tricks and weave them together so very well that it becomes a hardship to return to regular cabinet speakers.

External Links
Manufacturer: www.martinlogan.com
Distributor for the Benelux: Lookenlisten.nl
Read Also
Martin Logan ESL 11A
Anthem Room Correction with Martin Logan ESL15A