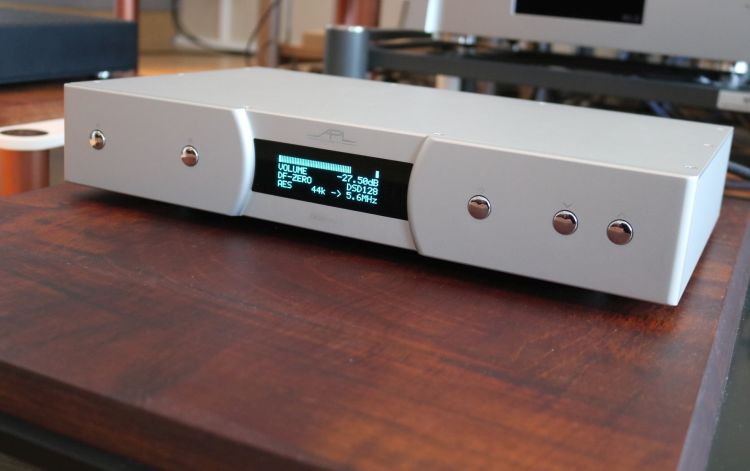 Review samples supplied by Colab
Retail price in the Benelux (including 21% VAT): 6.990 euro
I've heard DACs in all shapes and sizes and in all the different price classes. In general, very affordable products do not outperform state of the art DACs in the "cost no objective" category. However, it is also certainly not true that more expensive products always beat less expensive products. And, recently, I see more and more evidence that truly exceptional DACs need not cost an arm and a leg anymore, well, maybe a finger or two. As regular readers will know, I consider the CH Precision C1 DAC to be the best I have heard and that's why it is my reference DAC. But this one is firmly in the arm+leg+another limb category. Of the ones that were less hideously expensive than the C1, the Aqua Formula xHD with the V2 output board is still the best I have heard and it is placed second on my DAC ranking order. But at almost 14K, it is still very seriously priced, certainly warranting a couple of fingers, I'd say. Then, there have been a couple of DACs at what I call the affordable end of the spectrum (under 2K) such as the Audio-GD R8 DAC, Jay's Audio DAC2 Signature and Denafrips Venus, that have really surprised me by performing on the same level of the Aqua in one or more parameters. Some of these have equaled or even bettered it in some aspects but none have wholly surpassed it.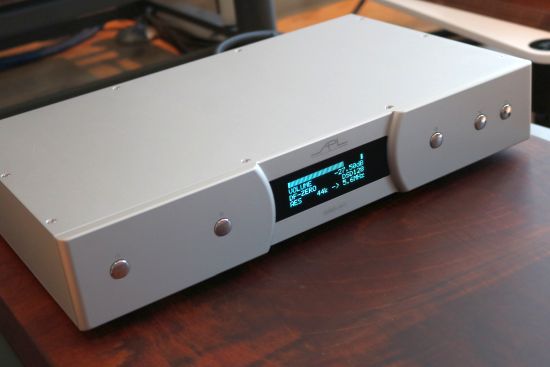 And now, here is the APL DSD-AR DAC, "sold" to me by Pierre Costers of Colab in Belgium as follows: "We have DACs from 100€ till 150.000€ here but today, a bomb arrived. The price tag is 6990€. Believe me or not, this DAC makes me forget about the turntable! The sound is so amazing!" No doubt being familiar with the critic in me, he concluded with: "Ok, blabla is blabla, you really need to listen to this UFO":-)"
A little under 7K is still not pocket change but neither would I say one needs to submit any limbs, or parts thereof, to be able to afford it. But would it truly be as magnificent as Pierre makes it out to be? Having known him and Francois for some time now, I have always found that they know what they are talking about, and while they are both very witty and perhaps a little eccentric, they do not speak nonsense. So, making one forget about the turntable? Really? My next stop was the APL website where it could be read that their DACs are "Inspired by reference vinyl sound quality". This made me think. What if, by aiming to have digital components sound vinyl-like, they reproduce mostly Vinyl's downsides? The stereotypical positive properties would be warmth, lushness, etcetera. But translated to digital that can turn into a slow, clogged, loose sound that lacks transient sharpness and sounds nothing like true vinyl done right. But now I had to know! So, I accepted Pierre's request to review this UFO, I mean DAC.
Technical
I'm trying this new thing where I don't spend quite as much time describing the technical matters as it has come to my attention from several sources that this section is frequently skipped and all of it can be found on the manufacturer's website anyway. But don't hesitate to let me know in the comments if you feel that more technical info is required.
Refreshingly, APL is not made in the USA, UK, Germany, Japan, China or any of the usual "audio" countries but in Bulgaria.
The product page on the APL website states that the DSD-AR is a pure DSD, Reference all-solid-state Digital to Analog converter with a transformer-coupled Class-A output stage. Pure DSD, you ask? The manual confirms that the DSD-AR upsamples everything to DSD meaning that the conversion can be done very efficiently. The DAC accepts all the popular bit- and sample rates in PCM and DSD.
There is a beautiful blue-green OLED display that offers a wealth of information and its volume level indicator is large enough for me to decipher even from 6 meters away. I can't read any of the text below but that goes for pretty much any other audio device with the exception of the classic Mark Levinson 360 and 390 units. It's good practice to leave the DAC always switched on for the best sound quality but it's advisable not to leave the display on 24/7 as doing so will cause permanent dimming of the most-used pixels. To counteract this, the display can be set to always dim (coming on after each command) or be set to 3 brightness levels.
Volume control is built-in the D/A conversion devices. Alex Peychev of APL tells me that the DAC device manufacturer holds the only patent in the world for a non-decimating / lossless volume control while preserving the integrity of the DSD stream.
The DAC offers its Zero Negative Feedback, Class-A, transformer-coupled output on cinch and XLR and there are AES/EBU, coaxial and USB inputs. Pierre told me that the latter sounds best and my listening tests did indeed confirm that this DAC's USB input sounds exceptionally good. I will explain more about this further below.
Review Context
The DSD-AR will be reviewed using the NuPrime ST-10 and CH Precision A1.5 power amplifiers, taking turns feeding the Magico S1 MkII loudspeakers. Sources include the Jay's Audio CDT 2 MkII and Aqua La Diva CD transports and the Antipodes CX + EX music server combo. The DAC was used without a preamp, directly connected to the power amps via Siltech Paris cinch interlinks and CH Precision Balanced Link XLR interlinks. The speaker cables in both cases are the Driade Flow 405. All components, the DSD-AR included, are powered with Belden 19364 with Bals schuko and Oyaide C-004 IEC connectors.
Listening – USB
After having allowed the DSD-AR DAC to come to terms with its new environment while sapping power for a couple of days, I went into my first listening session using the NuPrime ST-10 with CH Precision Balanced Link XLR cables and the Antipodes combo as a source via the Pink Faun USB cable expecting a lush and smooth sound. But here I was, pleasantly surprised to be treated to a lightning-fast, wide-open and super-detailed, super airy and super-transparent sound with great dynamics. The DSD-AR is actually a remarkably neutral and precise-sounding DAC and there was none of the feared overt richness or softness, no rounding or added warmth whatsoever, but at the same time, it was not at all clinical. In a way, it reminds me of Ayre's first USB DAC that was also impressive for sounding so lucid, fluid and free. But the Ayre was certainly not perfect and the APL goes so much further.
The Pink Faun USB cable, as I learned during its review, sounds slightly romantic and has voluptuous bass but this is not audible via the APL DAC at all. I double-checked with the Final Touch Audio Callisto USB cable and although they can be distinguished from one another, indeed, with the APL, there is a remarkably small difference in sound between these normally very different cables. That can mean two things: either the DAC itself sounds extremely precise or the USB connection implementation is so good that it negates much of the audible influences from the cable. While the Callisto is the best match for my system with the CH Precision DAC, with the APL DAC, I'd opt for the Pink Faun for its slightly more solid bass and fuller lower midrange.
What you get with super-articulate DACs is that the transients are very precise which can lead to very agile, yet, comparatively thin, bass. That is, if you compare them to more sonorous sounding DACs. Being used to the sonorous-sounding C1, for the first few tracks, the DSD-AR comes across as sounding a little lean. But while it's certainly more slender than the CH C1, the DSD-AR's bass actually sounds in-line with the aforementioned two discrete R2R ladder-DACs. Meanwhile, its transparency, refinement, focus and resolution are also on par with the best I've heard, and that includes the Aqua and the Denafrips DACs.
Resolution and transparency are great and all but what about, if I may be excused to use the forbidden word, "musicality"? Fear not, it has that in spades! While resolving the heck out of everything you play with retina-like resolution and light-speed transients, the DSD-AR simultaneously has an almost subconscious easy-going aspect, a certain organic quality that makes for highly lyrical music-making and an immediate emotional involvement that makes one forget about all the technical details.
And the more music I played, the more it became clear that the DSD-AR DAC is not actually lean at all but incredibly neutral and transparent and just as capable of dazzlingly fast transients as of seductive and free-flowing fluidity. And that, my friends, is indeed something that vinyl, when done right, normally has a patent on.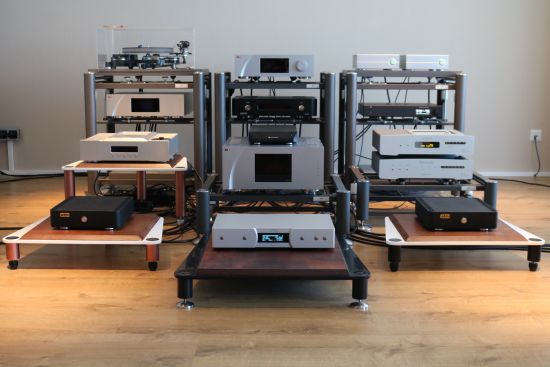 Listening – Coaxial Input
Pierre did tell me that the DSD-AR would sound best via USB and although it did indeed sound remarkably good that way, I needed to know just how they compare, and so, it was time to do some more comparisons. First up was the Jay's Audio CDT2-MkII CD transport via SP/DIF. This CD transport has a characteristic fluid, organic and super-free-flowing sound and the DSD-AR simply allowed the transport to sound precisely as it is. There was no hardening up, no sobering or anything and this speaks volumes of its transparency. What was there was a deeper soundstage with more fleshed-out vocals and instruments.
I did have a feeling that it wasn't only the CD transport that instilled the extra organic quality but that the coax input did indeed sound different from the USB input. Cross-comparing CD via coax with the server via USB, the latter was much tighter, more agile and more precise but also dimensionally flatter (which no doubt is a psycho-acoustic effect) and more controlled (which can cause the feeling of diminished depth), so long as one does not use a spacious or euphonic-sounding analog preamp, that is, of course. Here, the DSD-AR was feeding the CH amp and a pair of Magicos. It doesn't get much cleaner than that!
However, how was I to know precisely how the DAC's inputs differ if the CD transport sounds so different from the Music Server? The best CD transport that I have used is the Aqua La Diva. Alas, it has gone back but if ever a DAC warranted a comeback for the Aqua, this was it. And so I just had to try and borrow it again. Fortunately, Marco Oudheusden of Hexagon Audio was so kind as to bring it over once again.
With the La Diva CD transport back in action and connected via either AES/EBU or SP/DIF, again, the DSD-AR sounds fantastic. At first, the CD seemed indistinguishable from the USB input (using the FTA Callisto USB cable), but upon closer listen, the CD transport is still slightly sharper on the transients, a little quieter in-between, and a little more direct. But this is the closest I've heard the Antipodes come to the La Diva yet. If that seems like faint praise, please note that in all previous similar comparisons, the Aqua flat out beat the server in all aspects. That it comes so close now speaks very highly for the DAC's USB input.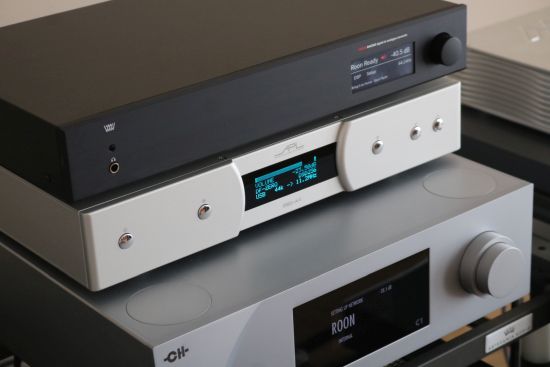 Simultaneously visiting for review is the Weiss DAC502 (review forthcoming). The Weiss is also a great DAC, but with a different perspective than the APL. When directly compared and functioning as a volume-controlled DAC and in the same environment, both DACs are very neutral, clean, transparent, and fast. Without going into too much detail, what essentially differentiates these DACs sonically is the APL's free-flowing liquidity and ethereal airiness versus the Weiss' more measured solidity and solid earthiness.
Settings
On the remote control, there is a button for DSD and a button for Filter. The former selects between DSD128 and DSD265 and the latter selects between the Normal (sharp roll-off), Slow (slow roll-off) and Zero (no oversampling)  digital filters.
In what was effectively a blind comparison while toggling between DSD128 and DSD256 (I can't read the display from the listening position:-) I turned out to have a mild preference for the lower setting as it offered slightly more solid bass while sounding just as refined otherwise.
As for the filters, I was unable to hear a meaningful difference between them. Normally, I can and do indeed normally have a preference, but maybe it is different with the DSD-AR due to the DSD upsampling.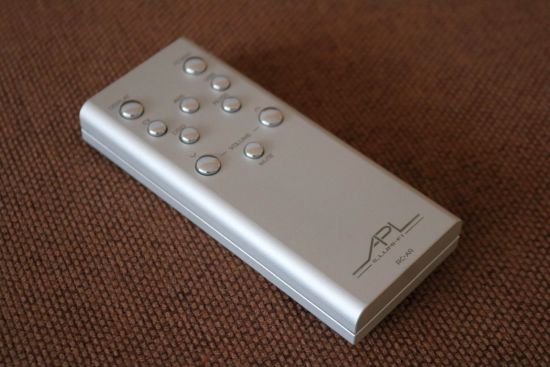 The remote control looks beautiful and offers a dedicated smoothly-curved button for each of the DAC's functions. The housing is milled from two solid aluminum blocks and inside is a microprocessor taking very little power running custom firmware.
Interlinks
Changing to the DAC's single-ended outputs using the Siltech Paris made for a slightly fuller, slightly more relaxed and less ultra-refined sound but still, let the DAC's quality shine through, and even when slightly throttled, the level of detail remained stunning. I've not meticulously compared the DAC's XLR and cinch outputs but during the listening that I did, I can't say that I would favor one over the other. I'd say that the decision to use one or the other will come down more to the cable and the implementation on the receiving end.
Stability
As it happens, this DAC's super-high performance level does come with a downside. As long as the cables remain connected, everything is fine. But a cable swap can make the DAC lose its lock on the signal, making it require a restart to start working again. This happens sometimes, understandably, with the USB input itself but sometimes also when connecting an SP/DIF cable and irrespective of how much care I take in grounding myself while doing the swapping. However, while not ideal for a reviewer, this should not pose a hurdle for regular users who simply connect it once and leave it be.
Placement
My initial listening was done with the unit on top of the CH C1 DAC which is on top of the Artesania Exoteryc rack. I found that this spot on top of the very solidly-built C1 works well for all the components that I tried so far and that goes for the DSD-AR, too. I just make sure not to put the top component's feet on the C1's aluminum end caps. This position brings out all of the DAC's inherent fluidity, liquidity, and refinement but as I found, placement on the less floaty and more solid Artesania Modular Floor Platform helps add some substance to the DAC's bass and lower midrange and adds a richer tonality to the midrange while retaining its overall performance minus a portion of its free-flowing fluidity.
With the APL on the Modular Rack and the Weiss on the Exoteryc Rack, the two DACs can be brought to sound closer to one another but even under these circumstances, the Weiss remains drier, more measured and more earthy and the APL more fluid and ethereal. This shows that the DSD-AR DAC will work on a wide range of platforms yet is not impervious to tweaks.
Conclusion
The DSD-AR offers highly agile, wide-open, hyper-detailed, super airy and ultra-transparent sound with great dynamics. There is no overt richness or softness, no rounding or added warmth whatsoever, but at the same time, its delivery is not at all clinical. While resolving the heck out of everything you play with retina-like resolution and lightning-fast transients, the DSD-AR simultaneously has an almost subconscious easy-going aspect, a certain organic quality that makes for highly lyrical music-making and an immediate emotional involvement that makes one forget about all the technical details. At a more than reasonable cost, the DSD-AR is my new reference in the "still attainable" class.

External Links