Lejonklou Källa Network Player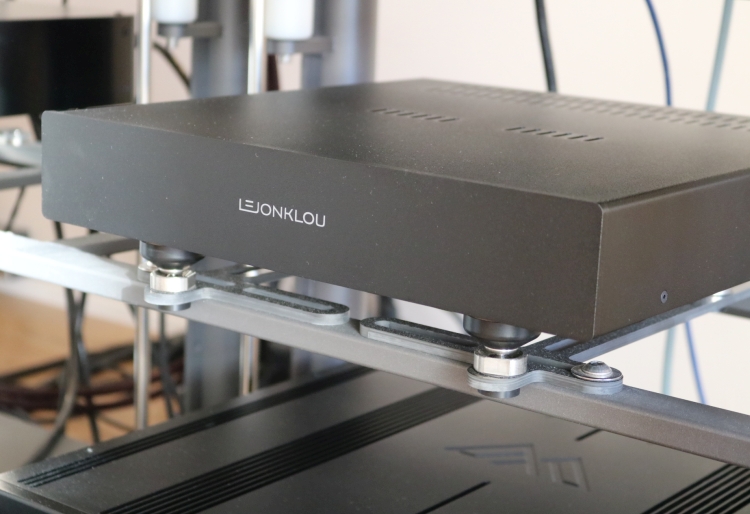 Review sample supplied by hexagonaudio
Retail price in the NL (incl 21% VAT): 5.900 euro
The Källa (pronounced "Kijalla") is a single-purpose network player with a built-in DA converter. Its appearance is simple and elegant. The unit contains no buttons and not even a status LED, requires no configuration, and there are zero options to choose from. In fact, it can only be connected in one way. Simply feed it power and a network cable and connect its outputs to a preamp, integrated amp, or active speakers, and that's really all there is to it.
The Källa's primary intended use is to play from audio streaming music services such as Spotify, Qobuz, Tidal, and Apple Music. As a control point, you can use any device that runs iOS, iPadOS, MacOS, or TVOS, so basically, anything made by Apple.
The Apple OS automatically recognizes the Källa as a compatible speaker on the network
The decision to make the Källa work only with Apple devices is made consciously because the designer's aim was to keep it as simple and effective as possible while minimizing the potential for external influences such as 3rd party software updates to ruin the experience, or worse, the sound quality. By limiting the compatibility, the chance that every user achieves the same results is maximized. Think about it: the more services a device needs to be compatible with, the more software it must run and the more potential there is for dependabilities and cross-contamination. But the Källa is not limited to streaming apps only. For instance, it also works with Roon which runs on Apple, Linux, and Windows operating systems.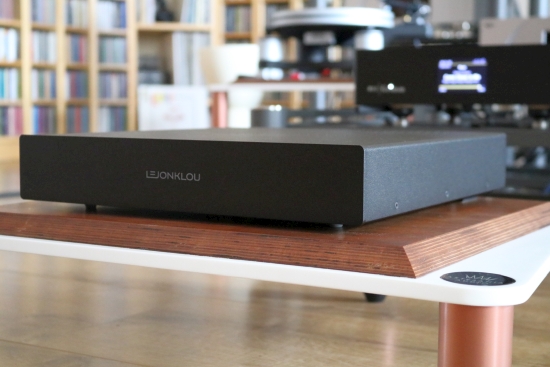 The Källa may be simple, small, and lightweight, but it is also beautiful in its elegance. But don't let its minimalistic design fool you. Designer Fredrik Lejonklou is such a purist that he's obsessive with all of the component's details such as which casing, feet, connectors, and internal components to use or what to leave out. This fanaticism extends to details such as how many o-rings there need to be between the feet and the unit's underside and even to the ideal tension to use for all the component's cabinet screws. Also, the supplied power cable may look like any other standard freebie cable but even this part is specially selected to be ideal for the component. In short, everything added, or taken away, is done to maximize the musical enjoyment.
The Lejonklou sound
As someone who has heard multiple Lejonklou components, I'd say that there are a few common traits such as refinement, resolution, neutrality, ease, and flow. As Fredrik puts it himself when asked: "There is no ideal sound and we did not evaluate the Källa that way – only that listening to music with it should be more thrilling than with anything else. It should be a machine that you want to play music with all the time." Well, that pretty much says it all, doesn't it? Ultimately, all that matters is that you can get moved by the music or get lost in it.
Review Context
I will be comparing the Källa to various other digital music sources using a range of control devices and apps. The Aqua LinQ is my current reference Network Player and as such it will be the primary source for comparison. The Grimm MU1 and the Antipodes K50 are my current reference Music Servers and these will function as secondary comparison material.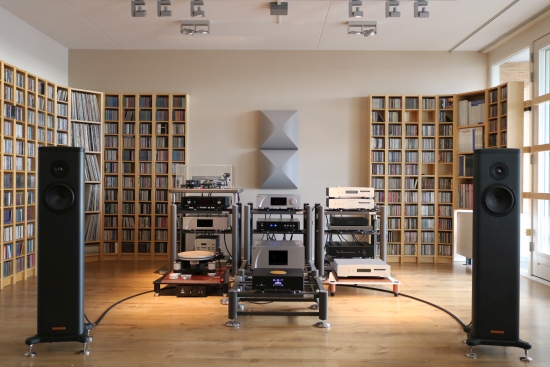 I know, the loudspeakers are too dark… this is the result of my having incrementally moved them forward beyond the reach of the overhead spots. But I'm working on installing a new light rail as we speak. The next setup image should be well-lit again!
When comparing the Källa with the LinQ, I also include the Formula xHD DAC with V2 output board, because the LinQ is digital-only. I should note that this is unfairly comparing a 6000 euro integrated network player to a network interface+DAC duo costing three times as much. Alas, the same goes for the comparisons with Music Servers which are respectively almost twice and almost three times as expensive as the Källa.
Besides my own components, there are two review components that are also available for comparison which are the 8700-euro Grandinote Volta and the 5400-euro COS D10 (review forthcoming). Of these two, only the COS with its optional network module sits in more or less the same price bracket as the Källa. But, unfortunately, the COS can't really serve properly in this comparison because it contains an analog preamp section that cannot be bypassed. Nevertheless, I will make references to it, where I think this is appropriate.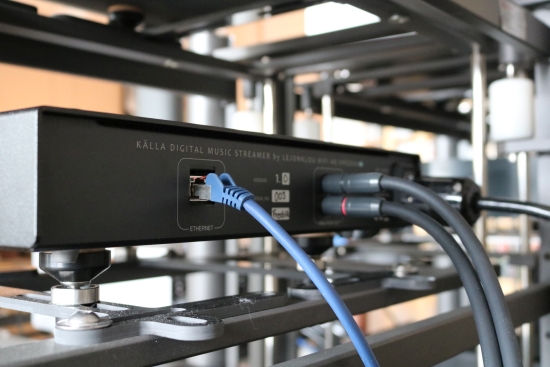 All the network players' outputs are routed via Driade Flow Link Reference 808 RCA cables to an Audio-GD Master 1 preamp that is connected to the CH A1.5 power amplifier via Driade Flow Link Reference 808 XLR cables. The speakers are Magico S1 mkII, connected via Jorma Trinity speaker cables.
More details about the review system can be found here.
Given the option between UPnP and HQPlayer in relation to the Aqua LinQ, I'm using the former for this comparison, as it allows me to directly compare the same Qobuz app and music source, streamed directly either to the Källa or to the LinQ. Alternatively, I used Bubble UPnP on a Samsung Android tablet and jRiver Media Center on a Windows PC to play local music files.
Next: on bypassing the component feet.