Review sample supplied by Hexagon Audio
Retail prices in the NL (incl. 21% VAT):
Aqua La Diva M2 8.700 euro
StillPoints Ultra SS V2 900 euro
Of late, ongoing changes on the streaming front have led to my reassessing the CD medium. But more pertinently, I have made a very interesting discovery that led to a newfound admiration for the Aqua La Diva M2 drive. In short, with one provision, I now think it is the best CD transport that I have heard.
When I first reviewed the Aqua La Diva M2, this was when I had just heard the original Mk1 Diva which sounds quite different. Not better, mind you, but very different nonetheless. It's just that I am intimately familiar with the Aqua Formula xHD DAC and the Aqua LinQ. Both these components represent what I feel is the Aqua house sound and this meant that I approached the new Diva with some reservations. The M2 scored points in many areas over the original Diva (refinement, flow, low-level resolution, and soundstaging, to just name a few) but its rather smooth and relaxed nature made it not sound quite as expressive and lively as I had anticipated. But now, this has changed. How? I'm glad you asked! My explanation is a little long-winded, so please bear with me.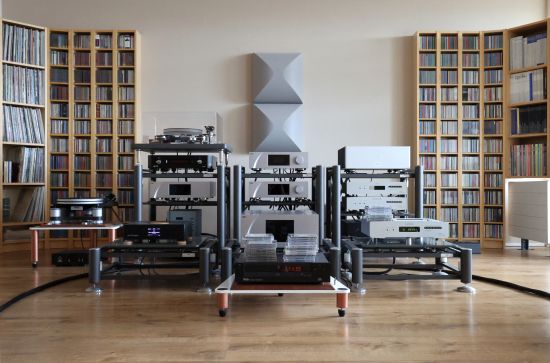 New La Diva M2 Insights
For a recent review of the Jay's Audio CDT3-Mk3 CD transport, I asked Marco Oudheusden of Hexagon Audio (our local Aqua distributor) if I could borrow the La Diva M2 once more to serve as a reference. Fortunately, Marco was happy to bring it around.
Upon first listening using the transport's own compliant rubber feet, the La Diva M2 sounded very familiar, but no longer quite as laidback as I remembered it. One reason for this is that it was now positioned on an Artesania KSH2 Krion shelf that itself sits on top of an Artesania Aire floor platform, which is basically a very low version of the Exoteryc rack. But the bigger reason is that the Grimm MU1 music server has changed.
As I make comparisons with other equipment all the time, I was already aware of the MU1 having changed as a result of recent updates but it wasn't until I listened to the La Diva M2 again that I noticed just how much the MU1 had changed.
I absolutely love the Roon interface but I think it's known among audiophiles that its sonic presentation has a tendency to change with every software update. Sometimes for better, sometimes for worse. I should also not be too dramatic about this because it also ties in with system synergy and personal taste.
Throughout its many versions, Roon has always sounded pleasant, but to my ears, most of the time a little too much on the smooth and relaxed side. Inexplicably, the only deviation that I found to this was the Grimm MU1. Somehow, even though it runs Roon (version 1.8 at that time), it managed to sound almost on par with the Aqua LinQ using UPnP or HQPlayer. And that is why I added it to my stable of reference components.
However, the MU1's last two firmware upgrades, combined with the recent Roon updates (now on version 2.0, Build 1143), significantly changed the server's sound. Now, the MU1 sounds very much in line with how I perceived most Roon-based servers all along: very smooth and organic, but quite lush and relaxed, which is not how I prefer it. In my system, it currently lacks conviction and expression.
Adding StillPoints
At this point in time, I received two long-awaited sets of StillPoints Ultra SS V2. After trying these footers with the La Diva M2, I was stunned at the magnitude of improvement! To my surprise, this brought the CD transport not just a little, but a lot closer to the Aqua LinQ, and to what I regard as the Aqua House Sound.
Now, if I compare the L Diva M2 to the Grimm MU1, the former is actually tighter, more articulate, and even more expressive! Compared to the La Diva M2, the MU1 is now a bit static and contained. And something else I now notice is that the La Diva M2 has a more convincing timbre, making it acoustically more realistic.
Needless to say, I've been doing more comparisons. The Aqua LinQ, for example, has always sounded absolutely superb. In comparing the LinQ and the La Diva M2, the two need different support and placement, but when this is catered to, I can only conclude that the two now show a strong family resemblance.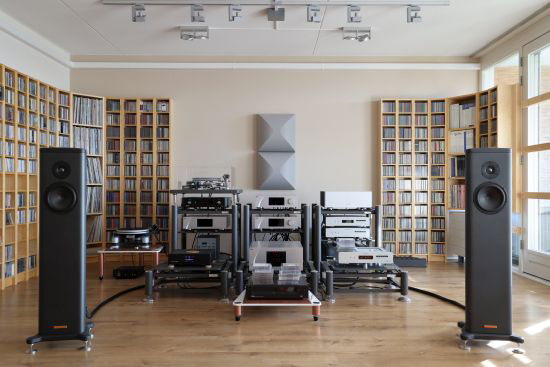 La Diva M2 versus LinQ
The Aqua LinQ has always sounded best when positioned as designed, with its own compliant rubber feet, and I have not changed my stance on this. It works well pretty much regardless of how it is supported but I've always used it in an Artesania Exoteryc rack, on top of the Aqua Formula xHD DAC, with Neoprene pads in between to avoid staining the chassis. The LinQ sounds great with UPnP but I prefer Roon's interface and so I use it with the MU1 running Roon and HQPlayer, streaming to the LinQ's Core NAA module.
In comparing the LinQ as described to the La Diva M2 on StillPoints and on top of an Artesania KSH2 Krion shelf, both sources excel in terms of neutrality, transparency, and precision. The LinQ has a slightly more solid and robust stance, with more grounded, deeper-growling bass, but the La Diva M2 counters with more fluidity, slightly more refinement, and longer decays, leading to a deeper sense of continuity.
Between the two, I can only say that it is a matter of taste, not one of performance. Both sources are simply fabulous.
In case anyone was wondering if I can't just enhance the MU1 with StillPoints in the same way. Well, I've tried. While this does make the server sound more articulate, the entire presentation remains as it is, just lifted in its entirety and more forward, rather than obtaining increased dynamic- or spatial variance. As always in all matters audio, a tweak that works for one device need not necessarily work for another device. For the La Diva M2, however, the StillPoints are just perfect. And if the Ultra SS V2 are too dear, why not start with a set of Ultra Minis? From earlier experience, I know that they will not sound as full-bodied, but I'm sure they will still deliver a very positive result.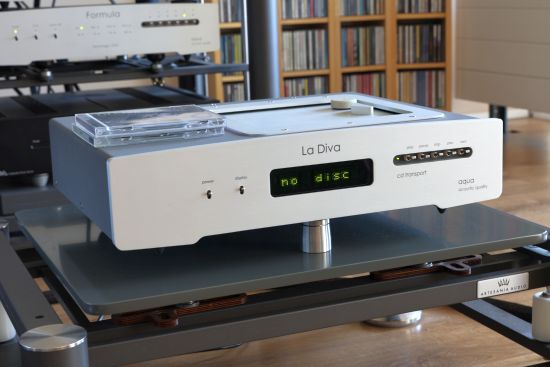 The Bottom Line
From the first moment that I heard it, I knew that the La Diva M2 had massive potential. It's too bad it has taken me so long to fully come to grips with it. Used on its own compliant rubber feet, the La Diva M2 is rather relaxed but still highly commendable for setups that verge to the forward side and music lovers who are looking for "analog" gloriousness. When one also springs for a set of StillPoints Ultra SS V2, the La Diva M2 snaps right into focus and becomes so well-balanced that I expect it will work sublimely well in any setup.
For what the La Diva M2 offers in audiophile terms, given the ever-increasing prices of the competition, I'm confident in stating that even when factoring in the extra 900 euros for a set of 3 Ultra SS V2s, still, the combo is reasonably priced. The fact of the matter is that you can also get a CD transport for 20K, 30K, or even more. I have to wonder, will they be better, or merely different? Maybe time will tell. For now, I know of no better CD transport than the La Diva M2, either in its price range or beyond.

External Links
Aqua Hifi website: aquahifi.com
Aqua Distributor for the NL/Belgium: Hexagon Audio
StillPoints Distributor: Kemp Elektroniks
Read Also
Aqua La Diva M2
Aqua Formula xHD DAC
Aqua Formula xHD v2 Output Board upgrade
Aqua La Scala mkII DAC
Aqua LinQ Network Interface