Anthem STR preamplifier and power amplifier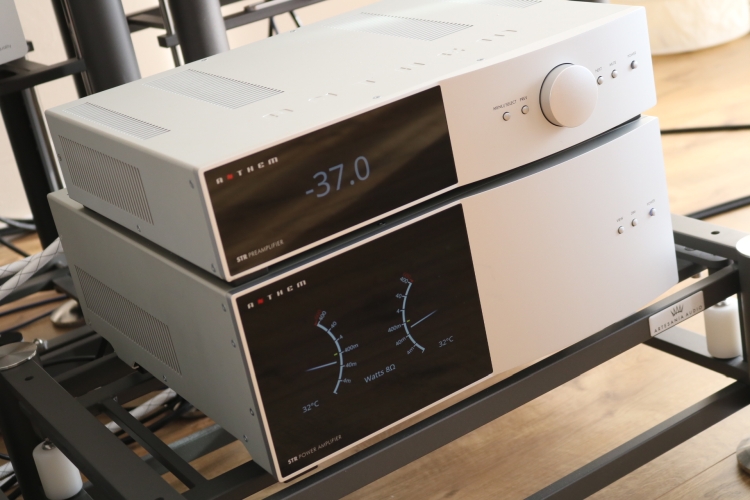 Review samples kindly supplied by LookenListen, distributor for the Benelux
Retail Prices in the Netherlands incl 21%VAT:
STR preamplifier 3999 euro
STR power amplifier 5999 euro
If you ask me, the market for high-end audio is fairly saturated and originality is sometimes hard to find, but that certainly does not apply to the Anthem STR series. Encased in a simple but robust cabinet, the STR series has refreshingly different looks. Marc Bonneville is the technical director at the Paradigm Advanced Research Center (PARC), located in Ottawa, Canada. He has been designing amplifiers for over 30 years and has developed a lot of successful products. His team's latest designs include the Anthem STR-series preamplifier, power amplifier, and integrated amplifier. It's the former two that are reviewed here.
It seems that for the longest time the Anthem brand was not very visible in the Netherlands. Prior to the brand's appearance in Dutch stores, I only knew Anthem from American audio magazines, and then, pretty much only as a brand of surround processors. These processors, incidentally, are well worth investigating as interesting alternatives to top models of the more usual brands such as Denon, Yamaha, and Marantz. There is a lot of crossover functionality between the Anthem surround products but with the stereo products, the focus is nevertheless on stereo.
Both the STR preamp and power amp are characterized by a big OLED screen. Via an on-screen menu, all the functions can be controlled. In the case of the power amplifier by using a couple of pushbuttons and in the case of the preamplifier by using buttons as well as a big and solid, smoothly-operating, multi-input/volume knob. Especially for the preamplifier, the menu is not a superfluous luxury because there is extensive functionality onboard that would be impossible to use with a less informative screen.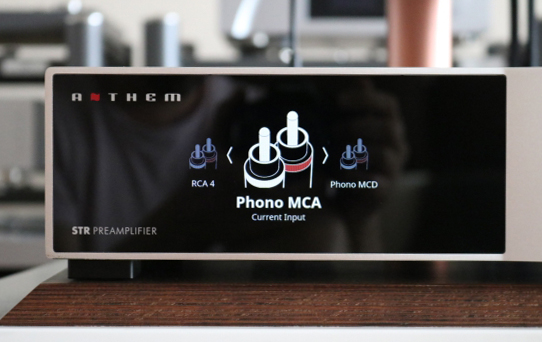 As mentioned, the STR components that are reviewed here are made for 2-channel audio but, naturally, Anthem has also thought of making the devices compatible with surround setups through various HT Bypass connections, whereby not only left and right but also separate left and right subwoofer channels can be bypassed via cinch and XLR connections on the STR Preamp.
STR preamplifier functionality
An important selling point of the STR preamp is Anthem Room Correction (ARC) which can be operated via a Windows computer with ARC software or even more easily via a telephone through the freely available iOS and Android app. The outgoing version of ARC was not available for Mac but the newly released ARC Genesis is now compatible with Mac, Windows, iOS, and Android. As I found, the iOS app works sublimely intuitively. It's only when you want to access advanced settings that the Windows desktop version is required but I will get to that further down.
There is a vast amount of parameters that can be set via the menu including a freely programmable input/output matrix, an MM/MC phono stage, and a DAC. The STR preamp takes digital inputs as well as analog inputs but rather than to always process them, either digitally or in pure analog form, the unit puts the user in full control. For example, when using a turntable and playing an LP, the corresponding input on the STR can be assigned such that it follows a pure analog path all the way to the outputs, or the signal can also be digitized after which a huge selection of parameters can be applied, along with ARC. One can also very easily use a single physical source and assign it to a multitude of selectable "soft" inputs, each with different settings, freely label these, and simply toggle between these in real-time using the regular input buttons. Best of all, the menu is structured in an intuitive manner and responds extremely quickly.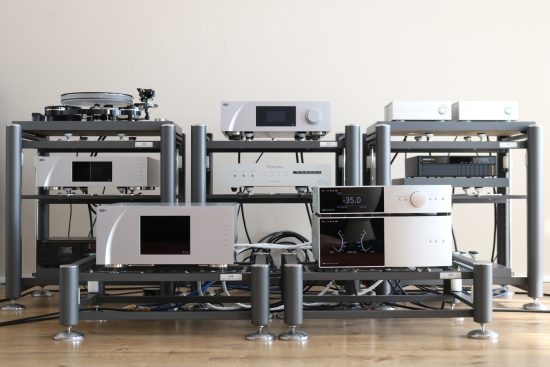 Listening with a Digital Source
The STR preamp and power amplifier are literally made for each other and that is why I started my sessions with the combo, initially via the USB input with the Antipodes CX and EX combo as a music server. The speakers used are the Kroma Audio Carmens, connected via Jorma Design Trinity speaker cables. The power cables are all Belden 19364 with Bals schuko and Oyaide C-004 IEC plugs.
In the introduction, I mentioned that the pair looks refreshingly different but the components also distinguish themselves in terms of sound. They have a neutral yet extremely powerful and bouncy, energetic sound that makes it impossible to remain in your seat. They sure have excellent PRaT and are positively swinging!
Over the years, I've moved ever more away from overly smooth or lush sounding components. As the years add up, the more I lust after an "unfiltered" sound because a filtered or smoothed sound may well be very pleasant but it does not sound as lifelike to me. The STR components do not have any such filtering effects and they certainly do not add any warmth or smoothness. While some people may indeed desire a more forgiving sound, the STR components' super-energetic and direct sound suited me and the Kroma Carmens very well.
The overall presentation is very neutral but it is in no way a cold or sterile presentation, rather the opposite. In comparison to various other amplifiers, the midrange does have a certain prominence and, overall, the sound is spicy and forward, but that also has a lot to do with their unbridled enthusiasm versus a certain amount of restraint with many other, more refined, components. Although tight and explicit and hugely entertaining, the STR beasts are not the last word in refinement and low-level resolution. When comparing to the 9.000 euro Mark Levinson 8505 amplifier that I reviewed in an overlap with the STR units, the Levinson has a more sophisticated, smoother, and subtler sound with more clearly rendered soft reverbs and decays, which, with the STR combo tend to be attenuated more quickly. The STR combo counters with a significantly more impactful and more foot-tapping sound. Rhythmically, the combo truly is very strong. Indeed, such is the live-music-like pacing and boldness of the Anthem combo, that it makes everything else sound a little tame in comparison. And that includes not only the Levinson but pretty much any other amp that I have reviewed including my very own 33.000 euro CH Precision A1.5.
In fact, when I switch back to my CH Precision components after a few hours with the STR's, there's unquestionably more sophistication and a more highly-resolved, and more fluid delivery along with an even higher level of transparency. However, even if the A1.5 is one of the tightest and most articulate amps that I know, after the unbridled STR enthusiasm, it also comes across as considerably less "festive" and energetic, a little restrained, even. Go figure. A bit of a polarizing matter, then, but in a world of more and more similar equipment, the STR's are all the more refreshing for it. With their bold and direct, non-smoothed reproduction, the STR combo has a quality that reminds me of a live performance and that is absolutely addictive.
The STR combo treats every type of music with the same enthusiasm. Jazz sounds pure and life-like and R&B sounds powerful and contagious, but when you play electro you really are in for a treat. Yoshinori Sunahara, for example, sounds absolutely fantastic and only gets better as you turn up the volume. And there is absolutely no shortage of power!
Listening with an Analog source
The STR preamp also knows its way with LPs. With the Origin Live Calypso mk4 turntable with Multi-Layer Platter, Illustrious arm with ViRa Aidas Rainbow MC cartridge and Silver Hybrid cable on top of the Artesania Modular rack and the two STR units below it, 80's soul/funk band Mtume has never sounded so great. So much drive and dynamics, it's infectious! With LPs, the sound is every bit as lively, sonorous and full-bodied as with digital sources and so good, in fact, that one should not worry about upgrading to an external phono preamp. The built-in phono section is clearly not an afterthought and surpassing it will not come cheap.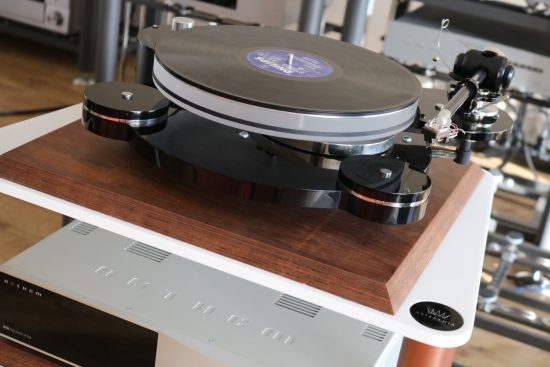 The Origin Live Calypso mk4 turntable with Multi-Layer Platter, Illustrious arm and Silver Hybrid cable on top of the Artesania Modular rack worked beautifully with the STR's.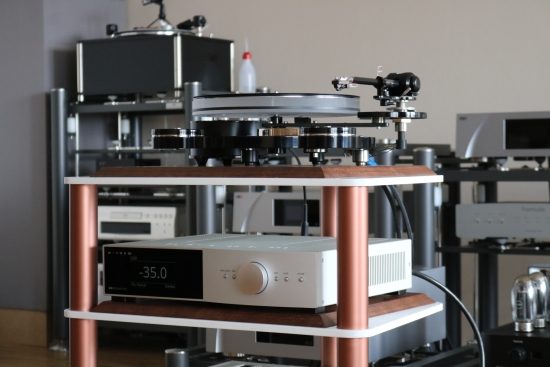 The STR preamp can work perfectly in the analog domain but then you do miss out on the benefits of digital signal processing such as the extensive sound control, various phono EQ curves besides RIAA as well as other filters, subwoofer management, and of course ARC, Anthem Room Correction. Naturally, the question arises to what extent the ARC process is transparent. To find out, I created three different inputs, all based on the same analog LP source, so I could compare them directly by using the input selector. One input was set up to be completely analog, one using A-D-A conversion without any further processing and one A-D-A that also includes room correction via ARC.
ARC
In a nutshell, ARC is a calibration system that measures the speaker's in-room response using a frequency sweep and a measuring microphone to automatically calculate the correction curve to reduce room modes and smear and attain the flattest frequency curve. Importantly, ARC does not only correct peaks and dips, but it also preserves the beneficial acoustic attributes of a room which are based on proven psychoacoustic science (the study of how humans hear and experience sound). Before I move on to the comparisons, while on the subject of ARC, let me quote a section from the manual because it highlights some aspects that are often misinterpreted.
"…something to be aware of, if at first listen it appears that the equalization has reduced the overall bass: It is easier to hear peaks in response than dips. ARC doesn't only level the peaks, but also the dips. With the equalization turned on it may be immediately apparent that boominess is gone, but it may take longer to notice that bass notes which were buried all along have become audible, and for this reason, you might want to spend a week getting used to the new sound. Once becoming accustomed to tight bass with the entire range playing at an equal level, chances are you'll never want to go back to bloated one-note bass. It bears repeating that it is not meant at all to be a substitute for proper speaker positioning, nor can it reliably force your speakers to do something they weren't designed to do. Its purpose is to take performance to a higher level after the traditional good practices that existed before room correction have been fulfilled."
After having carried out the procedure to measure the response of my system and its interactions with the room I proceeded to compare the aforementioned three input presets that I had made.
Analog – A-D-A – ARC
Because the preamp switches so incredibly quickly, at first glance after switching from pure analog to A-D-A, I wondered if it had switched at all. Nothing seems to change in the sound balance at first but if you switch back to purely analog, you can hear that the digitizing process makes the bass a little thinner and less powerful and although the speed and attack, and to a large extent also the PRaT, remain the same, there is a subtle dynamic compression perceptible. The entire delivery becomes a little bit more static and dimensionally flatter. It is not exactly a night and day difference, though, and also partly even a response on an emotional level, but it is large enough for me to have a preference for the pure analog path. The ARC process itself, however, does not have any adverse effects, only improvements. The beauty is that the worse the set-up or listening room, the greater the profit will be. And then it becomes a matter of consideration: a slightly more lively and more free-flowing sound versus greater intelligibility and a flatter frequency curve. The beauty is that there is no need to choose as you can always very quickly switch back and forth at the touch of a button.
While the validity of the results, using an analog source and digitizing it, may be subject to user preferences, the case for ARC itself becomes even stronger when using digital sources. Once in the digital domain, you can easily edit the signal and in this case, the process seems to be entirely transparent. There is no influence that I can hear on impulse behavior or dynamics. The only thing I do hear is the positive effect of the flatter frequency response. As mentioned in the manual section above, it is possible that one is so used to the influences of the listening room that the corrected sound may come across as being too clean, but that is mainly a matter of getting used to it. And should you not get used to it, you can always adjust the sound with the help of the bass and treble controls as well as the more advanced functions within ARC when using Windows. There, you can adjust the frequency up to where ARC works and set the room gain. The latter allows the user to re-adjust the measured "ideal" curve to personal taste and this can also be used, for example, to make an overly damped room more vivid.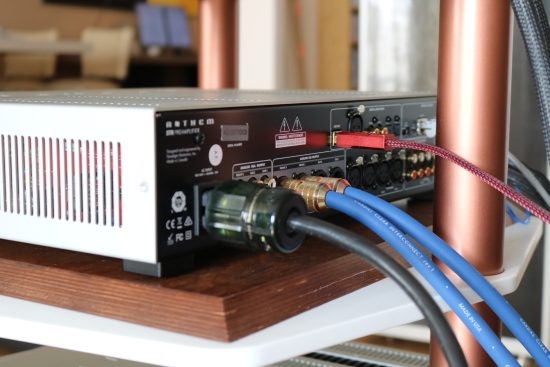 Cables
I started this review with the Vermouth Reference XLR cables because of their unfiltered neutrality and they work very well indeed, resulting in the sound as described so far. However, the highly refined Cardas Clear XLR was found to achieve an even better balance. With this cable, the STR components sound just a bit more subtle and friendly but, importantly, without sacrificing any drive or enthusiasm as can happen with this cable and more civilized-sounding components. More tweaking can be done with the power cables as well. Belden 19364 cables with Furutech 028/038 connectors add some more refinement. This effect could be further substantiated while also adding some more smoothness by also using Furutech cables in addition to the connectors.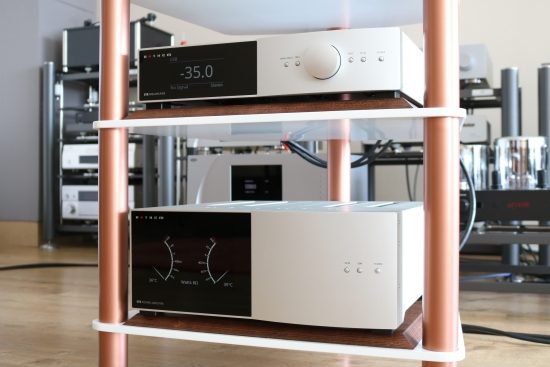 STR power amplifier
So far, I listened to the two STR components as a combo but I wondered to what extent the two components are individually responsible for the end result. To investigate this, the STR pre-amplifier was disconnected and the (at 40K admittedly extravagantly-priced) CH Precision C1 DAC was substituted in the role of a DAC with volume control.
This unlikely pairing retains most of the STR combo's energetic, foot-tapping presentation while adding a welcome amount of subtlety and refinement. Importantly, after swapping out the STR preamp, a certain hardness in the mid-high frequencies is now also gone. Interestingly, and this surprised me, the sound with the C1 is a lot warmer and smoother. The C1 is indeed known to be sonorous in the bass and it has a rich and organic midrange but I always felt it is also very neutral in comparison to other components used so far. This leads me to conclude that of the two STR components, apparently, the preamp is the one that puts the biggest mark on the tonality of the sound.
When I also substituted the STR power amp with the CH A1.5, there was an expected further increase in subtlety and transparency, but not so much another increase in warmth. This indicates that unlike the STR preamp, the STR power amp, while still very bold and lively, is itself considerably less forward and hard in the midrange. And that means that the STR power amp holds some very strong cards. Not only does it possess all the aforementioned skills in terms of enthusiasm and drive, but it also manages to express itself while remaining very neutral.
I think it's fair to say that both STR components, but especially the preamp, add an amount of hardness and take away some subtlety even when compared to some components in the same price class and here, the Levinson springs to mind. It is not that the STR pre-amplifier sounds harsh, but it does have a lean and bright balance and is quite forward in the midrange. However, this very same quality also makes the combo sound so decidedly non-filtered and direct, and so very engagingly lively. The bottom line is that, in spite of losing points in terms of certain typical audiophile parameters, the STR preamp and power amp combo is all about fun and engagement. It is THE pairing to get if you are after the punchiest and liveliest, most "rock and roll" sound.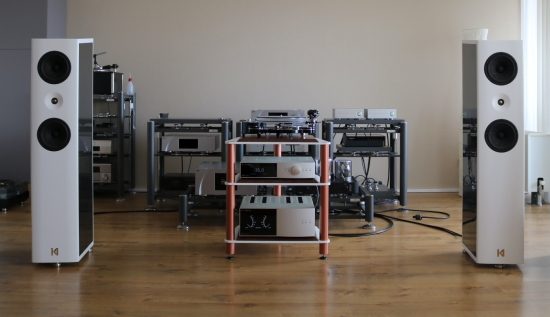 Conclusion
The STR preamp is a fierce beast and while its lean and forward character is something to be cautious with, it also injects the music with an unprecedented amount of enthusiasm that is hard to resist. Further, it has an impressive amount of features on-board among which the incredibly effective Anthem Room Correction. The STR power amplifier is one of the most solid and lively sounding amps that I have heard and its neutrality makes that it will be very universally applicable. When combined, the STR components present the music with such impact, drive, and unbridled live-music-like enthusiasm that it is impossible to not be moved by it.
External Links
Manufacturer's website: anthemav.com
Distributor for the Benelux: Lookenlisten.nl