CD Mechanism Masterpieces – Meridian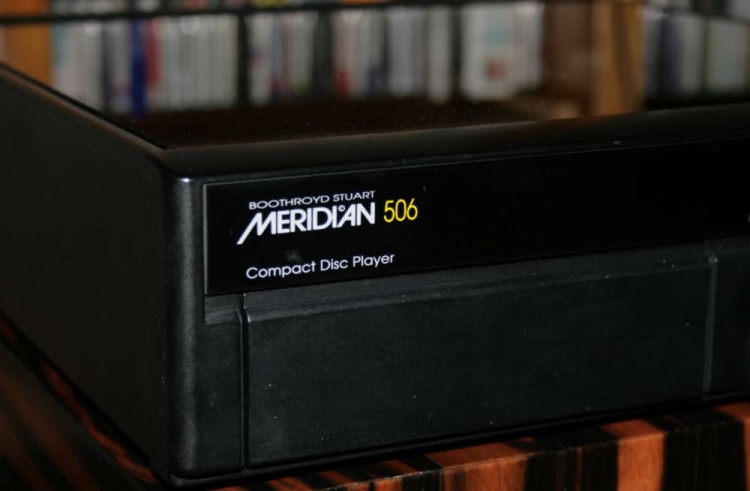 Meridian have made quite a few excellent digital products and their 500 series players are all real classics
Meridian 506.24
Retail price approx 1990 euro in 2002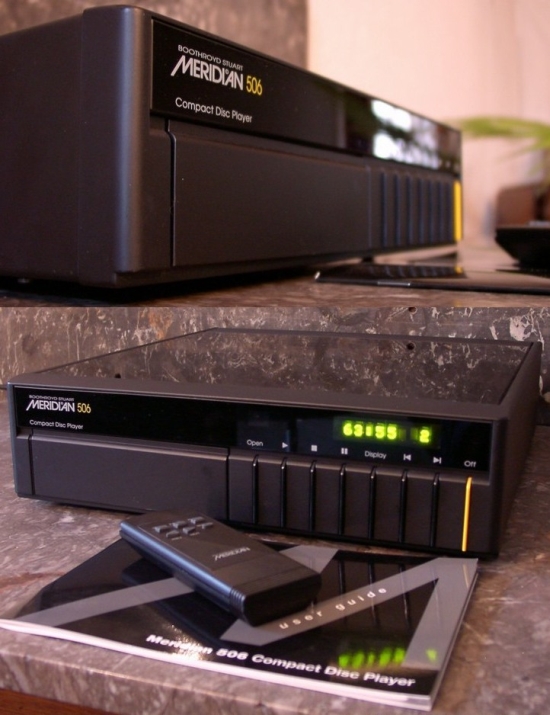 Meridian managed to make their own ultra silent, yet super sturdy disc handling system, sourcing only the optical parts from Philips in a player costing under 2000 euro. Early 506 models used a CDM4 swing arm mechanism and later models used the popular and cost effective CDM-12 mechanism. All 506 models share the same drawer mechanism. This drawer is one of the smoothest that I have ever encountered. It even slows down as it approaces either end point. Compare that to their current top of the line offering: the 14.750 euro Meridian 808.3 that features a standard DVD-ROM mechanism with standard drawer. I wonder why they didn't go to the effort of making a nice and smooth proprietary drawer mechanism here, too.
Meridian 508.24 review
Meridian 808.3 extensive review
In light of the player's diminutive size, the drawer really looks huge. It is very, very solid and moves very silently while displaying absolutely no play in either direction if you try to wobble it by hand. A Stereophile reviewer once kidded that the 506 could probably be lifted by its drawer without incurring any damage.
Side view of the original 506. The big metal flap with the diagonal slits in the side is the disc clamp and the whole thing moves up and down, nice and solid!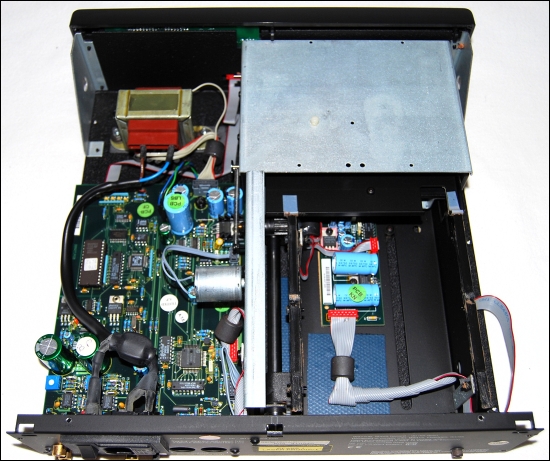 Top view of the 506.20. Servo electronics are mounted differently and the black paint is left out but otherwise the quality is the same.
Interesting how the transport section takes up the majority of the real estate inside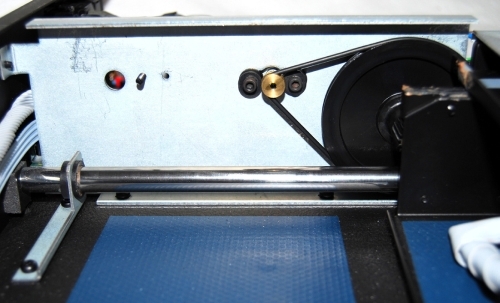 Drawer motor and massive guide bar. Only esoteric audio brands had similarly solid drawer mechanisms, and invariably they would cost multiples of the 506's modest price.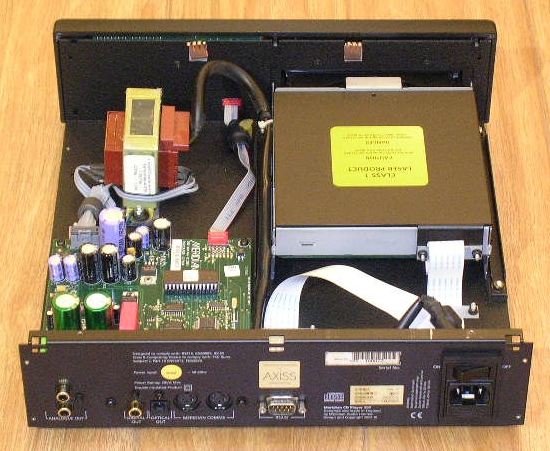 Above: Meridian 507, successor of the 506. Even if in retrospect the 507 probably sounded more transparent than its predecessors, the introduction of the CD ROM mechanism marked the end of my interest for their CD players. At the time I felt that some magic was lost along the way.
Above: original Meridian 506 CD player with CDM-4 swing arm mechanism
---
Meridian 602
Seen at the time of introduction as perhaps THE best CD player and DAC combination, the 602 transport is still a stunner visually as well as operationally.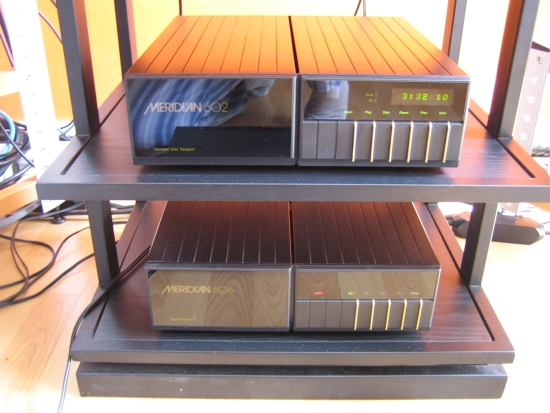 Meridian 602 transport + 606 DAC combination, a very sophisticated couple with timeless looks.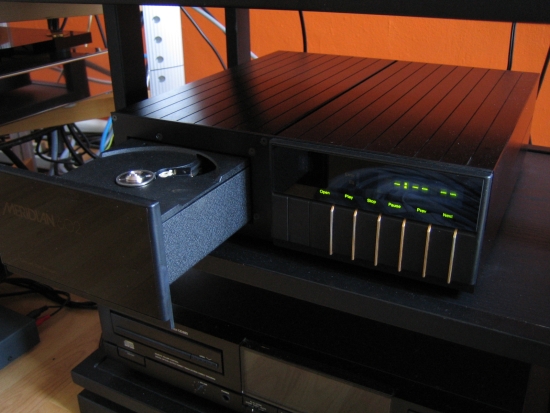 My sample's transport had probably gone off spec slightly because it sounded a bit rounded and slow. But I still think it's amazing already that the transport (Philips CDM-4) continues to work after 15+ years.
---
Meridian 808.3
Retail price 14.750 euro (still available in 2012)
Included to make a point, the 808.3 is a very good performer and certainly a looker, this Meridian flagship nevertheless incorporates a (modified or standard, this is unclear) DVD ROM drive with associated standard drawer. This standard assembly is smartly hidden behind a flap and so is not visible during operation. The drawer slides in and out swiftly enough (think your computer's optical drive in overall feeling) but is hardly fitting for a player in this price range.
Meridian 808.3 extensive review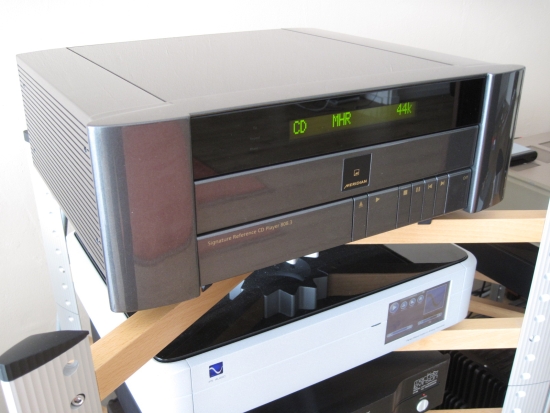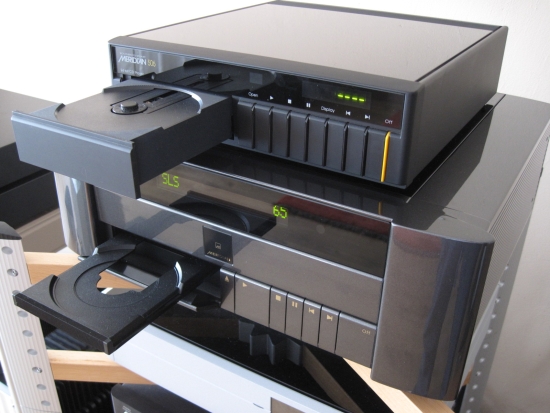 808.3 DVD-ROM mechanism
The upside could be that you can probably replace the optical drive yourself easily. There could be special Meridian firmware prohibiting this or making the swap less successful, but this is unconfirmed.
---
More CD Mechanism Masterpieces
Accuphase
Burmester
Krell
Linn
Marantz
Mark Levinson
Pioneer
Sony
Teac/Esoteric
Wadia
Read Also
The almost Complete CDM range of CD Mechanisms
Inside Pics of classic Philips and Marantz CD players
Classic Philips and Marantz CD players compared
Marantz DAC and Transport List
Philips DAC and Transport List
Marantz timeline
Philips timeline
Wadia Digital Company Special