Audiocorner Company Visit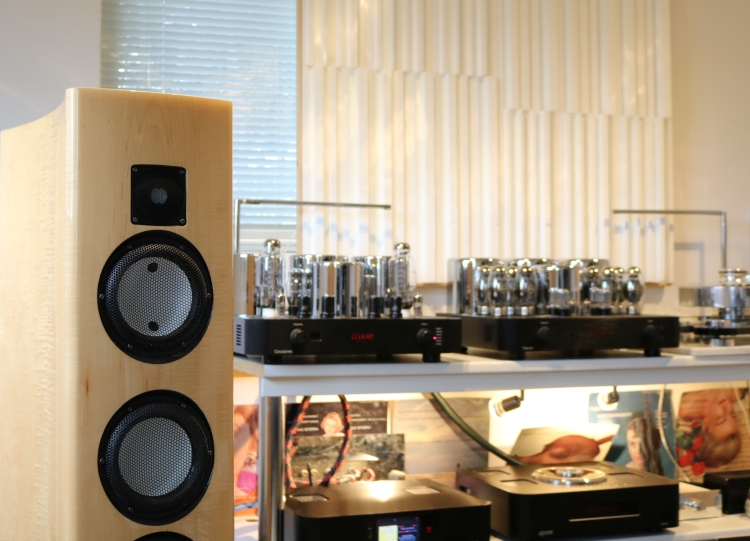 Intro
Regular readers will no doubt have noticed that I have a special fondness for Ayon audio components. The main Magico system may revolve mostly around CH Precision D-A conversion and amplification, but I also use an Ayon Stealth as a preamp for Vinyl listening. Additionally, the secondary Xavian system's core also consists of a CD-10 II CD player and DAC and the Spirit III integrated amplifier. Even though many other components have passed in both systems, the Ayon components remain favorites. So far, I have heard analog preamps with more resolution and greater transparency but none that can match the Stealth's robust bass or its overall solidity and impressive dynamics. The CD 10-II and the Spirit III have also proven to be indispensable for me. The former because of its full-bodied and timbrally highly convincing sound that is the antithesis of synthetic or electronic and also because of its array of inputs and its volume control which allows me to use it as a preamp when reviewing other amplifiers. And the latter because, to this day, I have not heard a more dynamic tube amplifier or one with better bass. As a matter of fact, even when taking transistor amplifiers into consideration, there are precious few in the Spirit III's price range that can match its robustness and solidity.
Seeing as I consider myself an Ayon enthusiast, it seemed like a very nice idea to pay a visit to Audiocorner, a HiFi shop that specializes in Ayon audio equipment.
Audiocorner and Holland Link NL
Located in Lutjebroek, toward the north part of the Netherlands at a 45-minute drive from Amsterdam, you will find the Audiocorner shop.
Eric-Jan Horstman is the driving force behind this shop. As it happens often, he was injected with the audio virus at a young age. That his father Jan Horstman happens to own a HiFi shop is less common but it certainly explains how Eric-Jan got entangled in the HiFi hobby.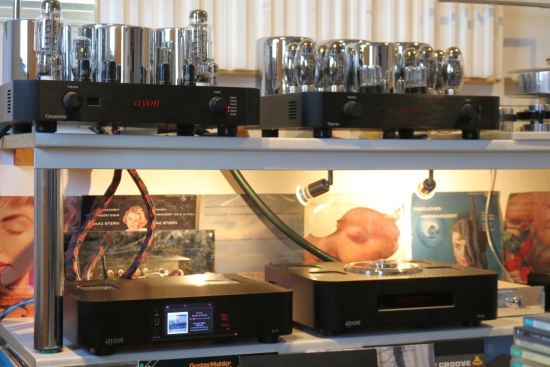 Ayon Crossfire III and Triton EVO side-by-side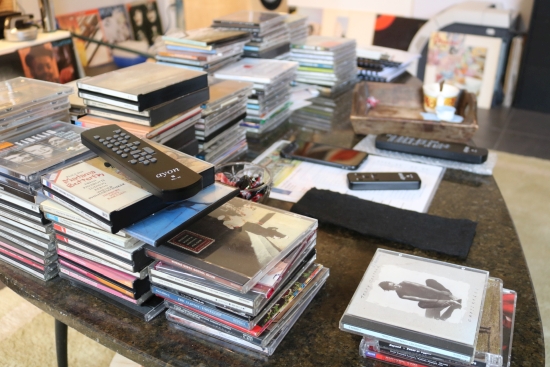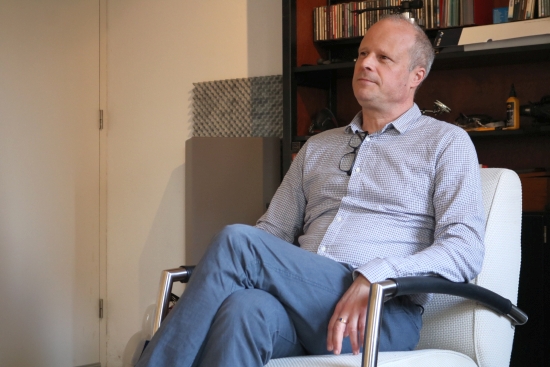 Here's Eric-Jan, posing in one of the two listening seats.
Eric-Jan's first amplifier was the "Digital" Philips DFA-888 which was an analog amplifier with digital inputs which he used in conjunction with his dad's old B&W loudspeakers and the Philips FC566 cassette deck that he still owns to this day, for nostalgic reasons.
When he started earning more money in a new job, he decided it was time for a serious system and so he got Audiostatic electrostatics with a Copland tube amp that, in retrospect was not a good match with the electrostatics. Later, he got Aurum Cantus speakers and still later a range of American and European equipment that, sadly did not get much attention. Finally, Ayon came onto his path, first the Spirit, then the Spark, the Helios, and, finally, the Crossfire. This illustrated very nicely the pros and cons of Push-Pull versus SET and in 2011 this ultimately kick-started the business as he runs it now. Although initially run from the living room, they decided some time ago to remodel the adjacent barn into a dedicated listening room and that's how the business is operated today.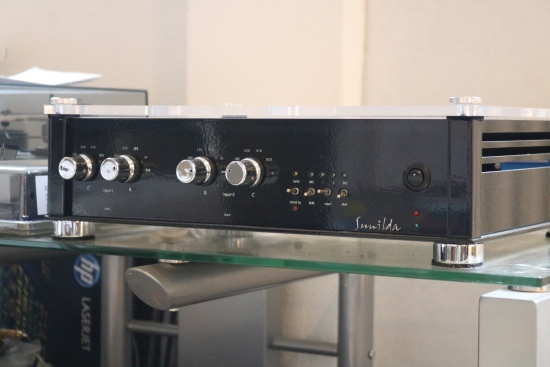 The Audiovalve Sunilda tube phono preamp that Eric-Jan hopes to integrate into the main system soon.
Rather than trying to offer a slice of everything and realizing that no one can be an expert in everything, Eric-Jan Horstman decided to specialize in one brand: Ayon. This is in no way a limitation because the brand has absolutely all of the facets covered. The Austrian manufacturer offers a wide range of CD Players, Network Players, DACs, Preamplifiers, Integrated Amplifiers, Power Amplifiers, Loudspeakers, and even Cables. As Eric-Jan points out, Ayon tends to always offer superb quality in each of its pricing tiers. Whether affordable or truly high-end, you always get great value for money. As regular readers will know, that's precisely how I feel about the brand too!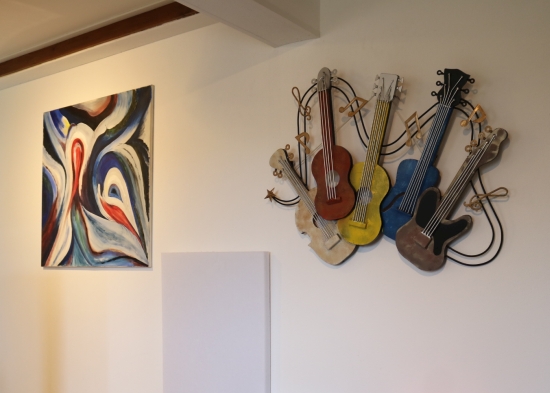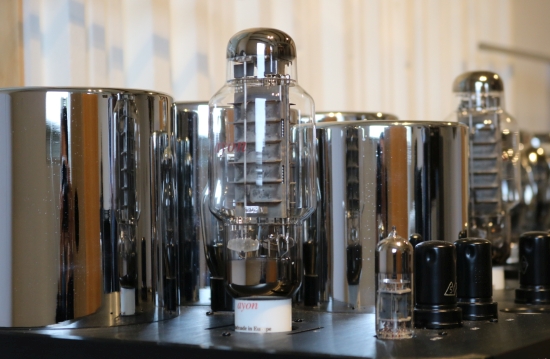 The mighty Ayon-made AA62B SET tube
Eric-Jan also makes a funny point that, as an audiophile, you have to be schooled in many fields. You have to be an electronics engineer (what's the theory), a metallurgist (how do alloys and geometries affect the sound), an acoustics expert (what's messing it up), and more. Yet, I noticed during my time with him that, not only does Eric-Jan know everything there is to know about the Ayon products he sells, he is also well-versed in the many aspects of system tweaking and cable termination. Of course, he will be able to tell you why a connector such as from Furutech is worth its price, but thanks to lots of experimentation, he can also tell you what the sonic differences are between it and another brand.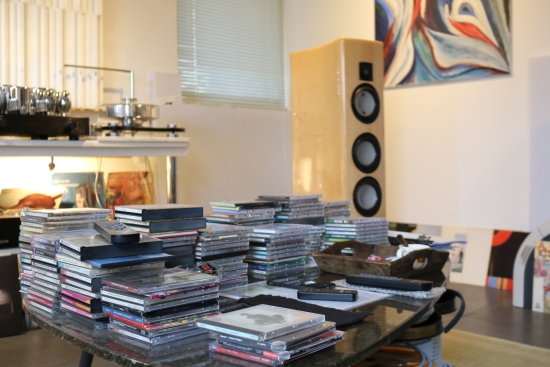 This practical knowledge comes in handy for Audiocorner's second tier. In addition to selling Ayon equipment, Eric-Jan also manages the Holland Link.nl webshop where you can find all sorts of cables, connectors, tweaks, and accessories to make your own cables and upgrade your system. The operating principle here is to offer high-quality but no-nonsense products. Brands such as Furutech, KONDO, Supra, and Neotech all have a proven track record and require no introduction.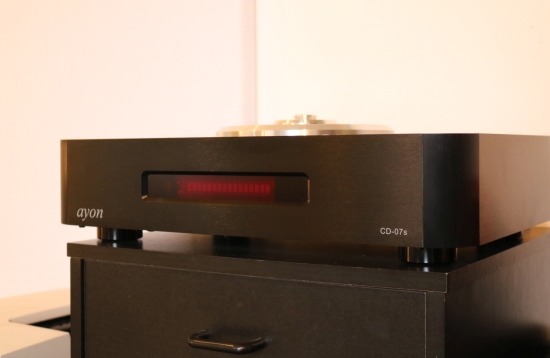 A traded-in Ayon CD-07S CD player
Besides Audiocorner, there are a handful of other Ayon dealers in the Netherlands but none that I know offer as wide a range of products that are all ready for demo. Still, I can't help but notice that the brand still does not seem to get the attention that I feel it deserves. With this review, I do hope to help change that!