Audiocorner Company Visit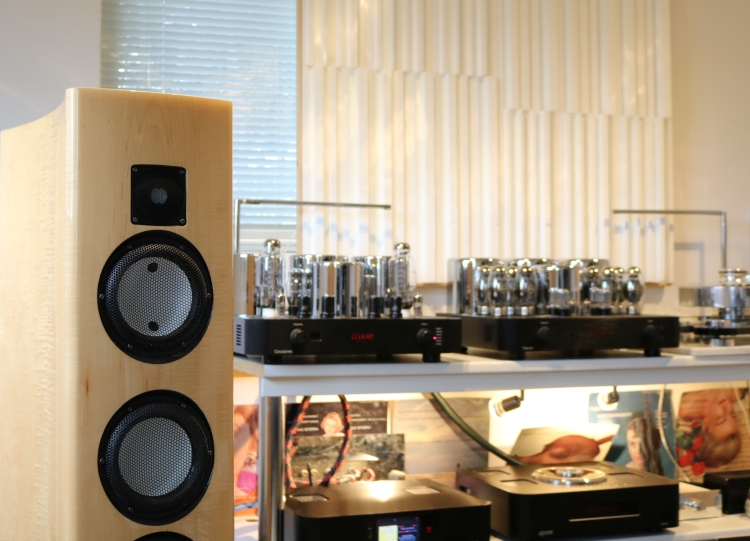 Showroom System Description
The Audiocorner showroom system contains two integrated amplifiers with different sonic perspectives. There's the very powerful 8x KT-150 Push-Pull Triton EVO (basically an updated and doubled-up Spirit III) and the Crossfire III that employs a single AA62B SET tube (Single Ended Triode) per channel.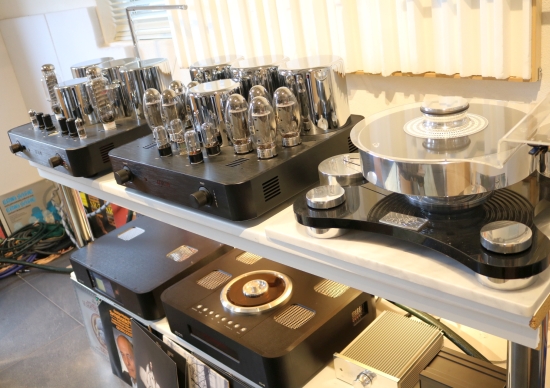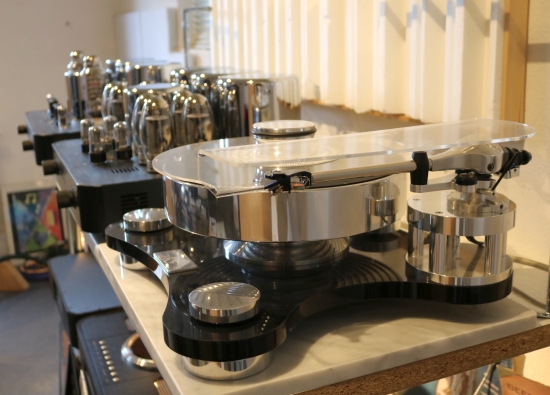 Eric-Jan made the very conscious decision to offer SET as well as Push-Pull so that he can demonstrate the relative strengths right there on the spot. Further, and contrary to the more normal course of events, he decided to have the more expensive Ayon products on demo while being able to supply the lower-end products as well, rather than the other way around. I, for one, welcome this strategy!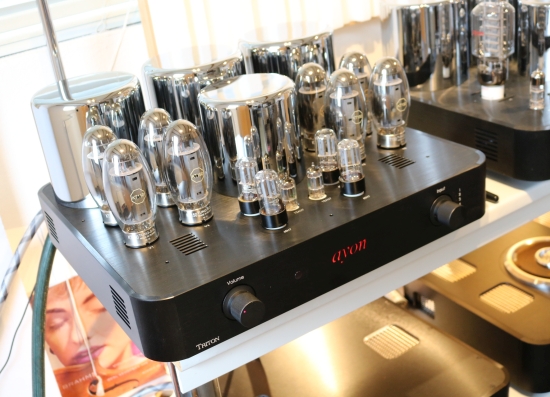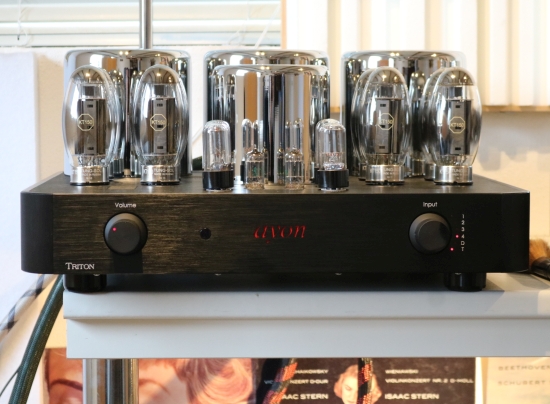 The sources are the Ayon CD-35 connected with an Ayon EVO interlinks, a Transrotor ZET-1 TMD turntable, and the Ayon S10 Signature network player connected with KONDO analog interlinks. The S10 is connected via a Wireworld network cable to a NAS under the table which in turn connects to the network switch via a Furutech network cable. The speaker cables are Neotech and all the components are powered by Neotech power cables straight from the wall outlets, with a Wireworld Spaceport for the ancillary equipment. Flanking the system are the Ayon three-way, all-Ceramic-driver (presumably Accuton) GyrFalcon loudspeakers.
With a characteristic impedance of 6 Ohms and an efficiency of 91 dB, the GyrFalcons are not a very difficult load and they are driven as easily by the Crossfire III as they are by the Triton EVO, although the latter obviously ultimately has the best grip on the drivers.
Listening
When I first contacted Eric-Jan, I asked him to just play anything he likes. I did bring my own music just in case but as it happened, there was absolutely no need. I don't often publish playlists but because of the especially nice and very diverse selection that Eric-Jan made, I will make an exception and publish the list below.
OU ES TU MON AMOUR, Reinier Voet & Pigalle44. Ballade pour la nuit (Sound Liaison; DXD)
EASE THE PAIN, Carmen Gomes Inc. Up Jumped The Devil (Sound Liaison; DXD)
LIGHTS OF BARCELONA, Marc Vallée trio. Audiophile Analog Collection vol. 2 (2xHD; DXD)
ÉCHANGES SYNAPTIQUES INTERDITS, Frederic Alarie (double bass), Eric Chappell (Octobass). Audiophile Analog Collection vol. 2 (2xHD; DXD)

MUSICUS PERCUSSION #3, Percussion Ensemble / Improvisation. 

Audiophile Analog Collection vol. 2 (2xHD; DXD)
SE, VI GÅR OPP TIL JERUSALEM, Sigmund Groven (orgel) & Iver Kleive (mondharmonica). harmOrgan (2L; DSD)
ROCK IT TILL THE COWS COME HOME, Doug MacLeod. Exactly like this (Reference Recordings; FLAC 176/24)
ILOMILO, Billie Eilish. When we all fall asleep, where do we go? (Universal; FLAC 44/24)
THIS TIME, Tracy Chapman. Crossroads (Elektra; CD en FLAC 44/16)
EBBENE, CHE FARESTE, MADAMA BUTTERFLY, Mirella Freni (sopraan), Robert Kerns (bariton), Wiener Philharmoniker, Karajan. Puccini: Madama Butterfly (Decca; CD en FLAC 44/16)
VAMP, Trentemøller. The Last Resort (Poker Flat Recordings; FLAC 44/16)

ABSINTHE, Dominic Miller. Absinthe (ECM Records, Stream Qobuz)
We kicked off the listening session with the S10 Signature network player of which I know first-hand how great it sounds since I reviewed it a while back. We started with the mighty Triton EVO amplifier and would swap to the Crossfire III amplifier later.
Although I have plenty of experience with all kinds of Ayon components, my exposure to Ayon loudspeakers is limited to one session at a friend's place, an Ayon demo at the High-End audio show in Munich, and this occasion. Thus, my impression of the speakers was incomplete but what did stick was that they are lively, open, and communicative. From the first notes that I heard in the Audiocorner showroom, I got the exact same impression. But not only did the speakers sound spritely and open, but they are also incredibly articulate, very linear, and exceedingly transparent. Everything that you play is relayed seemingly entirely unmodified but also presented in a manner that is always musically engaging. Throughout the session, the timing was spot-on and my foot was often tapping.
Recently, I have made big changes to the acoustics of my own listening room to balance the left and right channels with resulted in much more linear speaker behavior and an overall match between the left and right output to within only a few dB's. The bass behavior, in particular, has become so much more accurate that, as a result, I am now hearing small phase issues in pretty much any other room, including my own secondary listening room. In the Audiocorner room, however, I heard none of these. So, kudos for Eric-Jan's room and set-up skills. Only after hearing multiple tracks, I could identify a slight nulling in the mid-bass due to a room mode. When speaking about this with Eric-Jan, he confirmed this, adding that this was the best to be achieved in this room. In the lowest bass, however, these speakers, and the rest of the system, performed absolutely sublimely, leaps and bounds better than I hear in most demo rooms.
I can understand the criticism that some people have with respect to these speakers, which is that they can sound a little dry. Personally, I feel that they are simply incredibly accurate, absolutely non-smeared and highly uncolored. All that's needed to balance this out is to use synergistic-sounding equipment. A certain brand comes to mind… You guessed it: Ayon!
As can be read in any of my Ayon reviews, there's one thing that Ayon electronics certainly are not, which is thin or devoid of color. They are always open and well-detailed but never in a bad way analytic, let alone clinical. All the components that I reviewed have one particular strength in common which is their solid, sonorous, full-bodied, and very natural sound. Whereas other full-sounding components usually also tend to sound smeared, none of the Ayons I heard do. On the contrary: the components sound unusually tight and agile, especially for tube equipment. There's another aspect of Ceramic drivers that sometimes pops up negatively which is that the material can resonate at annoying high frequencies. But this was clearly also under control as not once did I find the sound to be piercing in the least. And, trust me: I am quite sensitive to this.
From Triton to Crossfire
With all their transparency, undamped openness, and linearity, the GyrFalcons are not what one might call lush or "romantic" speakers. But here, too, Ayon electronics can come to the rescue, for instance by changing the muscular Triton EVO for the Crossfire III. In my own system at the time (Wilson Watt/Puppy 8), I found this amp to sound remarkably dynamic and even a bit upfront, but in the Audiocorner system, it provided a sweeter and richer tone and the kind of organic, humanly convincing and 3D portrayal of vocals and acoustic instruments along with the-flowing soundstage that SET amplifiers seem to have a patent on. Along with this, the dynamics remain very good but with comparatively just a mild rounding of transients. Likewise, the bass remains very robust but loses a bit of control and precision compared to the Triton EVO. Such are the differences between Push-Pull and SET.
Interestingly, when using the Crossfire as a power amp (rather than an integrated amp) by connecting the S10 or CD-35 to its main inputs directly, thereby bypassing the amp's integral preamp section, this leads to very interesting results. One of the areas that Ayon addressed with later versions of their integrated amplifiers is the preamp section. It's worth noting that the Triton is the latest EVO version while the Crossfire III is an earlier model. When using the source component's volume control, the Crossfire's bass and treble gained precision and the overall resolution increased very noticeably to make for a great balance between sweetness and alluring magic on the one hand and speed, transparency and impact on the other hand. Understandably, a pair of AA62B tubes do not magically become an octet of KT150's but once you're under the spell of the SET magic, it can definitely be hard to come back to any Push-Pull amplifier.
CD-35
When switching from the S10 Signature streamer to the CD-35 CD player there were two things I noticed. First, the confirmation of just how superb a source the S10 Signature is. Second, that the CD format still brings a certain aspect that a computer source does differently, no matter how it is implemented.
The S10 Signature is probably the most non-computer-Esque-sounding streamer that I have heard. It sounds so effortlessly full-blooded and musical that one need not worry about playing CDs. That is until one makes a direct comparison. What CD still does better is to provide depth and substance, as well as natural flow, to vocals and acoustical instruments within the soundstage. What the S10 adds, though, is slightly better transparency and slightly higher precision with more articulate bass. Oh well, at least this leaves something to choose from. Or not, budget allowing! Personally, I am a fan of AND-AND. Why choose?
The beauty of the Audiocorner demo room is that the buyer can simply listen to both sources and both amplifiers and decide for him or herself whether to stream or play CDs and what type of amplifier to use.
Holland Link EU
Although Eric-Jan has a nice Transrotor turntable set up and ready for use in his Lutjebroek showroom, Audiocorner has a partner in Rotterdam that specializes in Vinyl: Holland Link EU.
Maybe I should also pay a visit to the turntable-mecca in Rotterdam someday. But for now, let me conclude my report of Audiocorner in Lutjebroek by saying that I left Eric-Jan completely relaxed and in a good mood, ready to face the highway back to Amsterdam. Of course, it was my luck to end up in a completely still-standing traffic jam that lasted for over an hour. While drivers exited the queue and drove backward in an attempt to escape or were getting out of their cars to stretch their legs, I learned that there had been an accident right before a tunnel that caused the road to be closed off. Although I got home way later than anticipated, still, this could not ruin my good mood. This is the effect that good music on a good system with good company can have.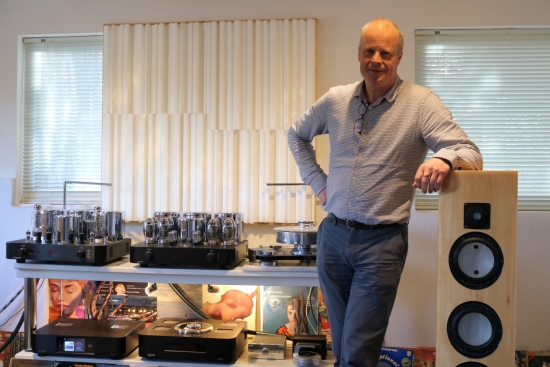 Update 29-07-2021
In addition to the existing Furutech, KONDO, Supra, and Neotech cable brands, Audiocorner is now also an official dealer for Jorma Design cables. Erik Jan has gone big right from the start by having the interlinks, speaker cables, and power cables from the Trinity, Duality, and Unity lines, as well as the Reference ethernet cable, all available for demo.
External Links
Webshop for cable accessories and tweaks: Holland Link NL
Vinyl specialist, web shop, and showroom in Rotterdam: Holland Link EU
Ayon website: Ayon Audio
Ayon Distributor for the Netherlands: Mafico
Jorma website: Jorma Design