HifiLive show report Valencia 2019 – part 1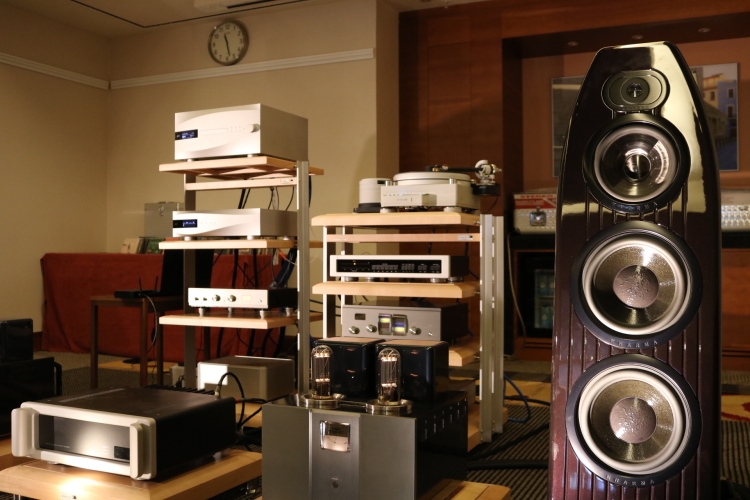 Organized by Miguel Castro, the HifiLive show covers a wide range of brands, showcased by a number of distributors in a large number of luxurious rooms. The biggest contributors were Cayetano Castellano's Enosound under the Audio Club Premier umbrella and Miguel Carvalho's Ultimate Audio Elite.
For a person not living in Spain, a show in Valencia may not carry much importance. But the same could be said about the Munich high-end show. While the HifiLive show does not have the same scale as the biggest audio show on earth that is Munich, the hotel and the rooms are much more luxurious and also much, much, much better sounding. The rooms in question were mostly meeting rooms rather than hotel rooms. In fact, I heard a couple of systems that I knew that sounded better here than anywhere else that I had heard them. What was also nice is that the public that was attending the Valencia show was very relaxed and easy-going which further aided the atmosphere of luxury. Lastly, there are no entry fees!
Please note that the below is meant as a global report, an impression, not full coverage.
A big roundabout in Valencia near the hotel with a statue made of what looks like flowers of paillettes that all move independently in the wind. I had no idea what this statue was at the time but Wikipedia tells me that it is a depicture of "Dama de Elche" (Lady of Elche), also referred to as the Iberian Lady.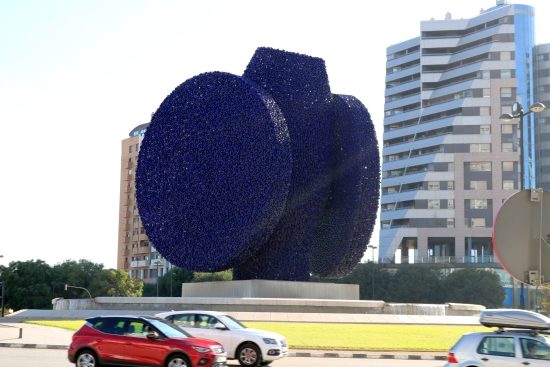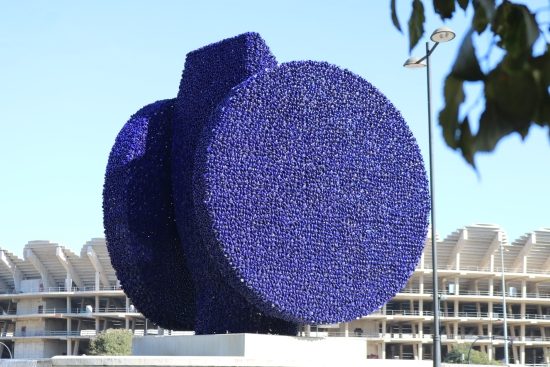 The sculpture has a mesmerizing effect that does not help on a 4-lane roundabout without the actual lanes marked on it and everybody seemingly randomly moving from left to right. But one quickly adjusts to this and before I knew it I was driving like a true Valencian: starting before the traffic lights are actually green and moving lanes in a lightning-fast fashion.
I wish we had roads like this in the Netherlands. Instead, we have this: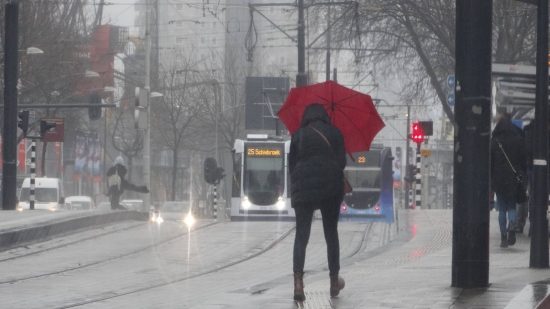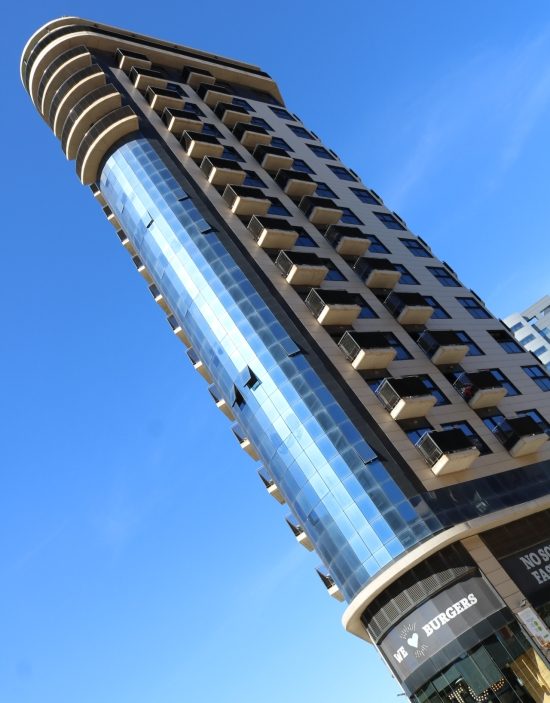 Ahhh, ok, I'm in a holiday mood!
Some terraces near Hotel Melia.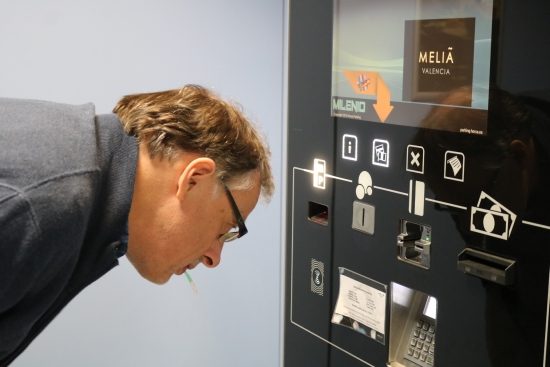 That's Audio buddy herr Doctor Auer, checking the hotel parking costs. Of course, compared to Amsterdam (7,50 euro per hour in the center of the city), nothing is expensive. At 14,20 Euro for 5 or so hours I thought it was very reasonable.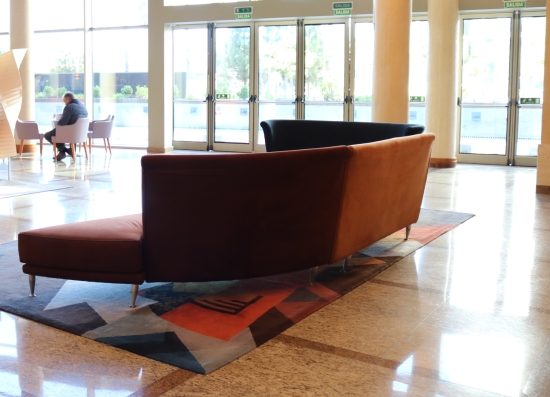 The lobby is very spacious and luxurious.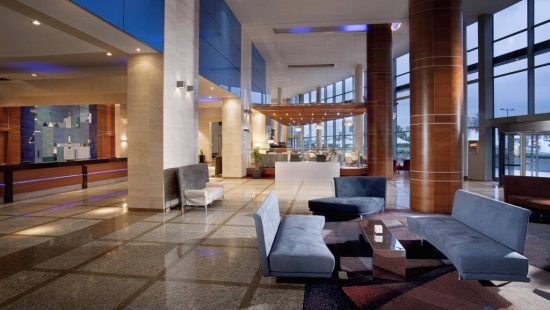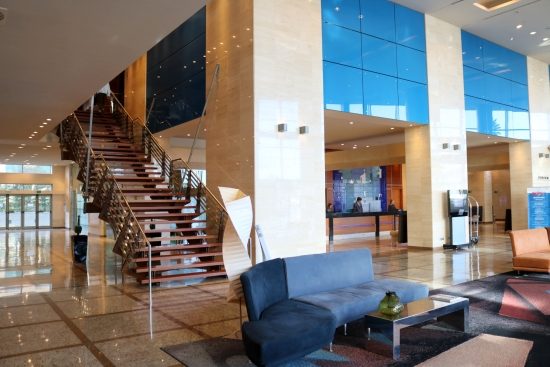 On the left is the stairway to (audio) heaven.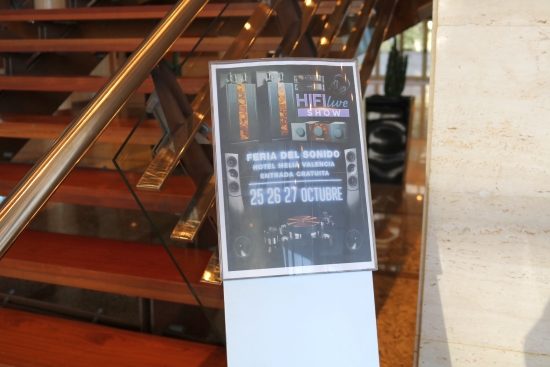 Stealth-Mode… Only this almost hidden A4 paper showed the way to the Audio Nirvana that was upstairs. Having attended the show, I feel that it deserves way more credit than this!
This was the starting point and also the biggest section of the show with some of the nicest rooms.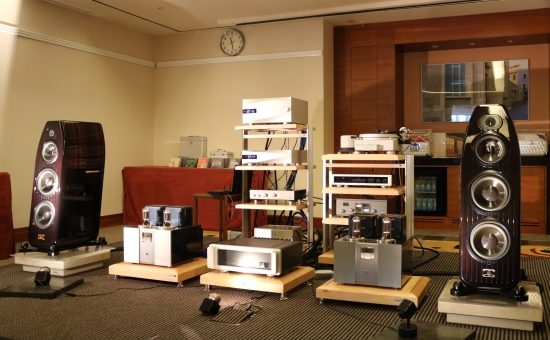 The first room I attended had an interesting setup of Kharma Exquisite Midi loudspeakers with Air-tight preamp, phono preamp, and mono push-pull power amps. The Spectral preamp and power amp were not playing at this time. The source was either the TechDASAir Force III or the dCS Vivaldi One player/DAC and Master Clock. As I always find with current Kharma's, the sound was very finely detailed and extremely fluid and smooth. So much so that I find it simply too polished and polite. But that's just me. Clearly, not everybody feels this way:-) Fortunately, for me, a change of speakers the next day would put this room's system in a very different light.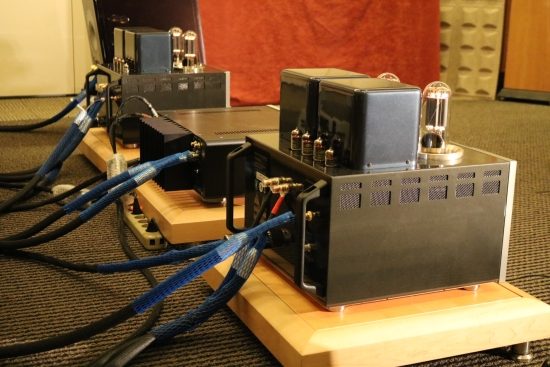 Visually similar to certain Siltech cables, all the cables are actually from Dyrholm Audio.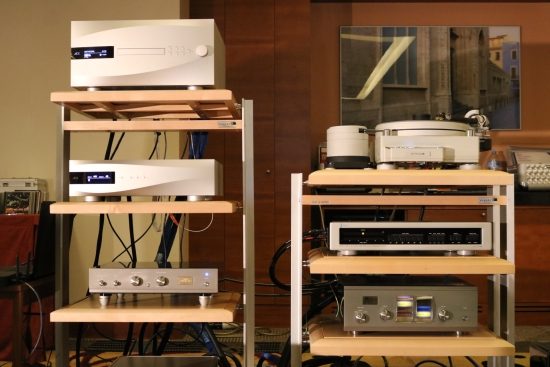 I haven't heard any dCS components in my system since the Delius and Purcell but every time I hear them at shows I get the distinct feeling that the modern-day dCS sound is incomparable to that of old. The Airtight ATE-3011 phono preamp is interesting because it offers freely and independently adjustable Turnover and Rolloff frequency adjustments, basically meaning that one can tailor the sound precisely and independently for the lower and upper frequencies.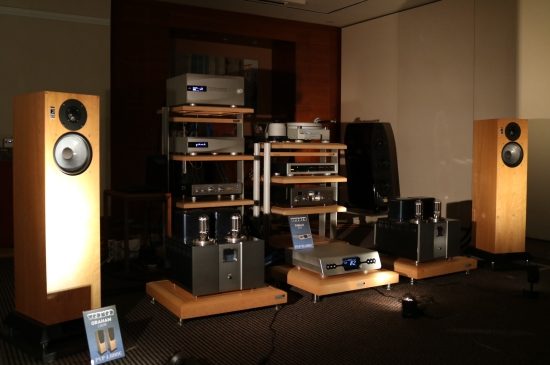 When I came back to this room on another day, the Kharma's had been changed for Graham Audio LS5/9f which are floor-standing variants on the BBC LS5/9's. The dCS Vivaldi One was still on duty as the source but now the power amplifiers were changed to the integrated Thrax Aries. The sound was incredibly lifelike. Especially vocals had purity and convincing "right in front of you" aspect that worked incredibly well with small-scale music. Audio buddy JW even pronounced this setup as the best of this show, adding that he got goosebumps and a real emotional connection with the music. I agree with him on that part but I also listen to music a little bit differently. For instance, I also find the quality of the bass very important. On that aspect, the LS4/9f's are good but not great. The bass goes deep and is surprisingly full but not very tight or articulate.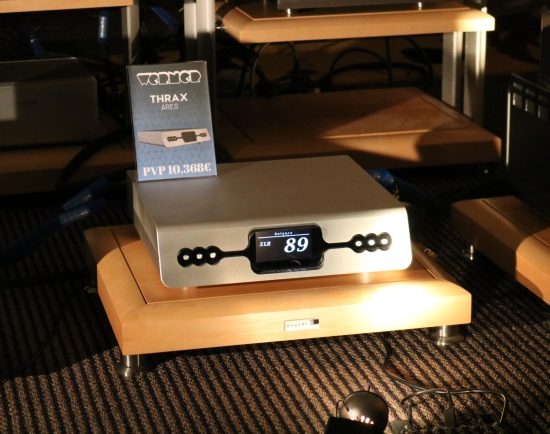 Thrax Aries integrated amp – by what I heard at this show definitely worth investigating. Despite appearances, this is a ClassA/B amplifier, not a Class D unit. The entire casing is used as a heat sink, hence the lack of cooling fins.