HifiLive show report Valencia 2019 – part 2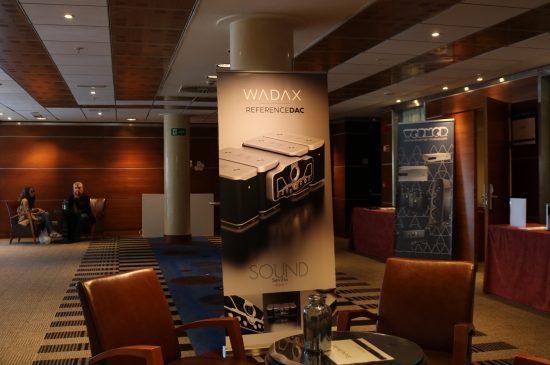 The next room had a setup more suited for me and less so for JW…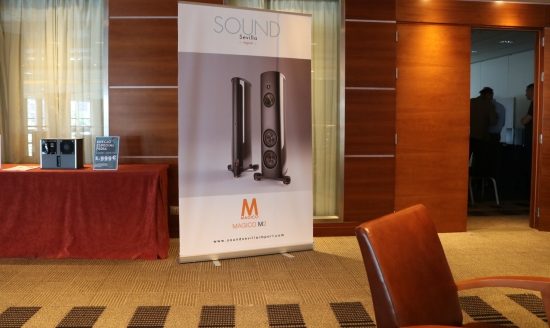 Magico as a brand seems to generate very black and white opinions. Everyone has opinions about them and either they love them or they hate them. Personally, I have huge respect for what they achieve and even if one could say that they can be so accurate as to spoil the fun, I find that this has a lot to do with their placement and the room size and listening position. Yes, they can sound thin, because they don't add any heft to the bass. The bigger the Magico, the more satisfying the bass. Note that I did not say "the better the bass" because even the smaller M2's have extremely well-integrated, top-class bass. It just may not be "fat" enough for some people.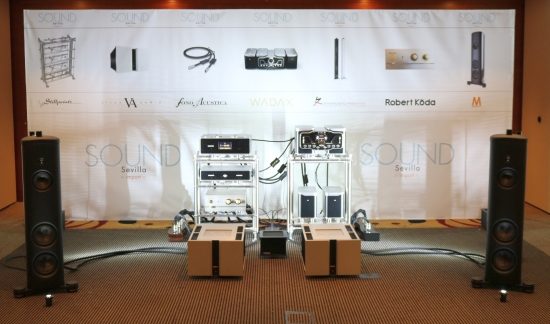 As I have not heard them side by side, I'm not so sure how the Magico M2 differs sonically from the S3. On the surface, they seem to aim for a similar sound. What I do know is that the M series looks absolutely stunning.
Wadax as a brand has been on my radar for a while but I've not yet heard any of their components in my system. As such, I can't really comment on their sound, except to say that I have not heard any Magico's produce a more hi-res or more transparent sound before. Used here in the Stillpoints racks are the Wadax Atlantis transport and the visually as well as price-wise breathtaking Atlantis Reference DAC. The preamp is a Robert Koda and the mono power amps are Vitus Audio.
This system had no sound signature at all – it was extremely transparent, super-coherent and extremely well-resolved and it allowed all the details in every recording to come through with extreme clarity. It was not a warm or romantic sound but neither was it clinical. Analytical, perhaps, but never hard or edgy or otherwise offensive. And the soundstage was very wide with an extremely good focus between the speakers.
Atlantis Transport on the left, Atlantis Reference DAC on the right.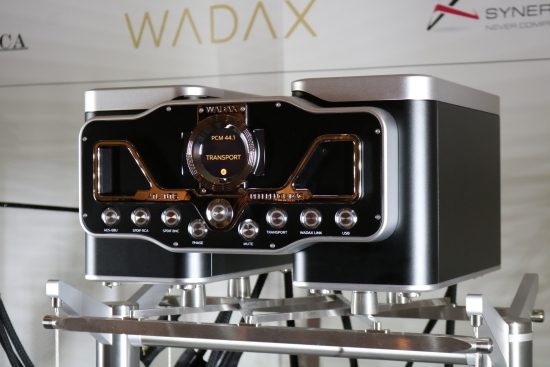 The top part of the Atlantis Reference DAC. Its second half is one shelf lower, divided over two boxes.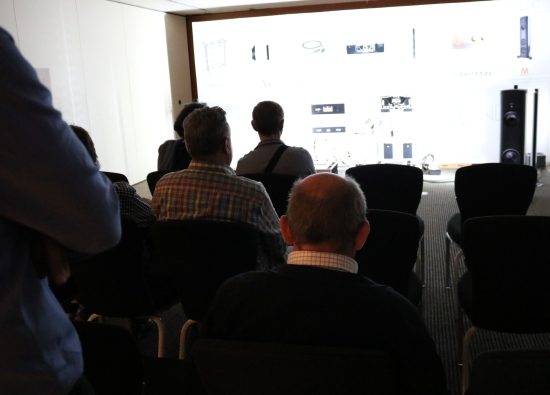 I generally don't like using a flash for photos but for the Wadax/Magico system, I should have made an exception. While the big, white background looked perfect in real life and was indeed informative, it threw off the photos' contrast levels.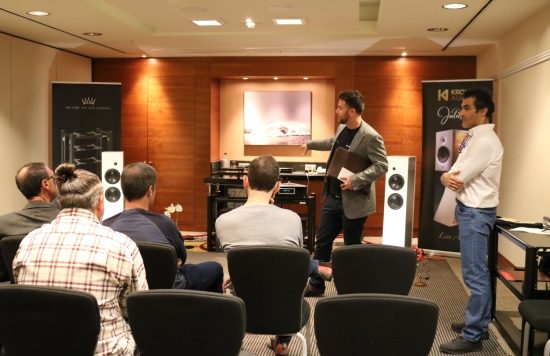 Moving on to the third room in this section, here are Cayetano (middle), VP of Audio Club Premier and Artesania and co-owner of Kroma Audio and Rui of Ultimate Audio Elite (right). Rui played various diverse, non-standard, non-audiophile tracks that really made the system shine.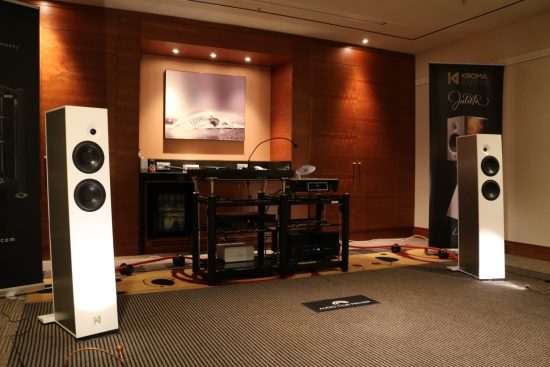 The system is clean and simple: the new Kroma Stella speakers with a Gryphon Diablo 300 integrated amplifier and the new, triangular-shaped Gryphon Ethos CD player in an Artesania Exoteryc tandem rack.
This system sounded absolutely amazing. There was so much force in the bass and such flabbergasting dynamics that I wondered if I had heard these before in my own room with the Carmens. Maybe it's the room that is better suited or maybe the Diablo 300 had a lot more to do with this? Either way, after this demo it is clear that Gryphon certainly is a brand worth investigating.
Dynamics aside, the timbre was also super-convincing and natural and everything that was played sounded fabulously rich and full-color but also very neutral and natural and never, not ever hard or edgy. Interestingly, the different woofer and tweeter models made very little impact on the overall presentation which was 100% Kroma.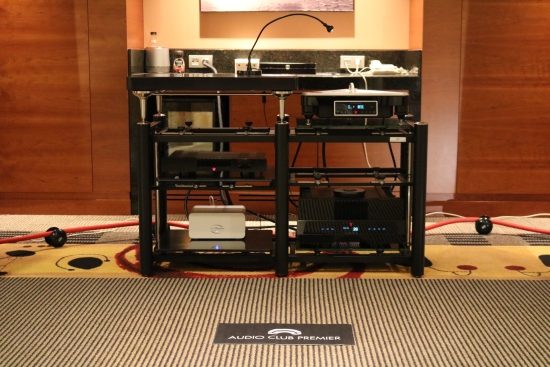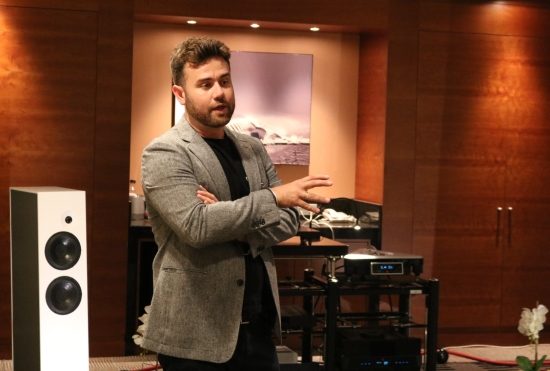 Cayetano, explaining to the people in the room all about Kroma in Spanish of which I understood pretty much not a single word. Time to learn Spanish, I guess… 🙂
The Gryphon Ethos CD player.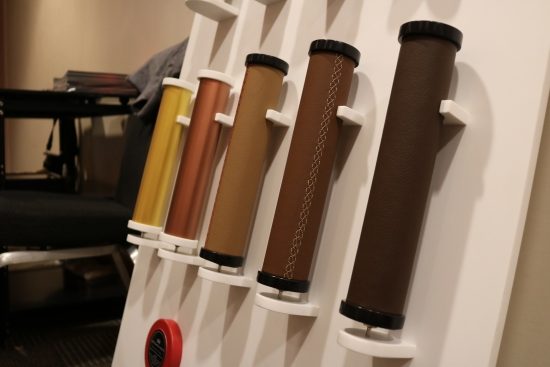 Genuine leather cover options for the Artesania Organic Line Modular Rack pillars
Paint coat options for the Artesania Absolute and Exoteryc rack pillars.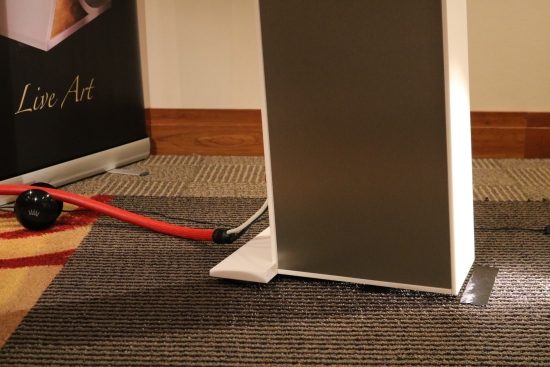 This Stella had aluminum side panel covers. The cabinet itself is made of 100% Krion just like those of the Carmens but of much thinner panels which explains how their retail price can be so much lower.
These two gentlemen leaning casually on the Kroma Stella are Cayetano and the new member of the Kroma team, Miguel Carvalho. Former member Miguel Castro who was responsible for the cabinet designs has left the company in order to start work on other projects. Among many other things, he also organized this HifiLive show. Javier Millán, finally, still does the electrical design for all the Kroma Audio speakers.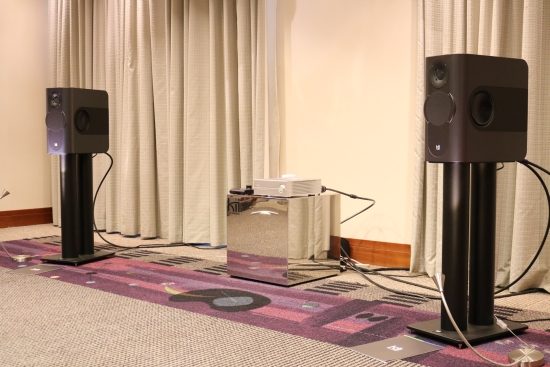 Having left the big foyer and dived into the hallway there were very many more rooms. Such as this one featuring a system even simpler than the Kroma one: just the Kii Three speakers with an Antipodes CX Music Server.
The Kii Three contains six drivers per cabinet, along with six channels of DSP, D/A conversion and Ncore class D technology power amplification, designed by Bruno Putzeys. The sound of these speakers was not at all what I had expected from a complex "digital" speaker. These speakers sounded incredibly refined and airy as well as spacious and well-focused all at once. In addition, the bass was of a very good quality, not only given the cabinet size but in general.
Don't assume that these would sound anything like Genelecs or Devialet Phantoms as it's of a completely different order and actually more akin to Magico than to other active speakers. The only competition I know of in their field would be the Grimm LS1's.
There was nothing "digital" about this performance. Even the timbre was very natural. If there was anything that could be said against these speakers it would be that they can be so clean that some people may miss the colorations that they are more used to hearing.