Auralic Aries G1 and Lumin T3 – Quick Impression
Please note that this is not an in-depth review but a Quick Impression of these two streamers to provide a high-level (overall) comparison of their features and performance. I will use the Secondary Audio System with an Accuphase DP-430 CD player as DAC, an Accuphase E-270 integrated amplifier, and Xavian Perla Esclusiva speakers for this comparison.
The Roon Core is on a Grimm MU1 server, while the MinimServer core for UPnP is on an Antipodes Oladra server. Both servers are in the other room, connected via identical power- and ethernet cables to the same network switch.
Auralic Aries G1
The Aries G1 is not the latest/current model but is still relatively recent. Nevertheless, it offers much the same performance and features as the current model. The unit accepts various streaming formats such as DLNA, Spotify, Qobuz, Tidal, Apple Music, Airplay, Bluetooth, and, importantly, Roon. With right considered the industry standard, I personally prefer Roon, which works very well with the Aries G1, and this is how I will use it for this test. The Aries G1 has no built-in DAC and offers digital AES/EBU, S/PDIF Coax, S/PDIF TOSlink, and USB outputs, of which I will use the latter via a CAD USB 1 cable.
Lumin T3
The Lumin T3 is the current model and it includes the company's latest processing system to provide upsampling/downsampling (even to DSD) and Leedh digital volume control, which works for both the analog and digital outputs. The unit accepts extended UPnP AV (OpenHome), Spotify, Tidal, Airplay, and Roon. The T3 offers S/PDIF on BNC and USB digital outputs, of which I will use the latter via a CAD USB 1 cable. I used it with fixed volume and no upsampling. The unit also has a built-in DAC built around Dual ESS SABRE32 ES9028Pro DAC chips. I will use it via CAD USB 1 cable and Driade Flow Link Reference 808 XLR interlinks and will swap these between the T3 and the DP-430 to compare their DAC sections.
Listening
The T3 was stacked on top of the Auralic for convenience, and both were powered with the same Belden 19364 cables with Bals schuko and Oyaide C-004, allowing a couple of hours to warm up. Using a reference Qobuz downloaded album (Till Bronner and Bob James – On Vacation) and a handful of loose tracks, I first listened to my default streamer for this system, which is the Auralic using Roon.
I suspected the Lumin would sound best when used with its own app and MinimServer, or at least closest to its original intent, so I started with that.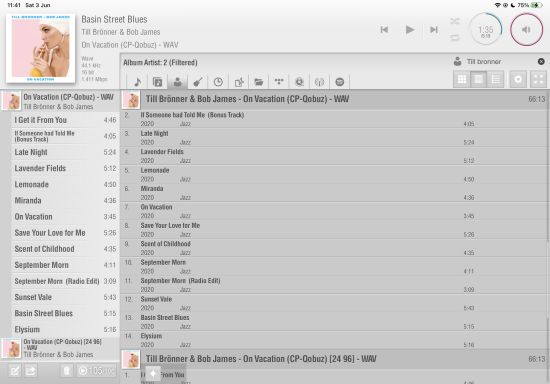 Switching from the Auralic with Roon to the Lumin with UPnP and playing the same audio tracks, the latter sounded markedly different. But different, in fact, than UPnP normally sounds when compared to Roon. Normally, I find that UPnP sounds tight, articulate, crisp, and direct, and Roon is relatively smoother and more relaxed. In this case, however, the Lumin sounded richer, sweeter, and "Geschmeidiger" as the Germans say. It has excellent resolution, but it is presented in a less crisp and more relaxed manner. Compared to the Auralic, it sounds a little less exact but also a little more spacious and voluminous.
The Auralic, by comparison, is leaner and crisper in the bass and more open and direct in the midrange. In this respect, it leans toward the Grimm MU1's sonic presentation for its deviating Roon performance.
For reference, I also briefly listened to the Auralic via MinimServer UPnP instead of Roon, and indeed, this provided the usual leaner, crisper, and more direct sound. Given the unit's inherently already very precise, neutral, and open sound, I prefer Roon.
Now switching the Lumin from MinimServer UPnP (on the Oladra) to Roon (on the Grimm), there was a further increase in (bass-)fullness and smoothness, leading to an overall slightly too voluptuous sound for my liking. Still, I can imagine people preferring this to a leaner and more neutral delivery. I would liken it to a more typical "tape" sound, which listeners may associate with a more "analog" approach. To me, however, this is too euphorious, and I would personally prefer using the unit with UPnP. It should be mentioned that while the UPnP format can sometimes be finicky, it works very quickly and utterly stably with the Lumin.
T3 Analog
While using the CAD USB 1 cable for the T3's digital output into the DP-430, I used Driade Flow Link Reference 808 XLR interlinks to swap between the T3 and the DP-430 to compare their DAC sections. Naturally, I made sure to match the volume level and phase settings.
This was a rather interesting exercise! For starters, the Accuphase has a Quad-AKM DAC implementation while the Lumin has a Dual ESS Sabre implementation, but arguably more pertinent, we're comparing a streamer's DAC to a CD Player's DAC, two components of very different standing, that at respectively 5.200 vs 5.600 euro are priced quite similarly.
I've heard a few ESS implementations before, but I had mixed feelings so far. With the Lumin T3, this is not the case. Surprisingly, the Lumin sounds impressively precise, articulate, open, direct, and expressive via its analog outputs. More so, in fact, than via USB. There is no hardness or edge, and the treble is actually rather lush and refined. In a way, the Lumin's onboard DAC's explicit liveliness compensates for its streamer part's lushness, making for a neutral, natural, and emotionally engaging delivery. In any case, this DAC seems to be well-implemented.
The Accuphase and Lumin actually sound more similar than different, the main difference being that the DP-430 is slightly more relaxed and refined and has subtly more delicate and airy treble. But overall, there is much less between them than I anticipated.
Conclusion
What we have here are two excellent and relatively affordable streamers that present music in a generally neutral and fully enjoyable manner. When push comes to shove, however, they are both slightly deviating from opposing ends of what I would consider absolute neutrality.
When compared using USB, depending on the system and on personal taste, one could find the Auralic to be slightly lean and clean or the Lumin slightly smooth and fulsome. The Auralic is perhaps a little analytical, while the Lumin is perhaps a little euphoric.
When combined with the Accuphase DP-430 CD player's DAC section, I personally prefer the Auralic for its direct, transparent, and articulate delivery, especially since it sounds great using Roon. The Lumin has a smoother and more relaxed approach but also sounds great, especially when using MinimServer/UPnP. Personal preferences aside, I know many listeners are looking for a smooth and lush delivery in digital, and the Lumin provides this without sounding closed-in or veiled. And there's no denying that its onboard DAC offers exceptional value for money, especially when considering the Leedh volume control as the best digital attenuator in the business.
Both servers look great, work well, sound excellent, and are easy recommendations.

External Links
Lumin Distributor for the Benelux: LookenListen
Lumin Manufacturer's website: luminmusic
Auralic Distributor for the Benelux: Dynaudio
Auralic Manufacturer's website: us.auralic