Home Audio Fidelity – Loudspeakers & room digital correction services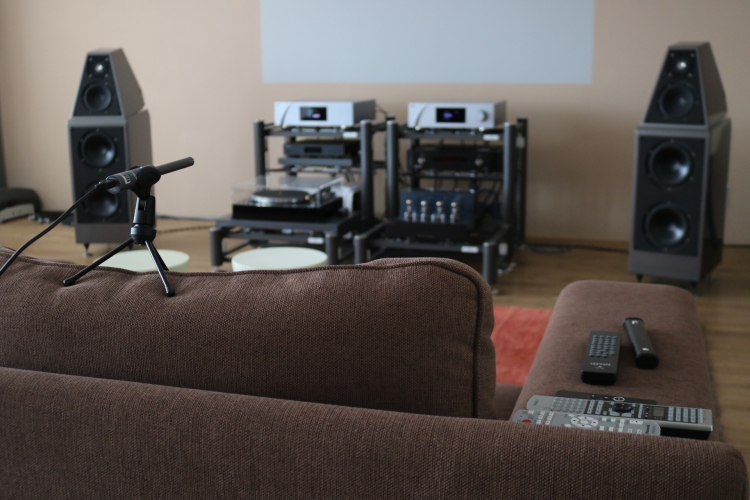 A new approach to digital correction for Loudspeakers & Rooms
Retail prices:
$109 – $159 for generic models (as used for this review)
$189 – $239 for head models and multi-user cases
Home Fidelity Audio offers unique correction techniques which they claim bring the highest level of realism one can expect from a system: perfect timing, perfect tonal balance, and an extended soundstage. All this is achieved by using custom-made Convolution filters that can be loaded in music player applications such as Roon, HQplayer, JRiver, Foobar, Audirvana and any other player with VST plug-in format compatibility or using Brutefir convolution engine.
Combining acoustic crosstalk reduction and room correction
This is not your ordinary room correction which is usually based on filters that only change the direct sound and aim for a flat on-axis response. Rather, this is a unique approach that allows separate control of the direct and reverberated sound to create almost perfect transients with a minimal level of pre-ringing and optionally also actively reduces inter-speaker crosstalk.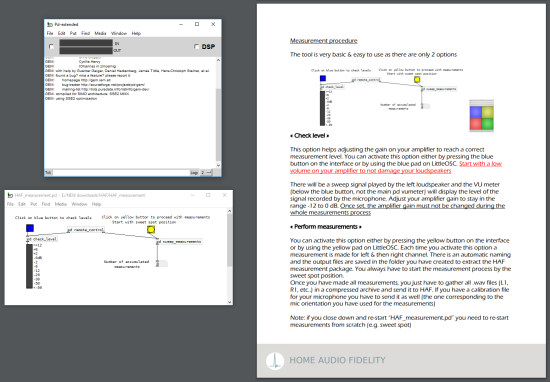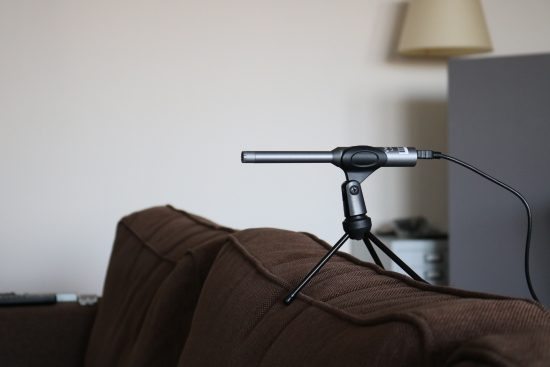 The Process
The process is two-fold. The first step is to create a set of room transfer function measurements (RTF) using the provided sweep wave file, a calibrated measurement microphone such as the Dayton UMM-6 or MiniDSP UMIK-1 and a simple software program provided by Home Audio Fidelity or by using REW, or any WAV editor program. This may sound like a mouthful but all this means is that you repeatedly play back a wave file which you then record with the microphone in various positions to capture your speaker-room interactions as well as interactions between the speakers themselves.
Above: measuring in the listening position. I repeated the measurement in 8 more positions.
The second step is where the bespoke service comes in. Home Audio Fidelity analyze the audio files that you created and then produce a set of Convolution filters specific to your speakers and setup.
As part of the 159 euro "Excellence" option, two filters are provided: a baseline filter as the first iteration focused on room issues and a version that also offers crosstalk reduction. Once the customer has taken some time to experiment with the baseline filter, more options are possible such as a filter that also corrects for irregularities in the loudspeakers' frequency response, with or without crosstalk reduction. Thierry is in favor of minimal correction but the filters can always be further adjusted based on the consumer's feedback.
In the Netherlands, we are just recovering from a record-setting heat wave that in my case resulted in indoor temperatures in excess of 30 degrees Celsius which effectively shut down all my audio activities. Since a couple of days of heat are usually immediately punished with heavy rain and low temperatures the Dutch don't normally bother to install air conditioning in their homes. We always need to heat our homes, not cool them down! But if the past summer period is an indication for summers to come then a nicely powerful airco system is what I will install!
Thierry of Home Audio Fidelity is very friendly and very responsive. Where I took my time to produce the measurements due to the ongoing heat, Thierry provided the Convolution filters and instructions the very next day after I sent the files to him.
Each Home Audio Fidelity filter's ZIP archive contains 16 impulse response files, one for every sample rate, separately for left and right. Having separate filters prevents resampling and so improves the performance. There is no need to access or assign them separately, though, as Roon automatically applies the appropriate filter based on the source material being played.
Test Setup
I tested the filters using Roon and the current reference system, consisting of the Antipodes EX music server, connected to the CH Precision C1 DAC/Controller via a Mad Scientist Black Magic USB cable with the CH Precision A1 amp feeding Wilson Watt/Puppy 8 speakers via a Jorma Design no.3 speaker cable.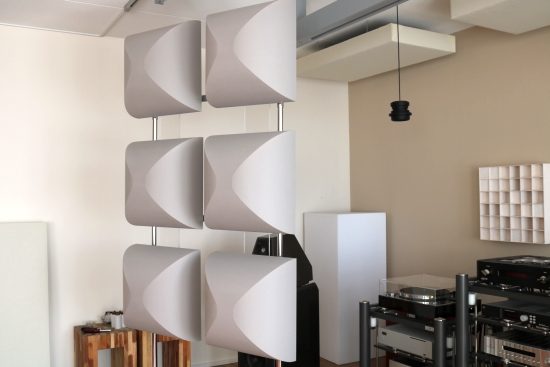 Above: some of the R.T.F.S. and GiK acoustic treatments used during the experiments to the acoustics in the listening room, prior to rotating the setup, as seen below.
The current reference system has been set up very carefully following the input from Ben van Leliveld as part of an AcousticMatters consultancy, completed with my own experiences and four R.T.F.S. Big Block bass traps strategically placed in the room. As a result, the sound was already pretty even-handed, especially from the midrange and up, with only some mild residual peaks in the bass range. Importantly, the listening sofa was now at two-thirds of the room with the speakers relatively close to the wall, rather than having the sofa near the back wall and the speakers well into the room, as had been the situation for decades.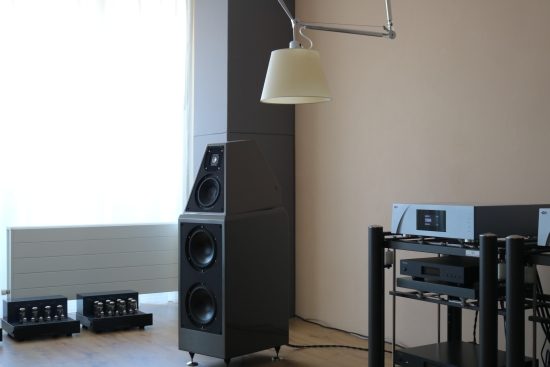 This whole experience had fortified my belief that there is no substitute for approaching acoustical problems physically. As it turns out, though, it should also not be underestimated how much more digital correction can add to an already very good situation. Also, there may be constraints to the amount of physical treatment, in which case the digital approach makes even more sense.
Listening
As Thierry explains: "Crosstalk reduction is really efficient with acoustical recordings like classical music but it can also provide interesting results with multi-track recordings. It is really depending on the material and on a person's sensitivity to imaging". Well, I usually play lots of multi-tracked music and I consider myself to be very sensitive to phase behavior and soundstaging.
Previous experiences have caused me to approach equalization techniques with caution. While room EQ can easily provide a cleaner, more linear sound, often some of the "life" in the music is also reduced. This needn't even be caused by the actual correction but extra physical devices, conversions or digital pathways can also introduce their own artifacts. In the case of Roon, for example, a slight reduction in pace and transient sharpness can be heard as soon as the DSP Engine is switched on, even without any actual processing going on.
Baseline filter
After loading the first Baseline Convolution filter, which addresses room issues, it was immediately clear that the benefits outweighed the downsides. In fact, with the filter enabled and switching the DSP engine on and off, I had a clear preference for the adjusted sound. Not only because of the beneficial correction but, surprisingly, also in terms of PRAT. When switching back to the uncorrected, non-DSP mode, the sound appeared slower and a bit indistinct by comparison. So, not only do the filters provide a more linear sound with clearer, more articulate and more accurate bass, the pacing is also improved, beyond what can be achieved without DSP! But this was only the start of the fun. Next up is the Baseline + Crosstalk Reduction filter.
Baseline + Crosstalk Reduction filter
This filter is the same as the first one but also incorporates the proprietary crosstalk reduction. Wow! This was something else! The soundstage was now completely enveloping me, with a room-filling spaciousness and sounds seemingly coming from left and right behind me, with the vocals now even clearer and still tightly locked between the speakers and bass that was still fast and articulate. The effect in the sound staging was reminiscent to going from regular el cheapo speaker cables to Transparent Reference XL or going from a mid-class CD player to a Wadia 861, and I am really not exaggerating! The interesting thing is that normally when the soundstage is expanded, for example by means of cables, the focus becomes less distinct and the bass less tight. Not here. However, I did notice a small reduction of directness which with particular tracks made me prefer the non-crosstalk-reduced filter.
Thierry indicated that the best results can be obtained with true acoustical music and indeed Choral works sound amazing but I found that it actually worked splendidly with nearly all of my music genres. The effect was extremely addictive with electronic music such as Groove Armada, or Dub-Techno such as DeepChord. If this was my only musical diet, then I'd never want to switch out the filter again! I don't think that I can convey the experience with words alone. The vibrancy and soundstage layering really have to be heard to be appreciated.
There was one track by The Beatles that was taken too much to the extreme: "When I'm Sixty Four", and, I imagine, many more Beatles songs, has a vocal hard-panned to the left and with the reduced crosstalk filter this vocal seems to come from left behind me, leaving a gap in the middle, and a seemingly phase-inversed ghost image of the vocal on the right hand, which gave me a feeling of listening to a system with one speaker out of phase. Don't get me wrong – this was still a spectacular performance, but probably not ideal for purist Beatle lovers. Apart from this exceptional track, all the other music that I played came across with verve, and predominantly in a supremely entertaining manner.
Room + Loudspeaker correction filter
Now it was time to see what more Thierry has been able to wring from the Wilsons. I know they do not have the flattest frequency curve in the universe but the careful setup has made them pretty linear and the Baseline filter already appeared to linearize the small remaining issues. What more could be possible?
As it turns out, this was arbitrary. While the speakers did become more civilized in the midrange as well as more linear in the bass, I felt that the energy of the performance was also reduced, along with a feeling of flatness in the staging of vocals, compared to the Baseline filter and also compared to non-DSP playback. But this makes sense: I have selected these speakers based on their character and then implemented them into the room such that they performed as cleanly as I could get them to. Thierry's Baseline filter very successfully addressed my residual room issues but the speaker correction filter apparently either addresses deviations that I have apparently grown accustomed to or, more plausible, in the process of linearizing them, just changes the Wilsons' character a little too much.
Room + Loudspeaker correction and Crosstalk Reduction filter
Going from the arbitrary results using the loudspeaker correction filter, I expected not to be too charmed by this filter. Not so! Back again was the entertainment factor that I value so much, probably due to the soundstage being wrapped all around me, ridding me of the feeling of flatness. Actually, and importantly, while the speakers may be more linear using the last two filters, their dynamics are not affected.
Conclusion
Thierry clearly knows what he is doing, hitting the spot even with the most basic Baseline filter which I fear I won't want to live without it anymore. Furthermore, with his special Crosstalk Reduction filters, he offers a new method that apparently injects even a very carefully set up system in an acoustically optimized room with remarkable soundstaging capabilities and a superbly entertaining sense of presence and life and with nearly every music genre.
I'm not really sure now which is my favorite filter but since Roon makes it so very easy to swap between them, there is no need and I just happily keep swapping between them as I please:-) If push comes to shove I'd be inclined to pronounce the Baseline filter the most universally applicable of the bunch, with either of the Crosstalk Reduction filters in second place. Rather surprisingly, listening au naturel, without any filter, now seems a little uninspiring and especially a little colored to me!
Naturally, all systems are not created equal and personal taste is a major factor too. Nevertheless, the bespoke nature of Thierry's process means that theoretically every system can be improved. And the more challenged the acoustical space is or the more a set of speakers misbehave, the larger the rewards will be. So, clearly wholeheartedly recommended!