CH Precision L1 Preamplifier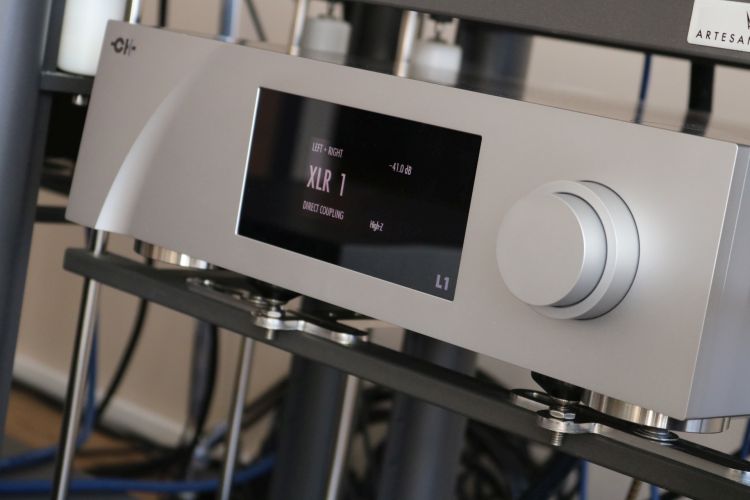 Review samples supplied by CH Precision
Retail Price in the EU (incl 21% VAT):
L1 preamplifier: approx 31.000 euro
There was a time when I used an analog preamp to add more fluidity to an otherwise dry and square-ish sound coming from my Wadia 861 CD player when used with a pair of Bryston 7B ST amplifiers and combined with Martin Logan SL3's. In the present time, I prefer the sound to be as clean and neutral as possible and I have returned to a preamp-less system consisting of a CH Precision A1.5 amplifier driven directly by a C1 DAC. Not having an analog preamp is not ideal from a practical point of view but the C1's hybrid analog/digital volume control works absolutely beautifully and between the Martin Logan ESL15A's, the Magico S1 MkII's or the Kroma Audio Carmens, the system sounds transparent and highly refined. So, what does an analog preamplifier bring to the table?
In essence, it could be argued that a preamplifier's main function should be to allow multiple inputs to be switched and volume-controlled while being inaudible and the L1 succeeds in realizing this ideal to a larger extent than I have heard any preamp do so far. If that sounds like faint praise I should add that, in my opinion, no active preamp is truly inaudible. After all, you are inserting extra cabling, connectors, and active stages into the signal path. What any preamp can hope for at best is to approach as closely as possible the integrity of the original signal. A popular means to achieve this is to minimize the signal paths both in component count and signal path length.
I've owned preamps that take the short signal path ideal to extremes, for instance, the Jeff Rowland Synergy that had its entire circuit on a tiny PCB that fits in your hand with basically only a couple of IC's and a set of input/output transformers. This preamp was highly refined, the antithesis of dry and excelled in treble airiness but it was also overly smooth and relaxed. In retrospect, while it was highly refined, it was not particularly transparent. Much later, I owned the Jeff Rowland Corus which used a large ceramic PCB with even fewer components, basically only input transformers, a pair of OP-amps with a reportedly even shorter signal path than with the Synergy, a volume IC and output transformers. This preamp was considerably more articulate and transparent than the Synergy but as a comparison with other preamps would later establish, a more direct, more dynamic, and timbrally even purer sound was possible. But no preamp I used so far was actually inaudible. All of them possess a certain house sound, a certain character.
I know that the opinions differ on this subject but I personally feel that there is no such thing as a "perfect" component. The electronics will always reproduce an approximation of the real event and as I indicated, there is always a certain signature, even if it is positively tiny. As such, I've always advocated that the best way to achieve good sound is to mix and match various components and their inherent characters to find the best balance. Of course, the aim should be to identify those that have the least character while avoiding the pitfall of using equipment that is very neutral but also lacks expression and becomes essentially lifeless. As it follows, when deciding to review the CH Precision L1 preamp, the intention was not to see how it could fluidify the sound or otherwise change it, rather, it was to see how little it adds or takes away, in other words, to see how transparent it is.
An analog preamp in a digital world
Naturally, an analog preamp is pretty much a prerequisite when there is a turntable in the system. But besides this, a preamp also forms a central connection point for multiple source components and it avoids the loss of resolution which occurs when using digital volume control. The C1 DAC's hybrid analog/digital volume control always selects the most appropriate analog range before adjusting the volume digitally and theoretically yields essentially imperceptible losses of resolution. But still, even with the C1, we're messing with the digital signal and there is much to say for leaving volume control in the analog domain. Finally, an analog preamp also provides an ideal input- and output impedance, allowing even source components with low-power, high-impedance output stages to perform to the best of their ability while driving long interlinks and insensitive and/or low-impedance power amp inputs perfectly well.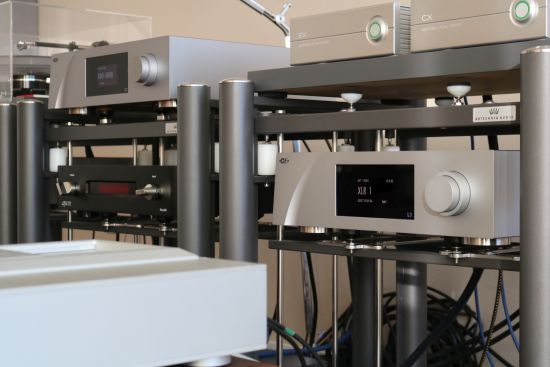 Functionality
Naturally, the L1 performs all the basic functions that are expected of an analog preamp but it adds significantly to this with a very wide range of settings that offer the user the complete freedom in controlling how the signals are treated. Volume control is done using two R-2R ladder networks per channel in balanced mode. Tight tolerance high-grade metal film resistors are used as well as fast-switching, distortion-free analog switches to precisely and silently adjust the listening level in precise 0.5 dB steps. All of the L1's parameters are accessible via the front panel display and the unit's 3D multi-function rotary control as well as very comfortably from the listening position via the Ethernet-enabled CH Control Android application on a tablet. The inputs can be freely labeled, set to variable or fixed and they can be disabled if they are not used. The L1 also offers the option to select between 600 ohms or 100 kOhms for any of the 4 balanced inputs and between 300 Ohms and 50 kOhms for each of the 2 single-ended BNC and cinch inputs. The absolute phase and the gain can be set for each input independently. The output is available on XLR, cinch, and BNC and all these connections can be used simultaneously.
Some source components have DC on their outputs. Normally, this is carried over and can cause issued downstream. Further, DC voltage in an R2R resistor network circuit topology (the L1's volume control) translates into audible clicks in the audio signal when a volume change is applied. I've actually heard this phenomenon before with several preamps in the past but never realized that DC was the cause of it. The L1 features an advanced DC offset cancellation system that prevents audible clicks from happening. The system works in parallel with the audio path and leaves the audio content unaltered, but DC free. In addition, the L1 even offers a "Calibrate" option to analyze the upstream device's DC level to best adapt its DC-cancellation scheme. If the source exhibits very high levels of DC at its outputs, the L1 will reach a state where it can't counteract the inherited DC anymore. In this case, the front panel display indicates that it recommends engaging the high-grade polypropylene DC blocking capacitor. Of course, this is a recommendation only and the user can decide whether or not to engage the capacitor on this particular input or any other input. Finally, the L1 can also measure and calibrate its own circuits to compensate for the presence of DC in any stage of its signal paths.
Expandability
Like all CH Precision products, the L1 can easily be upgraded via USB flash-drive firmware. Also, like all CH products, the L1 can work in several modes. The default mode is Dual Monaural, where the L1 holds two channels in a single chassis. This is how the L1 was reviewed here. The first optional expansion mode is Monaural, where two L1s work together, each one processing a single channel, one board in each chassis. The second option is Monaural Extended, where two L1s work together, each one processing a single channel, however with two boards in each L1 chassis, allowing twice the amount of inputs. Finally, all these configurations can be further enhanced by adding one or more X1 External power supplies.
Short signal paths
Contrary to expectations when looking at its incredible flexibility, the signal paths inside the L1 are actually as short as they can be. The high-bandwidth Class-A circuit is fully symmetrical and is built using only discrete components. There are no IC's or Op-Amps in the signal path. Each channel's electronics are located on individual circuit boards located in a compact separately shielded section near the L1's connector side.
Listening
At the time of this review, I had three different speakers set up which provided a great opportunity to really get to the bottom of the L1's performance. In addition, I have taken the L1 to my audio buddy Niels to also assess it in the context of his system. Naturally, I gave the L1 plenty of time to acclimatize and serious listening started only after it had been powered on for several days.
With the Kroma Audio Carmens, coming from the C1 DAC connected directly to the A1.5 amp directly via a CH Precision Balanced Link XLR cable and adding in the already warmed-up L1 preamp using another CH Precision Balanced Link XLR cable, the sound was slightly less immediate, slightly less tight in the bass and ever so slightly softer on the transients. And I mean slightly for all three instances. But otherwise, I was hard-pressed to hear further differences. There was absolutely no added edge or hardness anywhere and the treble was still airy and refined and the level of detail and focus had not been altered in any way. Maybe the soundstage had become slightly wider and slightly less forward but that might as well be a psychological side-effect of the sound having become slightly less immediate. What I feared most was that the sound might attain a more electronic signature but that also did not happen. The midrange had absolutely no added coloration and was still every bit as realistic. And most importantly, the musical message still came through loud and clear.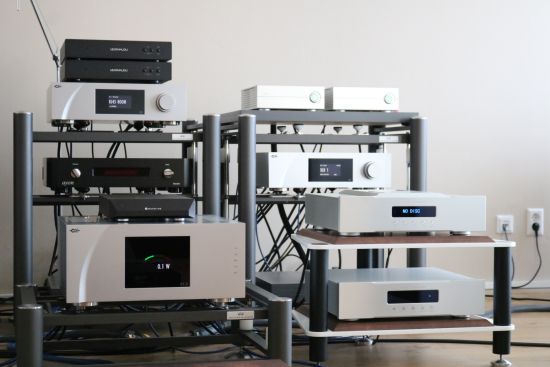 With the Magico S1 MkII's, the results are similar as with the Kromas, but now, I also noticed that the addition of the L1 tilted the frequency balance to the slightly leaner and brighter side while reducing the color saturation a little. Subjectively, the conveyance of vocals and acoustical instruments was slightly less organic but nevertheless still very much engaging. Another aspect that I now noted was that the treble, while still sweet, refined, and airy, had actually become slightly sweeter than via the DAC direct to the power amp. With the DAC-direct, the hi-hats on some recordings could be a little square, let's say "digital", whereas with the L1 in the signal path, these sounds were more fluid. Is this better? Worse? I guess that depends on what is regarded to be the standard. While I personally find the C1 DAC to sound perfect without a preamp and don't mind the very accurate treble rendition even if that means that some recordings' treble can be a little "square", several of my friends prefer the treble to be a little sweeter. And if I still had the Wadia 861 and the Brystons, rather than the CH Precision C1 and A1.5, I would more than likely have felt the same way.
With the Martin Logan ESL 15A's, the result manifested as an average between the Kromas and the Magicos. While the Logans are tonally not as rich as the Kromas, they are also not as crispy and clean as the Magicos. With bigger Logans, and especially the 15A's, there is superb detail retrieval combined with immense transparency comparable to the Magicos' but also a good measure of smooth forgiveness. As a result, the difference between using the L1 and going DAC-direct was as evident as with the other speakers but I found it very hard to choose between the two presentations.
With the L1, the sound was slightly lighter and airier and tonally less saturated but with a very involving sense of flow. As the Logans sound full-bodied already, I did not perceive this as a loss but merely as a change in perspective. With the DAC direct, the sound was more sonorous and articulate and timbrally richer (more saturated colors) but comparatively drier. As a practical example, with the L1 in place, I was much enjoying the acoustical bass of a Diana Krall track and found that I could perfectly follow all its notes while the rest of the music wrapped around me in a very involving manner and I found myself drifting away into the music. When switching to the DAC direct, the bass plucking became even clearer and more immediate but the sound was also drier and there was less flow and less of a wrap-around soundstage effect. Was the former more engaging but the latter more realistic? Perhaps. But not knowing what the original performance sounded like in the studio, this is impossible to determine and it remains a matter of interpretation. I will say that the emphasis with the DAC-direct route is more on the percussive elements while with the L1 in the chain the emphasis is more on the flow and the overall musical message. Having listened to both for several days, I can only conclude that I can live very happily with either presentation.
Cables
As the L1 is so incredibly non-colored, it perfectly allows other components' to shine precisely as they are. The same goes for all the different interlinks that I tried, each one sounding as different from one another as I know they do. The L1 works just as well with balanced interlinks as it does with cinch cables but because I have a much more extensive XLR cable collection, that's what I used predominantly.
While I am verging more and more to a sound as transparent and neutral and as natural as possible and, for that purpose, the CH Precision Balanced Link remains the most neutral cable that I tried, arguably even better results were obtained when using Vermouth Reference interlinks. Or maybe I shouldn't say better but rather more pleasing. The Vermouths retrieve as much detail as the CH Balanced Link but if the quest is to obtain a sound as unadulterated as possible then the Balanced Links remain the prime choice. But if one seeks just a smidgeon extra harmonic richness and sonorous solidity, then the Vermouths work fabulously. These cables enrich the sound in a very natural manner while avoiding sounding in any way overly polished.
I tried Cardas Clear as well and while I like this cable's fluid transparency and still use it predominantly when playing analog records, ultimately, I find that it sounds too polished and ever so slightly rounded on the transients. And so, I don't use it with digital sources. The Final Touch Audio Ganymede, finally, sounds midway between the Cardas and the CH Balanced Link, which, again, is precisely how I have found it to sound in all the prior combinations. This cable has a sound that seems to be soft at first but then opens up to reveal an immensely transparent and ultra-refined sound that makes it so easy to slip away into a dreamy state while listening to music. Ultimately, the L1 does not seem to have a preference for any one cable of another. The decision, therefore, lies entirely with the end-user.
A change of scenery
So far, I have assessed how much of an impact the L1 has on the sound of the C1 DAC in the context of my own system. I do not have a comparably esoteric preamp to compare with so, in order to get an even better handle on its performance, I took the CH L1 to my audio buddy Niels to hear it in his system and to compare it with his Spectral DMC-30SV preamp.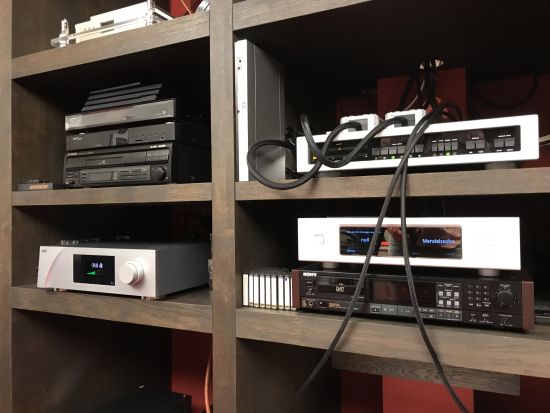 Set up under identical circumstances (same power cable, same interlink, same support type) with music sourced from an Aurender S10 feeding a Zanden 5000 Signature DAC and using the Soulution 711 power amp with Magico Q5 speakers, it was immediately evident that the L1 is a full-blooded CH Precision component. Just as with the CH A1.5 power amp in comparison to Niels' Soulution 711, the L1 excels in transparency and accuracy and by resolving subtle sonic clues more instantly and more clearly. Especially soft percussive sounds are startlingly realistic with the L1 but without adding any hardness. While the L1 can be said to be more analytical than the Spectral, it is also fluid and extremely refined. The Spectral preamp is less articulate and offers a richer, rounder, and smoother sound with a darker balance that better fits Niels' very neutral system and the Magico Q5's in particular. Of course, system-matching always remains a crucial factor. While the CH L1 is more transparent and precise, in this particularly revealing system, we agreed that the softer-sounding Spectral made for an emotionally more involving delivery.
Conclusion
Whether or not an analog preamp is a good addition for a digital-only system depends on the rest of the system and is also a matter of personal preference. There were visitors who preferred the sound with the L1 in the chain and others who found the DAC-direct route to sound more realistic. Personally, I hoover in-between and feel that there is validity in either approach. Of course, the CH Precision C1 DAC is a force to reckon with and with a lesser DAC, the balance may end up not quite so even-handedly.
I mentioned at the beginning of this review that no preamp that I used so far was actually inaudible and that all of them possess a certain house sound, a certain character. Well, the CH Precision L1 stands head and shoulders above all the others in that respect. It is easily the most transparent preamplifier that I have heard.
The L1 does not obstruct warmth, smoothness, or fluidity but if the intention is to create a romantic sound then the L1 does not apply. There are preamps that achieve a timbrally richer sound (tube designs, in particular, but some transistor designs as well) but none that I have heard that are as clean, as articulate and as transparent as the L1. Its raison d'etre is to be as inaudible as it can be and at that, it succeeds magnificently. More impressively, that the L1 manages to be this extremely transparent, precise, articulate and refined while offering absolutely unmatched flexibility makes it reference preamp to recon with. That it captures this performance and flexibility in such a beautiful design really puts the cherry on top.