Oyaide C-037, C-046, C-079 and C-004 IEC Connectors
With each of the four IEC connectors having its own distinctive character, there is bound to be a suitable model for every application
For the longest time, I had wondered precisely how the various Oyaide connectors compared. Sure I have heard many of them, but always in different configurations and situations, which made it hard to come to proper conclusions. Over time some ideas have certainly formed in my head, but since the cables used were always different, this still does not tell the whole story. That's why I asked Aspera Audio, distributor for the Benelux, to supply 4 different connectors for direct comparison and Guy was happy to oblige.
To keep costs reasonable, I selected the well-known, Belden 19364 AWG14 (2.1mm2) power cable, and used the same P-029 schuko power connector for all 4 cables. Although I am aware that the differences will be clearest when using the same connectors for both schuko and IEC ends, the respective connector's characters were still evident.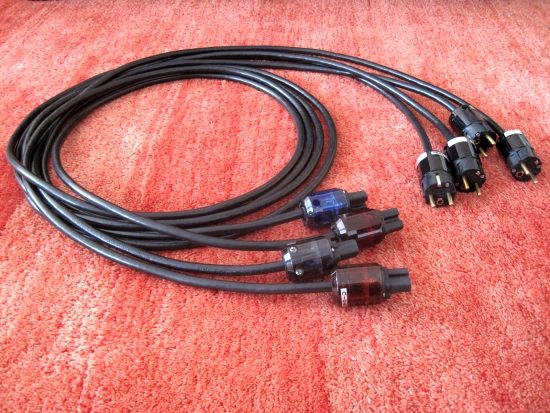 Belden cable
This type of cable is included often with American-made high-end audio equipment. Many never think about it twice and just use the supplied leads and there's nothing wrong with this. Others will chuck out the supplied cables and substitute their own high-end variant and there's nothing wrong with this either. While the two camps tend to accuse one another of being silly, there is validity in each of the beliefs. There is no doubt that high-end power cables make for clearly audible differences in the sound. Countless reviews that I conducted have indicated that power cables can make the sound smoother, richer and more refined, or make the sound cleaner, more powerful and more dynamic, depending on the cable that is chosen. While I have personally accused Belden 19364 cable of sounding dry and harsh in the treble in the past, this is actually very much a relative matter. It is just a very neutral sounding cable that is not especially forgiving in that it does not sugar-coat anything and under certain circumstances it can indeed lay bare any edginess that exists elsewhere in the system. The apparent resolution and refinement can certainly be bettered by using higher-grade cables, but the Belden's neutrality and lack of a forgiving quality still makes it a very good cable to conduct this comparison with. For all cables I used the same 2,5m length.
Oyaide Connectors
Here's some advice if you plan to connect more than one type of Oyaide connector: make sure to keep the internal components alongside the outer covers. While the outside covers are labeled, the insides are not, and they look indistinguishable from one another. In my case, only the C-079 could be picked from the bunch for having gold contacts. The others, while all having different platings, looked virtually the same. Maybe one metal had more shine than the other, but I couldn't be sure. Naturally, I did keep them well separate during construction.
P-029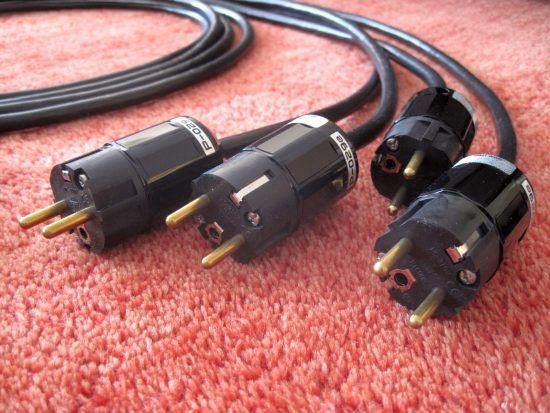 The entry class of P/C series with brass contacts and no plating. This type is used for the four schuko connectors.
C-037
The reference-grade of P/C series with phosphor bronze contacts and silver + rhodium. The body is quite distinctive with its blue color.
C-046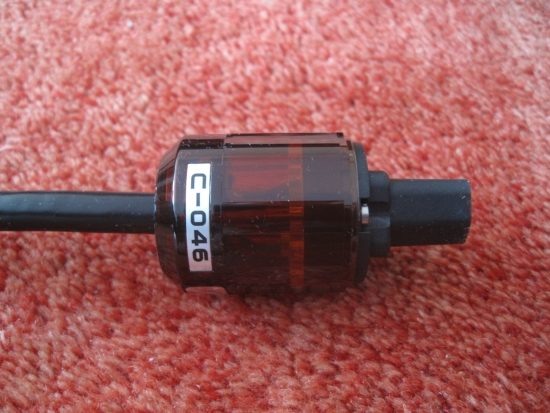 The reference-grade of P/C series with phosphor bronze contacts and 24K gold + palladium plating. The body has a red/orange color.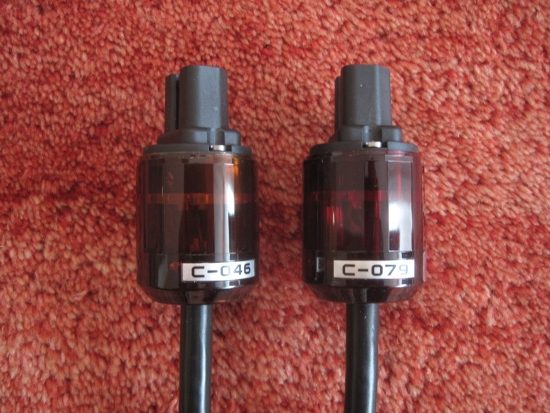 The C-046 body's red/orange color looks a lot like the C-079's color, but when viewed side by side you can see the difference, the C-079 losing the C-046's orange sheen, substituted with a more brownish color.
C-079
The reference-grade of P/C series with phosphor bronze contacts and 24K gold plating. The body has a dark red, brownish color.
C-004
The superior grade of P/C series with beryllium copper contacts and platinum + palladium plating. This connector's body is arguably the most classy of the bunch, being a blue-ish anthracite.
Listening preparations
Although I am not really a fan of blind listening, this test was in effect blind with the exception of one connector, and you probably guessed it, the gold plated C-079. The other numbers had not made a connection in my head, and to be honest, they still don't. I could not tell you which connector uses what type of metals and platings unless I looked it up, and the list above is made this way. What I did for the listening evaluations was to put the cables in ascending order (first 037, then 046 and so forth) and listen to all of them in this order while taking notes. Once some opinions had formed, further direct comparisons were made to ascertain myself of really hearing what I think I'm hearing. Finally, at the end of the evening, the comparisons were repeated once more to make sure that I was not hearing things.
All cables were equally run in, and listened to in my buddy JW's system using the same audio component: a Jeff Rowland Synergy IIi preamp.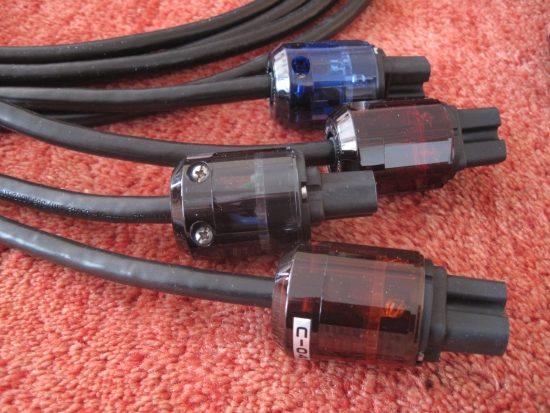 Listening
Starting with the C-037, the sound is very quick and articulate, with very peaky transients. The connector's character reminds me of how a component's sound can be changed by substituting soft rubber feet with spikes. While this brings out the edge of the transients, it can make the body of sounds less noticeable, and this happens here too. The peaks are very clear but the subtle shading is lessened. Without actually knowing that this connector employed silver, we suspected that it did, and indeed it does. Do note that silver does not necessarily always sound like silver. I have also heard silver cables that sound warm and smooth but used in connectors, it does tend to add a typical effect. This is not a romantic or forgiving sound, but it can certainly liven up an otherwise overly smooth sounding setup.
Moving on to the C-046, the sound is considerably less dry and tonally fuller. Treble is silkier and there is less of the aforementioned spike effect. There is more of a "carpeted" feeling than with the C-037, but the reduction in the transient attack may also translate into a feeling of hearing less detail. Overall though I feel that this may be the ideal connector for many, providing a great balance between explicit detailing and forgiving smoothness.
Proceeding to the C-079, the sound is very recognizable to both JW and me. This is because JW uses this connector on a Furutech Alpha 3 power cord as well as on the Belden cables feeding his Jeff Rowland Model 6 power amps. The C-079 provides the smoothest sound so far, with an almost creamy midrange, very silky treble and an overall forgiving quality. The spike effect is no longer audible, but then again the transients are not as sharp anymore either. As more often happens, it seems that this connector trades some transient attack and speed for increased smoothness and fluidity, resulting in a forgiving, romantic sound. This connector would be ideal for taming an otherwise bright or over-enthusiastic setup.
The C-004 provides something of an ear-opener and is the real surprise of the bunch. Airier and more open than the C-079, the C-004 manages to extract more low-level resolution than any of the other connectors, while retaining the C-079's sense of emotion and without sounding in any way peaky. There is a real sense of convincing balance with this connector, no single aspect overshadowing the other, but all aspects being clearly superior. Tonally rich yet lively, speedy and dynamic, the result is technically perfect, highly sensuous sound. It's nice to observe that more expensive connectors also achieve better sound, across the board.
P-004e Schuko
Adding the Oyaide P-004e Schuko variant to the mix, it became clear that my preference for the 004 is not limited to the IEC connector but extends to the 004 Schuko as well. While I've encountered situations where using two same-type connectors resulted in an overly analytical and technical sound, this is absolutely not the case with the 004's. Yes, the 004's are very precise but they're also superbly fluid and refined, not at all dry or overly controlled. What you get when replacing the Oyaide 029 schuko on a Belden cable to end up with 004's on both ends, is a lot more clarity. The bass becomes much more articulate and the treble blossoms, with superb fluidity and air. In fact, the entire sound actually becomes a lot more refined but not in a Furutech kind of way: the transients, in this case, are absolutely not rounded or smoothed and the timing remains toe-tappingly good. The midrange is likewise enhanced in resolution but remains balanced, never overly pronounced. These connectors, especially the schuko's, are admittedly quite expensive, even more so after the recent price increase but I promise that they're worth the expense.
Combinations
What also works very well is to combine an Oyaide C-004 IEC on one end of a cable with a Bals Schuko on the other end. While very noticeably not as refined and transparent as when using two Oyaide 004's, the combination does provide a more forceful and lively sound. As always, things are not black and white and what works best in a given situation will depend on user preferences and system synergy. If there's one thing I learned over the years it is that it is best to apply any changes in moderate measure, assess, and apply more if it works well. While Oyaide power connectors, and especially the 004's, sound cleaner and more direct than Furutech power connectors in general, depending on the system, using too many of them can still result in a "filtered" effect. In such a case, the sound can become overly sophisticated and lose some of the music's raw energy. Combining a 004 IEC with a Bals Schuko seems to offset this very effectively and that's why I frequently use this combination in my system.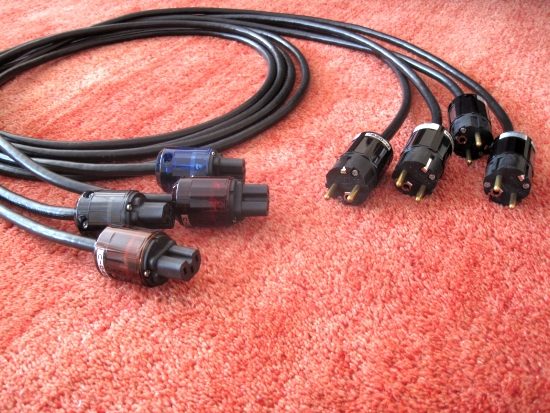 Conclusion
It's still unimaginable to many, but power connectors are a great way to tune an audio system. Power cables are easy to assemble and the results are instantly audible. The big question of "how do Oyaide connectors sound", can be answered with "this depends on the application and the connector that is chosen".
Oyaide has managed to put together a range of connectors that all have their own unique character, ranging from open and dynamic to smooth and forgiving. As such, there should always be a perfect connector for every application.
All Oyaide connectors are manufactured to the highest standards, even the 029's. The difference is in the platings that are applied, and believe it or not, these differences are easy to hear. Picking a winner would mostly be based on personal preferences and system synergy and as such would not be objective, but I think it is fair to state that the C-004 may be costly but delivers the best overall performance of the bunch, with the C-046 providing the most overall improvement at a moderate cost.