Hifi Tuning, Bals and IeGO Schuko connectors compared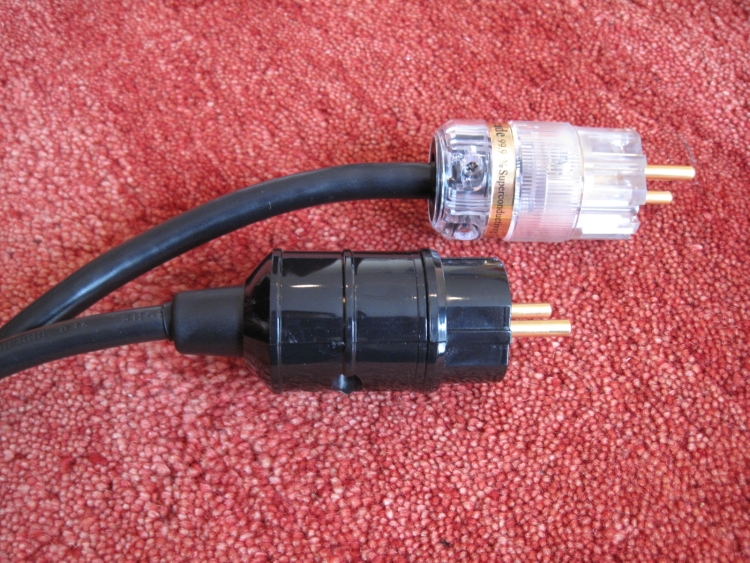 Schuko connectors compared part 2: IeGO 24k Gold, Hifi Tuning Gold II, Bals 73
A follow-up comparison in which I compare the Hifi Tuning Gold with newcomer IeGO 24k Gold and do a crosscheck with the Bals standard connector.
This review is a follow up of the Kupp, Bals and Hifi Tuning Gold II Schuko connector review.
Connectors under review:
-IeGO 24k Gold (50 euro)
-Hifi Tuning Gold II (28 euro)
-Bals (12 euro)
All connectors were tested in combination with their own powercables, both Lapp and Belden were used. Each cable was manufactured in the same way in the same length, plugged in for same phase and burned in the same duration. During testing only one cable at a time was connected, each time in the same position of the extensionblock. A Wadia 861 cd player was used as a source, as well as a Jeff Rowland Synergy 2i. Both were well-run in and kept warm at all times. I was especially curious to find out how newcomer IeGO would perform agains the Hifi Tuning gold. The latter is extremely refined but can be slightly too restrained and is not suited for all systems. Would IeGO be the same, worse or better?
Using Belden powercable
Belden powercables have a tendency to sounding hard in the treble which is why I avoid using standard connectors with this cable. So I compared a Belden cable with Hifi Tuning Gold schuko and IeGO IEC with a Belden cable that has IeGO connectors at both ends.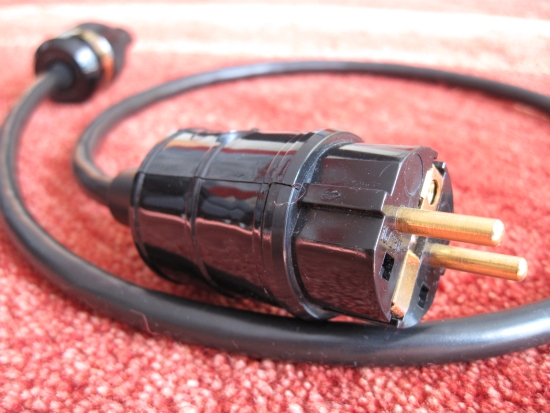 When I listened to the standard Belden with IeGO IEC and Hifi Tuning schuko (pictured above) it was very recognisably a Belden cable as I know it: fast, dynamic and open. The IeGO IEC did a fine jobe at toning down the aggressive brightness that the cable normally has and I thought it made for a well-balanced sound that had no real downsides, apart from a slight lack of colour and weight at the bottom.
Swapping to the same cable but with IeGO at both ends, now with IeGO schuko there was a huge difference! The addition of an IeGO gold schuko had so much impact on the sound that it was simply incredible. The sound became fresher, more finely nuanced and there was a higher degree of resolution available that made subtle sounds so much more interesting. Surprisingly, all these traits did not come at the expense of dynamics or speed. In fact: the IeGO was a lot faster and more dynamic sounding than the HT gold. However, the IeGO addition did make for a slightly less airy and refined treble.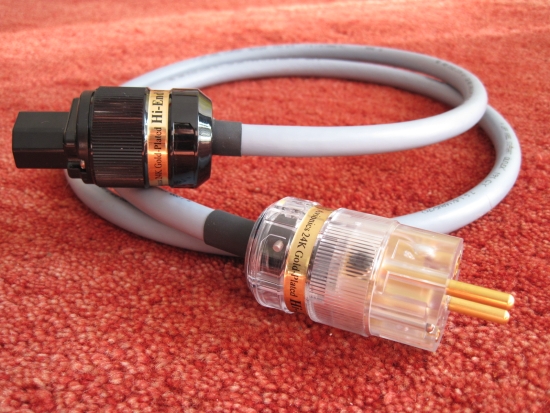 Above: IeGO with Lapp cable
Using Lapp powercable
Of course I did a doublecheck with Lapp cable to see if the results would be valid for Lapp as well. Hifi Tuning gold connectors are too much of a good thing in combination with Lapp because Lapp is already relaxed and the addition of a HT schuko makes for a cable that fits only the most open and transparent systems. I wondered if the same would be true for IeGo schukos but our experience with the Belden cable allready prepared us for the opposite. First I listened to the standard Lapp with IEC-Gold and Bals schuko. This is already a very well balanced cable and it works well with many components and in many setups and you really wouldn't see any flaws in its presentation. Unless you compare it to the same cable with IeGO connectors that is.
First I listened to the Lapp with IeGO gold schuko and still the IEC-Gold. I feared for some rounding of transients and dynamics but the IeGO turned out to be just as dynamic as the Bals, but fresher and much more finely nuanced. Tiny little wooshes would now stand out of the mix as opposed to being buried. And again these traits did not come at the expense of anything. The Bals is slightly, and I mean very slightly more rounded in the bass but it is still very, very dynamic and fast. I would not call the IeGO schuko rounded; I would call the Bals dry.
Then it was time to listen to the fully-fledged Lapp with IeGO at both ends. This result was more mixed. Indeed the swapping of IEC-Gold to IeGO gold made for an even more nuanced and finely detailed delivery, with much smoother highs, cleaner mids and more resolution but I thought the IEC-Gold can have the upper hand in some systems where the added attack at the higher frequencies is needed to open up the sound. In our system (magnetostatic speakers) there is so much resolution at hand that I don't need additional highs but if your system is already tending toward the dark, I'd suggest using IeGO as a schuko but IEC-Gold as an IEC.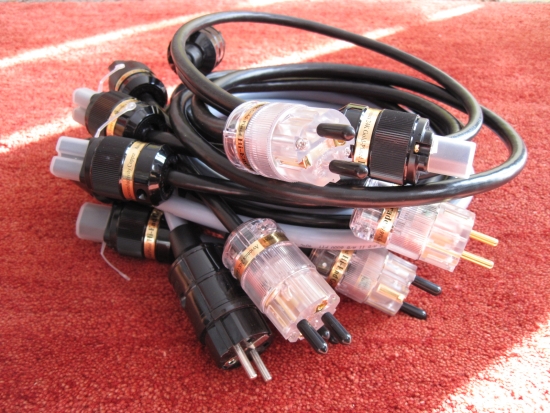 Conclusion
IeGO have all the colour and much of the subtle fluidity that Furutech offers but without their restraint in dynamic expression. I was already enthusiastic about the IeGO IEC's but now it turned out that the Schukos may be even better, albeit at a price. But after these tests I couldn't help but conclude that connectors make out at least half the sound of a cable. So do yourself a favour and use at least one IeGO on your cable!
Some advice
With Belden one really needs to use good connectors, such as those from IeGO. The connectors lift the performance to stellar hights. With Lapp cable the results are more mixed: if your system has enough resolution and transparency, go for IeGO at both ends. However, if your system already tends toward the dark, you're better off using IeGO on one side only. That could be Schuko or IEC; they're both fantastic connectors, but I have the impression that the schukos have most impact on the sound, contrary to what I had originally thought.
Next