Furutech and HiFi Tuning Schuko Outlets compared
To compare the outlets, I installed them into a CP-audio Ultimate Clarity extensionblock and ensured using the same length of cables inside using the star-wire principle.
Comparison
Just by looking at them, you wouldn't say that these connectors are night and day soundwise. They look quite a bit alike, although if you look closely, the Furutechs are a little better finished. Their plastic housing is a little smoother and the conductor surfaces are nicely polished and more shiny than those of the Hifi Tuning. But as it turns out yet again: looks aren't everything. Although… there is an analogy going on between the Furutech's appearance and their sound… read on!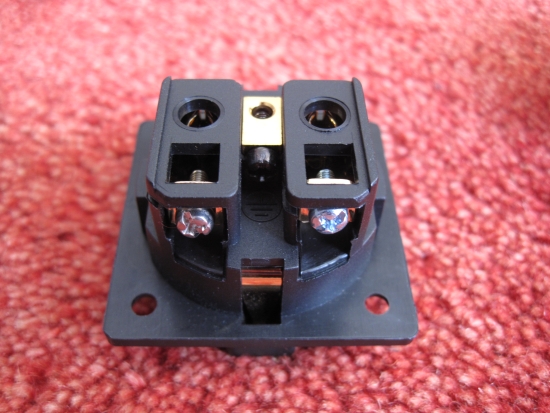 Furutech FI-E30 Rhodium
This connector certainly looks the business but soundwise I found it to be a mixed bag. It sounded a nicely detailed, but a somehow a little little slow and uninspiring, as if it is dynamically compressed. Even without comparing to the other connectores these characteristics stand out. Compared directly to its gold plated brother, the rhodium version sounds dry and thin and doesn't evoke emotions as well.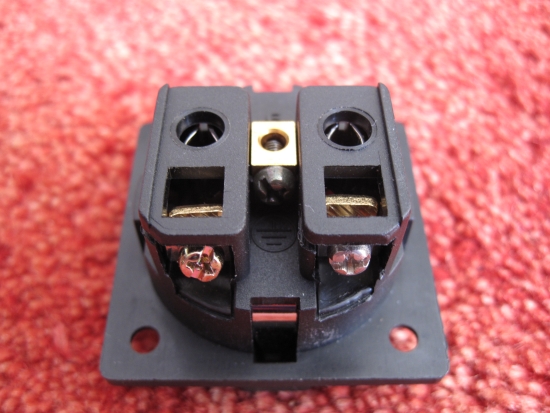 Furutech FI-E30 Gold
The gold plated connector sounds quite different than its rhodium brother: more involving, more colourful, warmer and richer. Also, compared to the rhodium version, the gold version seems to sound faster and more dynamic. By the latter I don't mean that it sound louder, rather that the differences between soft and loud are more distinct. Although it sounds dynamic at first, over time you start to notice how everything still sounds a little rounded off, compared to regular outlets. The Furutech however, is much more refined, fluid and detailed than any regular outlet I have tried.
Hifi-Tuning Schuko outlet
While both Furutech connectors manage a little bit more air at the extreme HF and are even smoother, the Hifi-Tuning simply sounds more real. It is at once more acoustic, more dynamic, more engaging, fuller and richer in sound and not at all dry, synthetic or sterile. This would be my pick of the bunch.
Conclusion
For my taste, the Hifi Tuning outlets were the best. Alas, by the time I had finally written this review, the HT outlets are no longer available. In the Netherlands and Germany at least. Apparently, there wasn't enough demand. That sort of makes this review more or less pointless… but at least it serves the purpose of pointing out that there are indeed quite large audible differences between schuko outlets. And the most expensive one doesn't necessarily sound best. What's more: depending on your system and taste, you may even prefer standard outlets over the more refined highend ones.
Additional note dec 2011
Furutech as a brand seems to have a certain house sound, throughout its cable and connector range which is a smoothness and lack of agression. Also, emotionally, I find that Furutech is always highly appealing. Technically though, the connectors can lack some attack and drive, when compared to standard connectors, or for example IeGO. So, whether or not this will be the brand for you depends on taste and system synergy.