Digital Cables compared – USB and Ethernet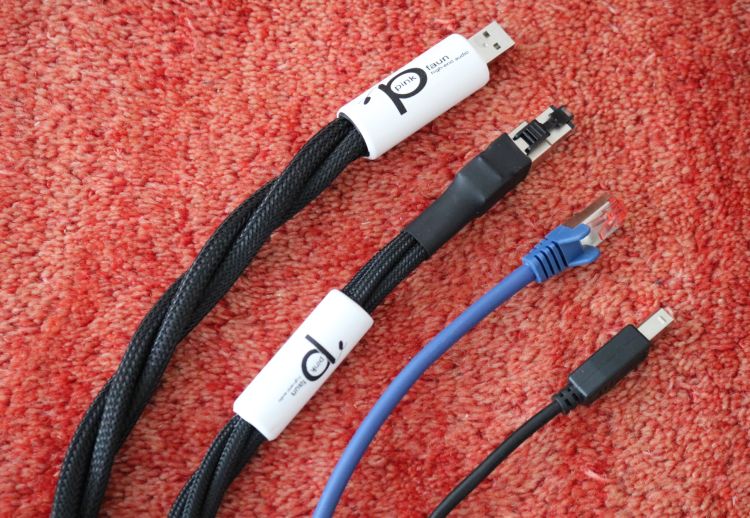 Setting a Baseline
In order to assess a high-end digital cable, one needs to refer to a standard. But what defines the baseline? How do we know which cable sounds closest to the source? I wish I could tell you with certainty but I just don't know. The thing is, Music Servers tend to behave differently from CD players. For whatever reason, it seems that Music Servers require more TLC than CD transports in order to evoke the best of them. There's lots written about this already (for instance, here), no two CD transports are truly alike and the opinions will forever vary anyway so I'll just leave it at these sources simply having different perspectives.
S/PDIF and AES/EBU cables
If you're a regular reader then you'll know that the Aqua La Diva is currently my reference CD transport. I'm mentioning the CD transport side now, not to start a debate on which is "best", but in order to make a point. I use the CD transport in combination with the CH Precision C1 DAC with either a Belden RG59 coax cable for S/PDIF or a Mogami 3080 twisted-pair cable for AES/EBU. While slightly different, both cables achieve what I regard as the most neutral replay that I can achieve with my system. Apparently, these very simple cables behave very consistently across a very wide range of digital sources.
I have tried lots of other digital cables, cheap ones as well as high-end ones and while a different perspective can be obtained,  some sounding smoother, fuller or richer, others even tighter or more forward, I found that these changes always came at the expense of another parameter. For instance, warmer cables also sounded woolier and less articulate. Thus, in my quest for neutrality and accuracy, as well as musicality and emotional involvement, I always come back to the aforementioned two cables, and to this day, I see no need to change this perspective.
USB Cables
With USB cables it is easy to assume that the situation would be the same but I quickly found that these cables are not only too influential to simply neglect, one is actually foregoing a lot of performance when using freebie cables. If the aim is to achieve the best from any server and/or streamer, it is vital to experiment to find the best cable to achieve the best balance in the given situation. Unlike S/PDIF and AES/EBU cables, however, I find there is too much variation with both USB cables and implementations and this makes it impossible to declare any particular brand or model the neutral standard.
I've often tried to get a Music Server to sound similar to a particular CD player or transport. As I came to learn, this is pretty much an impossible task. One can succeed in approaching a Mark Levinson 390S CD player with an AudioAanZee server + 360S DAC or a Wadia 861 CD player with an Antipodes server + Wadia 521 or CH Precision C1 DAC but with such different results, which of the combinations is the most accurate or most neutral?
The thing is that in trying to match certain musical aspects to existing standards, one can pull the performance away from neutrality in other aspects and so, it always remains a matter of system- and component matching and that includes the cables.
For me personally and with my current system that includes the Antipodes CX+EX and CH Precision C1 DAC, the favorites are the Pink Faun Digital Interlink USB and the Final Touch Audio Callisto. The former has the smoothest and creamiest yet also solid and full-bodied sound and the latter has the most articulate, airiest and most free-flowing delivery.
LAN or USB
The sound of USB cables is hugely dependent on the implementation of the protocol and the effectiveness can vary from server to server and from endpoint to endpoint. Certainly in my case, the C1 and the Antipodes servers even more so, behave differently with LAN and USB but regular readers will know that I tend to prefer ethernet over USB. In short, provided the implementation is first-rate, I find that the ethernet connection sounds most fluid and free-flowing and the least like electronic reproduction while retaining the purity and expression of the best S/PDIF, AES/EBU and USB connections.
Ethernet Cables
I have always considered Ethernet cables to be in the same camp as S/PDIF and AES/EBU cables and, as such, I stuck with standard CAT6 ethernet cables. Mind you, I did conduct many comparisons and found that there are differences even among no-name brands where some sounded woolly and others very tight. However, none of the combinations that I made, made the server combo sound like the Aqua CD transport. Ultimately, I settled on an OEM-brand ethernet cable that allowed the CX+EX to shine most in the aspects that they are best which is solidity, fulness of tonality and dynamic impact and then decided to stop worrying about it.
Which is a long way of saying that, even though I can argue that the chosen OEM Cat6 ethernet cable provided the best results in this case and for my taste, I can't say with certainty that it represents the best possible connection in a general sense because there are just too many variables.
And this poses a problem. If a CD transport is my reference, how will I know if another USB or Ethernet cable is better than or merely different from than the ones I use now? Well, I'm afraid that the only possible answer to that is that one needs to conduct the comparisons him/her self.
For me and my aforementioned system, the Pink Faun Digital Interlink LAN achieves what I previously thought impossible for an ethernet cable to do: a smoother, richer sound with more fully-developed textures and tonality while retaining 100% of the standard CAT6 cable's resolution and 95% of its transient speed and attack. Yes, the standard cable remains slightly tighter and slightly more immediate but it is also rather dry and comparatively musically much less involving.
Read Also
Belden, Mogami, Wireworld and Transparent Digital Audio Cables Compared
Digital Cables Compared – AES/EBU, Coax,Toslink and ST Glass