Concert Fidelity DAC-040 – Mini Review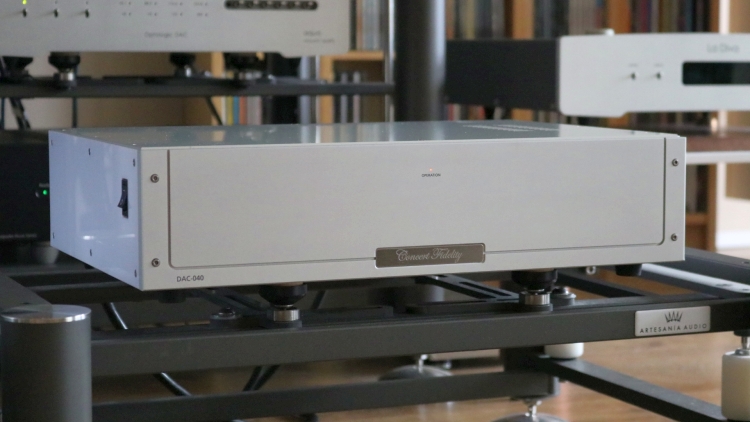 Review sample supplied by Callas Audio
Retail prices in the NL including 21% VAT:
Approx 11.000 euro
When visiting Callas Audio a little while ago to listen to the Wolf von Langa Chicago speakers, Ron mentioned that he had found a set of transistor power amplifiers that he really liked. Being a lifelong tube-fanatic, this is quite rare. The amplifiers in question are made by the Japanese brand Concert Fidelity, previously unknown to me. It concerns the ZL-120FX MOS-FET monos. As part of the listening session, we were in the position to listen with the Concert Fidelity monos as well as with Ron's own Aries Cerat Genus SET amp. While the Concert Fidelity amplifiers sounded very different from the Aries Cerat amp, I had to admit hearing something special about them. They excel in linearity, purity, clarity, and transparency, but without sounding technical or overly controlled. Judged at that moment, I felt that their presentation went in the direction of CH Precision and Goldmund. But don't pin me on that as I have not made any further comparisons. And this isn't the point of this article anyway.
After the listening session, Ron directed my attention to a neat-looking DAC, also by Concert Fidelity and this is what this Mini-Review is about. With two rear-lit 12AU7 tubes sticking out vertically from its rear panel, the DAC-040 has an aesthetically clean and simple appearance, yet is also technically interesting.
The two tubes are easily accessible, almost inviting tube-rolling. Next to the tubes is a gain selector switch for 6dB and 12dB. Inside is another tube, the 6CA4 for rectification. The outputs are available only in RCA.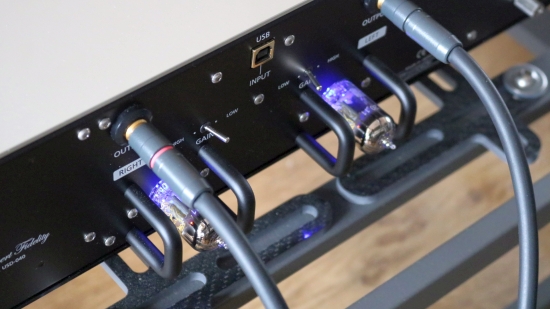 The DAC-040 can be ordered in various input- and DAC configurations and with either a NOS Philips 16 Bit DAC or an AKM 32bit/DSD64-capable DAC. My review sample is the HRZ version which contained a USB 2.0 type B input section with an internal I2S connection and the AKM DAC. Lastly, the company has not just used any old USB interface but the widely-acclaimed Amanero chipset.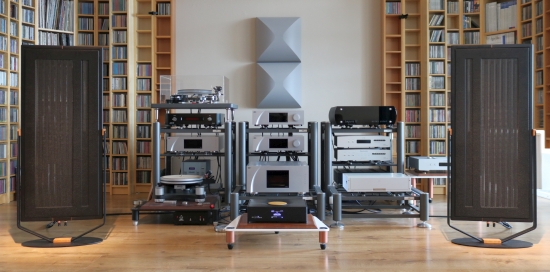 The Diptyque speakers shown above were not used for this review. The DAC-40 was visiting so briefly that I forgot to take a picture of the speakers that I used for reviewing it: the Magico S1 MkII's.
Listening
Using the Final Touch Audio Callisto USB cable with the Antipodes K50 music server, the DAC-040 made a great first impression when combined with the CH Precision L1 analog preamp using Driade Flow Link Reference 808 interlinks. Coming from the K50 using a Jorma AES/EBU cable into the CH Precision C1 DAC, the sound with the DAC-040 is fast, linear, transparent, and highly refined. The 040 is lusher than the C1 but very well-detailed and refreshingly airy on top. Its low-level detail is superb, as is its focus and precision, and in these areas, it easily keeps up with the CH. Actually, the placement of vocals may even be a little bit more precise. One would expect fluidity from a tube product and here the DAC-040 delivers in spades. Often, tube products also sound warm or even thick but the 040 is neither. If I didn't know better, I'd not have guessed this is a tube product by how it sounds. Rather, the DAC-040 is extremely neutral but tonally on the lean side, not very deeply saturated, and its bass, while articulate, natural, and well-presented, is a little light-footed. The DAC has great pace & rhythm and it never sounds slow but neither does it sound hurried. The 040 is quick on its feet and has fast transient behavior but amidst all of its expression, it does not forget about sustain and decay.
The C1 DAC is a little darker and a little warmer but most of all fuller in the lower midrange and the bass. With this otherwise stellar DAC, the vocals float just a little less freely and the stage is a little less deep. These are admittedly typical aspects in which tube products tend to perform better. But with the DAC-040, these traits come without the typical disadvantages such as colorations and imprecise bass.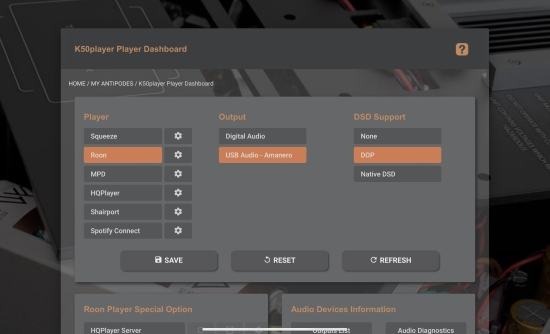 I should also note that the K50 is usually at a disadvantage with its USB interface but given the DAC-040's excellent Amanero interface, the DAC is actually at an advantage, because the server's AES output sounds comparably a little thicker and less precise. With the C1 DAC, however, (set to USB1 protocol which with this DAC sounds earthier and more solid than the USB2 protocol) the USB connection is just not ideal, with too much control and soundstage flatness for my taste, and the AES connection sounding simply more musical and engaging. Indeed, the subjective quality of a USB connection is highly dependent on the implementation of the interfaces on both ends.
Due to metals being short in supply, this unit came with polycarbonate side panels. The aluminum panels will be sent separately and can easily be replaced.
When switching between C1 and DAC-040, I do need some time to adjust to the different balance during the first track but I get accustomed rather quickly either way, which is a testament to each DAC's fundamental rightness. Importantly, both DACs are musically- and emotionally involving.
Adding the Aries Cerat Impera preamp to the mix, I am presented with an arguably even better balance than with the C1 DAC. Now, with the Impera's impressive heft and grunt, the bass does not appear light-footed, nor is there a lack of tonal saturation, while the DAC's resolution and transparency remain impressive.
Changing the comparison partner from the C1 DAC to the Aqua Formula xHD DAC, and using USB only, confirms my suspicion that this DAC's overall sound is closer to that of the Concert Fidelity DAC-040. Like the DAC-40, the Aqua DAC has a great USB interface and this is again confirmed during this test. Of course, we are still comparing a solid-state DAC to one with a tube rectifier and tube output stage and this fundamental difference remains evident, especially in terms of flow, fluidity, sustain and decay, and soundstage depth. The Aqua remains more robust than the DAC-040 down below and is more solid overall, but surprisingly, the DAC-040 manages very similar resolution in addition to being more liquid. In this comparison, the Aqua sounds a little bit rougher and more direct, while the DAC-040 sounds a little more ethereal, polished, and refined.
As a final test, I swapped the Callisto USB cable for the Vermouth Reference USB. As it usually does, this cable injected a nice dose of fullness and warmth but it also took away some refinement and magic. And while the Vermouth cable works well with robust-sounding components, the pairing with the DAC-040 results in a presentation that is just a little too polite. Ultimately, I think this DAC deserves the best USB cable that can be afforded, and ideally, it should be a neutrally-balanced, not warm or extra fluid. The DAC is already so well-balanced that I don't think it needs any editorialization.

External Links
Manufacturer's website: Concert Fidelity